Bacon, crispy sage, and spaghetti are swirled in this easy and beautiful Pumpkin & Ricotta Pasta Carbonara Recipe!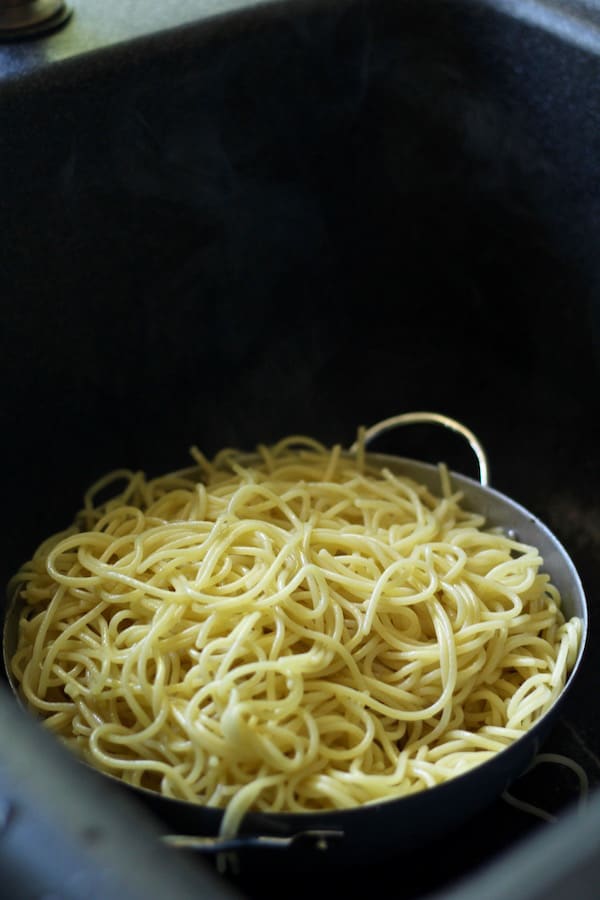 Oh yes, we are so going there today.
Now that fall is officially here, isn't it required by law that we consume our weight in pumpkin by November? If your pumpkin quota hasn't been met for the week, then let this easy recipe for carbonara adorn your dinner table for those crisp fall evenings. This is my first savory pumpkin dish of the year, preceded by the outrageously delicious Pumpkin Muffins and super simple and healthy Pumpkin Chai Chia Pudding.
Recently I conducted a quick survey with my friggin' awesome subscribers and asked what they would like to see more of on my blog. The consensus seemed to be that my readers are:
Definitely interested in learning about artisan bread and pastries, which excites me to no end as I attended artisan bread school for 2 months in Chicago a few years back!
You want more easy weeknight meal recipes that can come together in 45 minutes or less.
Thank you to all of you that took the time to respond, and I'm happy to oblige your requests! Case in point, this creamy and dreamy pasta recipe I have prepared for you. I'm going to start putting together some Artisan Bread tutorials (especially for the holidays) when I can set aside enough time to really DO IT RIGHT. It takes about two days for many of my artisan bread recipes (mostly down time though), so I'll be starting with some easier breads that are so damn good that you'll never be able to buy store-bought bread again! In the meantime, check out these recipes here (both have videos too):
How to Make Parisienne Croissants with over 40 step-by-step photos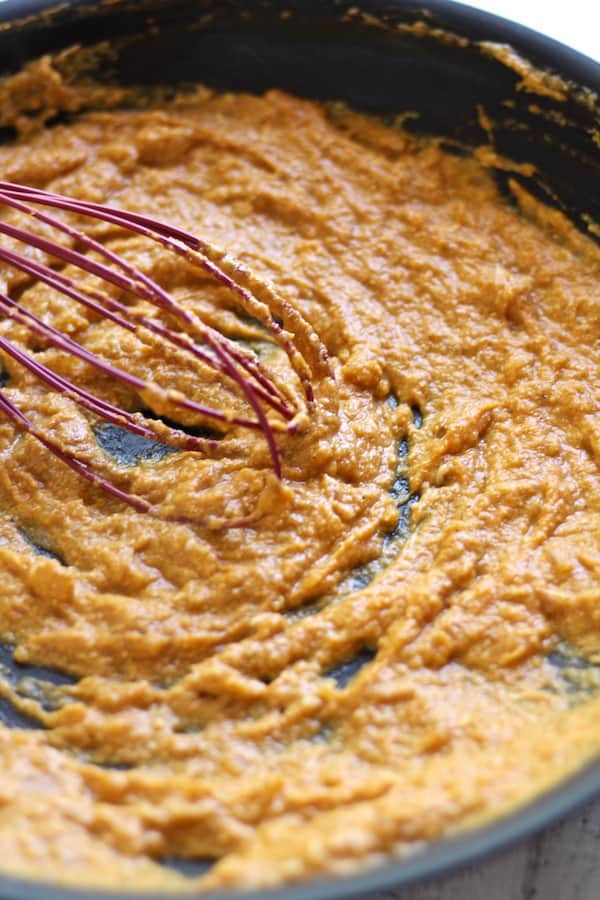 But let's talk about this creamy pumpkin and ricotta sauce, shall we? Carbonara pasta is one of my all-time favorite pasta dishes because it's so creamy, without the heaviness of heavy cream. I was inspired by pumpkin ravioli with crispy sage and browned butter, but wanted to create a simpler pasta dish that still hit the mark. A traditional carbonara sauce incorporates eggs as the creamy component which lends a luscious flavor and texture. The heat of the pasta and the sauce will cook the eggs, so you don't have to be concerned with eating raw eggs.
The best way to keep the eggs from curdling is to separate them first. Add in the egg whites, then swirl the pasta in the sauce, then add the egg yolks last. Although it's not traditional at all, I added pumpkin puree and a touch of ricotta cheese, for a distinctive twist, and smoked paprika, and red pepper flakes for heat and smoky flavor. Pancetta is traditionally used in the base of the sauce, but I find bacon is the perfect sub as it's more affordable, and because it's BACON FOR GOD'S SAKE!
Full Disclosure: I reserved the bacon fat to be the base for the sauce (this is pretty true to tradition), so if you want a lighter sauce, then drain and add olive oil instead.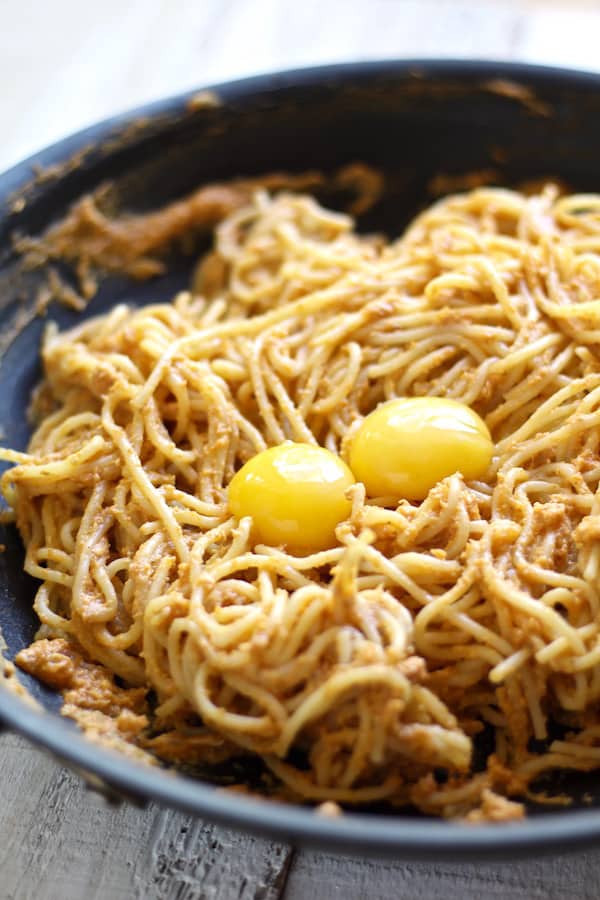 I fried up some sage leaves in the bacon fat and set them aside. If you've never tried crispy sage, get ready!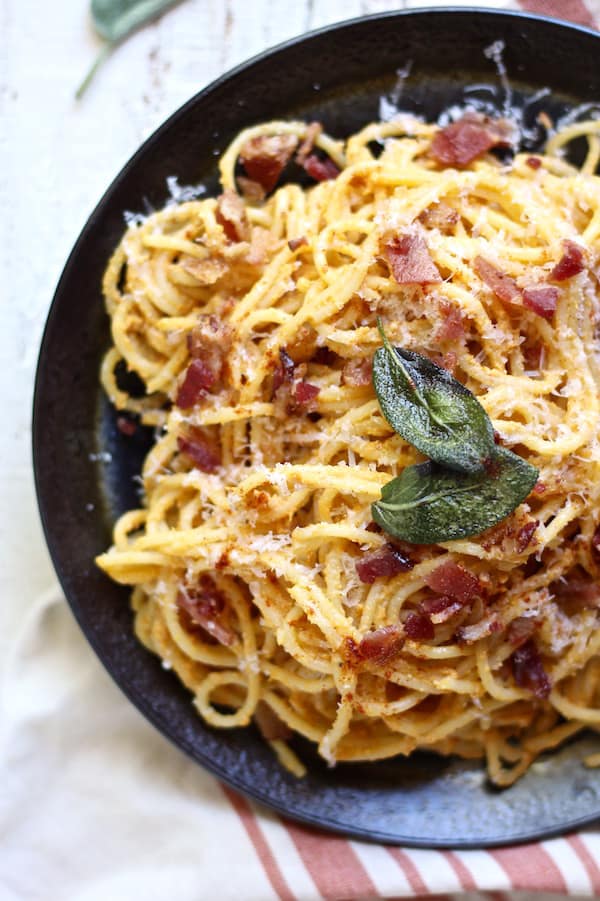 Top with some pecorino romano cheese (my personal favorite) or shredded parmesan. Add the crumbled bacon and crispy sage, and you have my absolute FAVORITE savory pumpkin dish ever!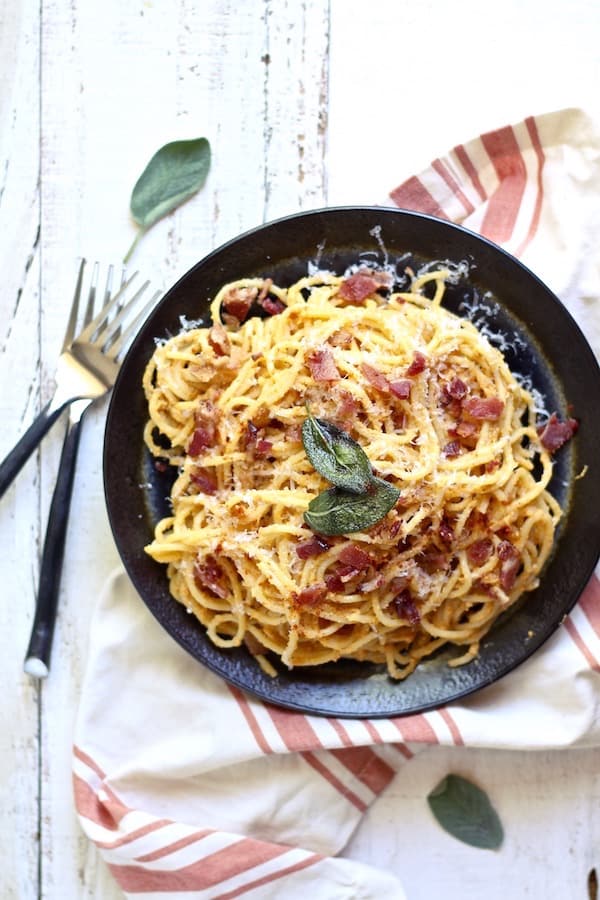 Bon Appetit Ya'll,
Leslie O.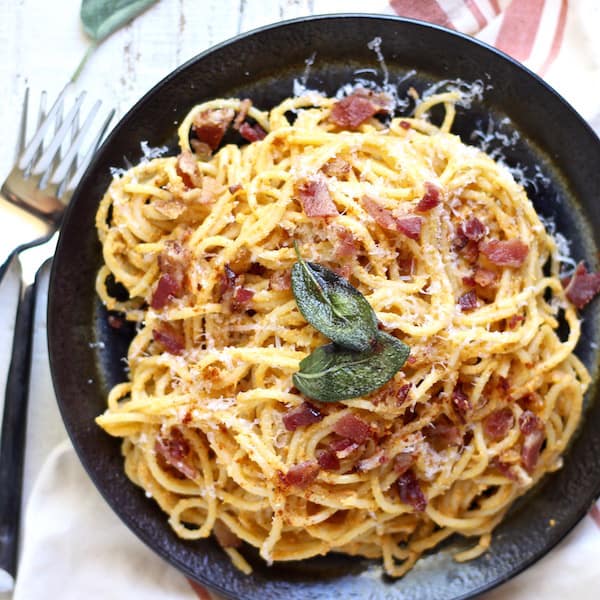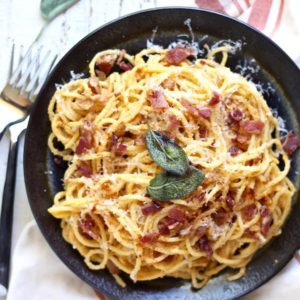 Easy Creamy Pumpkin Pasta
This easy creamy and dreamy pumpkin sauce is accented by crispy sage and bacon!
Print
Pin
Rate
Ingredients
3

slices

bacon

1

lb (16 0z)

penne pasta

or pasta of choice

3/4

cup

pumpkin puree

1/2

cup

cream cheese

1/2

small red onion

diced

8-10

fresh sage leaves

1/2

cup

pasta water

reserved

1/2

heaping cup

pecorino romano or parmesan cheese

shredded

1/4

tsp

nutmeg

freshly grated is best

1

tsp

smoked paprika

or regular paprika

1/2

tsp

red pepper flakes

optional, or sub with hot sauce of choice
Instructions
Bring a large pot of salted water to a boil. Cook the pasta according to instructions. Reserve 1/2 cup pasta water for the sauce.

While the pasta water is boiling, in a large skillet over medium heat, cook the bacon.  Drain the bacon and reserve the fat for the sauce.  If you want a lighter sauce, discard the bacon fat and add 1 Tbsp. olive oil instead.

When the bacon is done, remove from the pan and add the sage leaves. Get them crispy on both sides. Don't walk away, as this happens pretty quickly. Set aside the sage leaves.

While the pasta and bacon are cooking, chop the red onion, and shred the cheese.  Measure the pumpkin and cream cheese. 

To make the sauce, keep the pan on medium heat.  Add the red onion, red pepper flakes, and smoked paprika, and cook for about 30 seconds, or until fragrant (don't burn red onion!).  Add the pumpkin puree, cream cheese, nutmeg, and reserved pasta water.  Stir and simmer for about 5 minutes to slightly thicken.  Lower the heat if it is boiling heavily.

Cook the pasta until just under al dente, as we will finish cooking the pasta in the sauce. Drain your pasta and have it ready to go. Add the pasta and stir and cook for 2-3 minutes.  

Serve immediately and top with crumbled bacon, shredded cheese, and crumbled crispy sage.
Notes
If the eggs curdle a bit, don't worry, it will still be amazing!