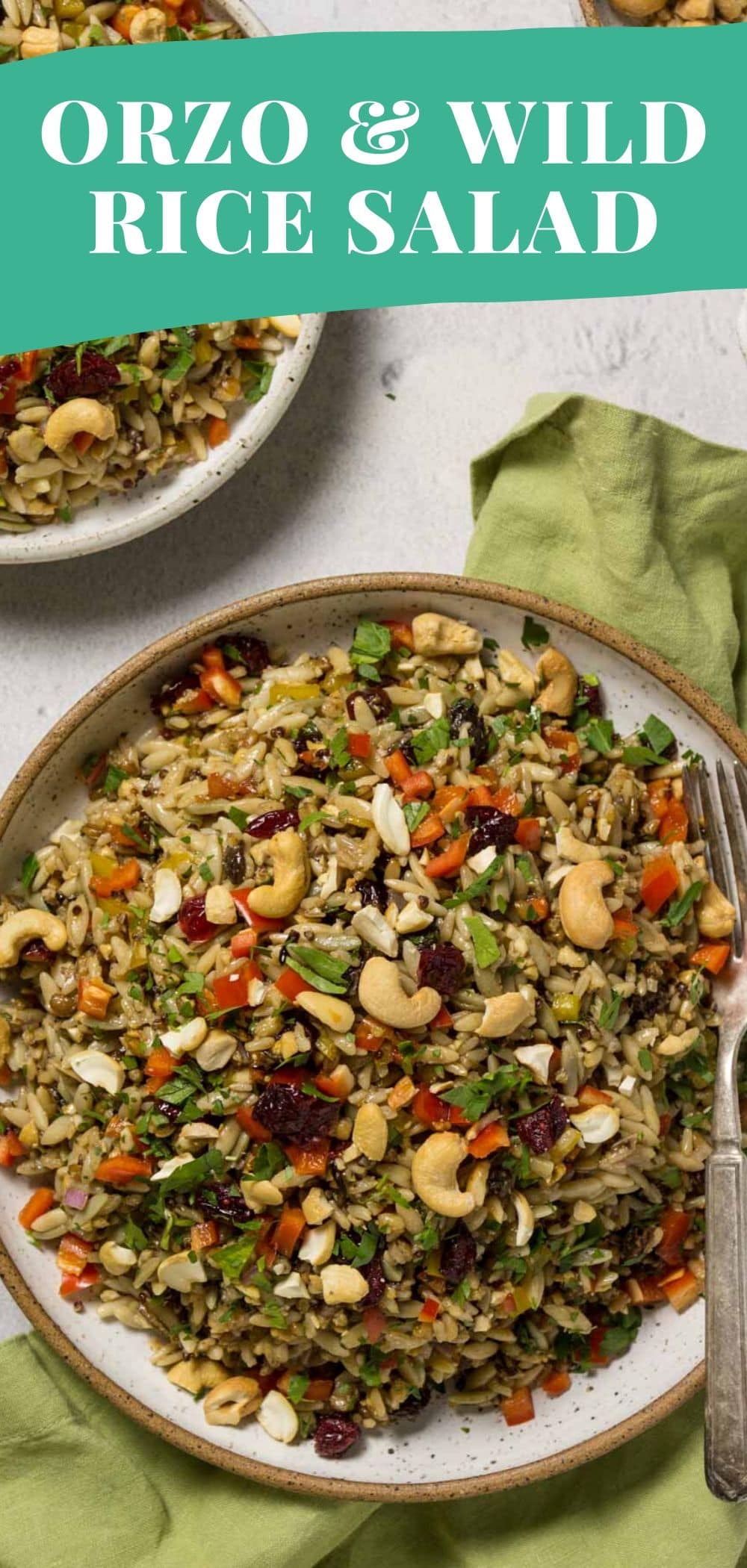 This scrumptious Orzo & Wild Rice Salad can be made once and savored all week for lunch. This vibrant salad also travels well, can be served immediately, or be made a day in advance, giving a chance for the vinaigrette to mingle with the other ingredients and enhance the flavor even more!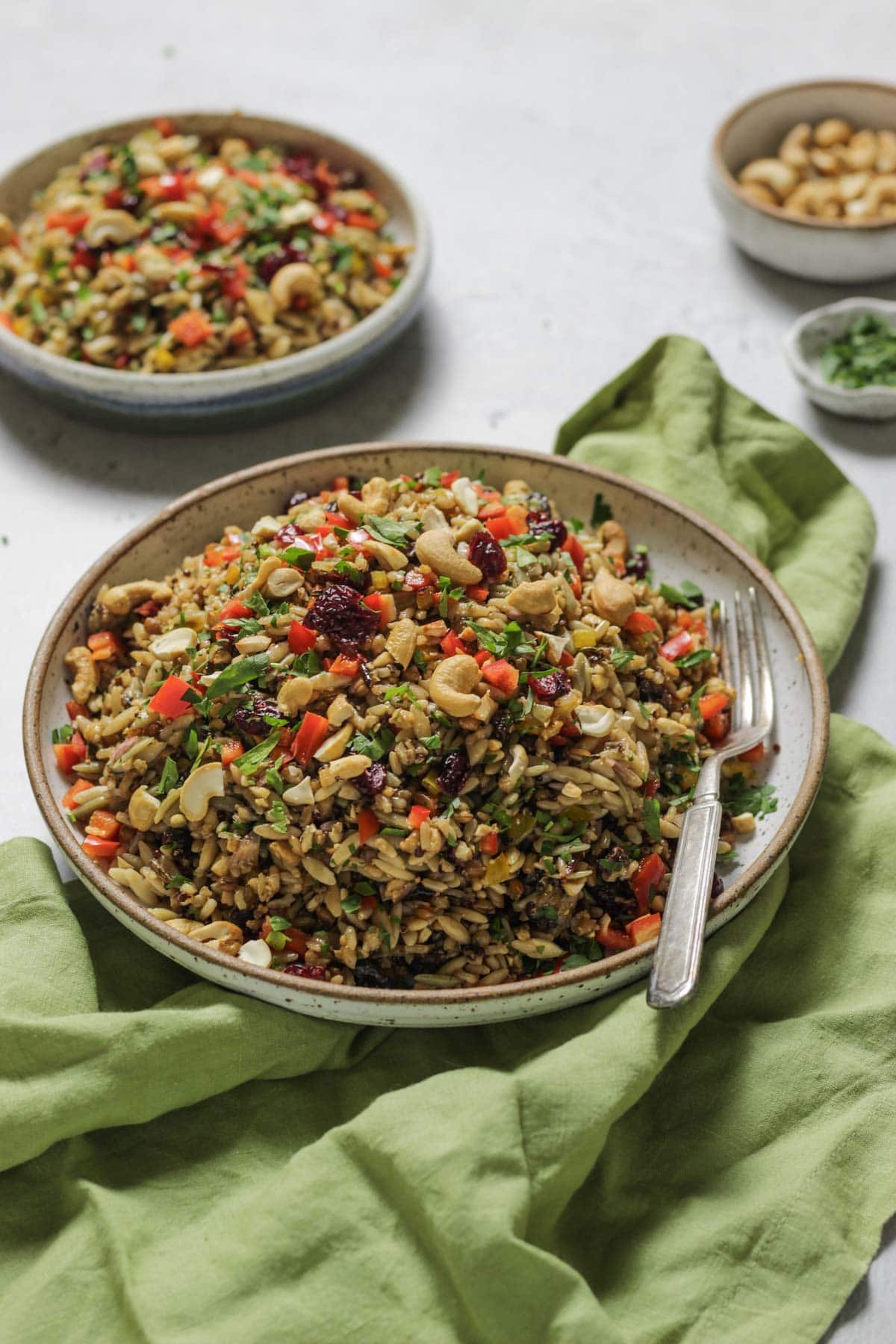 Why this recipe is awesome
Golden raisins, dried cranberries, bell peppers, and cashews add texture and sweetness
The bright orange juice, balsamic, and red wine vinegar combine to make a dressing that packs a punch of acidity and excitement to pasta and rice salad party.
The orzo and wild rice can be cooked in advance
The vinaigrette can be made in advance
All of the ingredients (except for the parsley) can be chopped in advance
The vinaigrette improves the flavor even more if it's made in advance
This salad can be served warm or chilled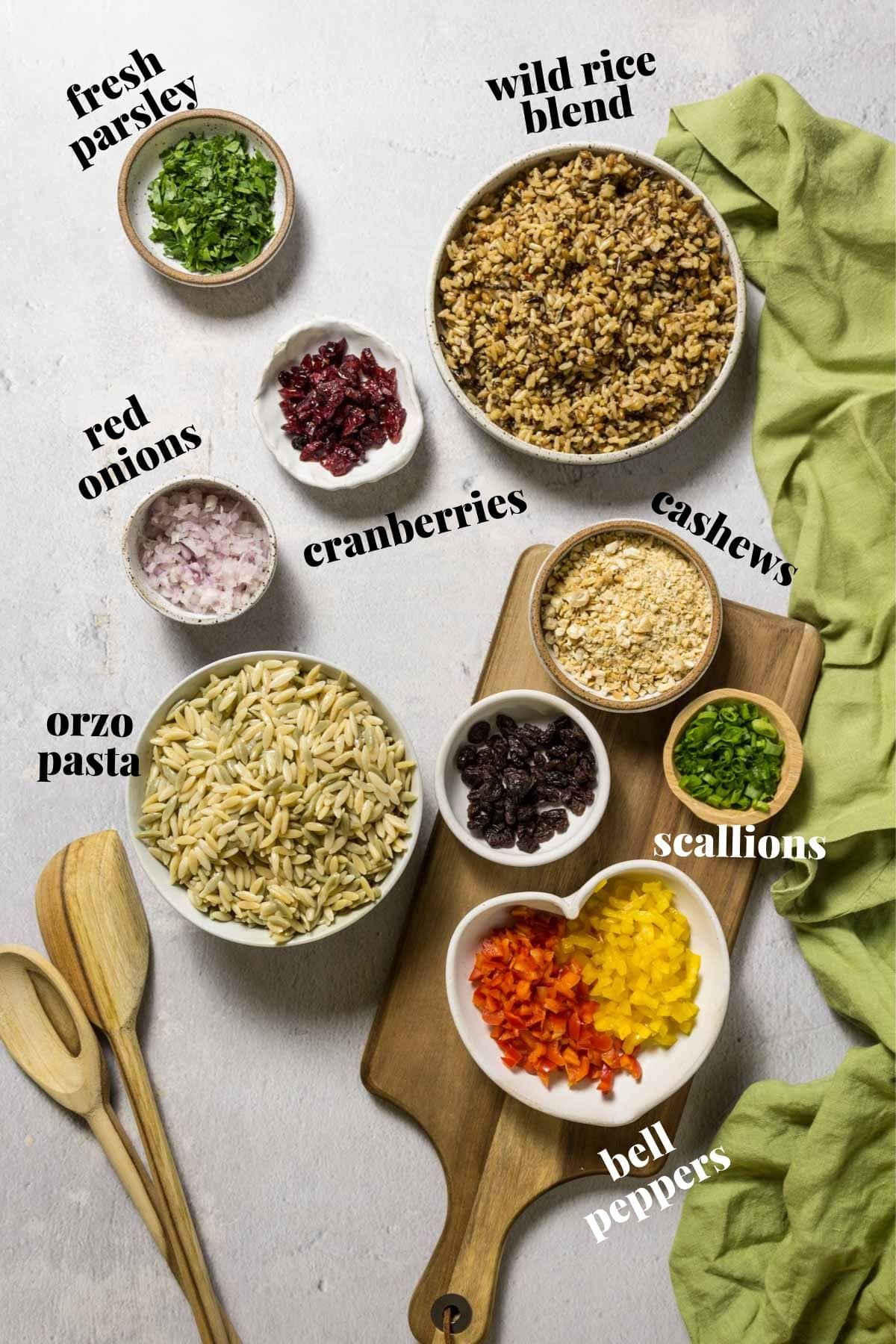 Orzo and wild rice need to be cooked separately because orzo is a pasta and needs to boil in a large pot of water and rice will absorb all of its cooking liquid. Cook them both according to package directions. The rice blends available may vary, so pick whatever blend looks tasty to you.
While the rice and pasta are cooking, soak the golden raisins and cranberries in orange juice. They need to marinate for at least 20 minutes to absorb the juice and soften the texture. Next, chop the cashews, bell pepper, fresh parsley, and shallot.
Drain the orzo, and fluff the rice with a fork and remove from the heat. Drain the orange juice from the dried fruits and add to the vinaigrette. Toss all the ingredients together and you are done! Serve warm, or place in the fridge to marinate and enjoy chilled.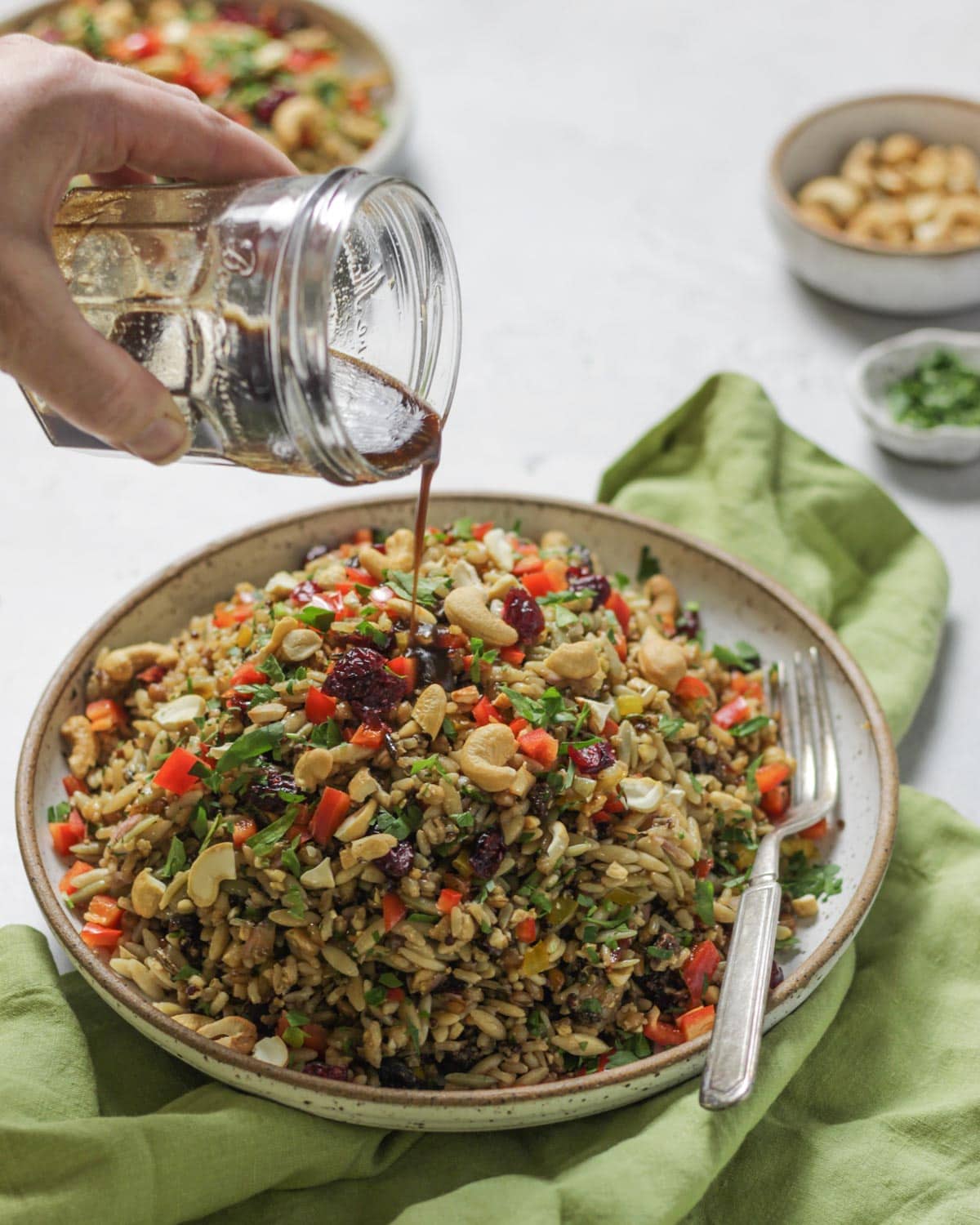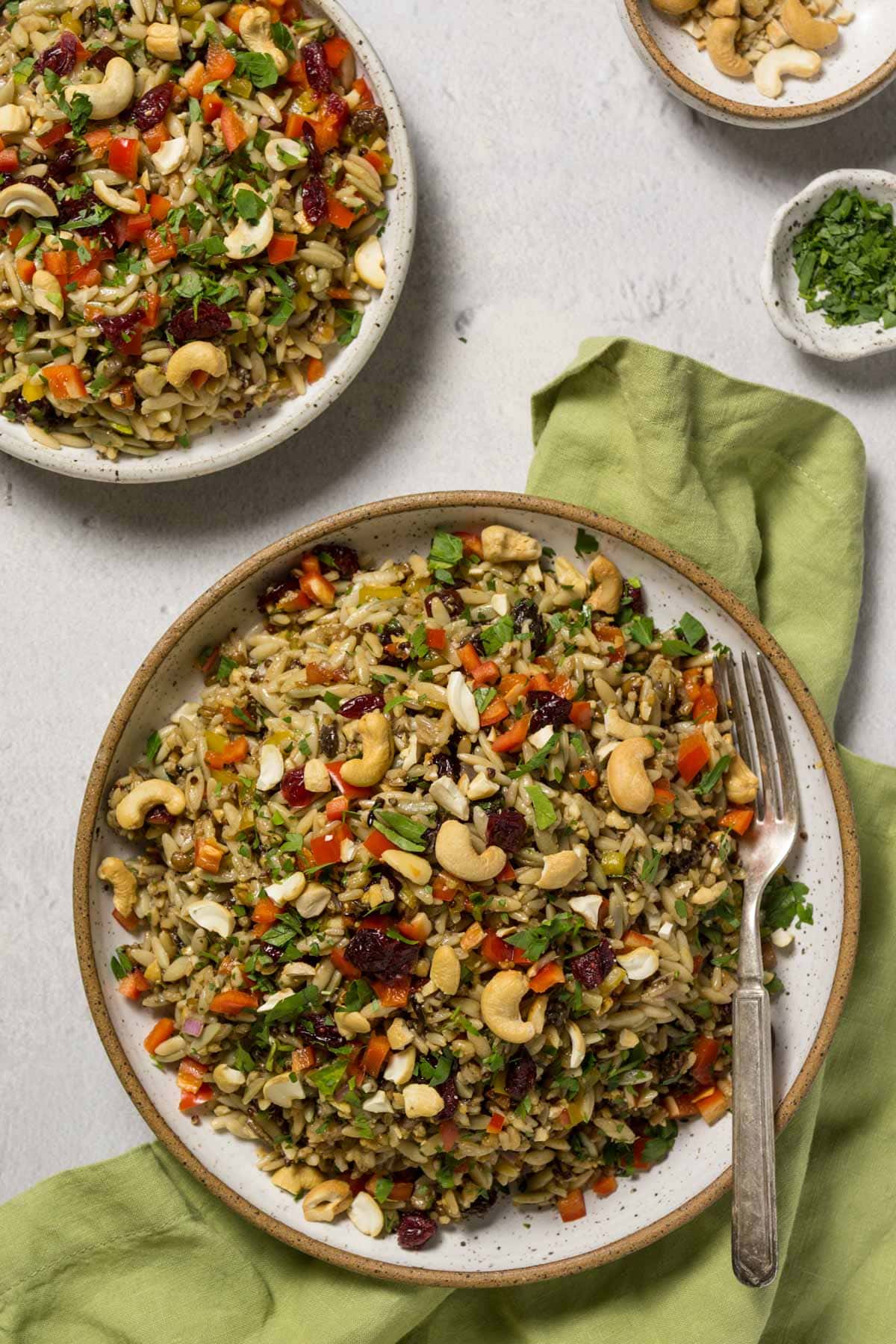 More Refreshing Salads
Mediterranean Kale Farro Salad
Chicken Caesar Salad with Herbed Yogurt Caesar Dressing
Bon Appetit Ya'll,
Leslie O.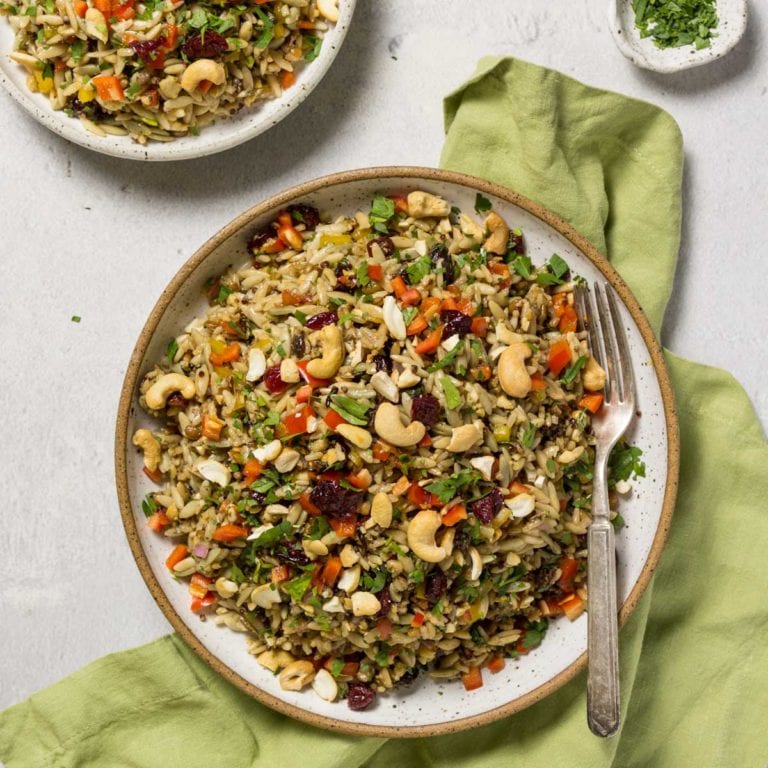 Orzo and Wild Rice Salad
Orzo and rice salad packs a great flavor and texture with the addition of golden raisins, dried cranberries bell peppers and a tangy vinaigrette. Make ahead for a chilled summer salad, or serve as a warm side dish year round.
Print
Pin
Rate
Ingredients
1

cup

uncooked wild rice

1

cup

uncooked orzo pasta

2

Tbsp

dried cranberries

2

Tbsp

golden raisins

2

Tbsp

shallots or red onions

minced

1

yellow, red, orange, or green bell pepper, diced

1/2

cup

toasted cashews

chopped, keep some whole

handful of fresh parsley

chopped
For the Vinaigrette
1/4

cup

orange juice

1

tsp

honey

2

Tbsp

red wine vinegar

1

Tbsp

balsamic vinegar

1

tsp

dijon mustard

1/4

cup

olive oil

salt and pepper to taste
Instructions
Soak the golden raisins and cranberries in the orange juice to soften.

Cook the orzo in plenty of salted water according to package directions. Drain and set aside.

Cook the wild rice according to package directions. Fluff with a fork and remove from heat.

While the rice and orzo are cooking, chop the shallot, bell pepper, cashews, and parsley and set aside.

Combine the rice and orzo with a drizzle of oil to keep it from sticking together. Add the shallot, bell pepper, cashews, and parsley.

Remove the cranberries and golden raisins from the orange juice and toss in the salad. Reserve the juice for the vinaigrette.

Add both vinegars, orange juice, dijon mustard, honey, salt and pepper, and whisk. Whisk in olive oil until emulsified. You can also just shake it in a mason jar to combine.

Toss all the ingredients with the dressing and serve immediately warm, or chill in the fridge and serve cold.

Can be made up to a day in advance.
Video
Notes
Recipe Shortcut
Wild rice blends can take longer to cook (around 40 minutes) depending on how much whole grain rice there is in the blend.  You can use a pre-cooked wild rice blend that is easy to find in stores now.
A Gluten-Free Alternative
If you want to make this salad gluten-free, then omit the orzo pasta and double the amount of wild rice to replace it.  I've never seen gluten-free orzo pasta so using all rice would be the easiest option.