Become the hero of your family and learn an Easy Sourdough Bread Recipe with step-by-step instruction, a Shaping Video that shows you two ways to shape your dough, plus how to proof and bake it too! With over 20 step-by-step photos and photo grids plus the video, you can absolutely learn to how to make sourdough bread no matter your level of baking experience.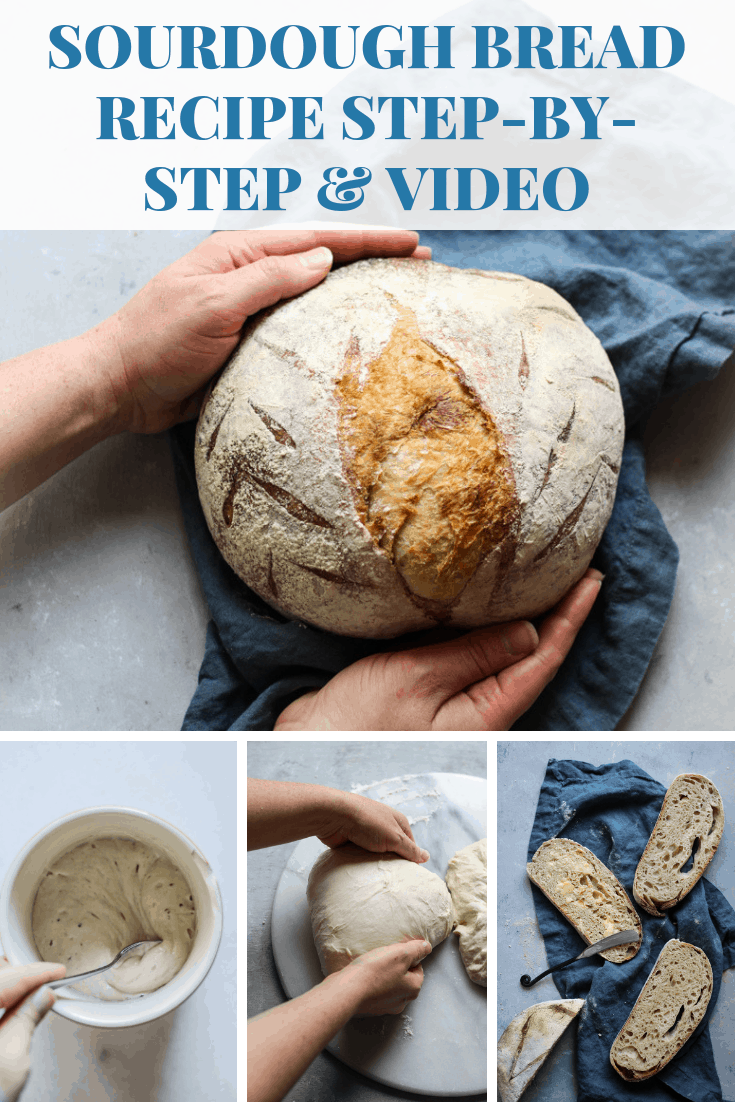 What is a sourdough culture?
A culture (aka a mother or starter) is created from a natural fermentation process from wild yeast and wild bacteria. Wild yeast and wild bacteria are present in our air, water, and flour.
When flour and water are combined and fed more flour and water regularly, the fermentation process can begin, resulting in an active live culture that can be used to ferment bread and make it rise. Another name for sourdough bread is naturally leavened bread.
How to use a sourdough starter for sourdough bread
Instead of using dry yeast from a packet, a sourdough culture/starter will create the most incredibly delicious and nutritious bread known to man.
If you already have a sourdough starter that you feed daily (or weekly if kept in the fridge), then you are likely familiar with the process of using a sourdough starter for bread baking.
However, if you don't have a sourdough starter already, then it's essential that you read my post for The Lazy Baker's Guide to Caring For a Sourdough Starter.
This sourdough bread recipe uses about 1/2 cup or 94 grams of sourdough starter.
The grid below shows the simple steps.
Feed your starter flour and water 8-12 hours before you are ready to mix this sourdough bread recipe.
Let the starter ripen. In the 2nd photo, the starter isn't bubbly because it had just been fed.
In the 3rd and 4th photo, about 8-12 hours later, the starter is nice and bubbly which means it's ripe and will make your bread rise properly. Scoop out 94 grams of the starter and add to your dough for mixing the sourdough bread.
Feeding your sourdough starter to keep it alive
After you have scooped out what you need for the sourdough bread recipe, take out 20 grams of starter from the sourdough pot and feed it 50 grams of water and 50 grams of flour. Throw away any remaining starter (if any), rinse the sourdough crock/pot, and place the mixture you just fed back in the sourdough pot for the next day. See the Lazy Baker's Guide for the easy way to take care of your starter.
Purchase an active sourdough starter
The easiest way to get your hands on a small portion of a sourdough starter is to purchase an established one from a reputable company. These are my favorites: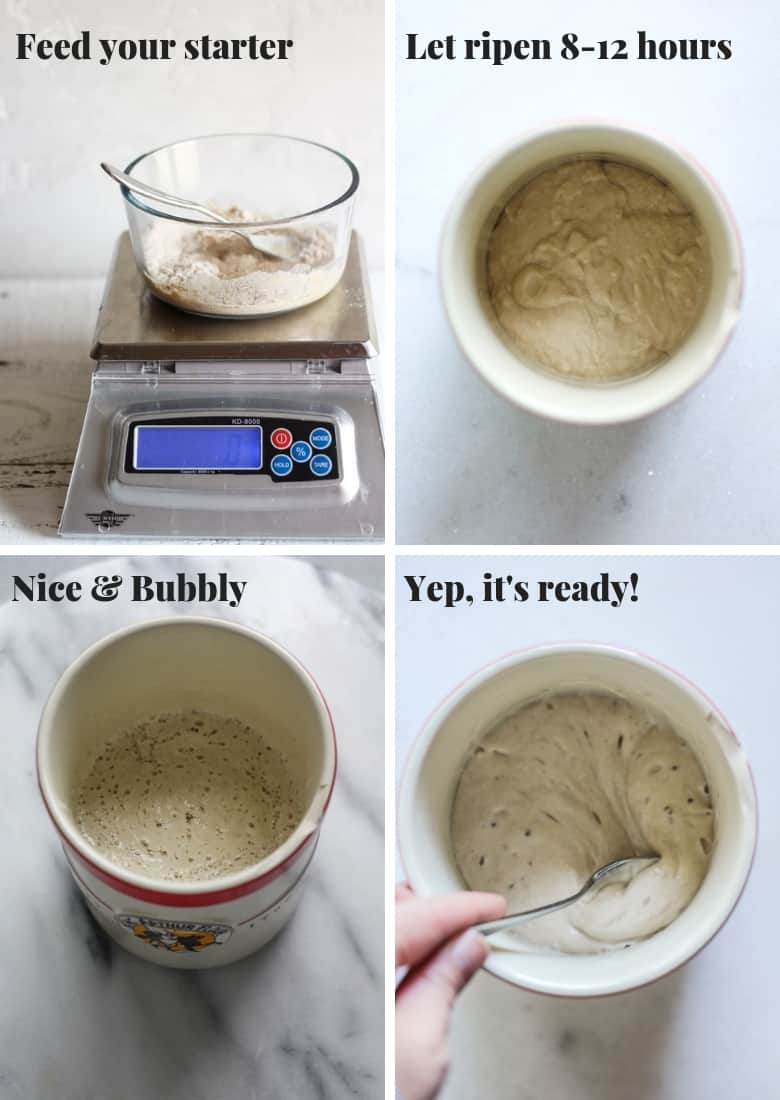 Sourdough Bread Recipe ingredients
For the flours, I use a mixture of bread flour and all-purpose flour because these two flours are most readily available at grocery stores. Bread flour has a high percentage of protein which helps create a nice structure, but a bit of all-purpose flour (which has a slightly lower percentage of gluten proteins) helps to create a more tender crumb.
I recommend King Arthur Flour organic flours whenever possible.
Bread flour
All-purpose flour
Water
Salt
Honey
Sourdough Starter
Tools for Making Sourdough Bread
Contrary to popular belief, you don't need a ton of fancy tools to make bread. Chances are, you probably have some of these items in your kitchen now. However, a digital kitchen scale is one that is a must! These are Amazon affiliate links.
Digital Kitchen Scale

–> Ditch the measuring spoons and cups and weigh your ingredients instead. This is FAR more accurate and much easier than scooping and leveling several cups of flour and water. Simply place your mixing bowl on a scale and pour each ingredient in the bowl until you get the right weight. Zero or "tare" the scale each time you add a new ingredient to ensure you get the correct weight.

Metal Bench Scraper

–> This tool comes in handy for scraping sticky dough off of your counter without having to heavily flour your work surface. It also assists in shaping your dough (see video for using a scraper when shaping)
Cast iron skillet –> Proof and bake your sourdough bread in a cast iron skillet to help hold the shape and create a nice crust. A cast iron skillet can be used for cooking so many things and will outlast your grandchildren if you take care of it. You can also use a dutch oven instead of a cast iron skillet, but they are more expensive. Don't go out and buy one unless you see yourself making lots of soups and stews over the years. I linked the Lodge dutch oven because they are awesome and more affordable than ones made in France.
Bread Lame or thin serrated knife for "scoring" your dough before baking (see photos & video for instruction)
Plastic bags for covering your loaf tins or cast iron skillet while proofing the dough (see photos below).
Mixing the sourdough bread recipe
As you can see below, I have added the bread flour, all-purpose flour, sea salt (I used pink Himalayan sea salt because that's what I had on hand).
Next add the sourdough starter, water, and honey and mix with a wooden spoon until combined.
Pour the dough onto your counter and knead with your hands for a couple of minutes. Using a metal bench scraper to scrape the sticky dough off of the counter while kneading helps this process.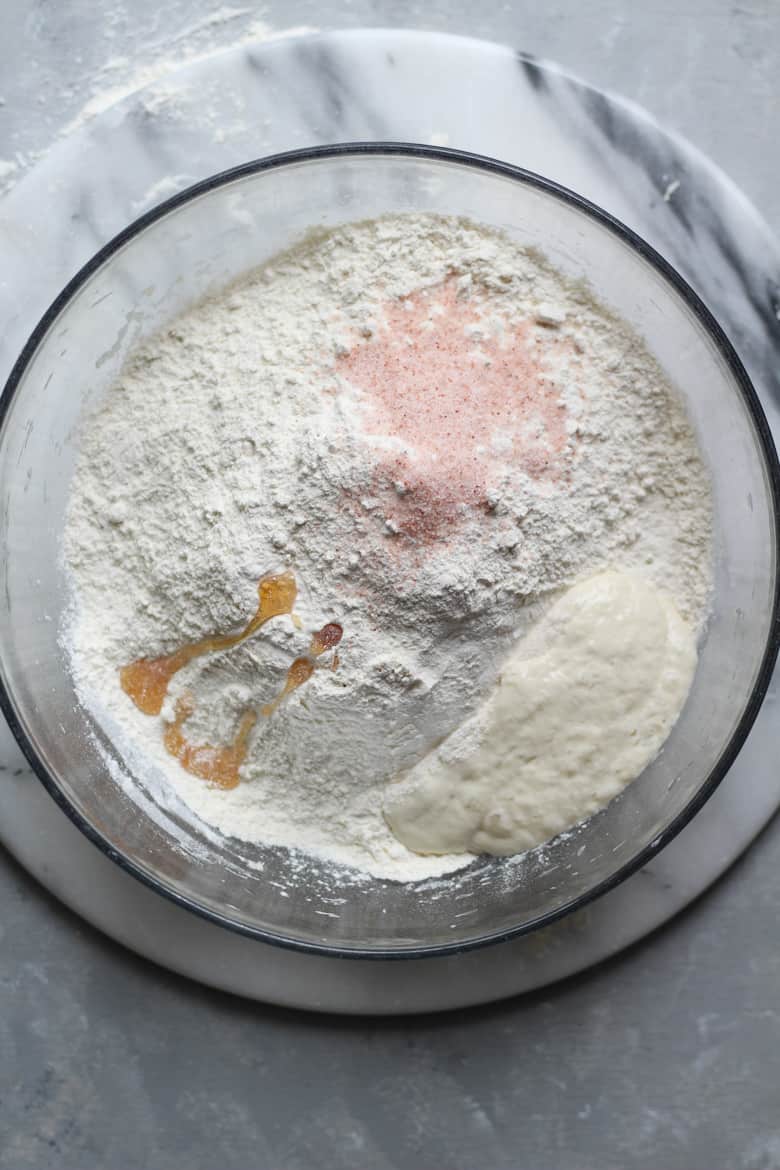 Folding the Dough
A "Fold" is an easy technique for helping to create a better structure for bread without having to knead the dough and develop the gluten too much.
It's simple: After you have kneaded the dough for a couple of minutes, stretch the left side of the dough towards the center, then the right side towards the center. Then stretch the top and bottom of the dough toward the center. Flip the dough over, cover with plastic wrap and ferment.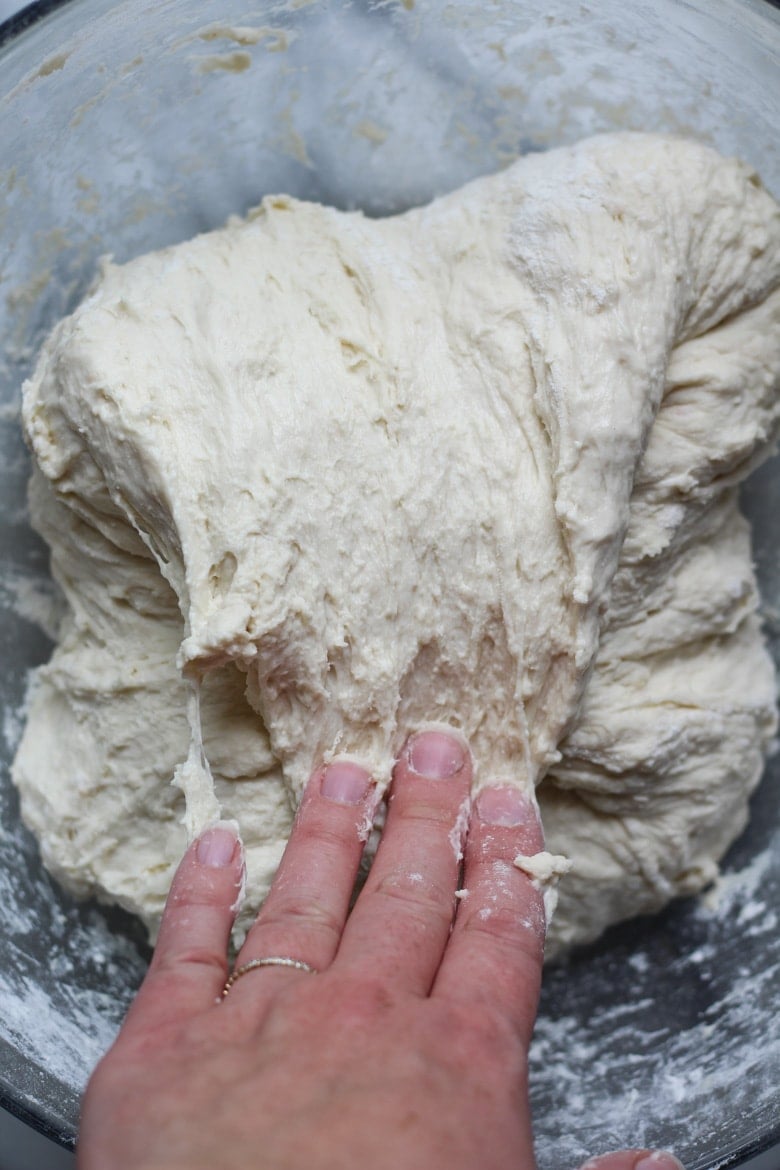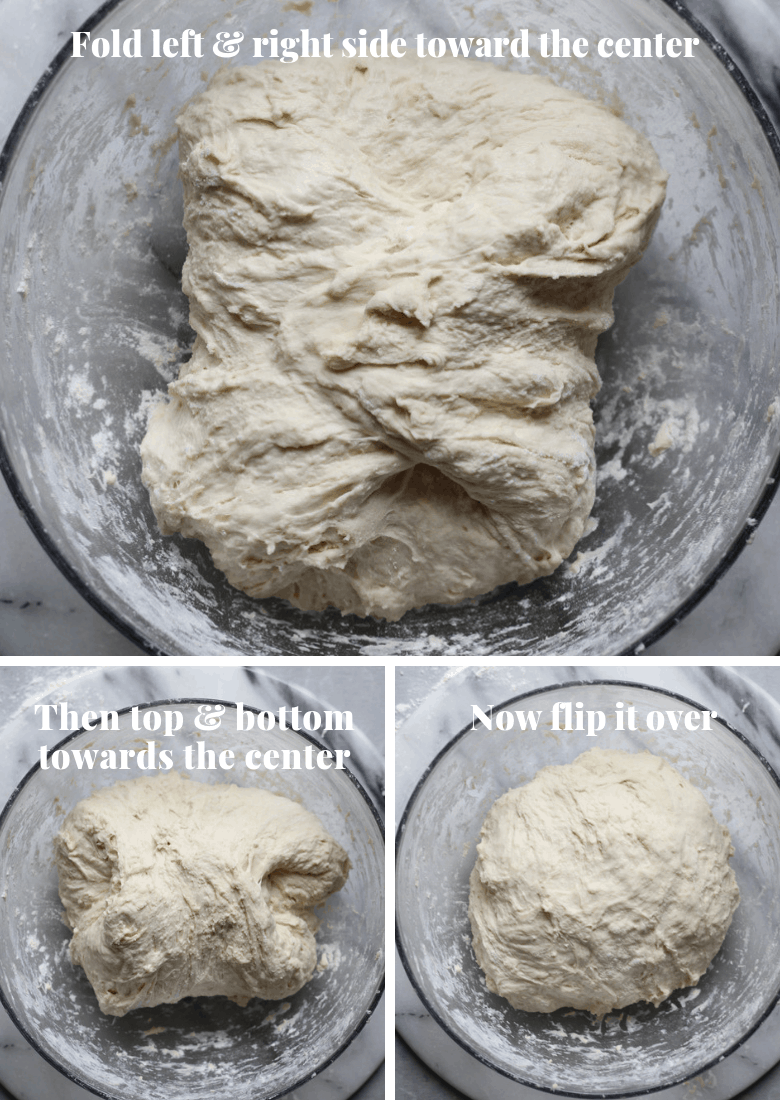 Fermenting the Dough
Ferment the dough for about 8-12 hours. Fermenting dough with a sourdough starter is a slower process than using dry yeast, therefore there is more flexibility when fermenting the dough.
You can start the dough at night, then shape, proof, and bake the dough the next morning. Or you can start the dough in the morning and finish it at night.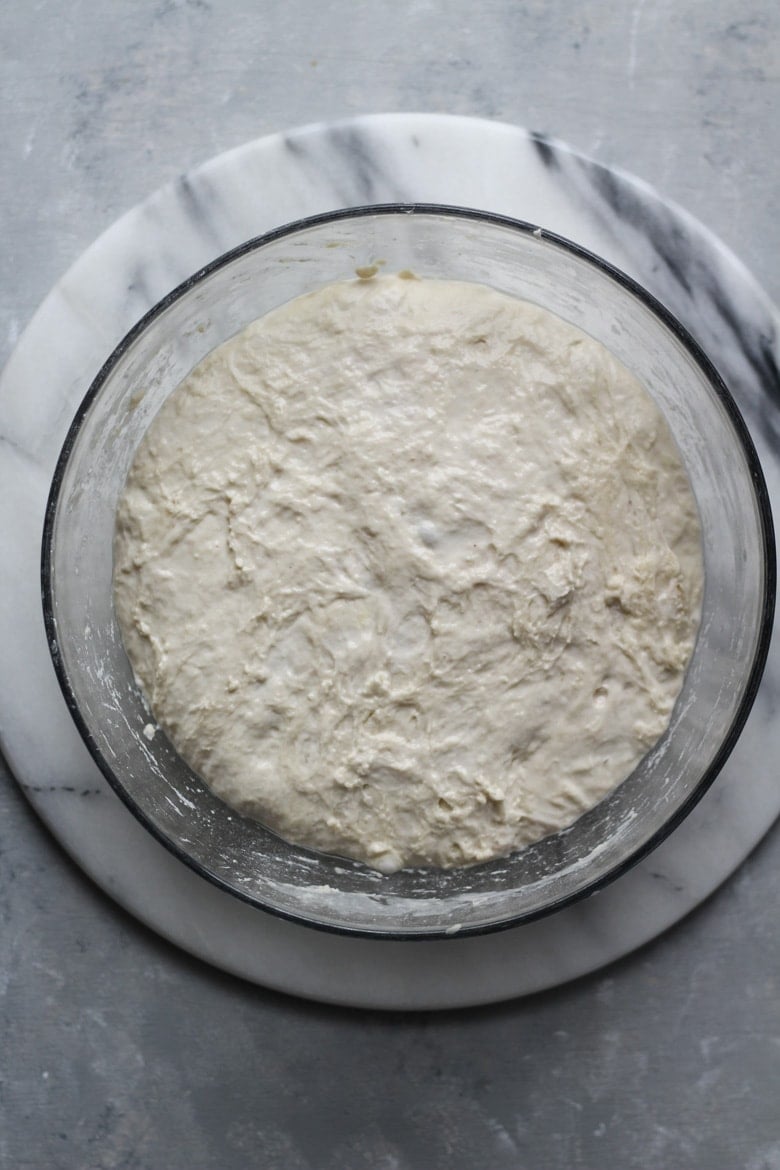 Pre-shaping sourdough bread dough
Pre-shaping is a simple method of loosely shaping the dough so that it's easier to shape your dough. By pre-shaping, you won't overwork the gluten and the dough will hold the final shape much easier.
You'll pre-shape the dough and let it rest for 15-20 minutes to allow the gluten to relax before the final shaping.
For this sourdough bread recipe, I took the dough and cut it in half. One half of the dough will be shaped into a round or "boule" shape for the cast iron skillet or dutch oven. The other half will be shaped into a log or "batard" shape for a loaf tin which is great for sandwich slices.
If you are experienced and want to shape this bread free-form (without a vessel)
You can shape both pieces into 2 logs or 2 rounds if you want, it's up to you.
It's just that once you shape them, you'll need to proof them in the vessel. Alternatively, you can shape them and proof them in a salad bowl lined with a clean kitchen towel or linen couche. Once they are proofed, flip the dough over onto a piece of parchment paper and bake them free-form in your oven on a clay stone.
Example: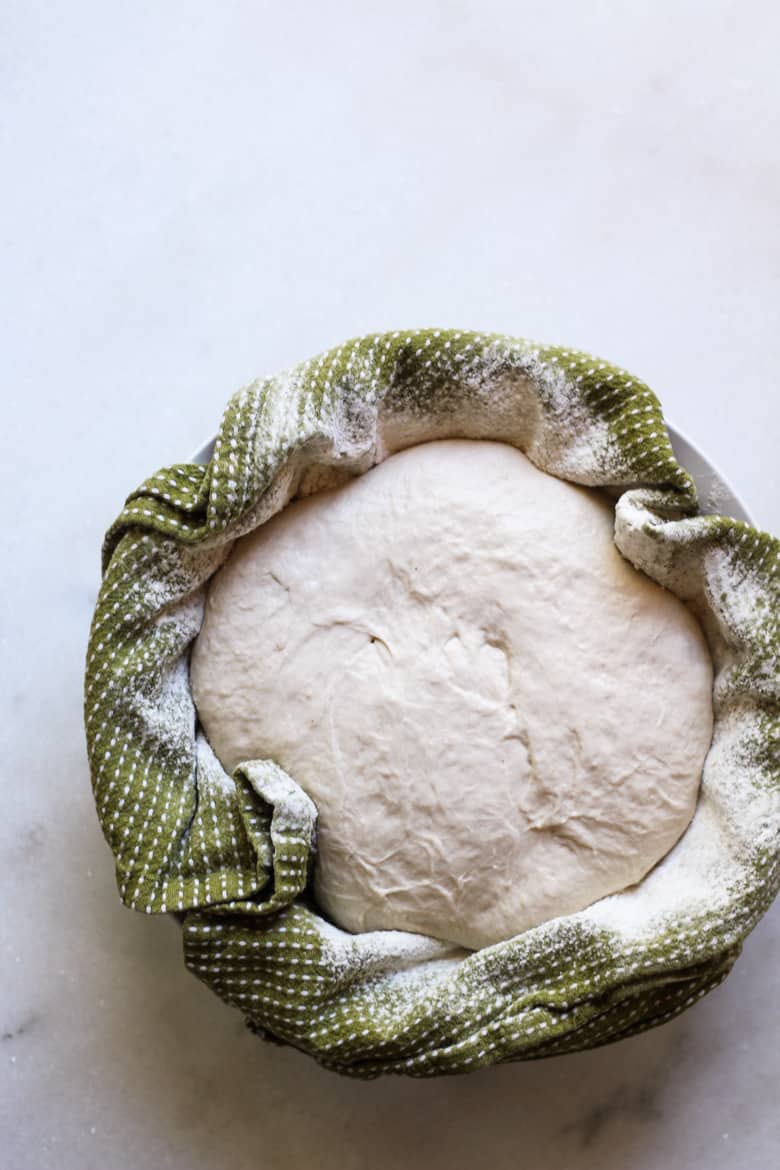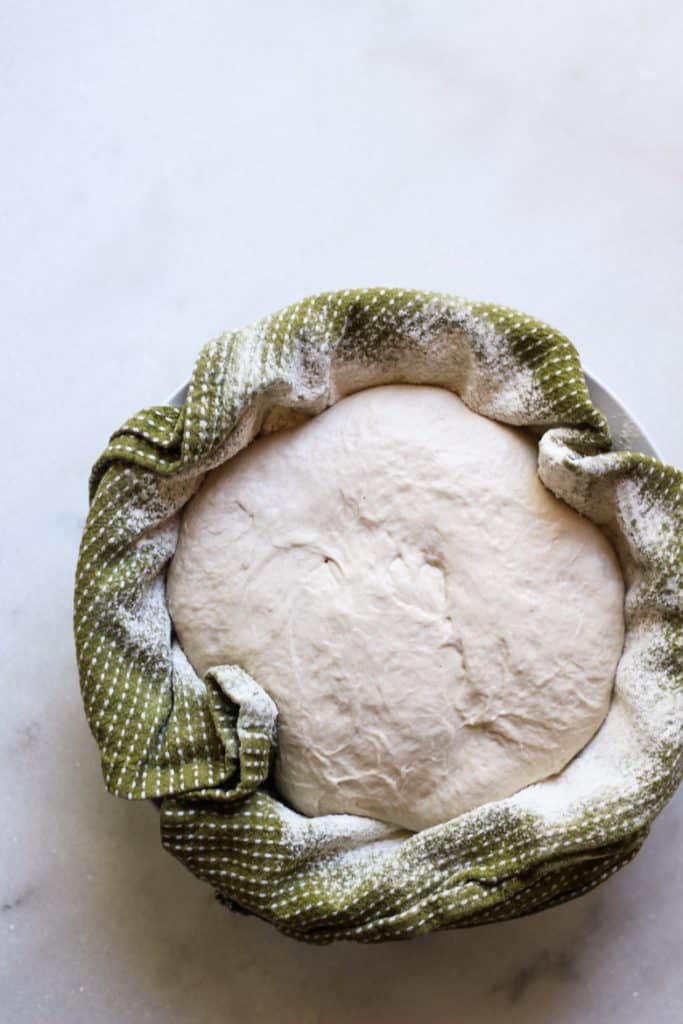 Watch the video for visual instruction.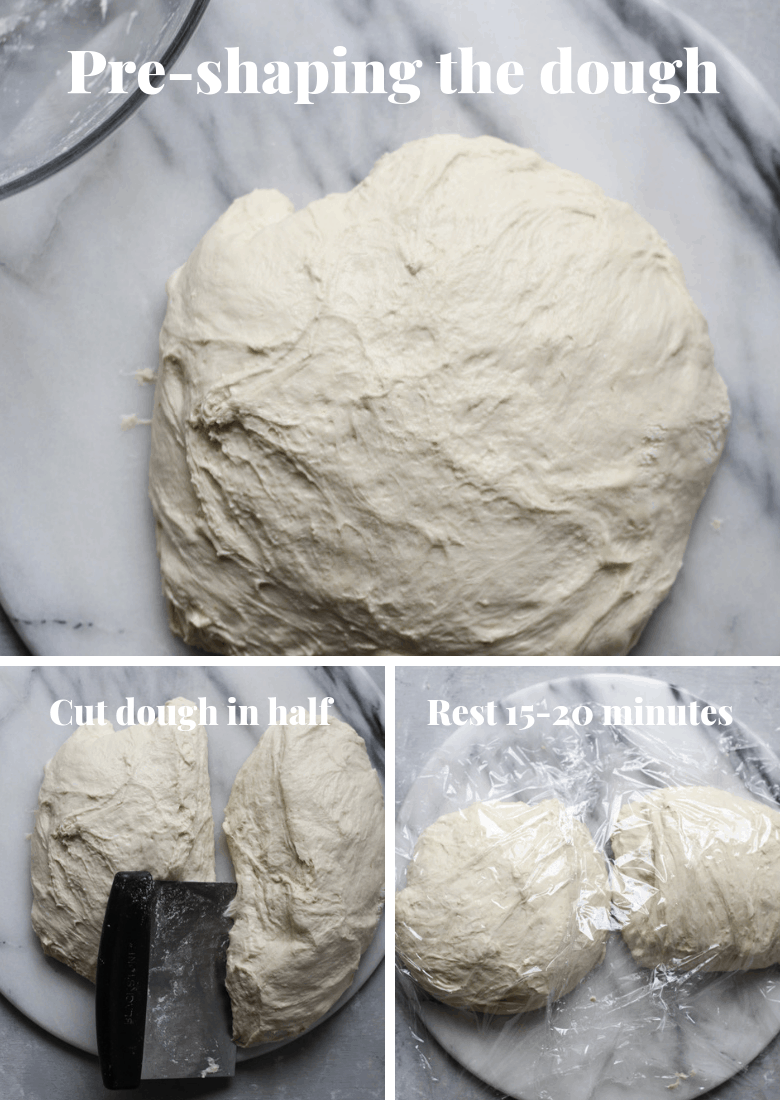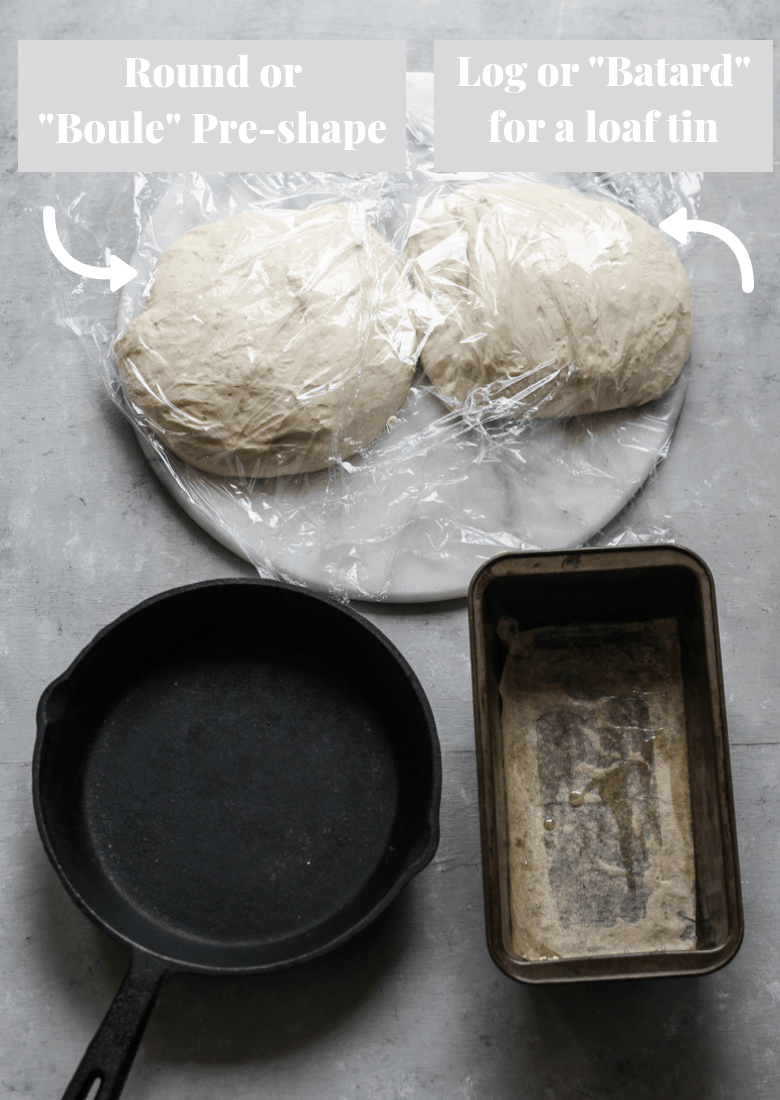 Shaping the dough
Now we shape our two loaves so that they can be proofed. Watch the video below for visual instruction on shaping!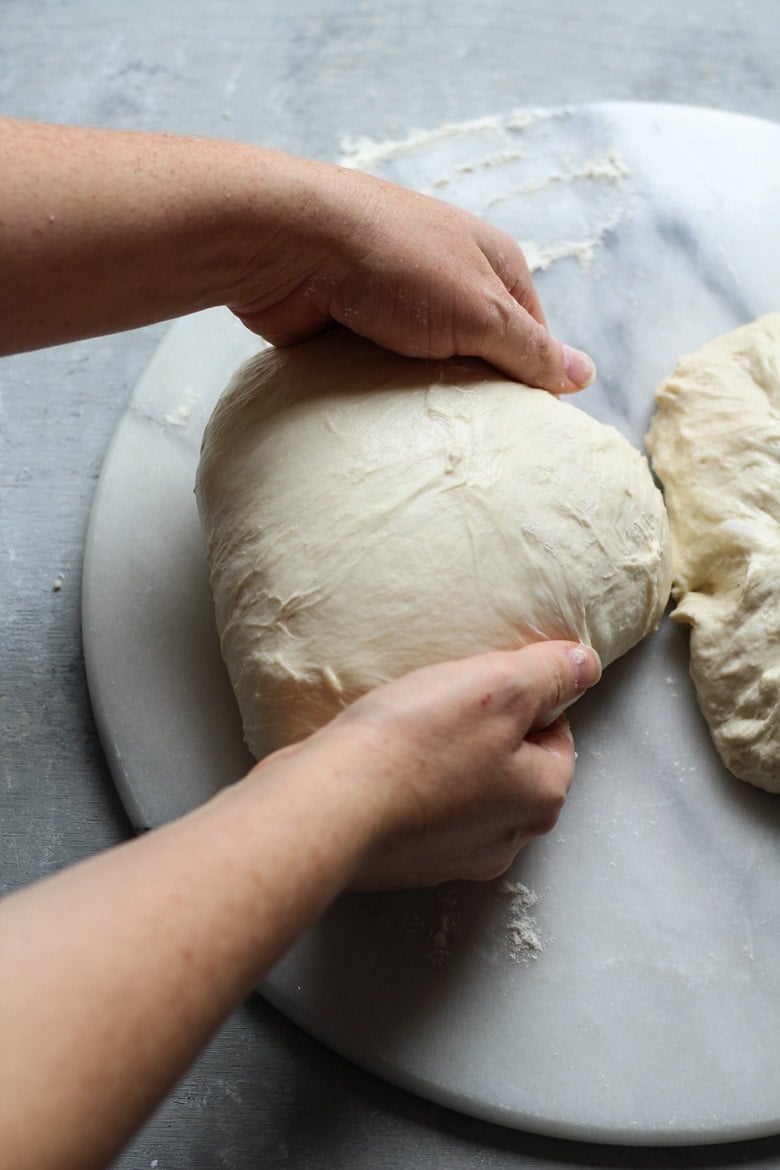 Proofing the loaves
You'll proof the round loaf in a cast iron skillet and the log shape in a loaf tin. Cover the pans with plastic bags and tie up so that no air can get in. This keeps you from having to use tons of plastic wrap.
Again, if you are experienced with shaping, you can proof the dough in a bowl lined with a linen towel or couche, so that it can be baked without a vessel.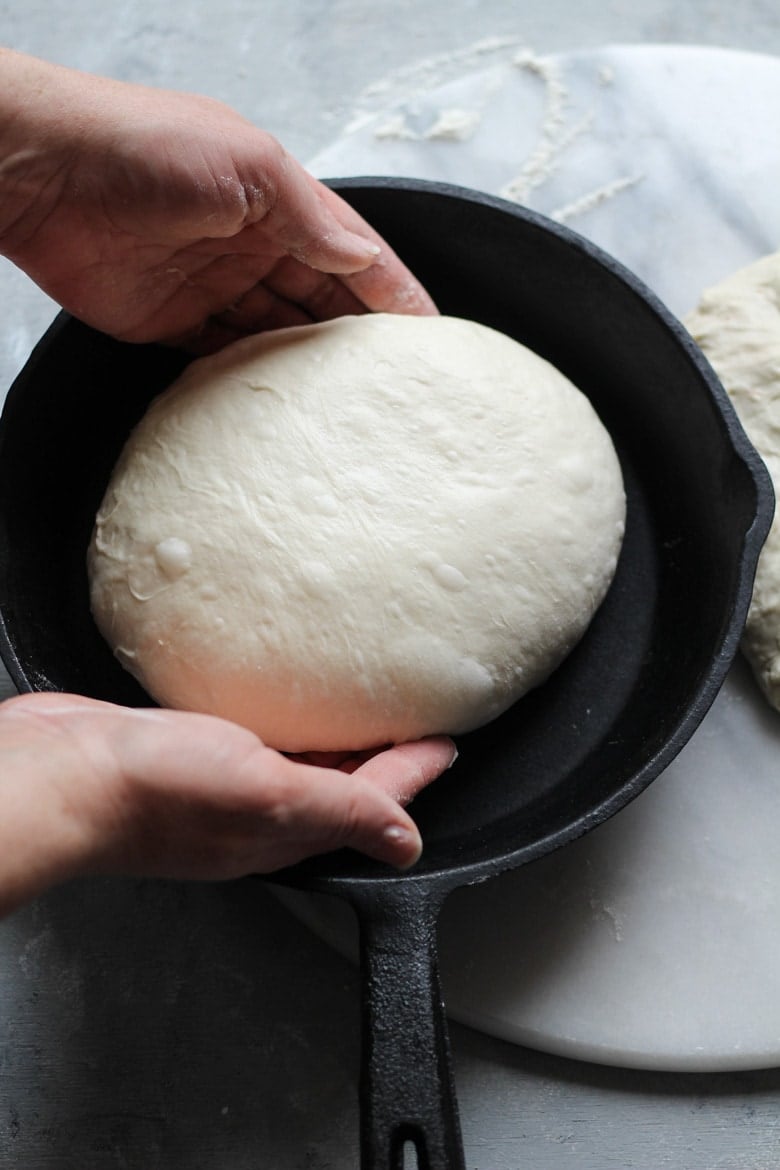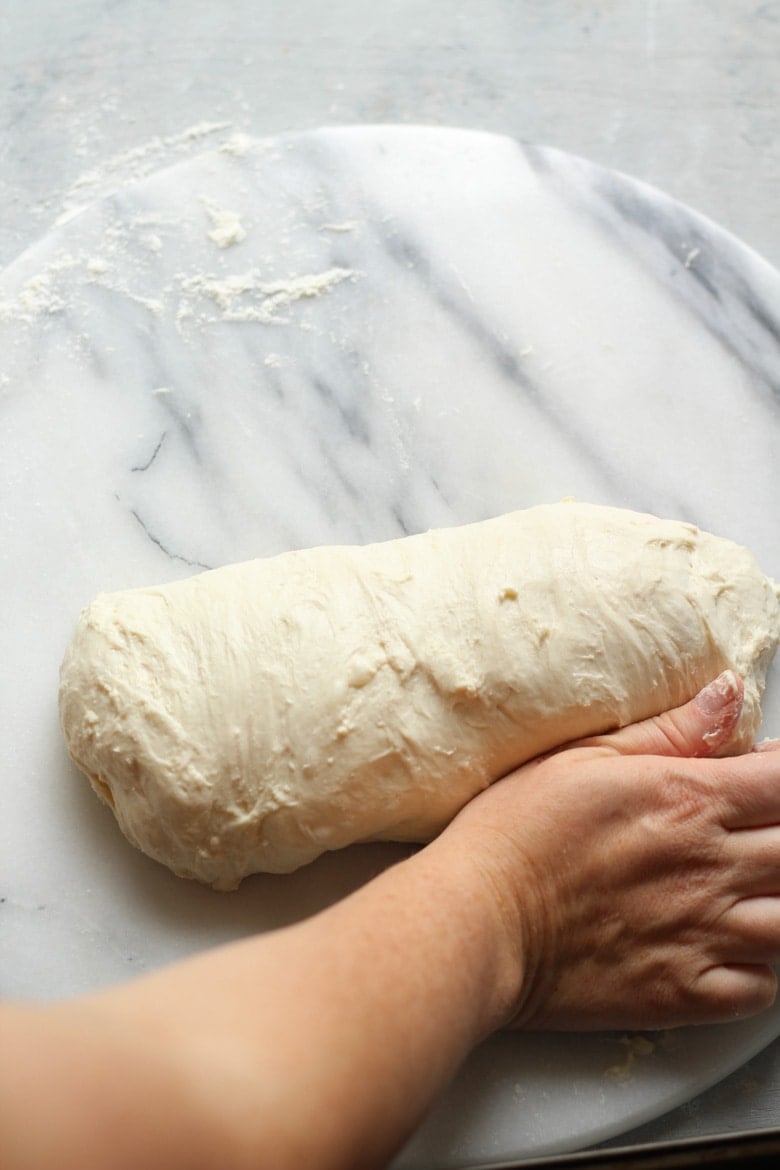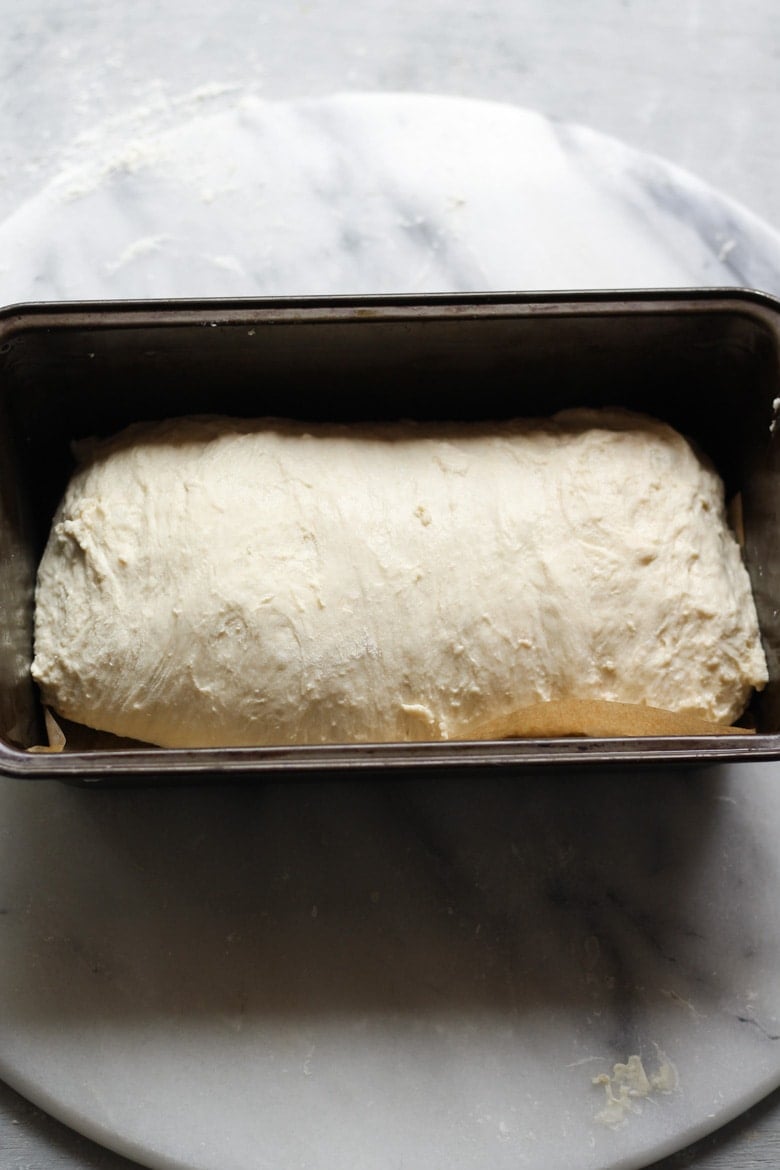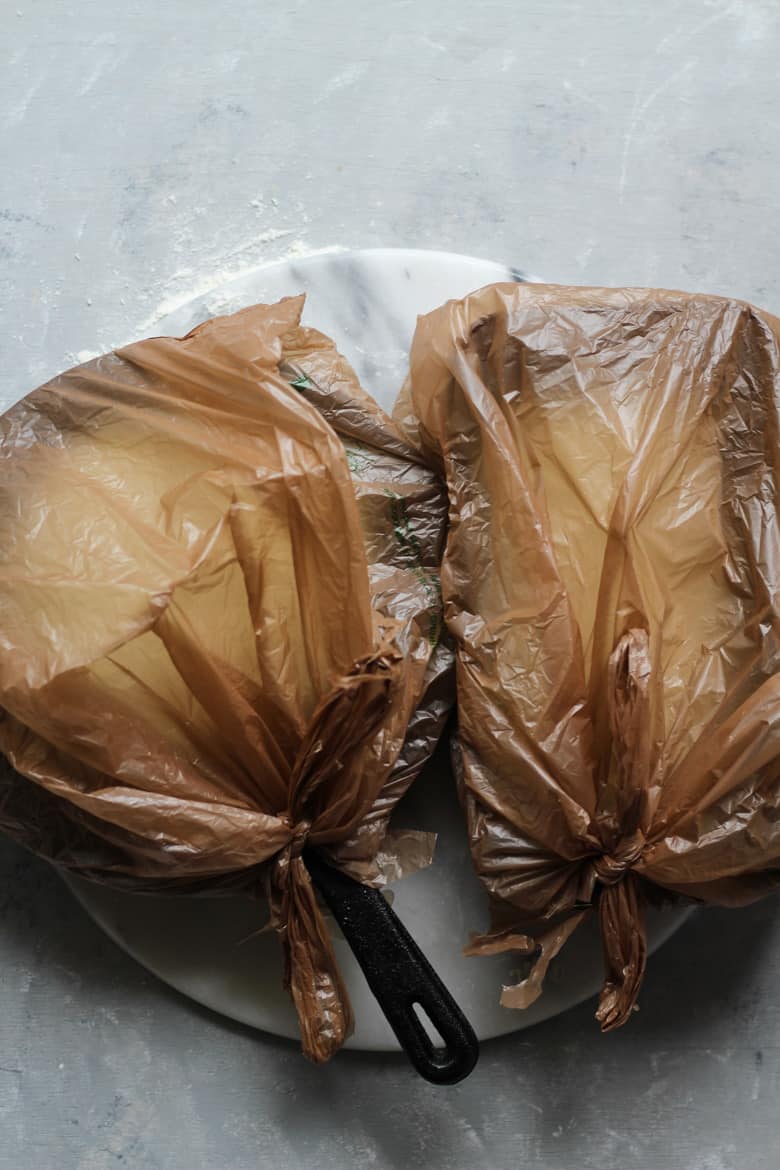 Scoring and Baking the sourdough bread
Preheat your oven to 450 degrees. Remove the plastic bags from the pans and sift flour over the tops of both loaves.
With a bread lame or thin serrated knife, score the tops of the loaves to allow for the bread to expand and bloom in the oven and give a nice decorative look.
Watch the video below.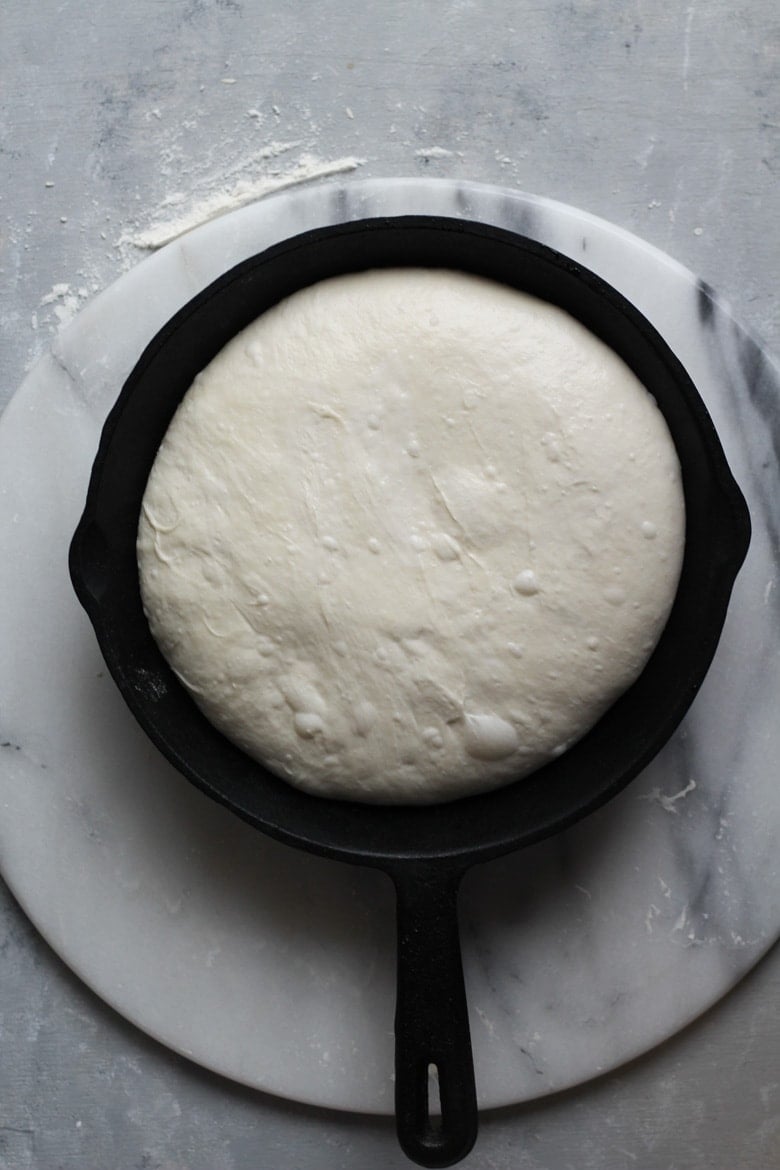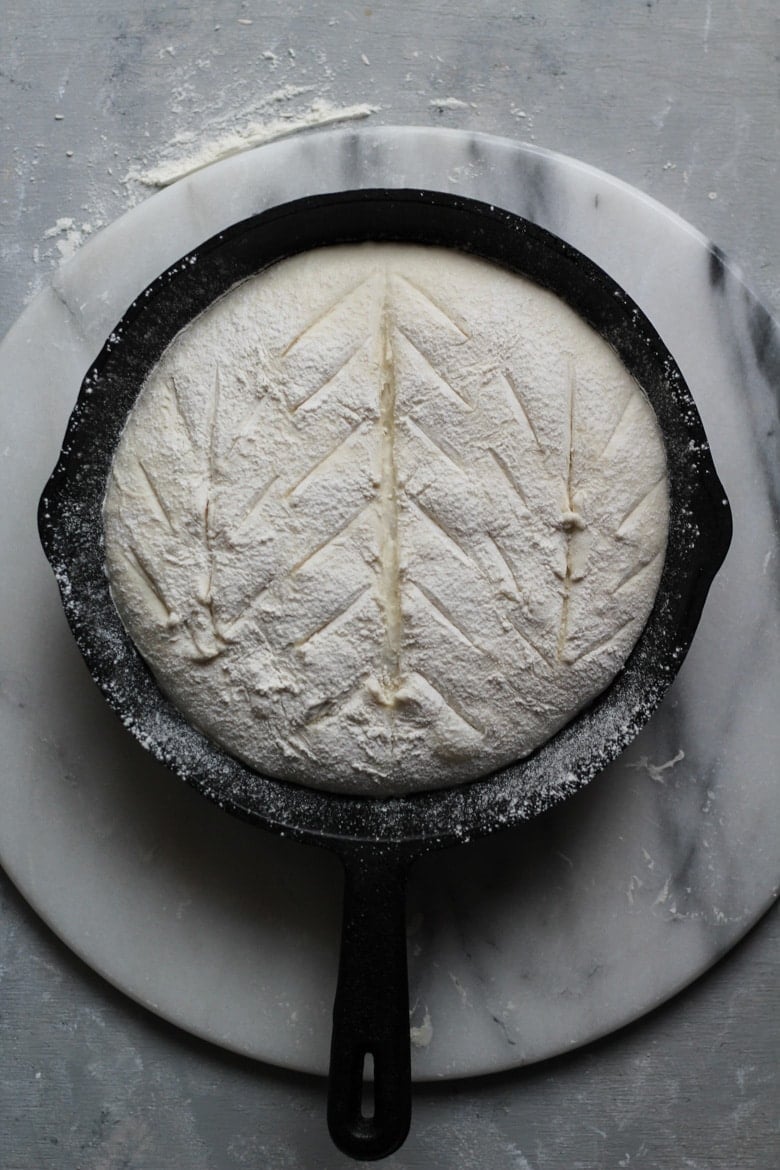 Watch the video & learn how to shape, proof, & bake this sourdough bread! ⇓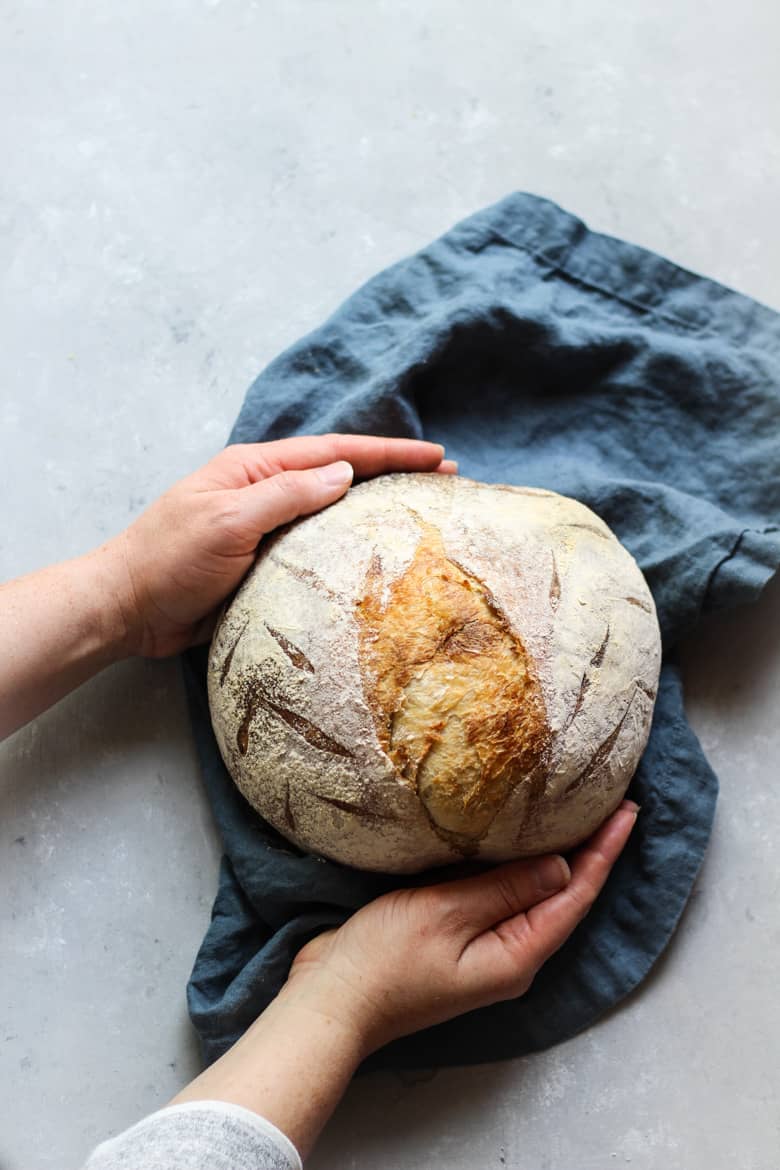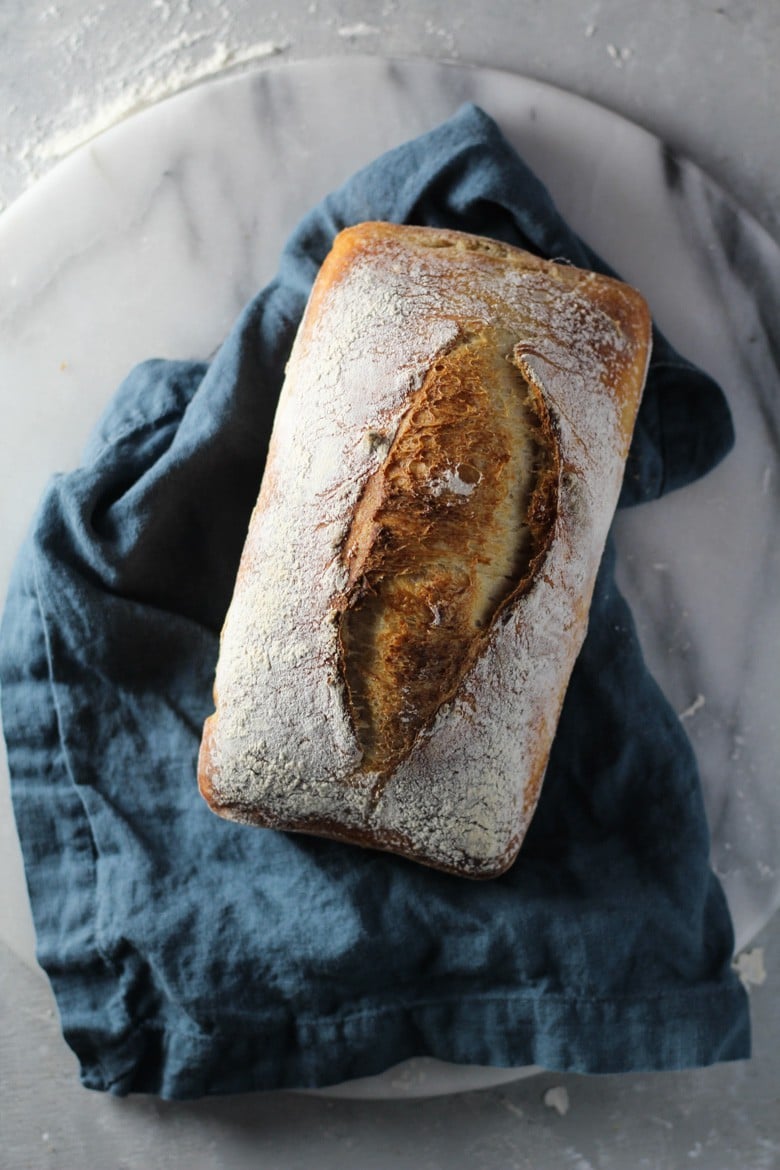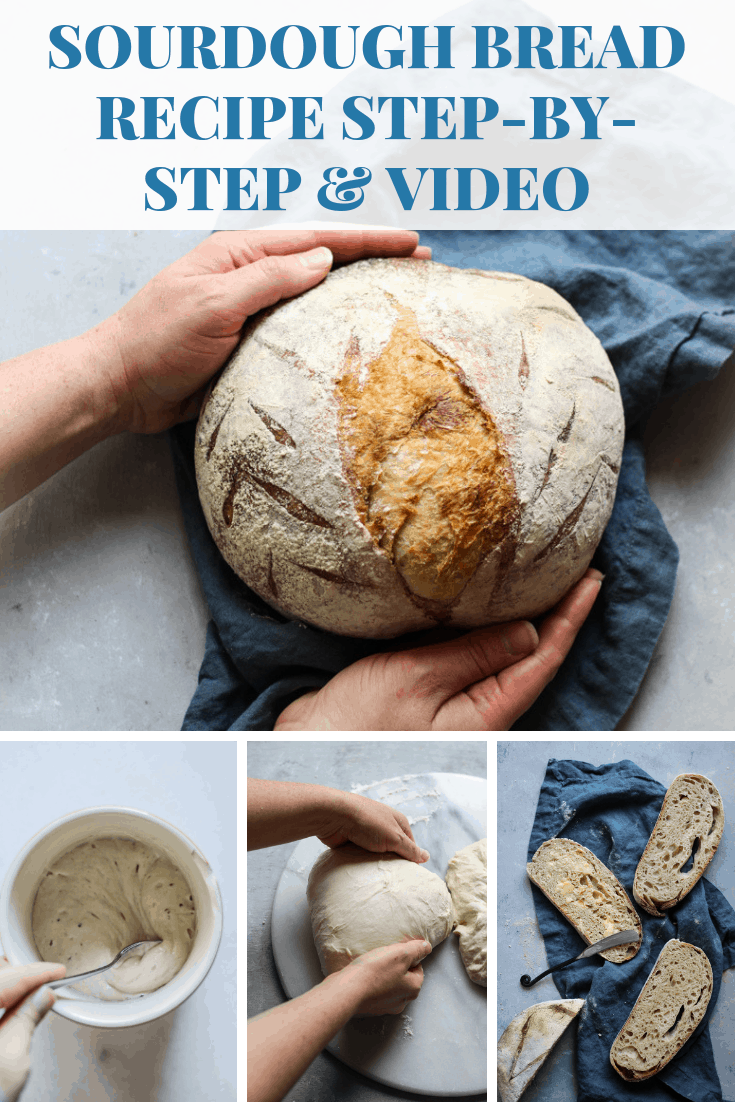 Believe me, I know making bread seems like a process, but I PROMISE you, it's worth it. I know you can do it.
You will feel so proud when you pull these loaves out of the oven. Please comment below if you have any questions or want to share your experience with me. I'd love to hear about it!

Bon Appetit Ya'll,
Leslie O.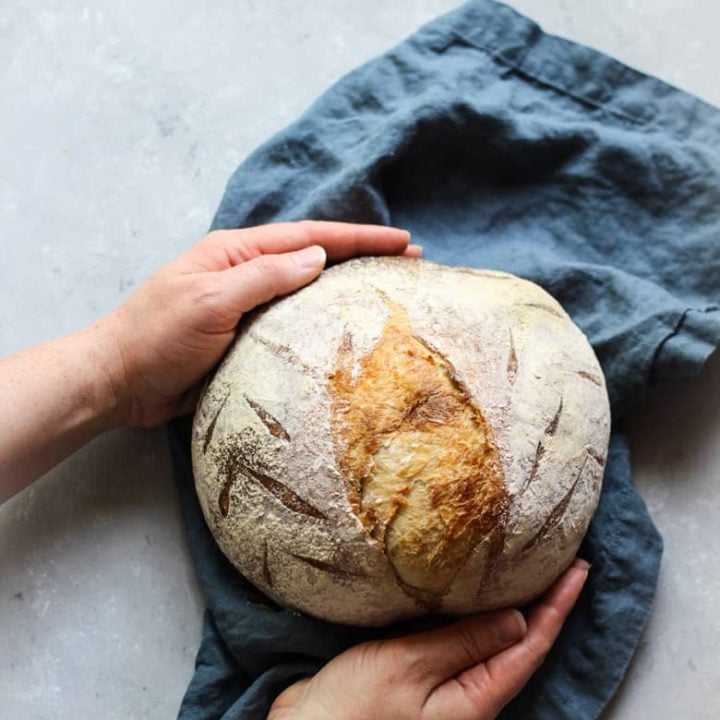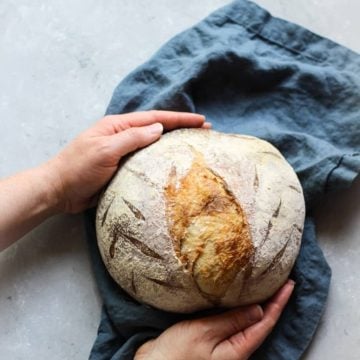 EASY SOURDOUGH BREAD RECIPE & SHAPING VIDEO, SHAPED 2 WAYS
Learn how to make sourdough bread with step-by-step photos and video instruction to ensure your baking success!
Print
Pin
Rate
Ingredients
880

grams

Bread flour (Use a digital scale for this recipe and ditch the measuring spoons and cups)

120

grams

All-purpose flour

20

grams

Salt

700

grams

Water

room temp

94

grams

Sourdough Starter

about 1/2 cup

4

grams

Honey
Instructions
Mixing the Dough
Mix the flours and salt together in an extra large bowl.

Add the water, honey, and sourdough starter and stir with a wooden spoon until it comes together. Start to knead it by hand until all of the ingredients form a sticky ball. It will be a mess so dump the dough onto your kitchen counter to finish kneading. A metal bench scraper comes in very handy for helping to lift the dough from the surface while kneading.

Knead for about 1-2 minutes until the dough is formed. You don't need to worry about developing the gluten, as the long fermentation will do that on its own.

Give the dough a fold by stretching the left and right side of the dough towards the center, then stretch the top and bottom of the dough towards the center. This will help strengthen the dough. Flip the dough over in the bowl and cover with plastic wrap.
Fermenting the Dough
Let the dough ferment for about 8-12 hours. This time is flexible as sourdough bread takes longer to ferment, therefore there is a larger window that you can let the dough ferment in.
Shaping the Dough
Take the dough out of the bowl and dump onto the counter. Don't add flour to the counter to make it easier to shape.

Scrape the dough from the bowl and for two large loaves, cut the dough in half. Shape into rounds or loaf style. Watch the two-minute shaping video in this post for instructions.

You can make whatever sizes you want, but two loaves work great.

Place the round or "boule" shape in a 9-inch to 12-inch wide cast iron skillet (sizes vary), or you can line a dutch oven lined with parchment paper and place the round in there. For the loaf shape, place in a loaf tin lined with parchment paper and a little oil. Put the skillet or loaf tin inside a plastic bag and tie it so that there are no air holes as long as it fits inside the bag. Watch the shaping video for visual instruction.

(If you are more experienced with shaping dough, you can bake it without a vessel.)

Ferment the dough for about 90 minutes to 2 hours, or until it's doubled in size.
Baking the Dough
Preheat oven to 450 degrees before the dough is done proofing. Sift bread flour or all-purpose flour over the top of the dough to make it easier to score the dough.

Bake for about 40 minutes, or until it's golden brown and hollow when you tap the bottom the bread.

If it sounds hollow, it's done, if it sounds dense, it needs a few more minutes. You can put it back in the oven directly on the rack (without a baking vessel).

Again, watch the video for instruction.

Let rest for at least 30 minutes before cutting for ease of slicing.


Once cut open, cool completely and cover in plastic wrap. It will keep for about a week on the counter or you can freeze it for much longer.

With a thin, small serrated knife or bread lame, "score" the top of the dough with a pattern or a line in the center from one side of the top of the dough to the other. See video for visual instruction.
Video
Notes
This recipe is actually really simple and hands-off.  You simply mix the dough together for until it forms a ball, give it a fold, and let ferment on your counter for 8-12 hours.
The fermentation time is forgiving because you won't be kneading the dough much and a sourdough starter is a slower process. 
You can start the dough in the morning and bake it in the evening, or start the dough in the evening and bake it the next morning.