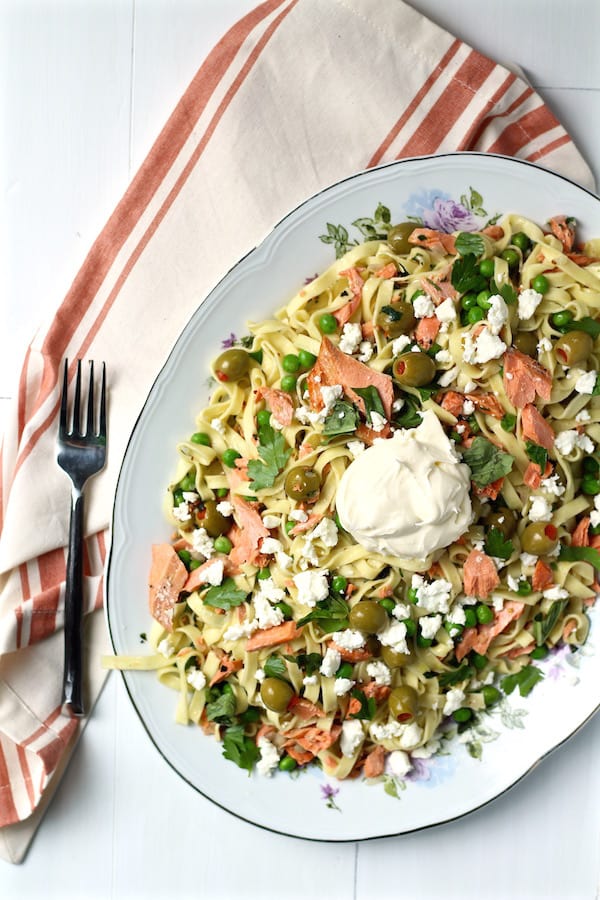 Carbs, you know them and love them. Now that it's flip flop wearing season, don't you want to just dive right into a giant bowl of buttery summer salmon pasta with créme fraîche, feta and olives? Ok, maybe not right before you get in that bathing suit you've been dying to show off on Instagram. But maybe after you've gone paddle surfing or played beach volleyball, or you've been sitting on your butt all day at the office and you need butter and carbs. Yes, that's where this summery, herbaceous, full of flavor dish comes into play! Although I totally encourage you to enjoy this pasta 365 days of the year.
Let me tell you about créme fraîche folks. I've been going crazy over it since I can now buy it in my local grocery store. I recently made an awesome Créme Fraîche Potato Salad that works like a charm at those summer potlucks, and I've been chomping at the bit for more ways to use it. If you've never tried créme fraîche and happen to run across it at the grocery store (usually in the fancy cheese section), then you REALLY NEED to give this luscious stuff a try. It tastes like a cross between cream cheese and sour cream. It's wonderful because it can be heated without curdling. However, I prefer to dollop it right on top of my pasta and swirl it around with each bite…mmmm. Of course if you can't find it, then just mix cream cheese and sour cream together and dollop that on top instead. It will still taste so amazingly good, you won't even believe it.
The warm herbed butter with shallots and garlic surrounds the fettuccine noodles in goodness, while the peas, feta, olives, and roasted salmon add sweet and and salty bites throughout. FYI, I wouldn't sauté the salmon in the same pan as the sauce because salmon bits in the bottom of the pan don't taste good. That's why I opted to roast it, which actually saves you time because you can boil the pasta, make the sauce, and cook the salmon at the same time.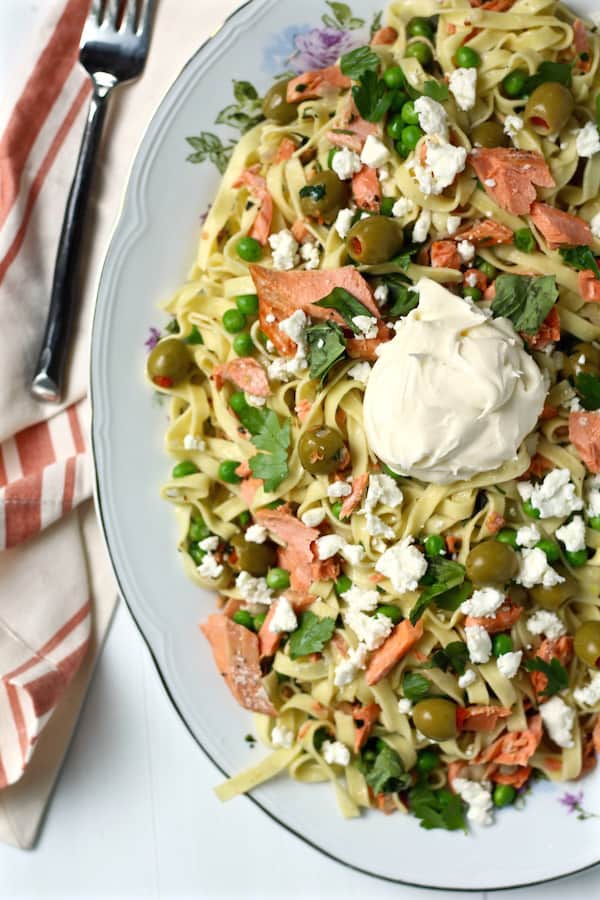 I used sockeye salmon for this recipe because it has such a beautiful color and better flavor than traditional salmon. It's more expensive, but I only used one filet because it's broken up in small pieces throughout. It's a perfect dish for entertaining since the color is so vibrant and you only need a little bit of salmon to feed four people!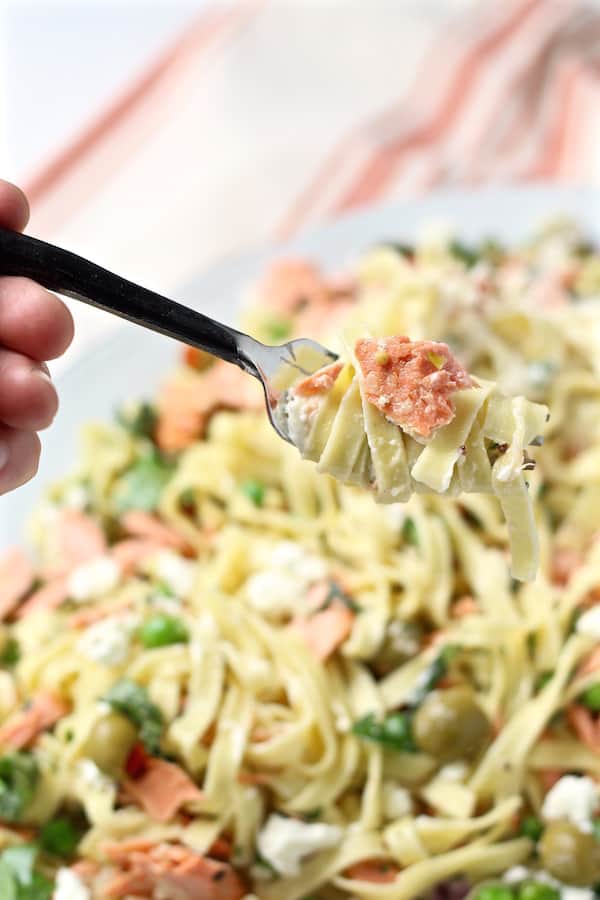 Bon Appetit Ya'll,
Leslie O.
Print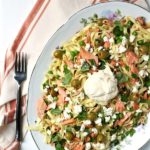 BUTTERY SUMMER SALMON PASTA | CRÉME FRAÎCHE, FETA + OLIVES
Buttery summer salmon pasta is loaded with flavor, texture, and sweet and salty bites from the feta, peas, herbs, and olives. Créme Fraîche makes a delicious and creamy sauce on top!
Ingredients
1

piece

of salmon

I like sockeye

1

pound

fettucine

I like egg noodles

1

shallot

2

cloves

garlic

minced

2

tsp

fresh parsley

3-5

leaves

large basil

torn by hand

2

Tbsp

butter

1/2

cup

frozen peas

1/2

cup

green olives

3

Tbsp

crumbled feta

heaping 1/4

cup

créme fraîche

or cream cheese and sour cream mixed together

1

tsp

dijon mustard or stone ground mustard

4

tsp

olive oil

squeeze of lemon

1/4

cup

pasta water

reserved for sauce

salt and pepper
Instructions
Preheat the oven to 350 degrees.

Meanwhile chop the shallots, garlic, and herbs. I prefer to tear the basil by hand so it doesn't bruise. Set aside.

Bring a large pot of salted water to a boil.

Season the salmon with salt and pepper and 1 tsp. olive oil and bake for about 15 minutes or until it's flaky. Check the flakiness with a fork.

Boil the fettuccine according to package directions. Drain the pasta and reserve 1/4 cup of the pasta water for the sauce.

When the salmon has about five minutes left to cook, heat a large sauté pan over medium low heat and add the butter and rest of the olive oil. Sauté the shallots, garlic, herbs, and peas for 1-2 minutes or until fragrant. Add the pasta water, dijon mustard, and olives and gently simmer for about 3-4 minutes, stirring frequently. Season with salt and pepper. Add the cooked pasta and stir to combine the ingredients. Remove from the heat.

Break the salmon into small pieces and toss with the pasta.

Top with crumbled feta, more fresh herbs, and créme fraîche.

Serve immediately.