After 30 days of doing Dr. Kellyann Petrucci's Bone Broth Diet, I am here to reveal my results.
At the ripe, still young, age of 35, I gave birth to my second child, a beautiful baby girl.
I knew that I might have a harder time losing the baby weight the second time around because I was 15 pounds heavier from the start of this pregnancy versus my first.
From the get-go, this pregnancy was much harder. The nausea lasted well into my second trimester, and I found myself struggling because I felt like I was walking around with concrete shoes on all day.
The bigger I got, the slower I was able to get up off of the floor while playing with my son.
I had a nagging pain in my right hip that continually got worse the further on I got.
However, I AM ETERNALLY GRATEFUL TO MY BODY for allowing me to give birth to the most precious sweet girl.
Fast-forward to giving birth, I started breastfeeding immediately, and it was so much easier for me the second time around.
The first month after giving birth, I lost 20 pounds! I had gained 45 while pregnant, so I was almost halfway there.
I knew that breastfeeding was really helping me with the post-partum healing and weight loss.
But then… I couldn't lose a single pound for over two months.
I could tell that my body was getting awfully comfortable at 40 pounds overweight. I knew if I didn't do something, I was going to be at this weight for a long time.
Plus, that damn hip pain had actually gotten worse.
Click this affiliate link to buy the book ↓
I have been a licensed massage therapist for 15 years, so I know how much even an extra 5-10 pounds can really wreak havoc on your joints, your blood circulation, and your general overall sense of well-being.
But the idea of having to do a weight loss program while caring for a newborn and a 3-year-old seemed beyond impossible.
I already like to eat, but breastfeeding requires you to eat 500 MORE calories a day than normal. Personally, it makes me feel like I'm feeding a pack of RAVENOUS lions!
And… OMG, the sheer exhaustion of caring for and feeding a baby 24 hours a day leaves me with no energy left to even fathom exercise.
But I knew I had to do something.
HOW I STARTED THE BONE BROTH DIET
Having done the bone broth diet before and having semi-regularly been drinking bone broth, I started the bone broth diet randomly one morning on a whim.
I was actually feeling good that day, and I thought, "What the hell, let's just try it for a few days and see how I feel."
I knew the foods that I could and couldn't eat, plus I already had a batch of really great bone broth in the fridge (check for resources below), so it didn't overwhelm me to get started.
My husband and I had already been doing Green Chef organic meal delivery service for three meals a week, and half of your plate is vegetables, so I could omit any carbs (if any) from my meal and my husband could still eat the same thing.
I was just going to have to buckle down and stay away from grains, corn, any kind of starchy flours, sugar, and dairy, in favor of eating lots of veggies, fruit, protein, and nutrient-rich bone broth. So no big deal, right? 🙂
Most importantly, I had to make sure I was eating enough fat, protein, and calories to ensure my breastmilk had all the nutrients in it that my baby needed.
HOW I HAD TO ALTER THE BONE BROTH DIET WHILE BREASTFEEDING
The Bone Broth Diet has you following a low-carb diet that allows fruit, but doesn't allow dairy.
One of the biggest differences with this plan is the inclusion of drinking rich and nourishing bone broth that has been slow-simmered from chicken, beef, or fish bones over 12-24 hours.
Not only do you drink joint-healing, anti-inflammatory "liquid gold" as it's called, you also do bone broth fasting days 1-2 times per week, whereby you drink 5-6 cups of rich bone broth to allow for deep healing in your joints, digestive system, and to help blast off more pounds and inches.
Obviously, I couldn't do the bone broth fasting days, so I just followed the eating plan and drank bone broth every day.
AM I CHEATING AT ALL ON THIS PLAN?
Because my ultimate goal is to lose 40 pounds to get back to my pre-pregnancy weight before I had my first child, I'm giving myself a "fun meal" every once in a while, but I'm still not going overboard.
Foods I enjoy once in a while:
Dark chocolate…because chocolate
Corn or flour tortillas with tacos and chips and salsa…because tacos and Mexican food
Some Paleo desserts, grain-free and sweetened with coconut sugar, maple syrup, or honey
A bite of something off of my husband's plate…I'm sure he doesn't mind 🙂
A little bit of cheese here and there
MY BONE BROTH DIET RESULTS
The plan is for 21 days, or until you reach your health and weight goals. Since I have 40 pounds to lose, I'm in this for the long-haul.
I extended the first part of the plan to 30 days since I wasn't doing the fasting.
So, how much weight did I lose?
Drumroll please… 8 pounds exactly!
8 pounds in 30 days with little to no exercise (except for holding a baby all day!) and having to eat plenty of food to make sure I could feed myself and my baby is NOT BAD AT ALL!
I tried to take before and after photos wearing the same clothes, my hair in the same style, and I kept the lighting the same throughout so you could really see the difference.
I think it was just as helpful for me to see the changes because sometimes it's hard to recognize just how far you've come.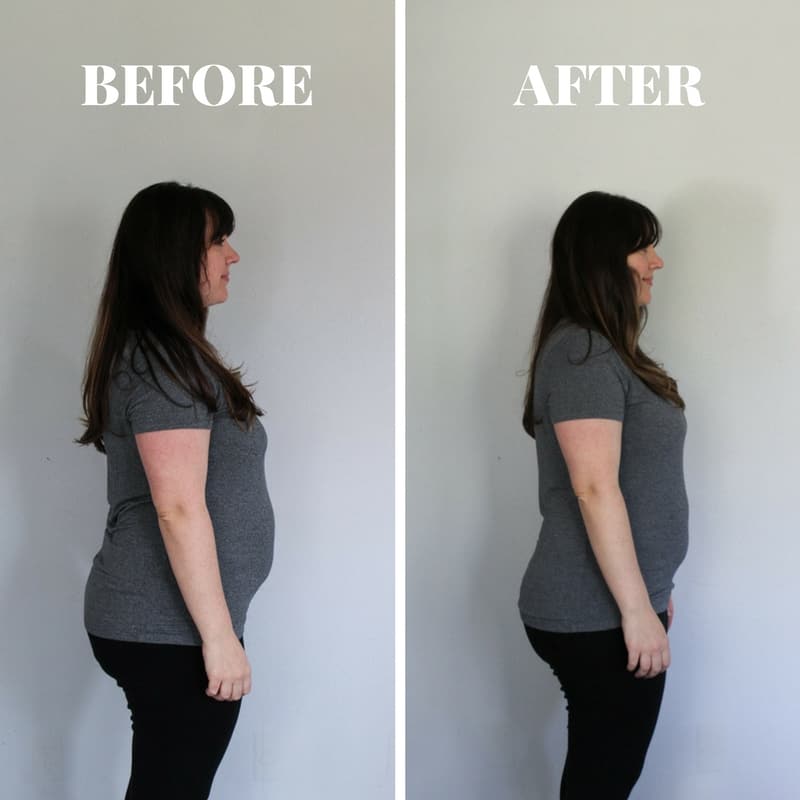 my results after 120 days
After 120 days (in the summer of 2018) I'm down 20 pounds. It's taken me longer to get the weight off because I'll stick to the plan, then take a break for at least a couple of weeks, then I'll get back on the program.
Taking breaks allows me to find ways to stabilize my weight without having huge gains if I'm enjoying carbs here and there throughout the week. Luckily, I've found some really awesome habits that have helped me maintain my weight loss.
I'll add another before and after photo when I reach my goal weight.
More bone broth benefits
Another benefit that Dr. Kellyann asserts is that bone broth contains amino acids, collagen, and joint-healing nutrition which reduces pain and inflammation and also makes your hair skin and nails look amazing. I didn't have nails at the beginning of the diet. But three weeks later and all of a sudden I noticed…
MY NAILS HAD GROWN LIKE CRAZY AND BECAME SO STRONG!
This is an outward manifestation of what's going on internally. I was not taking any other B vitamins while doing the bone broth diet.
My nails growing and getting stronger are evidence that both myself and my baby were getting lots of great nutrients.
I had to trim my nails right after taking this photo because I was worried about accidentally scratching my sweet baby girl!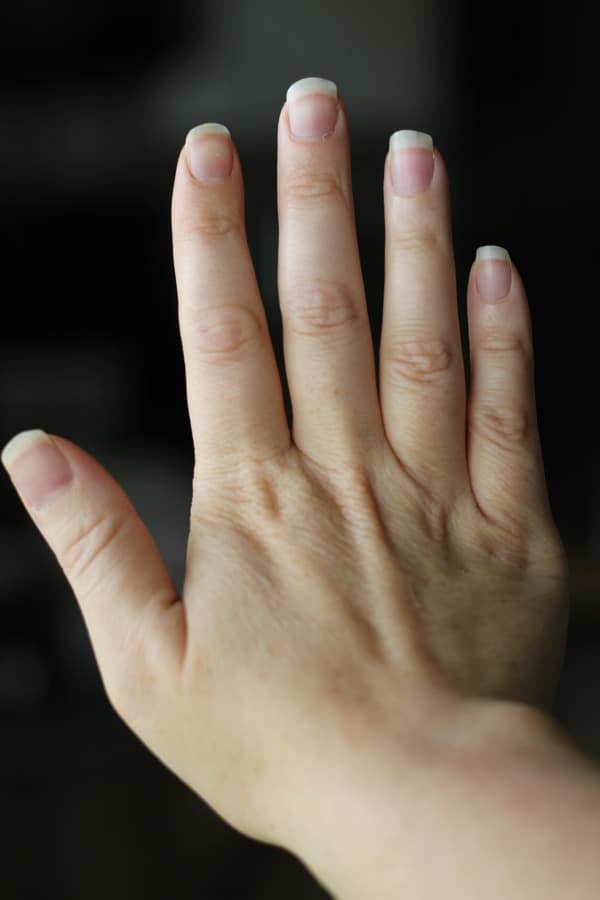 MY BONE BROTH DIET REVIEW
Being able to be successful on a weight loss plan really gives you the motivation to keep going. I realize there are so many weight loss programs out there all with different benefits.
The thing that keeps me coming back to this program is, you guessed it, bone broth.
As far as I'm concerned, drinking rich bone broth is equivalent to taking a cabinet full of high-quality vitamins and supplements.
What I spend on buying high-quality bone broth and collagen products, I more than makeup for by not having to buy multiple supplements.
I will be updating this post with more before/after photos as my weight continues to drop.
CAN YOU BENEFIT FROM JUST DRINKING BONE BROTH ALONE?
ABSOLUTELY, POSITIVELY, YES!
Even if you don't want to follow the eating plan, I have personally experienced drinking bone broth daily or several times a week brings deep healing to my joints, reduces pain and inflammation, and leave me feeling better overall.
After all, I've been drinking bone broth on and off for two years now without following any strict eating plan.
You can read all about my original post about the Bone Broth Diet here.
RESOURCES FOR THE HIGHEST QUALITY BONE BROTH
For two years I have been drinking Kettle & Fire bone broth, and I have found it to be second-to-none in terms of the quality, clean flavor, and amount of collagen.
Making truly nutritious collagen-rich bone broth is quite the process. It can be extremely difficult to find the right kind of bones (even from butchers) that contain a good amount of collagen in them.
It takes 12-24 hours to slowly simmer the bones to extract the collagen. One batch won't last you very long either.
This is why I opt to buy my bone broth because if I don't, I wouldn't be able to enjoy it daily.
But the cartons of "bone broth" in the stores just won't cut it. There simply isn't enough collagen in the mass-market brands.
The only carton of chicken and beef bone broth I recommend is Kettle & Fire. Here's why:
Both their chicken and beef bone broth is made from organically-raised chickens and cows. They use only grass-fed organic bones from American farms and source organic vegetables.
Kettle & Fire uses eco-friendly packaging and doesn't ship with styrofoam.
They package their broth in cartons, which is much cheaper to ship. The broth is packaged in an aseptic environment in a vacuum, which means no germs or contaminants can get in.
They simmer their bone broth low and slow to ensure a collagen-rich broth.
Their chicken and beef bone broth has a super clean flavor and can easily be enjoyed by itself, but it also wonderful when used as a soup base.
Kettle & Fire has launched new pre-made bone broth soup flavors for an easy meal on-the-go.
If you order 6 or more cartons, you get FREE shipping, yeah!
Click the photo below to purchase Kettle & Fire. Use Coupon code BESSIEBAKES15 for 15% off your first order.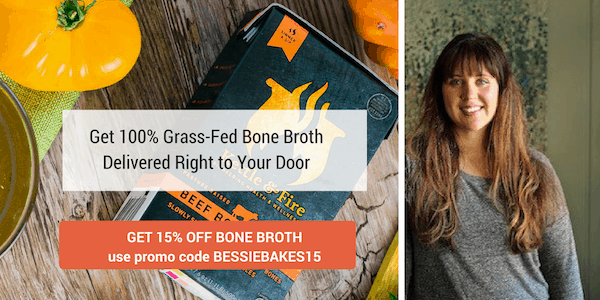 Or click the button below to order ⇓
Buy Kettle & Fire Now (15% off)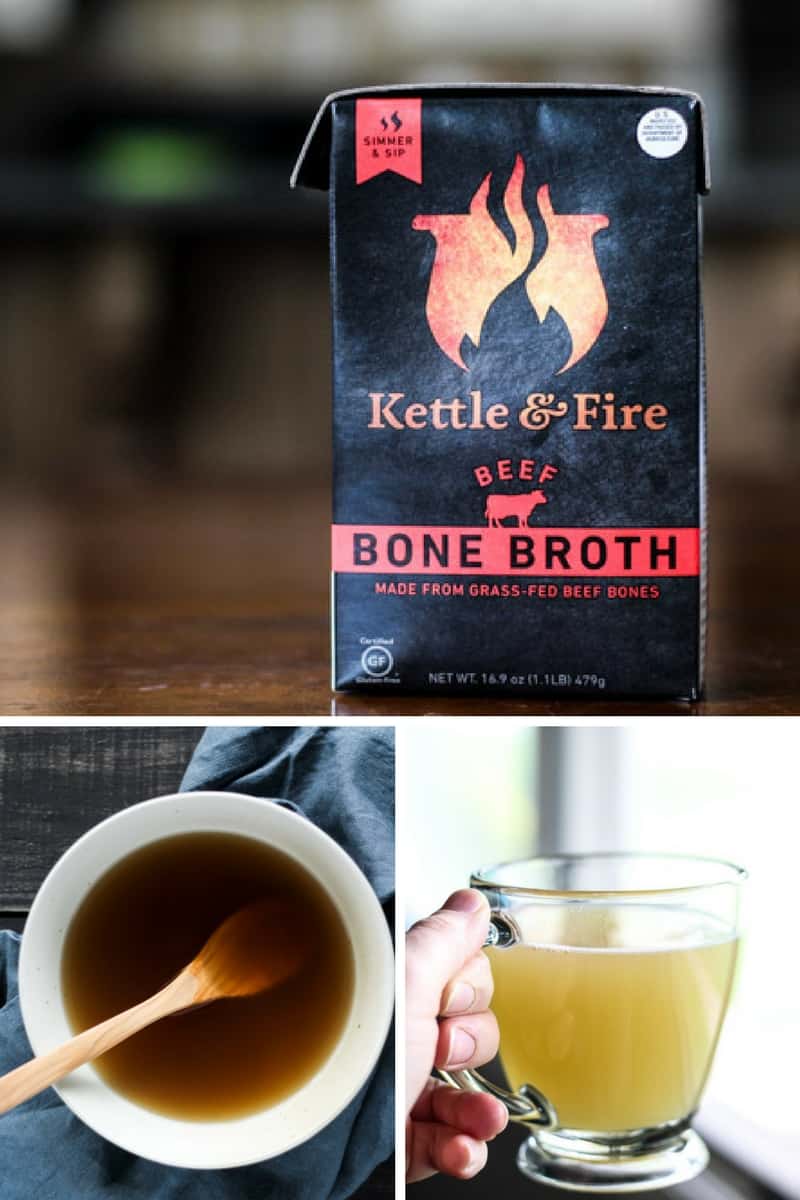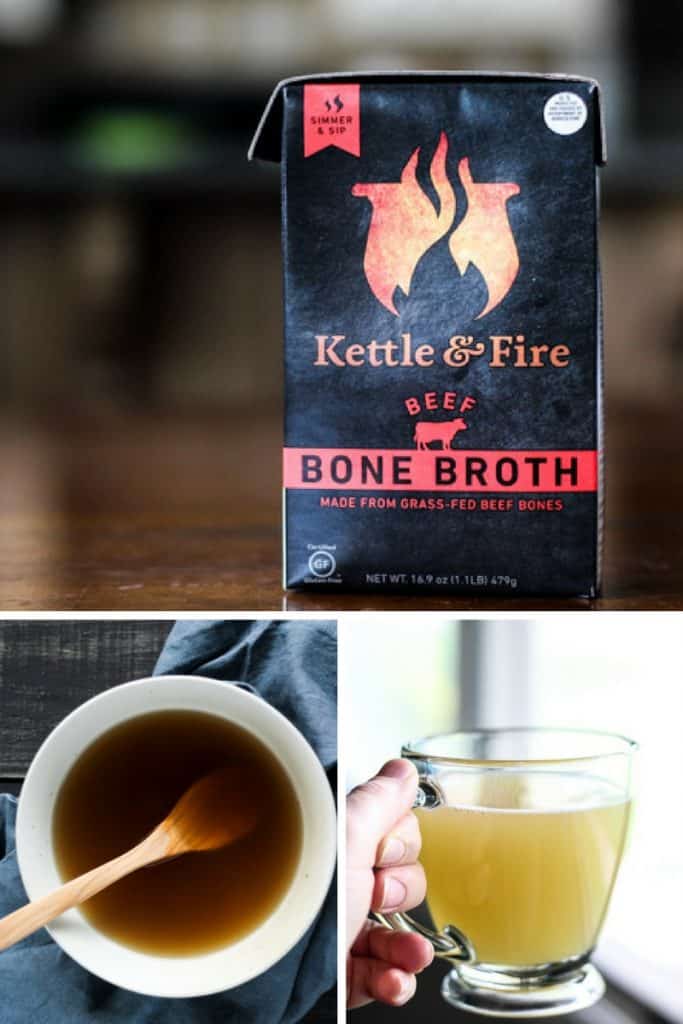 ANOTHER GREAT BRAND OF BONE BROTH
If you have a Sprouts Market near you, chances are they carry some great frozen organic chicken and beef bone broth called Bona Fide Provisions Organic Chicken and Beef Bone Broth. It tastes great and has a good amount of collagen in it.
DO I NEED TO BUY THE BONE BROTH DIET BOOK?
YES! I get a lot of questions from readers wanting to know all the details about the diet without having to buy Dr. Kellyann Petrucci's book.
First off, there is a lot of information about the science behind the diet and bone broth that you need to read to better understand the methodology inside her book.
Secondly, out of respect for the years of studying the effects of this diet on her own patients and the amount of work that went into creating this book, I wouldn't be doing her book justice to give you all the cliff notes.
I own a copy of the book that I read on the Kindle App on my iPad.
Trust me, just buy the book!
CLICK THE BOOK BELOW TO PURCHASE
Dr. Kellyann's Bone Broth Cookbook ⇓
I own a hard copy of this book and I really think it's invaluable to the plan. There are tons of recipes for the 21-day plan, plus more healthy recipes when you are in the maintenance phase.
Obviously, keeping the weight off can be the hardest part, so I highly recommend this book too before starting the plan!
Click the picture below to purchase on Amazon ⇓

join the exclusive bone broth diet community
[thrive_leads id='5139′]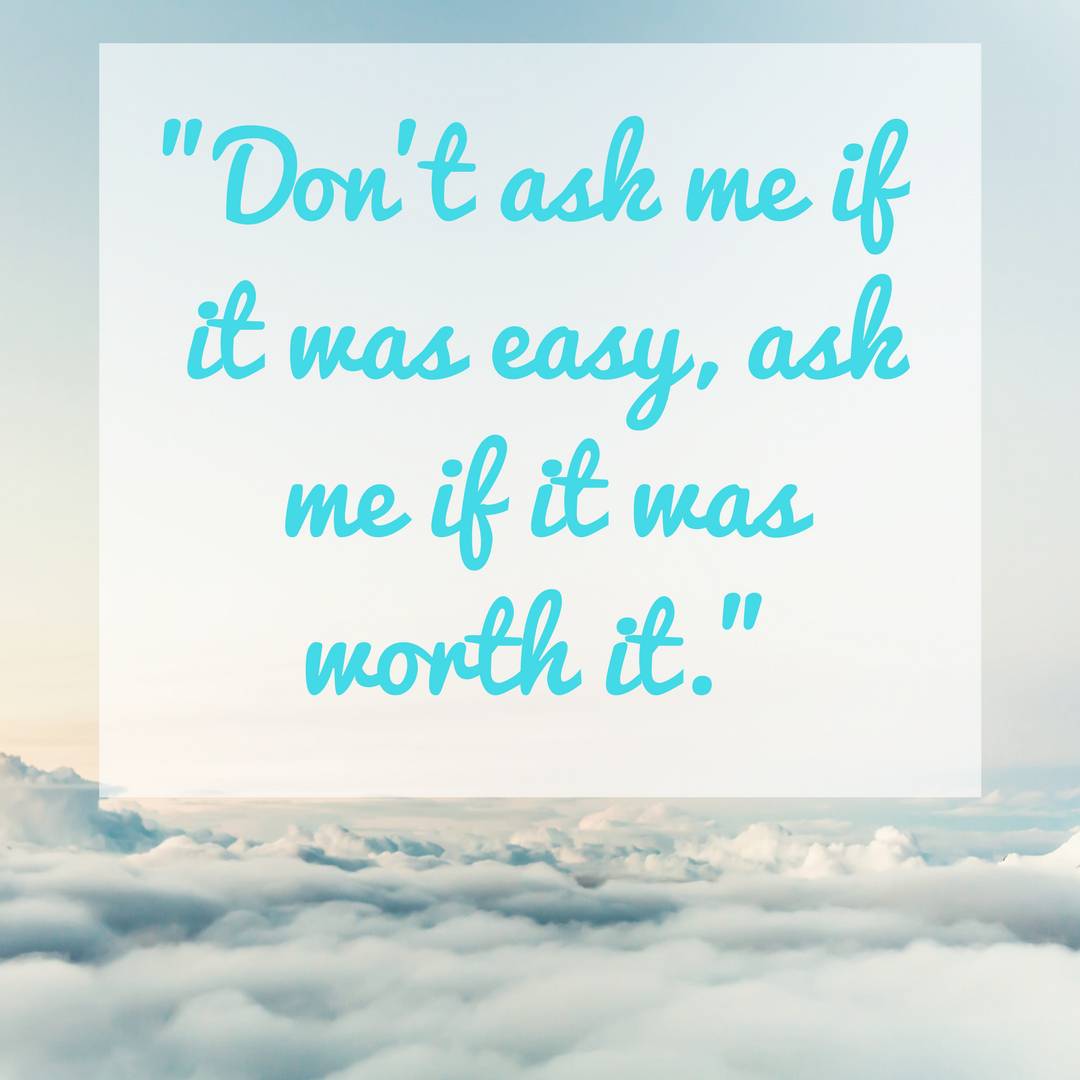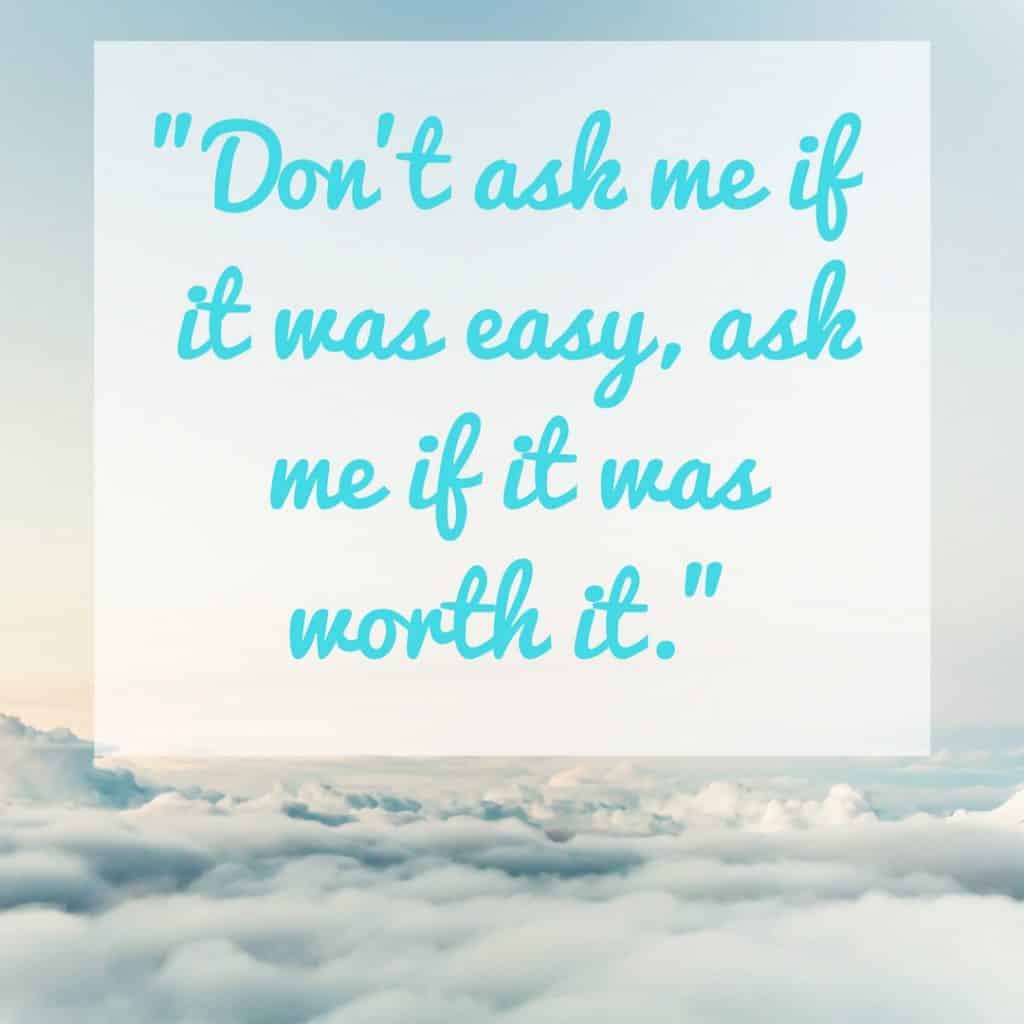 FOOD JOURNAL TO ENSURE YOUR SUCCESS ON THE DIET & BEYOND!
The ONE THING I felt was missing from the plan was a personal food journal to write my daily foods, water, and exercise intake on, as well as my daily weight and how I feel each day to help me keep track of my progress.
Certain foods and activities may be helping you to lose weight, while others may trigger pain, inflammation, etc. Writing these details down each day will help you remember what is helping you and what may be hurting you while on the diet and on the maintenance phase.
I designed and created this Food Journal for myself and my readers to ensure our success!
PLUS, buy this downloadable book once, and print off more copies of the daily food journal grids for as many months as you want! I just ask that you don't send this to anyone, rather send them a link to this post so they can purchase a copy themselves.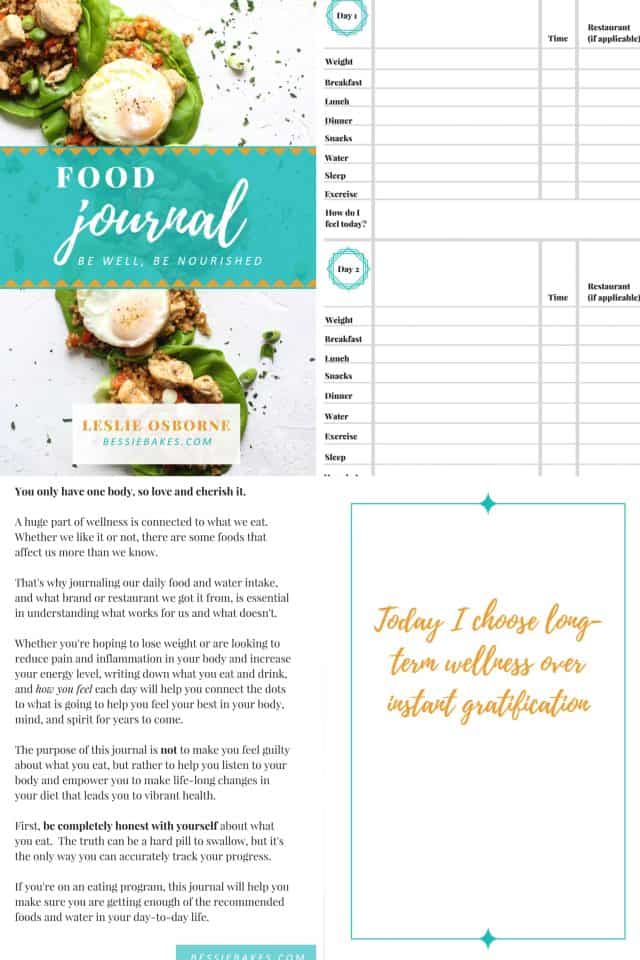 Purchase a copy of my Food Journal | Be Well, Be Nourished
I want to hear from you!
Are you about to embark on The Bone Broth Diet? What questions do you have about this plan?
What (if any) additional resources do you need to be successful and reach your health and wellness goals?
Let's be supportive of one another and please share your comments and questions below!
Bon Appetit Ya'll,
Leslie Osborne