I was recently given a copy of "Dr. Kellyann's Bone Broth Diet" and asked to review her book. I was not paid for this post nor encouraged to give a good review. My opinion of this book is genuinely my own!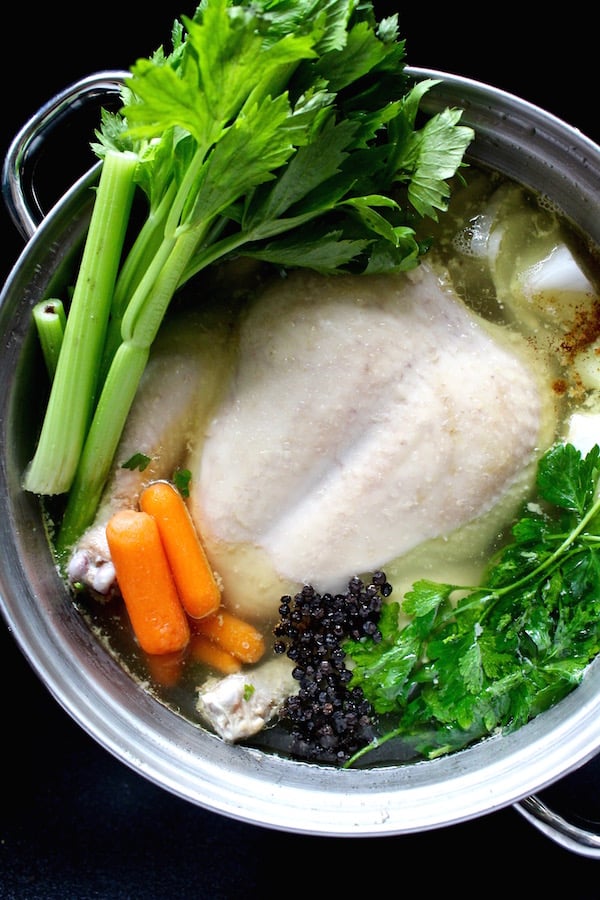 Before I started Bessie Bakes, I never thought I'd be one of those bloggers who would write about weight loss plans. In fact, I cringed at the thought of building a recipe site centered around low fat and low-calorie food.
I've never been a fan of most weight loss fads because they often fail to address some key issues with the American diet….mainly the fact that our food industries have built their business model around making food that is faster, cheaper, nutritionally deficient, and loaded with artificial colors, chemicals, gmo's, additives, and fillers that humans have absolutely no business consuming, all in an attempt to make as much money as possible.
So why am I ranting about our food industry in regards to a "weight loss" plan? Well, I have found a plan that actually speaks to these issues, but also integrates an incredible tool that you might never have considered as a weight loss (and anti-aging!) weapon.
And that secret is…Bone Broth.
Kellyann Petrucci is a naturopathic physician who has written an intriguing book called Dr. Kellyann's Bone Broth Diet. In this book she lays out her plan to help you lose up to 15 pounds and look younger in just 21 days.
This plan piqued my interest because she not only gives you a precise plan to help you shed pounds, but offers an incredible wellness plan that you incorporate into your routine for years to come, and that has the potential to create deep healing.
By consuming bone broth, Dr. Kellyann asserts that you can heal your joints, and your gut, while getting nutrients in your diet that are "Better than botox". Collagen-rich bones from meat, poultry, or fish are simmered on the stove for hours (or in a crock pot) and the broth turns into "Liquid Gold".
The best part of this book is her good common sense maintenance plan to help you stay in shape forever. She recommends an 80-20 plan for eating whole foods 80% of the time and indulging in some treats (if you wish) 20% of the week.
This is perfect for me because I will NOT give up sugar or grains forever. I want the freedom to eat pizza and ice cream on occasion, but I know the bone broth along with a whole foods eating plan will help curb my cravings and keep me healthy for years to come. YES!

Dr. Kellyann writes that bone broth is "packed with the building blocks of collagen" and is anti-inflammatory. These statements struck me because I have been a licensed massage therapist for 14 years and have helped many people with joint pain, injuries, and inflammation. When it comes down to it, inflammation is the reason most of us are not as well as we should be.
In most cases, it's an underlying symptom of many diseases. I also know that excess weight, even 5-10 pounds, can wreak havoc on our joints. So the idea of getting more collagen in our diet and combining it with a strategic whole foods eating plan that can blast pounds off your waistline just makes good common sense from a health and wellness perspective.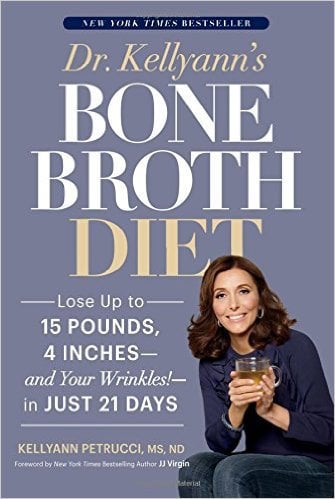 Luckily, Dr. Kellyann makes it easy for you to follow this plan by giving you loads of flavorful recipes and a detailed meal plan so you are set up for success. She also includes 4 base recipes for her nutritious bone broth, along with even more variations for maximum flavor.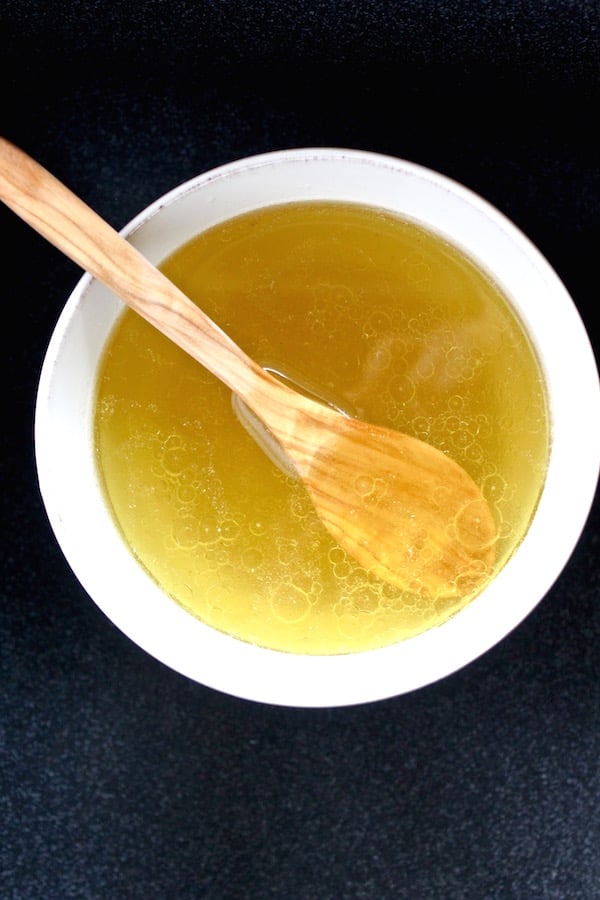 UPDATE FOR 2018: MY BONE BROTH DIET RESULTS AFTER 30 DAYS
After the birth of my second child, I had about 40 pounds to lose that just wasn't budging. So I took the plunge and started the protocol for The Bone Broth Diet.
You can read all about my experience and see before and after photos here!
DOES DRINKING BONE BROTH ALONE STILL WORK?
A resounding YES!
Shortly after giving birth to my son my knee popped out of its socket. After it healed, it never really felt the same and always felt a little unstable since. For the last two years, I have felt regular chronic pain in my knee. Obviously being a massage therapist for the last 15 years has had an impact on my joints as well. After about 45 days or so of drinking the broth daily (in 2016), I woke up one day and realized, "Hey, I haven't had that knee pain in a while, and my joints are feeling better in general." I have also noticed I'm waking up feeling more refreshed too!
BUY ORGANIC BONE BROTH
The main reason I fell off the wagon (in early 2016) from drinking bone broth regularly is because it's a bit of a pain to make. To release the collagen and amino acids from the bones, your broth needs to simmer for at least 8-10 hours, and even better, 24 hours over slow heat. Not to mention the fact that it's hard to find the right bones, even from butchers. Every once in a while is doable, but being able to drink it several times a week means you have to work pretty hard for it.
The solution:
Buy organic bone broth. But not just any bone broth. The bone broth in the cartons at the store doesn't contain enough collagen in it. Instead, check the freezer section of your health food grocery store. Once I was able to buy collagen-rich broth, I drank it every day. Still can't find it?
Well, I bought some organic chicken and beef bone broth from Kettle & Fire to try it out, and I loved it! So I reached out to them to see if I could get my readers a discount for their collagen-rich organic broth, and they so generously agreed!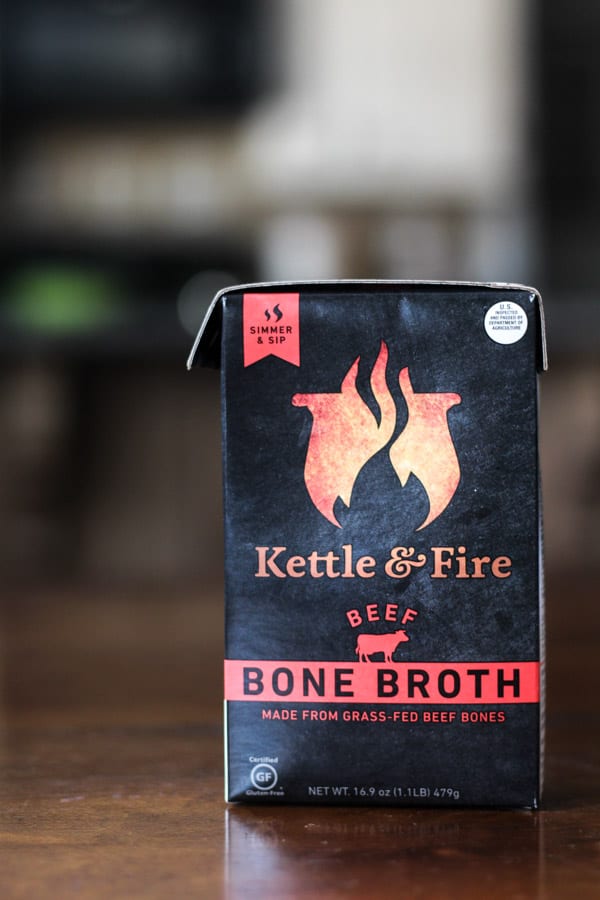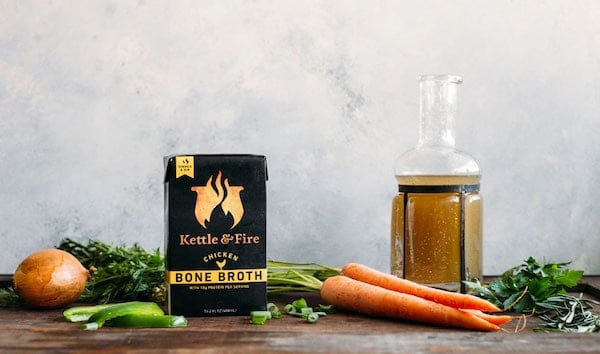 (Chicken bone broth photo from Kettle & Fire)
REASONS I LOVE THIS PRODUCT:
Both their chicken and beef bone broth is made from organically-raised chickens and cows. They use only grass-fed organic bones from American farms and source organic vegetables.
Kettle & Fire uses eco-friendly packaging and doesn't ship with styrofoam.
They package their broth in cartons, which is much cheaper to ship. The broth is packaged in an aseptic environment in a vacuum, which means no germs or contaminants can get in.
Their beef bone broth has a super clean flavor and can easily be enjoyed by itself, but it also wonderful when used as a soup base.
If you order 6 or more cartons, you get FREE shipping, yeah!
Click the photo below to order Kettle & Fire. Use the coupon code BESSIEBAKES15 for 15% off your first purchase.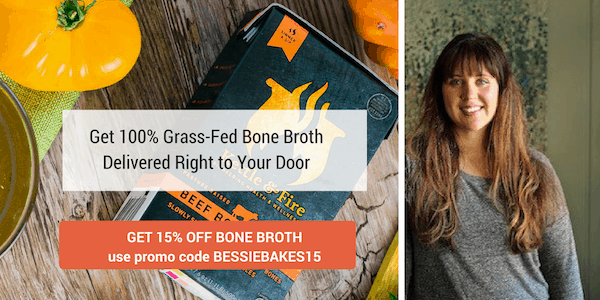 Or click the button below ⇓
Buy Kettle & Fire Now (15% off)
It's an affiliate link, but I only recommend it because I'm going to continue purchasing it myself. Check out how lovely the beef bone broth is below…I slurped this bowl up!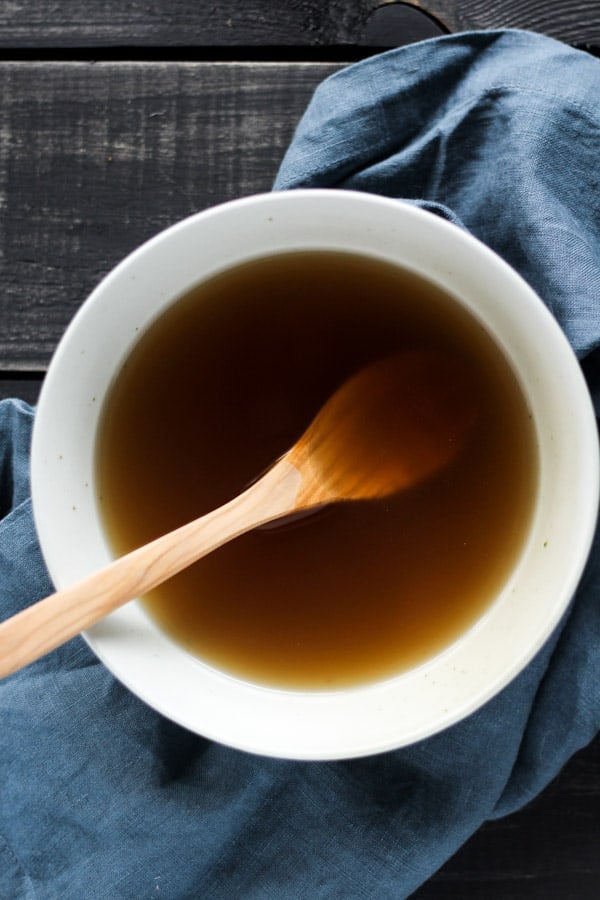 JOIN THE EXCLUSIVE BONE BROTH DIET COMMUNITY
[thrive_leads id='5139′]
You can also subscribe to my blog (there is a box at the end of the post) for ways you can healthfully reintroduce REAL bread into your diet that is actually transformative for your health. Psst…it's not the bread you've been eating your whole life.
DR. KELLYANN'S BONE BROTH COOKBOOK
In December 2016 I purchased her new book Dr. Kellyann's Bone Broth Cookbook with over 125 recipes to enjoy while you are on the Bone Broth Diet AND for the rest of your life to help keep the weight off.
Obviously that "rest of your life" part is the biggest challenge, so if you just start reintroducing foods back into your diet without a plan, you are going to gain it all back. That's why this cookbook is so great because it is a perfect accompaniment to The Bone Broth Diet book. In the Bone Broth Cookbook, she includes a 3-week meal plan with lots of tips for keeping the weight off.
I would HIGHLY recommend her new cookbook if you are serious about making lifelong changes after you finish the plan. After all, what's the point of doing a program if you can't keep the weight off?
P.S. I was not given a copy of the new book, nor was I asked to give a review.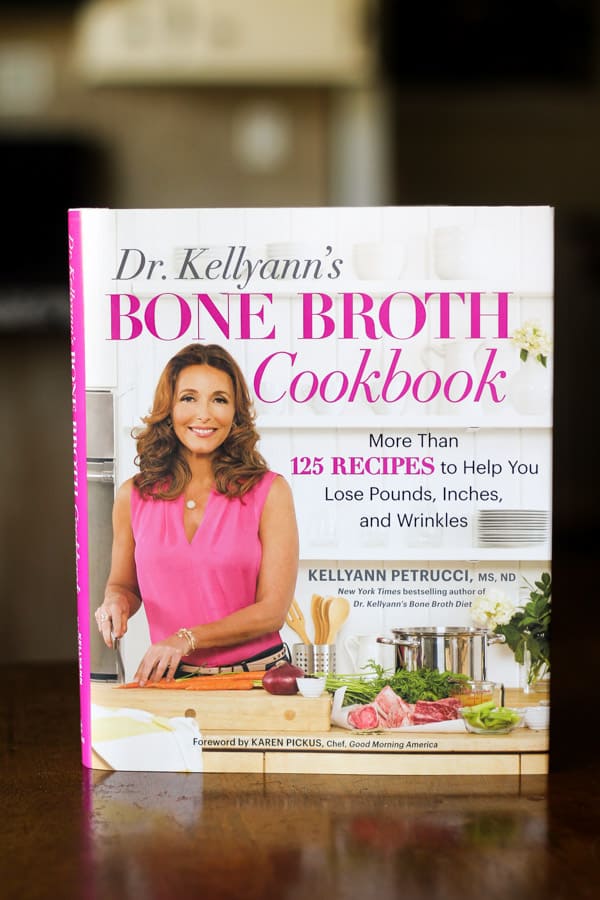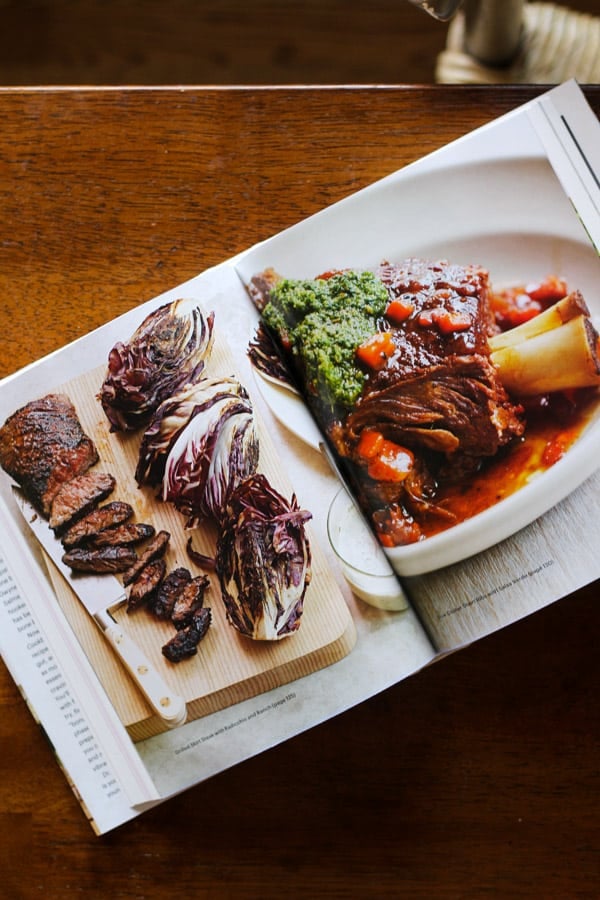 FOOD JOURNAL TO ENSURE YOUR SUCCESS & KEEP THE WEIGHT OFF!
While on the bone broth diet, I created a food journal to help me keep track of my weight, what I was eating and drinking every day, plus how I was feeling.
This helped me to listen to my body and see what was and wasn't working for me on my weight loss journey.
Now I can share this Food Journal with you!
By purchasing this ebook, you buy it once and can print off additional copies of the food diary portion for as many months as you want.
I simply ask that you not give this ebook to anyone else, rather send this a link here so they can purchase a copy for themselves.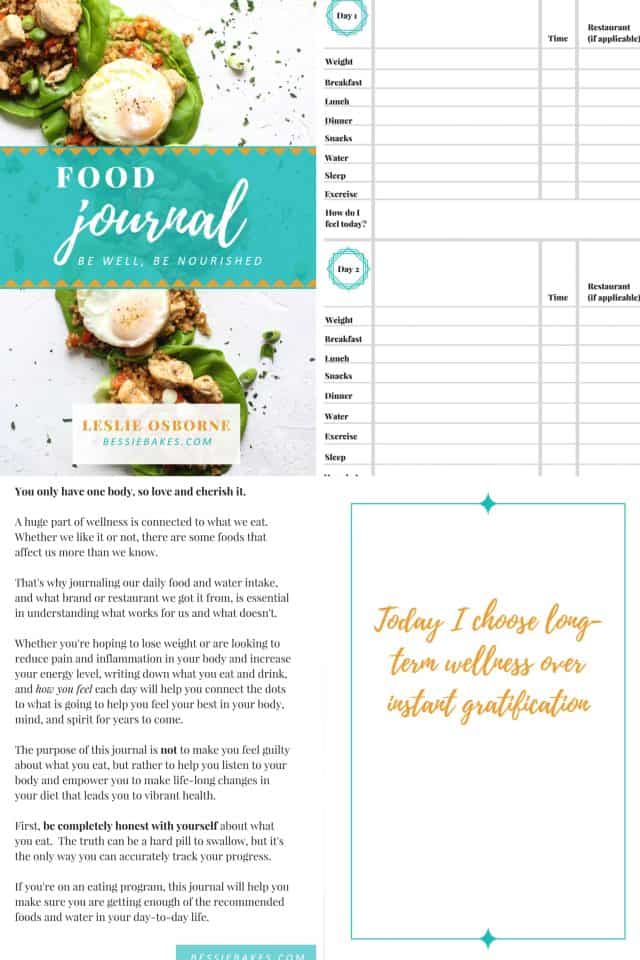 I hope you come along with me and on this journey. Let's do this together! Have you started drinking bone broth yet? Comment below and tell me any changes you have experienced!
This post contains affiliate links for amazon.com, which means I receive a small commission at no cost to you if you purchase the products through the links. Help support Bessie Bakes!
Bon Appetit Ya'll,
Leslie O.