If you ever wake up feeling like you're wearing concrete shoes, then perhaps you should try a delicious Iced Chocolate Coffee Bone Broth Smoothie to power you through your day!
Whoa, wait…did you just say bone broth? In a smoothie?!! Eeeewww.
I read your mind. Yep, I'm psychic.
After regularly drinking bone broth for two years, I wanted to create a crave-worthy coffee protein shake that I could enjoy in the summer months.
You can read all about the bone broth diet here or read about my results after 30 days of being on the bone broth diet while caring for a baby and a 3-year-old.
Before testing this recipe, I honestly didn't know if the flavor of nutrient-rich chicken bone broth would disappear in this coffee smoothie.
But joys of joys it worked and left me feeling like I had a surge of energy that I hadn't felt in a long time, albeit without the coffee shakes!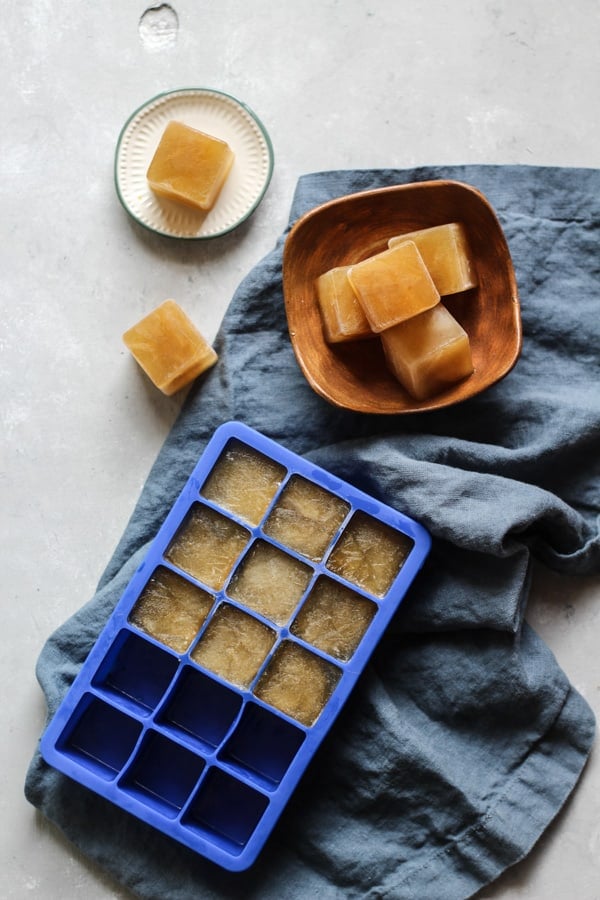 how to make a coffee protein shake or smoothie
The secret to this iced coffee smoothie is in the chicken bone broth ice cubes. Four ice cubes have about 7-9 grams of protein, and when mixed with coffee, will give you an amazing energy boost in the morning.
You can replace some of the almond milk with yogurt for even more of a protein boost.
And trust me, the ice cubes are flavorless, especially if you use super high-quality chicken bone broth!
where to buy bone broth?
If you want to purchase high-quality organic bone broth with enough collagen, then there are only a couple of brands that are actually worth buying as many of the cartons don't have as much collagen in them:
Kettle & Fire

comes in cartons and has several flavors to choose from and you can try the different kinds if you purchase straight from their website. Use coupon code BESSIEBAKES15 for 15% off your first purchase! You get Free shipping when you purchase 6 or more cartons. For this recipe, I recommend the traditional chicken bone broth as it won't add unwanted flavor to this smoothie.
Bona Fide Provisions chicken bone broth can be found in many grocery stores. I've found them at Publix and Sprouts Market. Look in the freezer section for this one!
how to make your own bone broth
I have 3 LIFE-CHANGING hacks for making bone broth at home that you don't want to miss out on. After two years of buying bone broth because it's such a PAIN to make, I had to find a way to make it easier!
bone broth protein powder
You might be thinking that I've lost my mind by adding frozen bone broth cubes to a smoothie. Although the flavor disappears, you can also sub frozen bone broth for bone broth protein powder.
There are a few brands that would work, but one of my favorites is Dr. Axe's Bone Broth Protein Powder. I've tried both the vanilla and chocolate and I love them both.
If you use this brand of bone broth protein powder, I recommend only using a half of a scoop because it's quite thick. And omit the bone broth ice cubes too.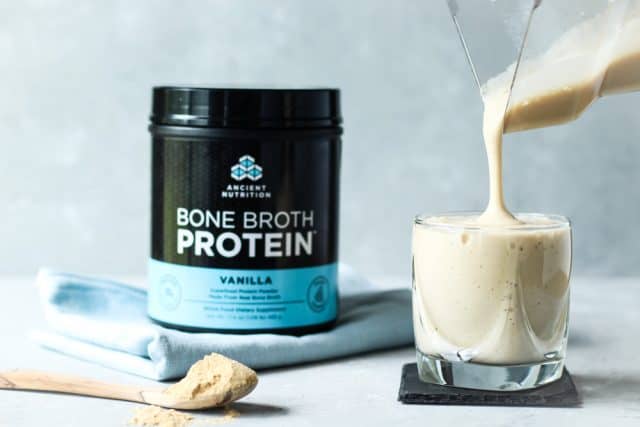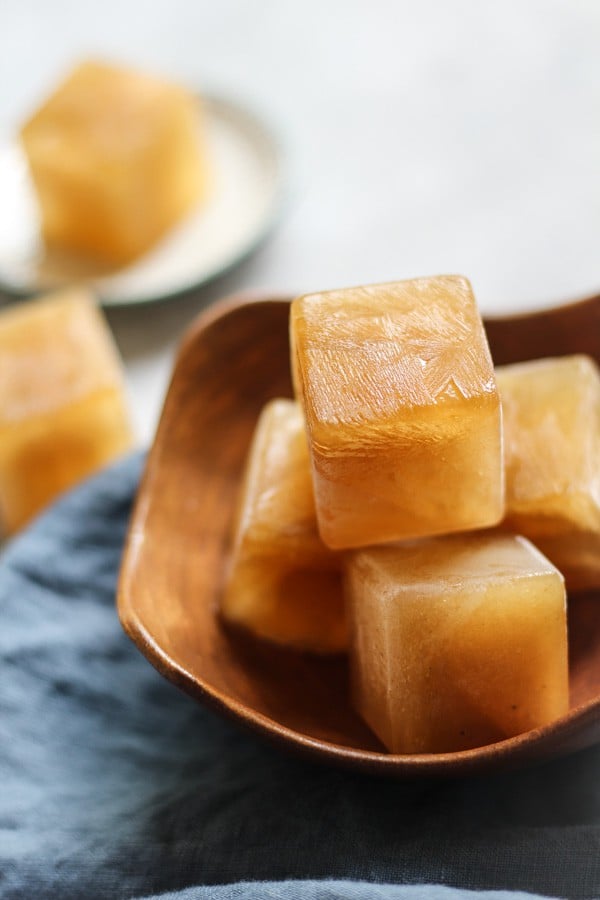 When blended, the bone broth will often get a nice bubbly consistency, making this smoothie look like a cold foam latte!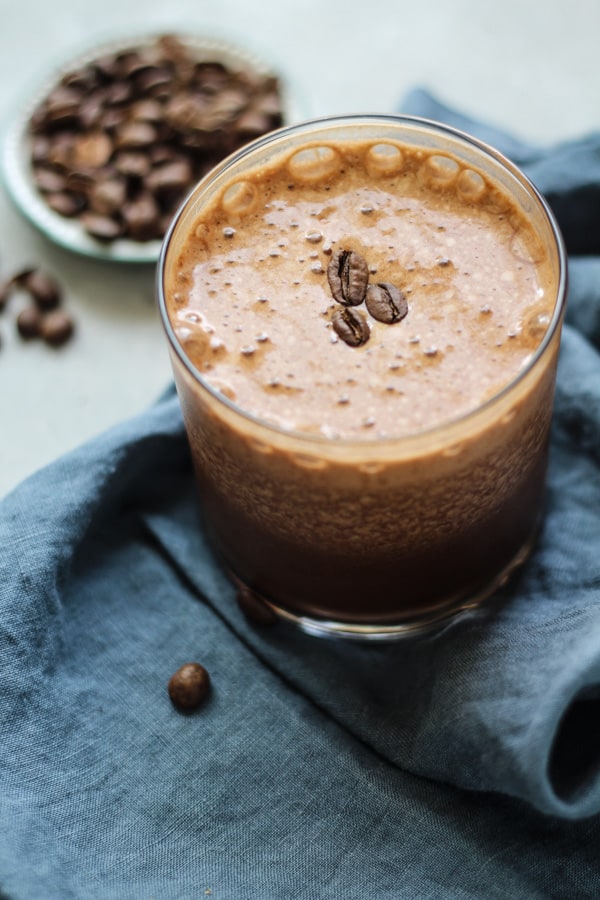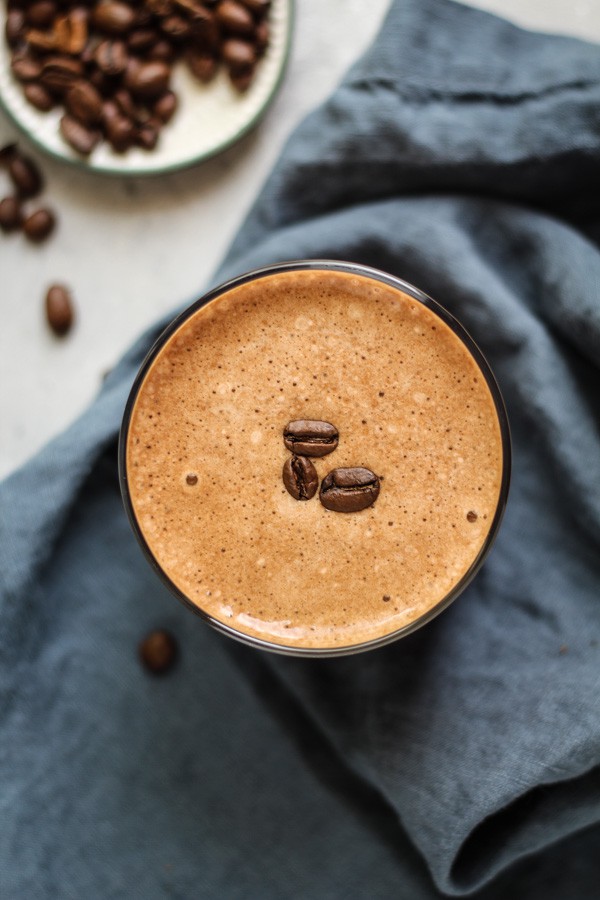 Bon Appetit Ya'll,
Leslie O.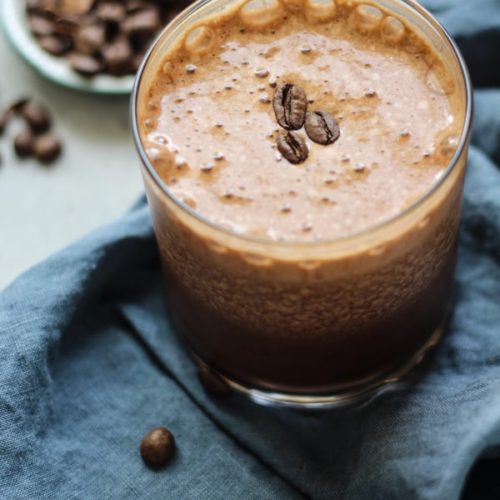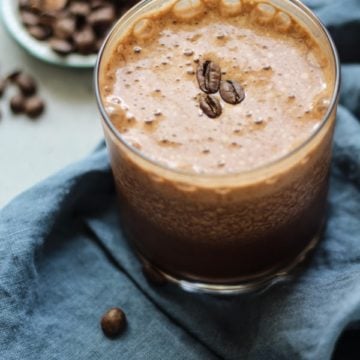 Iced Chocolate Coffee Bone Broth Smoothie
This refreshing beverage blends the benefits of bone broth with a tasty coffee and chocolate morning smoothie!
Print
Pin
Rate
Ingredients
1/2

cup

strong coffee

brewed

1/2

cup

almond milk

or milk of choice

1

frozen banana

4

chicken bone broth ice cubes

1

Tbsp

cocoa powder
If you want to use bone broth powder instead of bone broth add
1/2

scoop

Dr. Axe's Bone Broth Protein Powder
Instructions
Make chicken bone broth ice cubes and freeze.

Blend all of the ingredients in a blender until smooth.

Omit the chicken bone broth ice cubes if using bone broth protein powder.
Notes
You can brew coffee any way you normally like to brew it.  Or you can pull two shots of espresso and fill with water the rest of the way to make 1/2 cup of liquid.
Add-ons:
You can add chia or flax seeds, coconut oil, cinnamon, almond or peanut butter, etc. to create your perfect morning pick-me-up!