This incredibly refreshing Green Mango Peach Smoothie Recipe is sponsored by Sprouts Farmers Market! See more photos of their sparkling new store in Murfreesboro, TN below.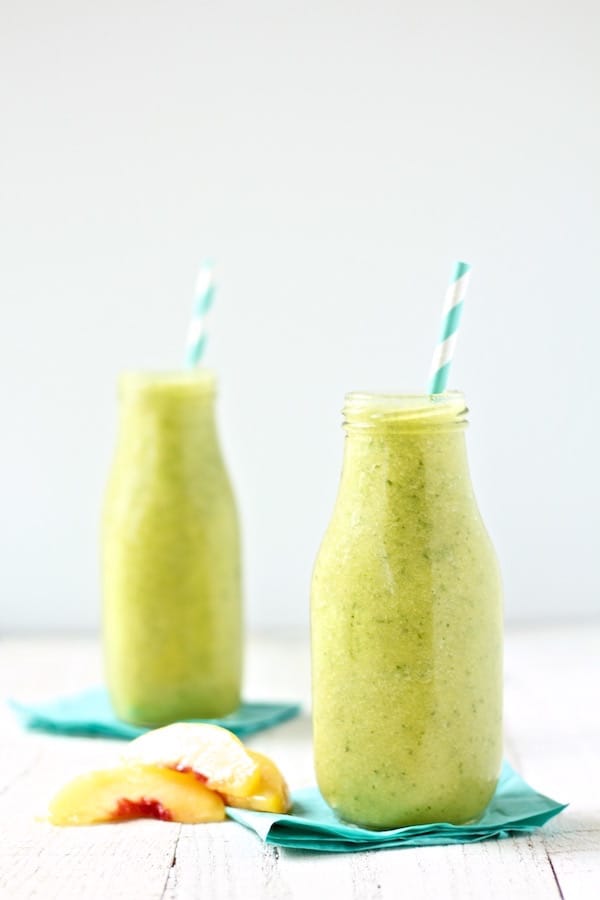 If you haven't already noticed, I've been a smoothie-making goddess for the last several months. I've tested healthy smoothie recipes to the moon and back, and this green mango peach smoothie is one of my all-time favorite summer drinks! I originally came up with a similar smoothie recipe for my new eBook Smoothies & Smoothie Popsicle Recipes For Toddlers and Kids (available on Amazon now!). Since it's 185 degrees outside, I wanted to create a minty smoothie with peaches and fresh ginger, and BOY does this one satisfy!!!
Ripe and sweet mangoes and peaches, kale, fresh mint, fresh ginger, and two different smoothie add-on options make for an invigorating combo that just might have you skipping to the beat of your own drum (or maybe to a Justin Timberlake tune).
I love using frozen fruit for this recipe or adding a few ice cubes in the blender to bring out the iced-cold goodness. I served over 50 small portions of this awesome smoothie to happy and hungry shoppers at the Sprouts Market Murfreesboro, TN soft opening and it was so popular I ran out in an hour!
The wonderful thing about the flavor is that it takes a few seconds for the ginger and mint to come through, but when it hits your palate, it leaves you with the happiest feeling. I had several people take a sip and give a "weird" look on their face, but I told them to give it a second, and afterwards, they had a surprised expression of "Wow, that IS good!" The kids I served it to totally gulped theirs down, and some even asked for seconds.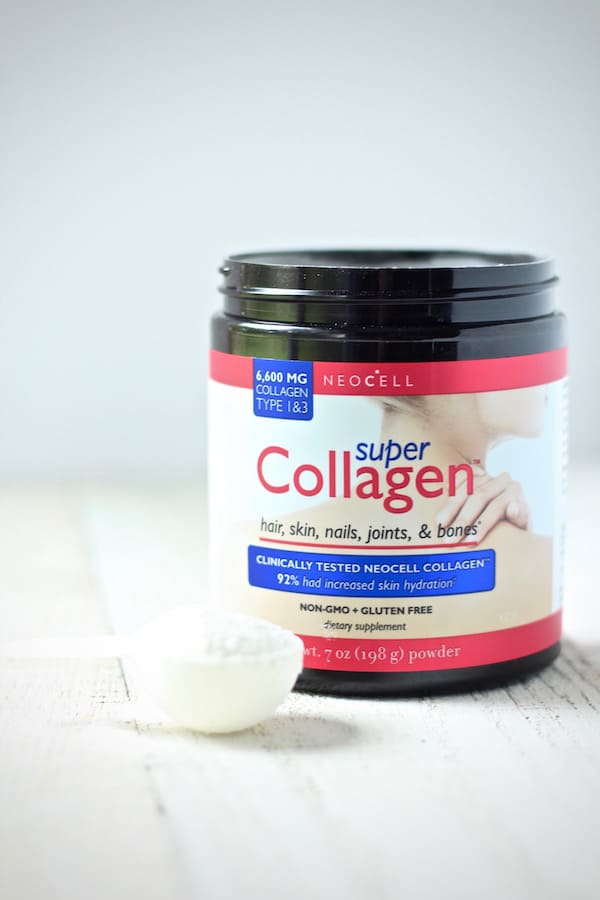 I created the same smoothie base with two options for nutritional add-ons: The first was with the collagen powder you see above. This was definitely a BIG hit with customers as they loved the idea of taking a supplement that helps with joint and bone health. It's completely flavorless and can be stirred in to any drink, so it didn't affect the flavor or texture of the smoothie at all. Collagen powder is a great bone broth substitute, especially in the summer when drinking hot broth is not the most appetizing experience. Collagen powder is NOT a vegetarian product, but the powder below is ⇓.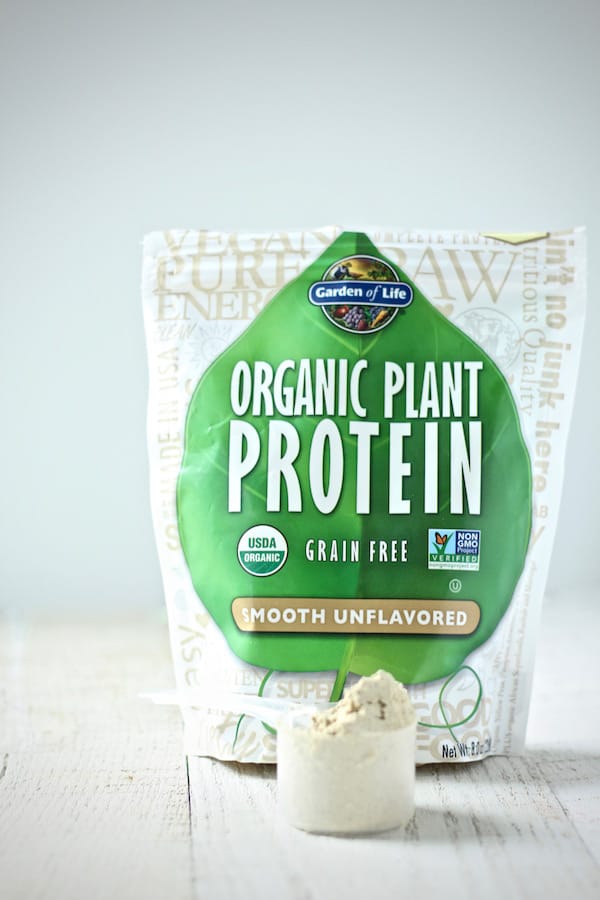 The next option for a nutritional add-on was the organic plant protein with chia, flax, moringa tea (one of the most nutrient-dense substances imaginable), enzymes, and probiotics, YEAH! I chose the 'unflavored' option, but it also comes in vanilla and chocolate. The one note about this particular brand of protein powder, is that it's best blended in your drink in a blender, and does not taste good in just water. It's best mixed in nut milks or a smoothie. I used half of the amount that it recommended because it thickened the smoothie considerably and imparted too much flavor. I also added just a touch of Emergen-C vitamin C pack to that batch to hide any excess flavor it imparted…that worked like a charm! You can find both of these powders at Sprouts.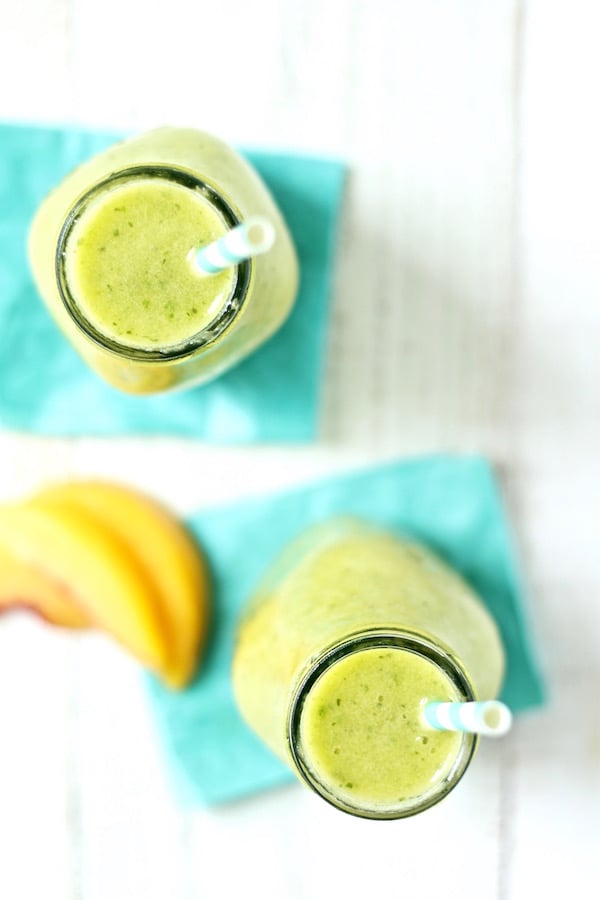 Here was my smoothie table I set up at Sprouts surrounded by rows and rows of beautiful, and often organic, produce! Even my table looks like it's smiling 🙂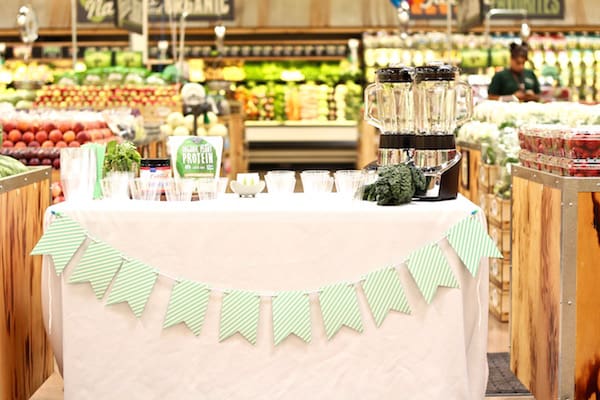 And oh my goodness, their bulk foods aisle is spectacular! It takes up the entire entryway and is loaded with every nut, dried fruit, and tasty wholesome snack known to man.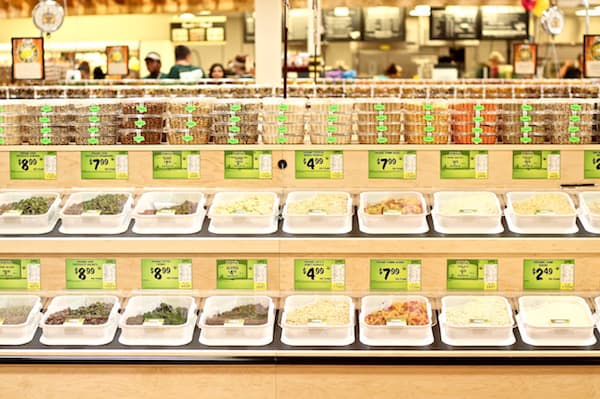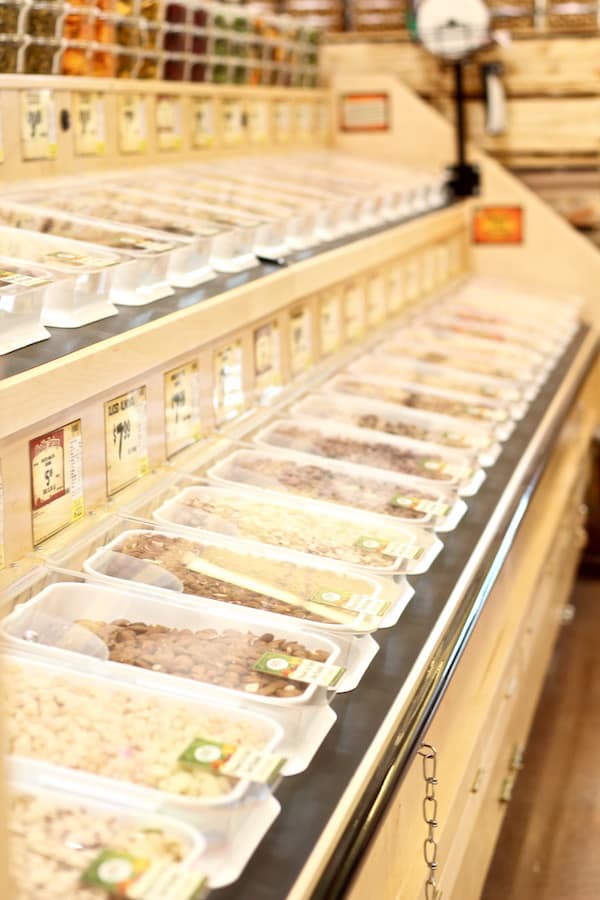 My favorite thing about Sprouts is the layout. Instead of having parallel rows from the front to the back of the store, it's mostly all open, and the aisles are very small and are on the perimeter on one side, making it very easy to find what you need. No more walking through a maize just to find that one tiny item at the bottom of a random shelf!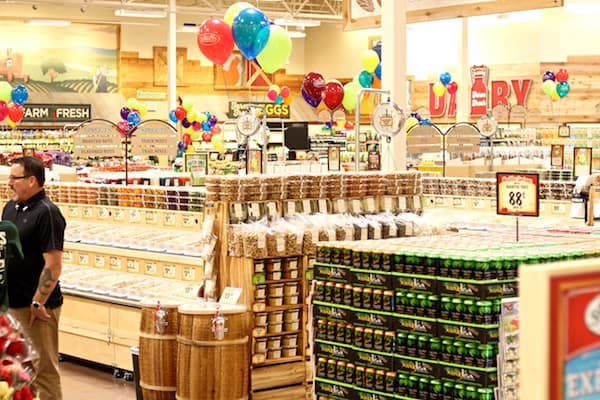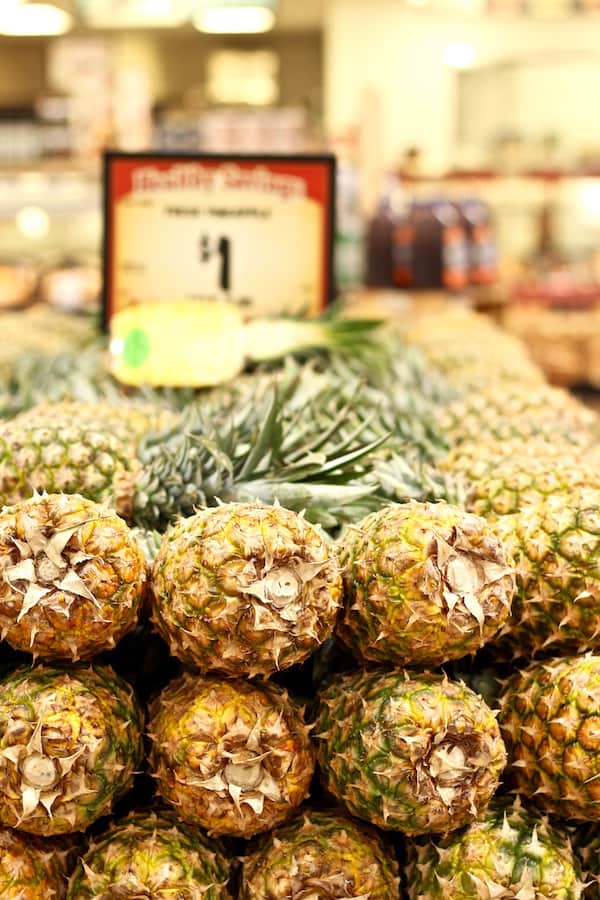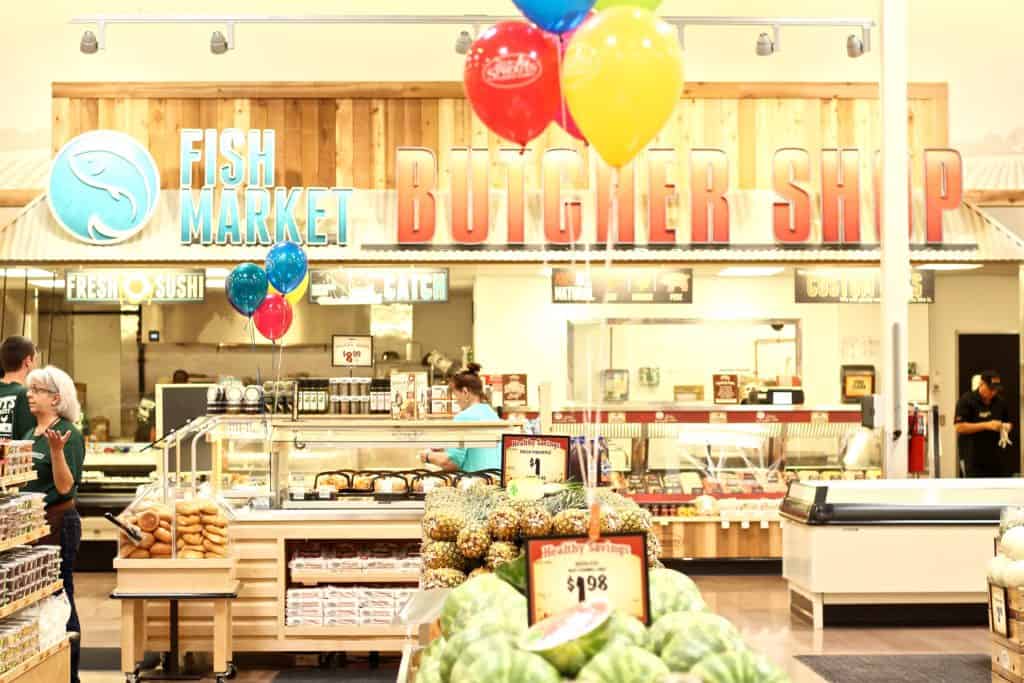 Comment below if you made this smoothie. I would love to hear from you!
Bon Appetit Ya'll,
Leslie O,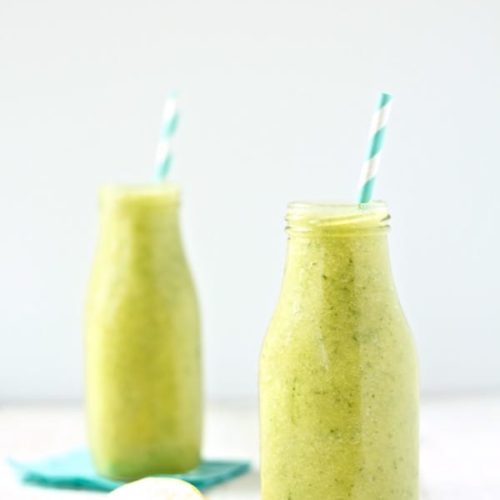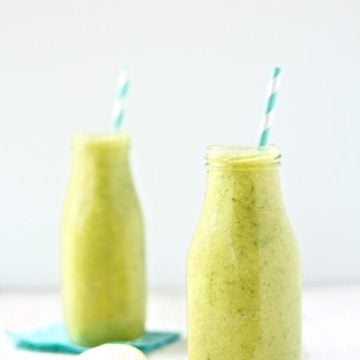 GREEN MANGO PEACH SMOOTHIE RECIPE
This tropical and refreshing green smoothie is the perfect way to cool down in the heat!
Print
Pin
Rate
Ingredients
1

cup

mango

fresh or frozen

1

cup

peaches

fresh or frozen

small handful of kale

2

cups

cold water

sliver of fresh ginger

3

sprigs fresh mint

3-4

ice cubes if using fresh fruit

1/2

scoop of Garden of Life organic plant protein powder or 1 scoop collagen powder

C

dash of Emergen- vitamin C powder to brighten up the flavor and mask the protein powder flavor

optional
Instructions
Add water to the blender FIRST before adding the other ingredients, as it helps the blending process. Blend all the ingredients together until nice and smooth.