You get a crispy chicken farro salad, and you get crispy chicken farro salad, everybody is going away with a crispy chicken farro salad!!!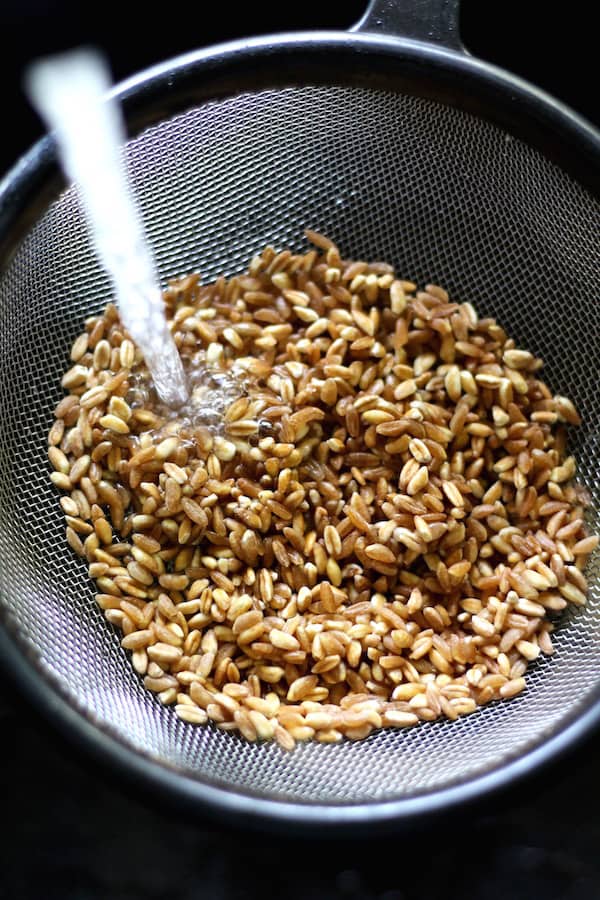 Well, it might not be a new car, but it's certainly an easy and delicious staple dinner that can easily be taken for leftovers and inhaled inside your car during your 20 minute lunch break.
Crispy chicken thighs, sautéed kale (in those yummy chicken juices), and tender and nutty farro dressed in balsamic vinegar make an exceptionally tasty meal any time of the year.
If you've never eaten farro, you should really add it to your grocery list and give it a try ASAP!
It's a welcomed break from the sometimes monotonous steamed rice, especially when paired with crispy chicken. It cooks up in about 15 minutes (so the same amount of time as rice) and really soaks up the sauce for even more flavor.
My husband actually gets excited when I tell him I'm making a farro salad for dinner. The only time he gleefully eats a salad is when I make it for dinner and he is left with the choice to either go to bed hungry, or eat the damn salad.
However, he will happily make an exception for a salad with bleu cheese dressing, shredded cheddar cheese, and three slices of bacon sprinkled over the top. #saladnotsalad
REASONS TO LOVE CHICKEN THIGHS
Look, if you are a chicken breast lover, I totally feel you. I mean it tastes like chicken, so it's good. On the downside, chicken breasts dry out really easily, and even top chefs consider it one of the harder proteins to master.
Chicken thighs are almost impossible to dry out. You pretty much have to burn them to a crisp for them to be dry. All that lovely dark meat contains more fat than chicken breasts, and the skins crisp up to make the best crispy cracklin' treat that rivals bacon… yes I said bacon.
They are half the price of chicken breasts, and with all that extra fat (don't worry, it cooks off), they fill you up. You really only need about two pieces per serving, unless you want to have leftovers the next day for lunch, which is what I did for this farro salad recipe.
Chicken thighs taste amazing on the grill too! Grill them with the skins on and top them on a

Caesar Salad

or serve them on the side with grilled vegetables.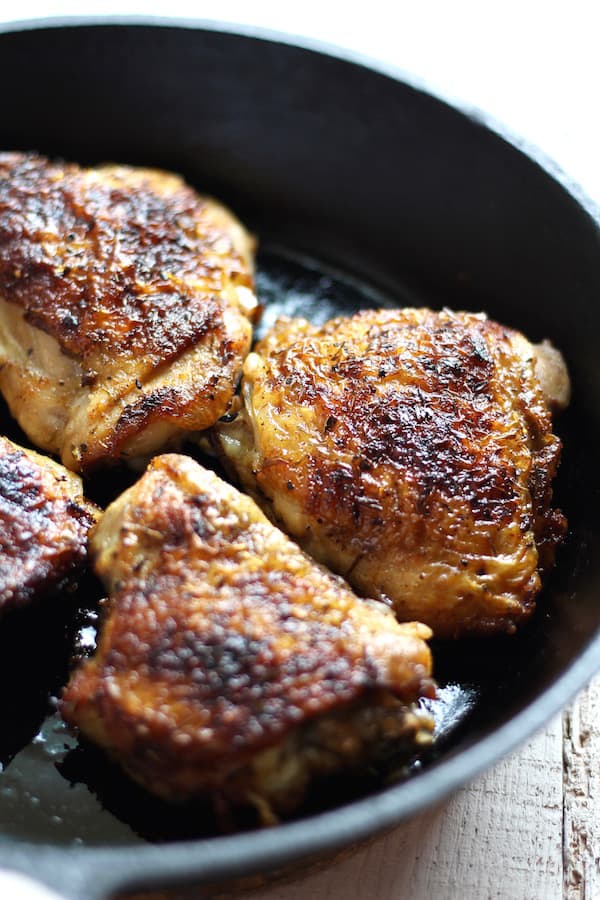 After the chicken thighs are cooked and the fat has rendered, keep a little bit of the juices in the pan to sauté the kale.
I added a touch of white wine too, which is totally optional, but adds the subtle flavor of, well WINE.
If you don't have white wine, just use a little balsamic vinegar since that flavors the farro too.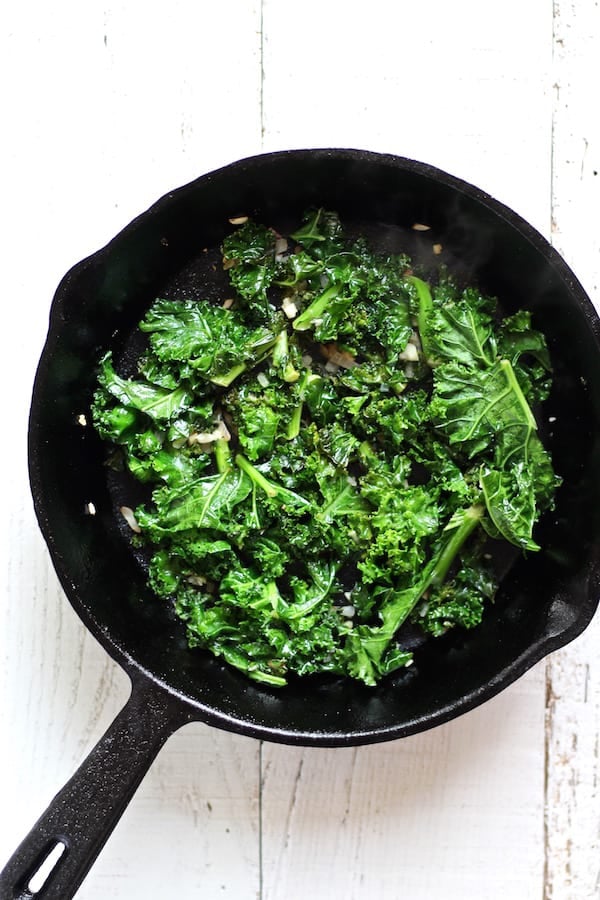 Although I didn't have any on hand, a tasty green sauce like arugula parsley pesto would be wonderful to slather on this dish. However, if you want to keep the calorie count lower, you really don't need extra sauce since you have chicken juices, wine, and balsamic to round out the flavors.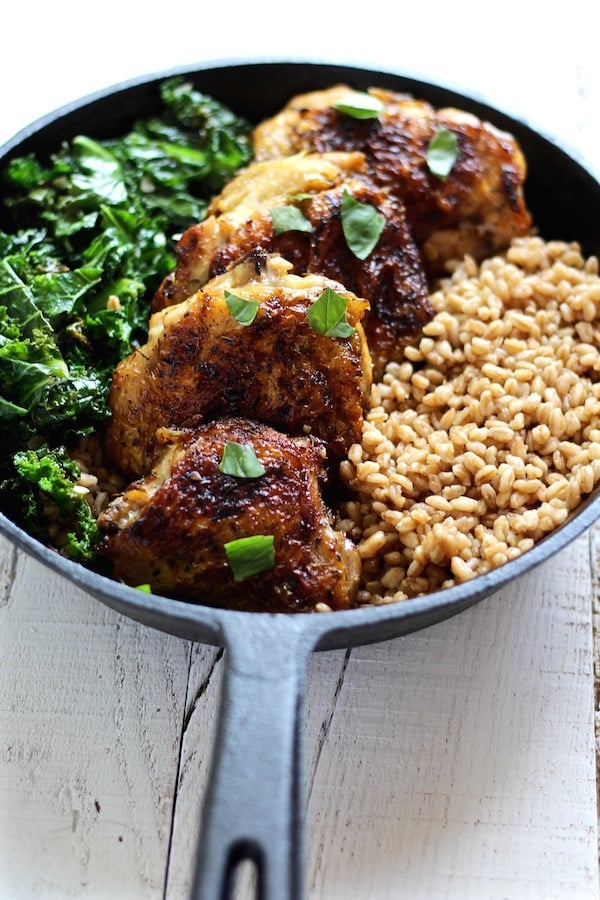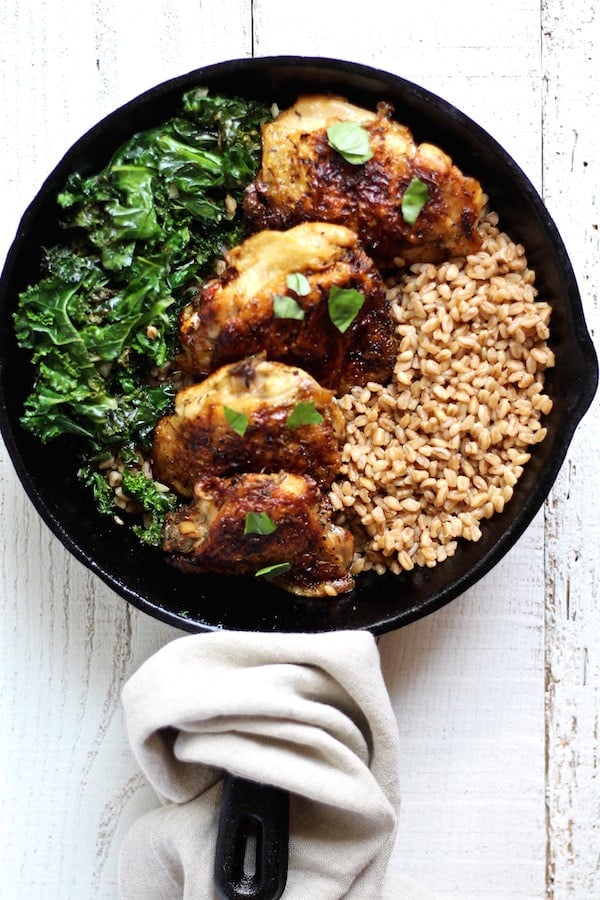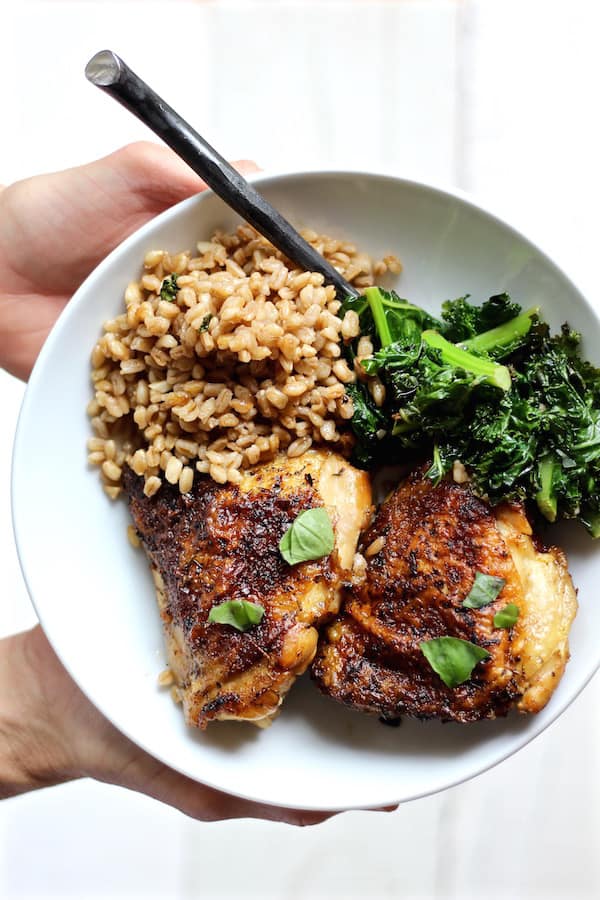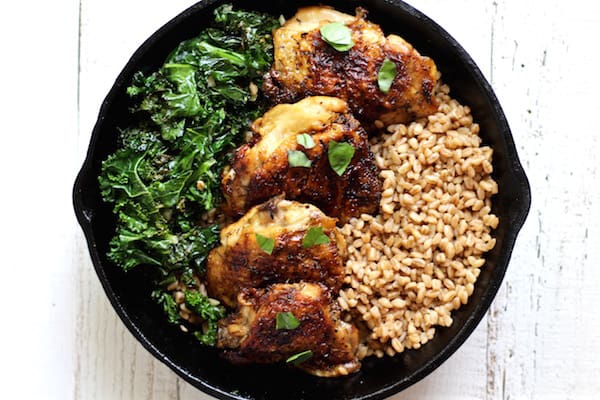 Bon Appétit Ya'll,
Leslie O.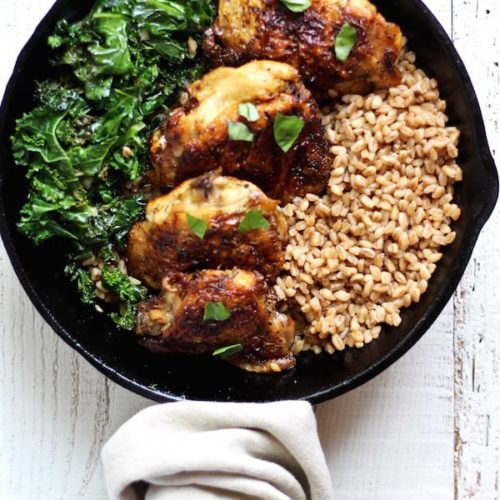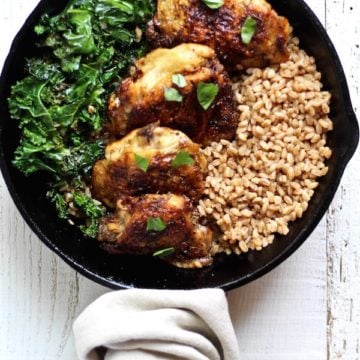 CRISPY CHICKEN & KALE FARRO SALAD RECIPE
Crispy chicken thighs, sautéed kale, and nutty farro blend together to make a scrumptious lunch or dinner. It's great as leftovers too!
Print
Pin
Rate
Ingredients
4

skin-on chicken thighs

1

cup

farro

2

cups

water

2

cups

kale

1

shallot

minced

2

cloves

garlic

minced

2

Tbsp

. balsamic vinegar

1

tsp

. olive oil

splash of white wine

optional

basil for garnish

optional

salt and pepper

Essence of Emeril seasoning blend for the chicken thighs (optional

but pretty much the best seasoning blend that ever existed)
Instructions
For the Chicken Thighs
Preheat the oven to 375 degrees.

Heat an oven-safe pan like a cast iron skillet or sauté pan over medium heat. Do not add any oil to the pan if you use chicken thighs with skins. The fat will render out once they start cooking and they will crisp up nicely and will be very moist. Season the chicken thighs with either salt and pepper or Emeril's essence (or your favorite chicken seasoning blend). Place the chicken thighs skin-side down and sauté for a few minutes until the skins are completely crispy. Flip and brown the other side really well for a few more minutes. Place in the oven to finish cooking. It should take about 10-15 more minutes.
For the Farro
While the chicken cooks, rinse the farro in a colander under cold water for a bit to remove some of the starch. Heat a saucepan over medium heat and add 1 tsp. olive oil. Sauté the farro for about one minute or until it starts to smell slightly nutty. Add the water and season with salt. Let the water come to a simmer and cover with a lid and turn the heat down to low. Simmer for about 15 minutes, or until the farro is tender but still has a bite. Remove from the pan, and drain the excess liquid from the farro. Add it to a bowl and dress it with salt and pepper and 2 Tbsp. balsamic vinegar.
For the Kale
While the chicken and farro are cooking, mince the shallot and garlic and set aside.

Remove the chicken from the oven when it's fully cooked and remove from the pan and set aside. Place the pan you cooked the chicken in on the stovetop and turn on a burner over medium heat. Remove all but 1-2 Tbsp. of the pan juices and sauté the kale, stirring frequently. After about two minutes when it's almost cooked, add the shallot and garlic and sauté stirring frequently for about 30 seconds only as you don't want to burn the garlic and shallot. Deglaze the pan with a touch of white wine or balsamic vinegar and stir until the liquid is evaporated. Season with salt and pepper and remove the kale from the pan.

Serve immediately.