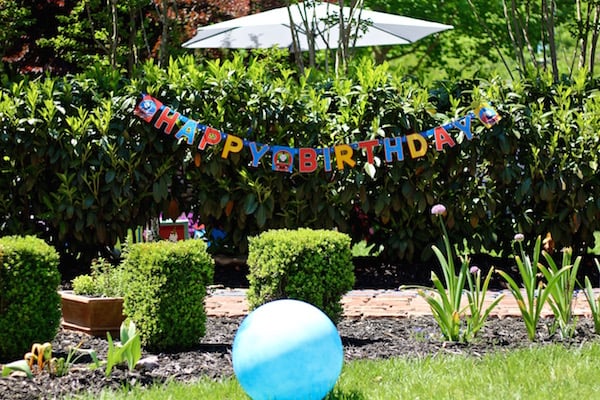 CHOO CHOO! AAAALL ABOARD! It's an adorable Thomas the Train birthday party. This post is possible because of awesome aunt Cheryl and uncle Steve who threw this fun birthday party for my son's cousin, sweet Hana Jae, who just turned 4! Don't ya just love going to parties that you don't have to put together yourself?! Well, if you did have a birthday celebration coming up that you are hosting, and you need some inspiration for Thomas the Train birthday party ideas, then you've come to the right place.
First off, I can't take ANY credit for any of the cuteness that took place at this wonderful backyard party. I didn't bake that adorable Thomas the Train birthday cake either. Like, I said, I just showed up, had a ball, and took lots of pictures.
The Thomas & Friends happy birthday banner was hung in their idyllic garden. Luckily the weather couldn't have been more beautiful.
The birthday cake was made by a family friend who bakes and decorates cake for fun. Didn't she do a phenomenal job? The tracks, the face of the train, and some of the landscape on the cake were made with fondant. The rest was buttercream frosting.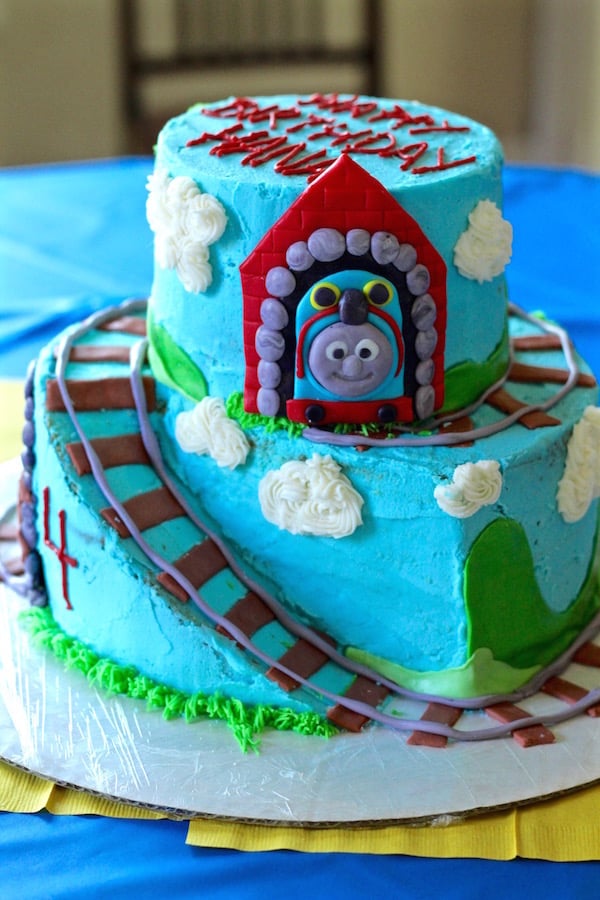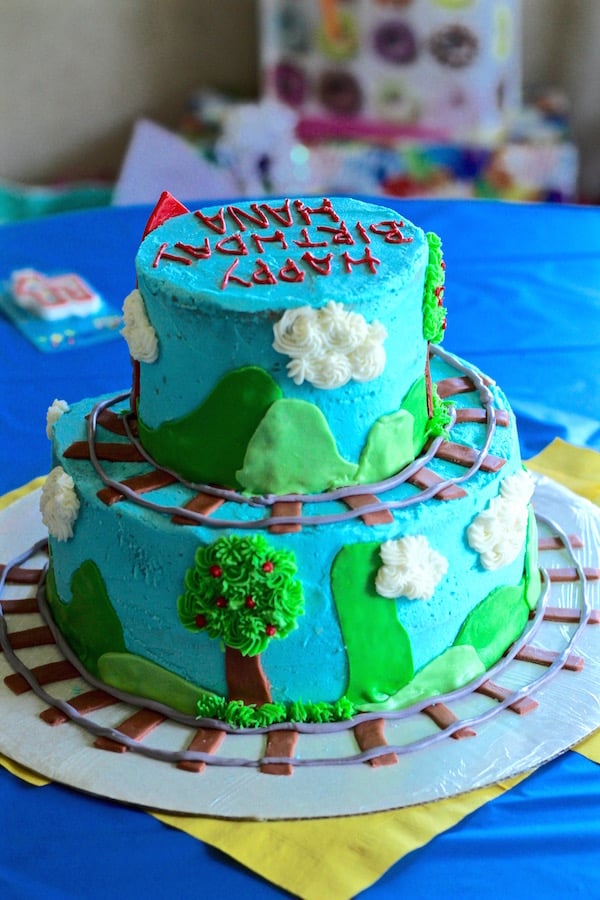 Thomas the Train party hats, whistles, and an assortment of plates, napkins, and table cover adorned this fun table.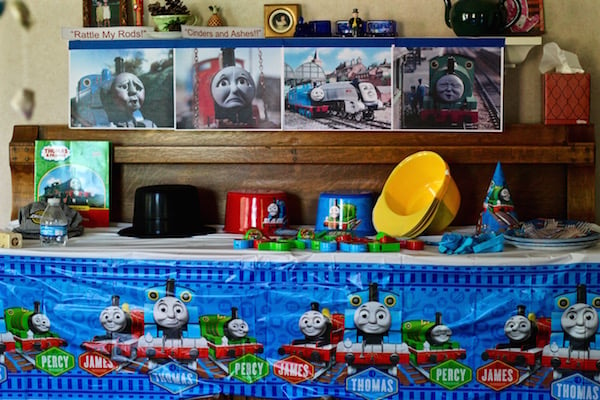 My aunt Cheryl found some of the ideas online, she couldn't remember which sites, but she came up with a great way to put together the Thomas the Train boxes you see below. The boxes have no bottoms so that the kiddos can get inside, walk around with them, and pretend like they're riding in a choo choo train.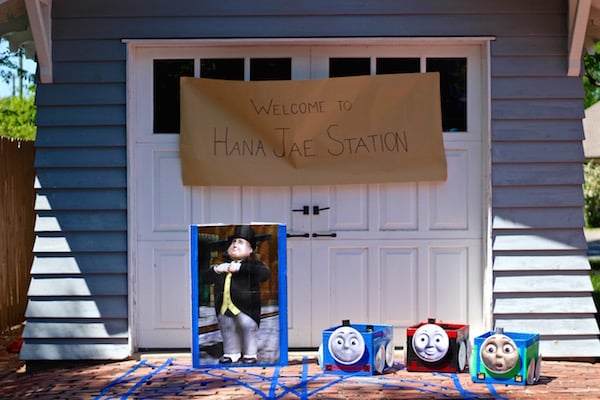 My son didn't quite know what to think about the box once he got inside, but he sure did love looking at it! At least I got one good picture of him before he was ready to go play in the bouncy house.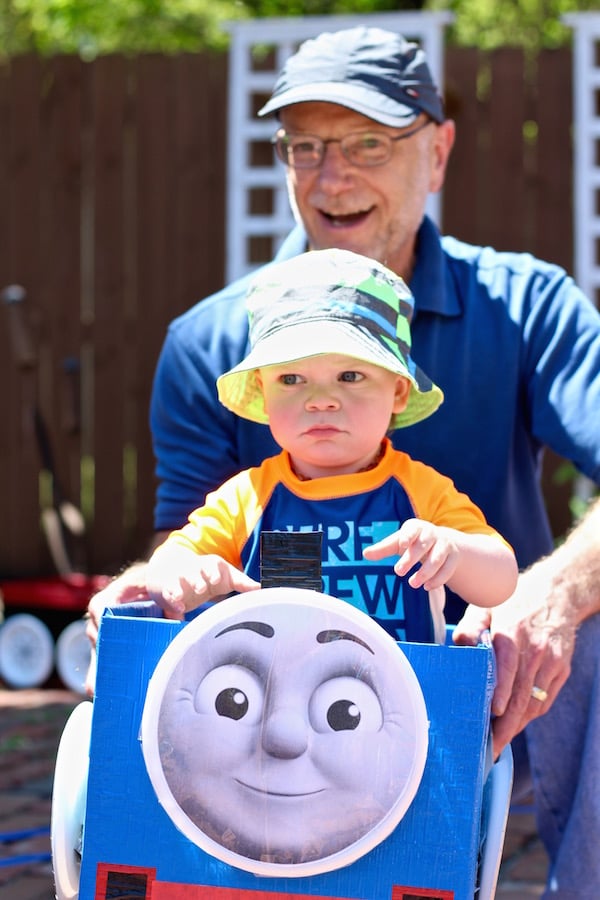 As you can see below, they used duct tape to make tracks all around the pathway. I can't even imagine what a feat that was, but it was such a creative way to get the kids to feel like they were riding on a train! The older ones had fun taking their boxes and zooming around the tracks.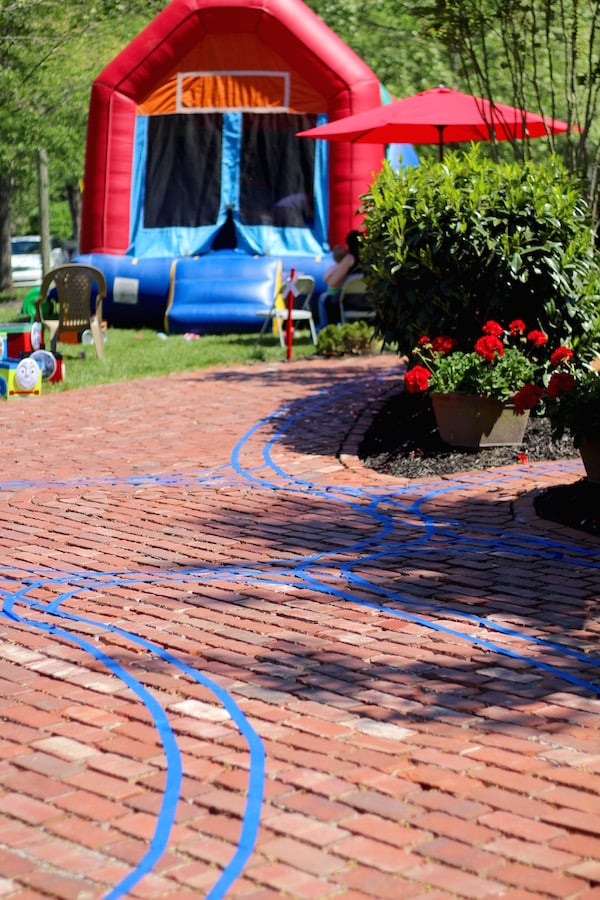 Cheryl used red, yellow, green, and blue duct tape instead of craft paper because it was more durable and wouldn't break apart. She printed off copies of the faces of all the characters, cut them in circles, and taped them to disposable plates. The wheels were made of disposable plates too and she used a sharpie to draw the rims.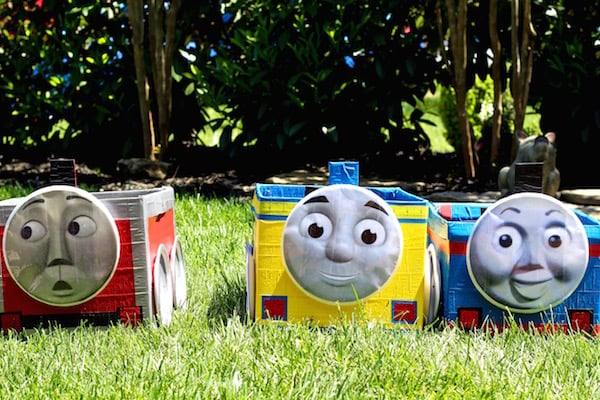 Of course, the iced tea was the perfect diesel fuel for the adults!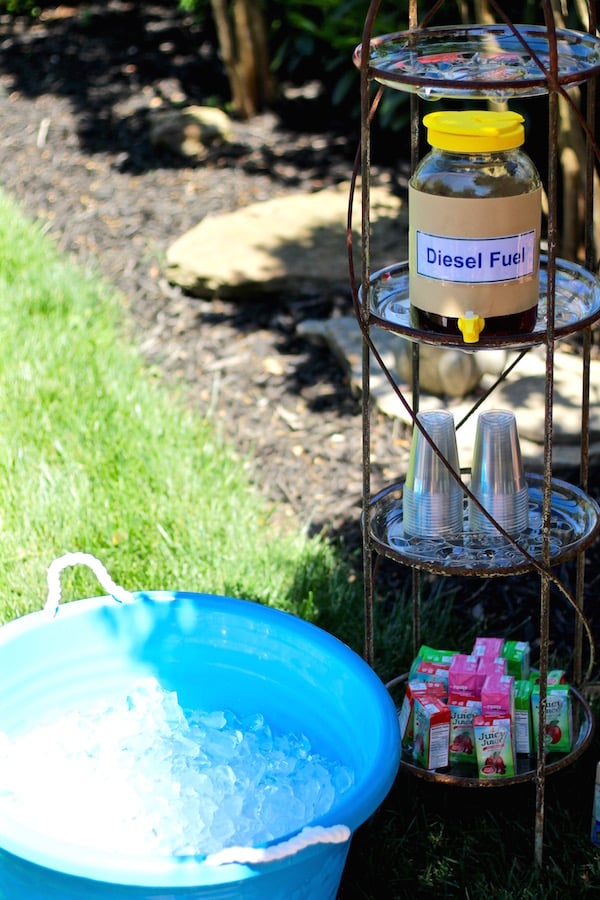 The peanut butter and jelly sandwiches were cut out in the shape of trains and served alongside deli sandwiches, cold fruit and veggies, chicken fingers, and shrimp cocktail.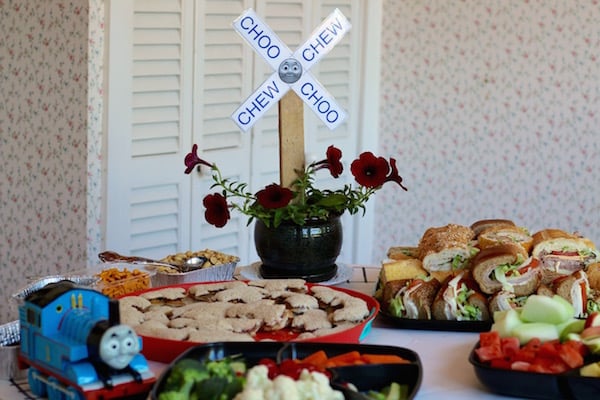 And what kids party would be complete without a Thomas the Train pinata?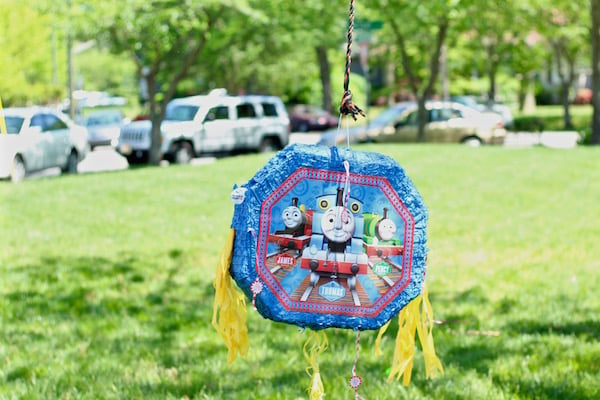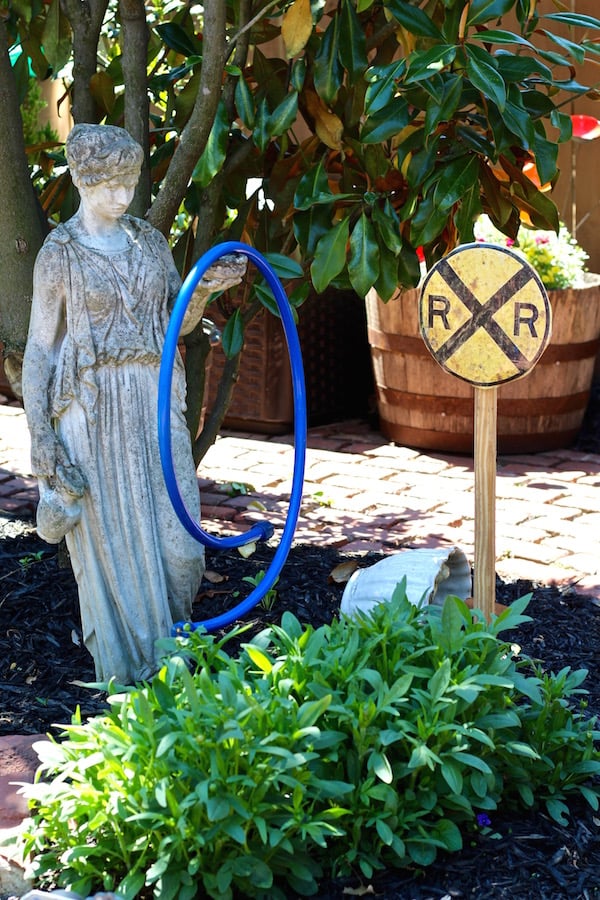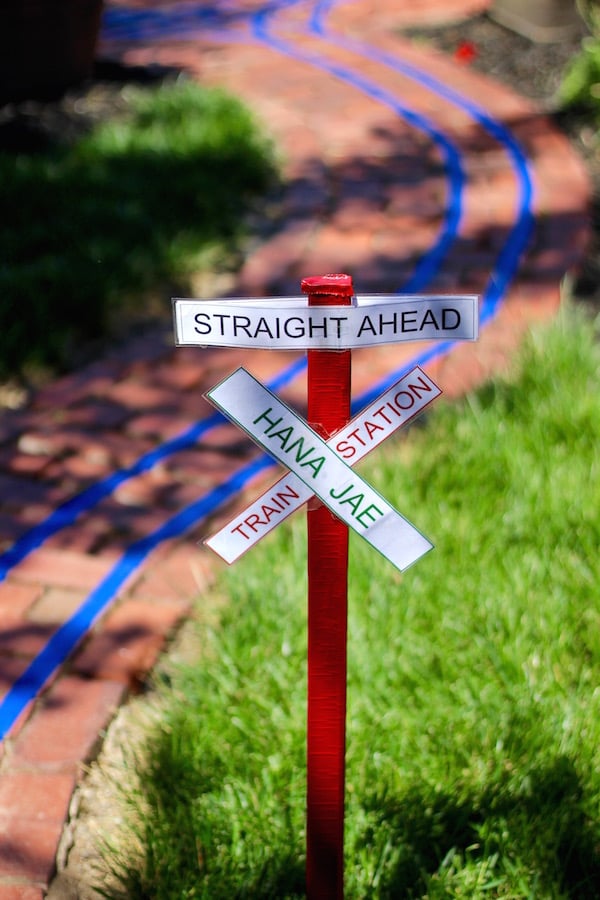 A bouncy house, lots of kids to play with, good food, and fun result in a peaceful sleeping baby!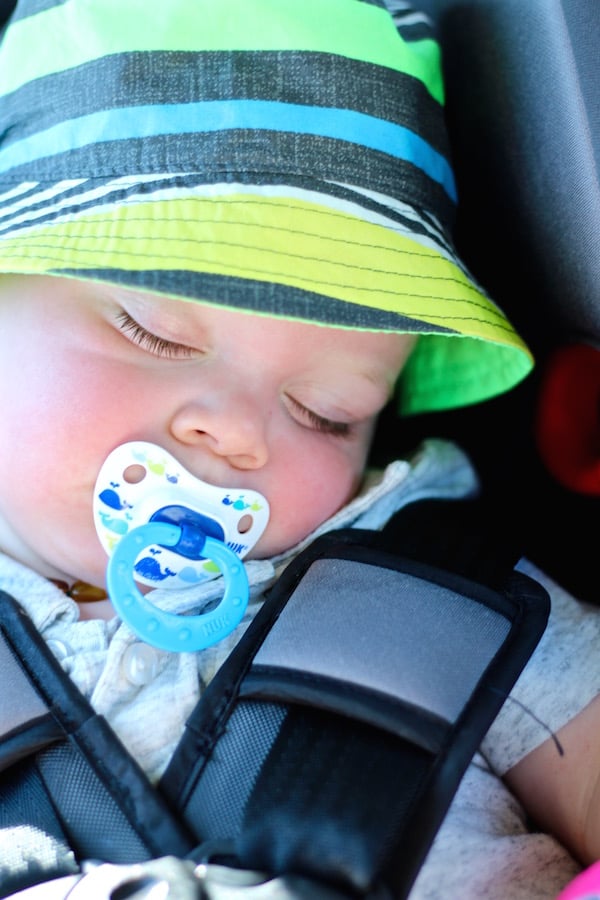 There are affiliate links for Amazon, which means if you purchase any of the products through the links, I receive a small commission at no added cost to you. This helps support Bessie Bakes!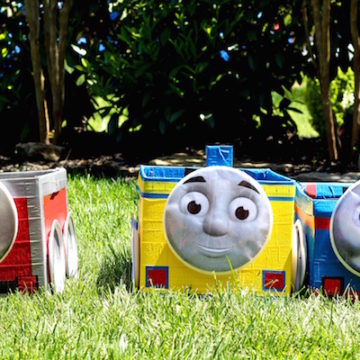 ADORABLE THOMAS THE TRAIN BIRTHDAY PARTY
All the tools you need to throw the most adorable Thomas the Train birthday Party!
Print
Pin
Rate
Ingredients
Thomas the Train Happy Birthday Banner

Thomas the Train plates

napkins and table cover pack

Thomas the Train wooden whistle

Thomas the Train party hats

Assorted Duct Tape colors for Thomas the Train boxes

Thomas the Train Pinata