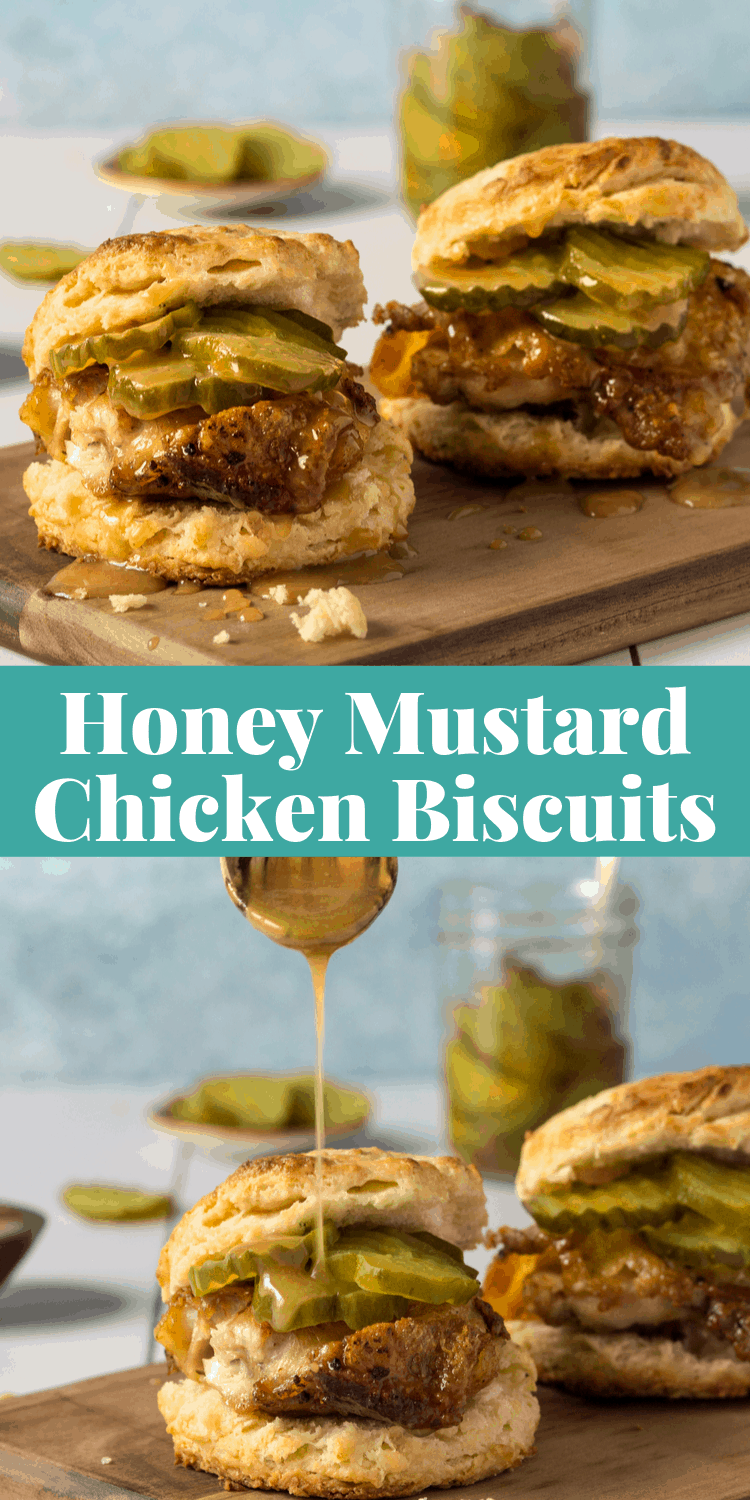 There is nothing quite like crispy chicken thighs sandwiched between buttery and flaky southern biscuits. Follow this step-by-step photos for the most amazing Chicken Biscuits Recipe & Honey Mustard Sauce ever!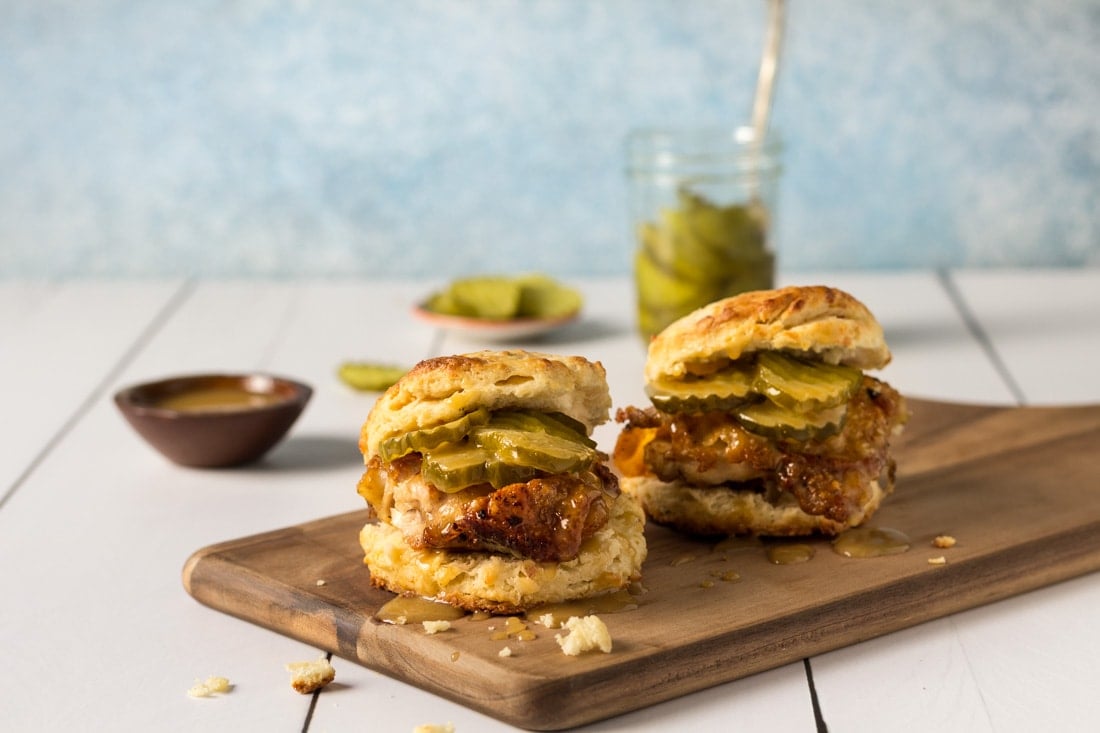 A good biscuit is to the South what pizza is to New York.
Like pizza, the ingredients for Southern biscuits are straightforward but can be one of the trickier foods to master. Women of my grandmother's generation who baked these golden pillows daily could prepare biscuits with their eyes closed.
You don't have to worry about lacking experience with biscuit-making.
I've got you covered with super easy to follow step-by-step photos so you can prepare this chicken biscuits recipe from scratch in under 45 minutes. Anndddddddd the recipe makes up to 8 chicken biscuits!
When you add skin-on chicken thighs and crisp them to perfection in a pan (no deep-frying required), you are taking the buttery biscuit to a whole other level!
How to make Crispy Chicken Thighs (no deep frying)
For this chicken biscuits recipe I like to start the chicken on the stove top in a saute pan, then finish in the oven. While the chicken thighs are in the oven, I start making the biscuit dough.
I'm using skin-on bone-in chicken thighs. I've never found boneless chicken thighs with the skins. Typically if they are boneless, the skins are removed as well. We NEED the skin for that crispy crunchy bite!
Preheat the oven to 375 degrees.
Heat two saute pans over medium heat for a few minutes so that we can fit 4 chicken thighs in each pan. We want the heat to be moderate as we don't want to burn the skin. Pat the skin-on bone-in chicken dry with paper towels so they crisp up in the pan. Season both sides with salt and pepper. I like to keep the bones in while frying as it adds more flavor. You'll be able to remove the bones easily once they're cooked.
Start frying the chicken thighs in a dry pan skin-side-down first. As they cook, the fat will fill the pan, so you don't need any oil for this process. Flip the chicken over every few minutes to evenly brown about 15 minutes. Transfer the saute pans to the oven if they are oven-safe. If your pans aren't oven-safe, put the chicken thighs on a sheet pan and bake for about 10-15 minutes until they are cooked through. The chicken thighs should be skin-side-up in the oven.
Remove the chicken thighs from the pan on a plate with paper towels to absorb some of the excess oil.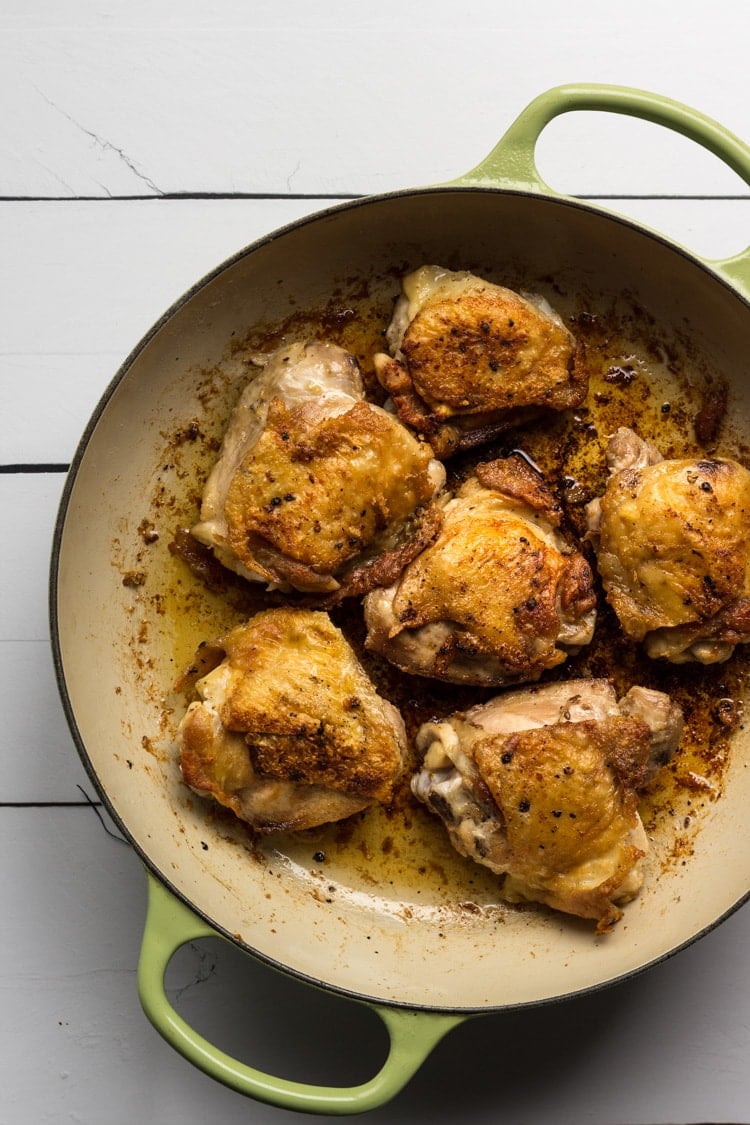 What kind of fat do you use in Southern biscuits?
For this recipe, I'm using all butter…I know, I know. The kind of fat you use for biscuits is a controversial topic. You can use lard (which is more traditional), all shortening, or half butter and half shortening, etc etc.
For me, nothing replaces the flavor of butter.
Shortening tastes flat to me, but it does lend a flaky texture.
However, if you mix the butter into the biscuit dough properly, you'll get that flaky texture that shortening provides, but get all that buttery flavor that only butter provides.
If you want to change up the type of fat you use in this recipe, just keep the same measurements for the fat for whatever you use.
How to make Southern Biscuits step-by-step
Cut your butter into chunks and place them in the freezer to firm back up while you start cooking the chicken.
Once the chicken is out of the oven, turn the oven up to 450 degrees.
Mix the flour, salt, baking soda and baking powder, chopped fresh rosemary, and shredded Parmesan together.
With a pastry cutter or fork or your bare hands, cut in the cold butter until they are distributed into tiny chunks throughout the dough.
Mix the buttermilk and sour cream together. Pour into the dough and stir until just combined. Do not over mix!
Place the dough on a floured counter or work surface and pat to a circular shape about 1/2-inch thick. Fold the dough over onto itself 3 times to create flaky layers. Then pat back into a circular shape.
Flour a biscuit cutter or glass rim and cut the biscuits. The last 2-3 biscuits can be formed by patting the excess pieces together to cut into biscuits.
Brush the tops and sides of the biscuits with buttermilk to prevent them from drying out.
Bake in the oven at 450 degrees for 12-15 minutes or until the tops are golden brown.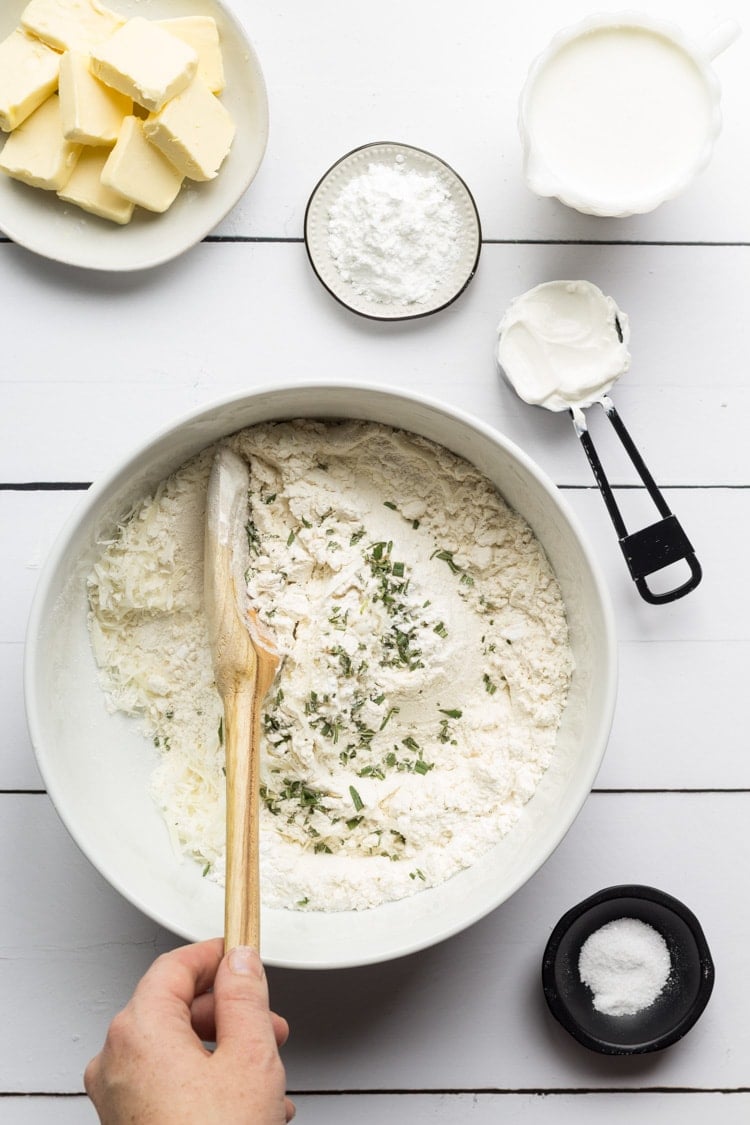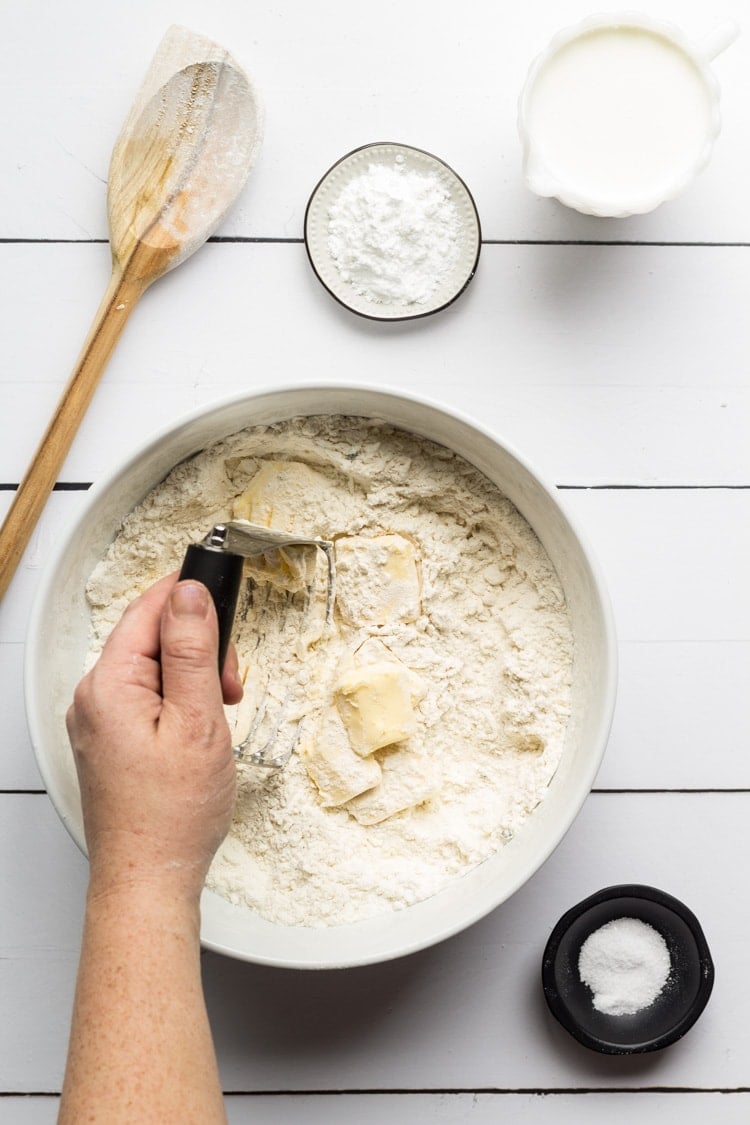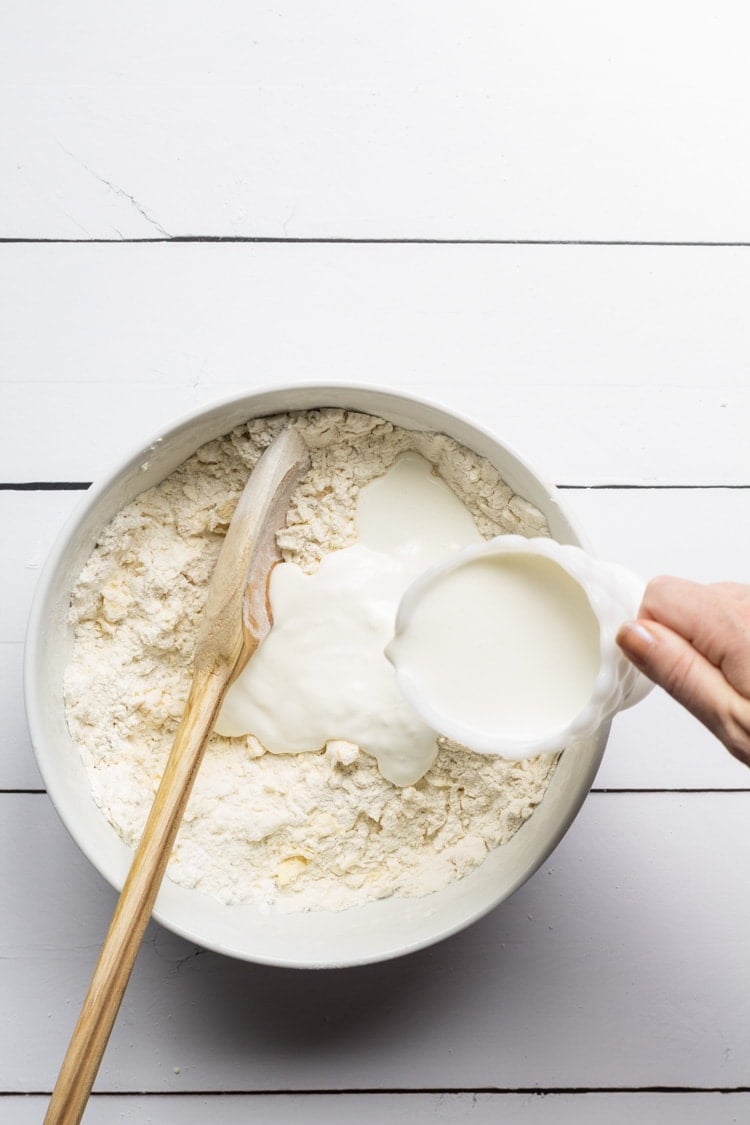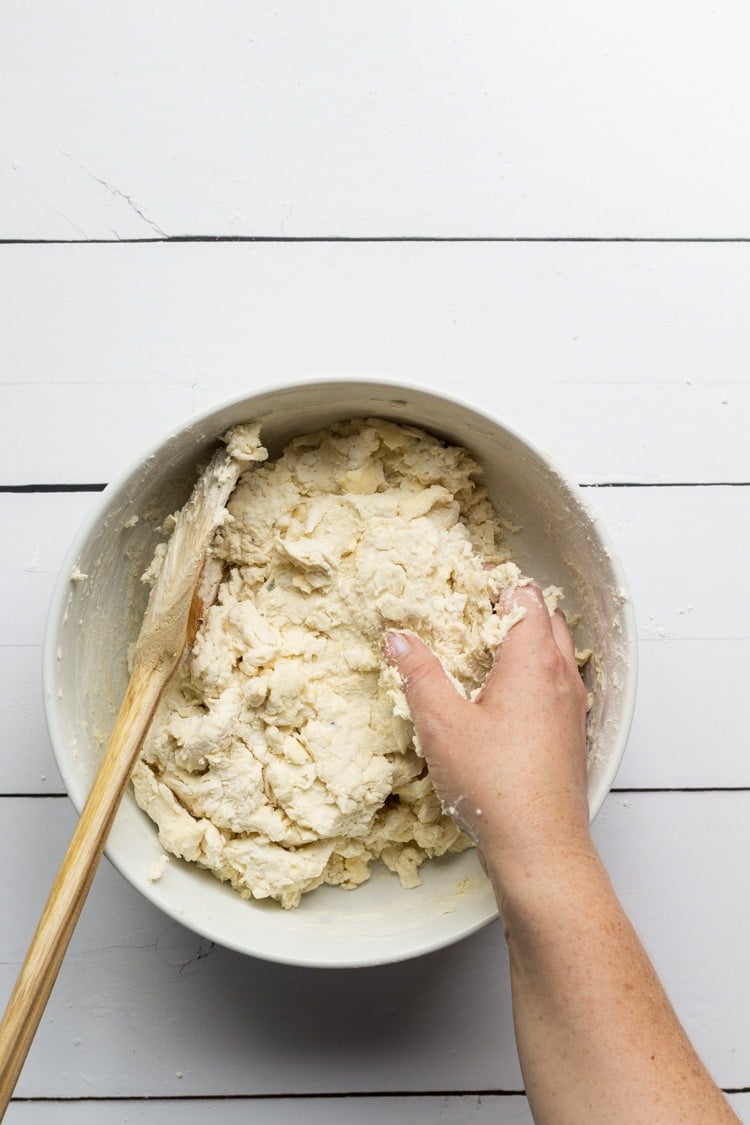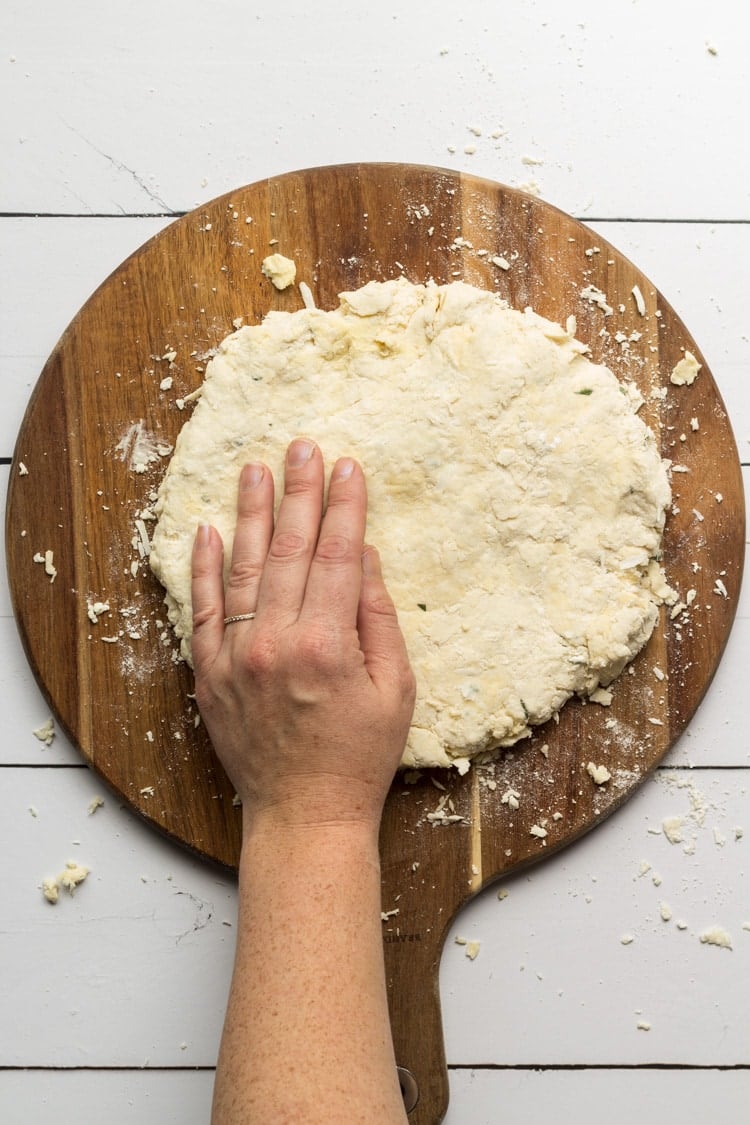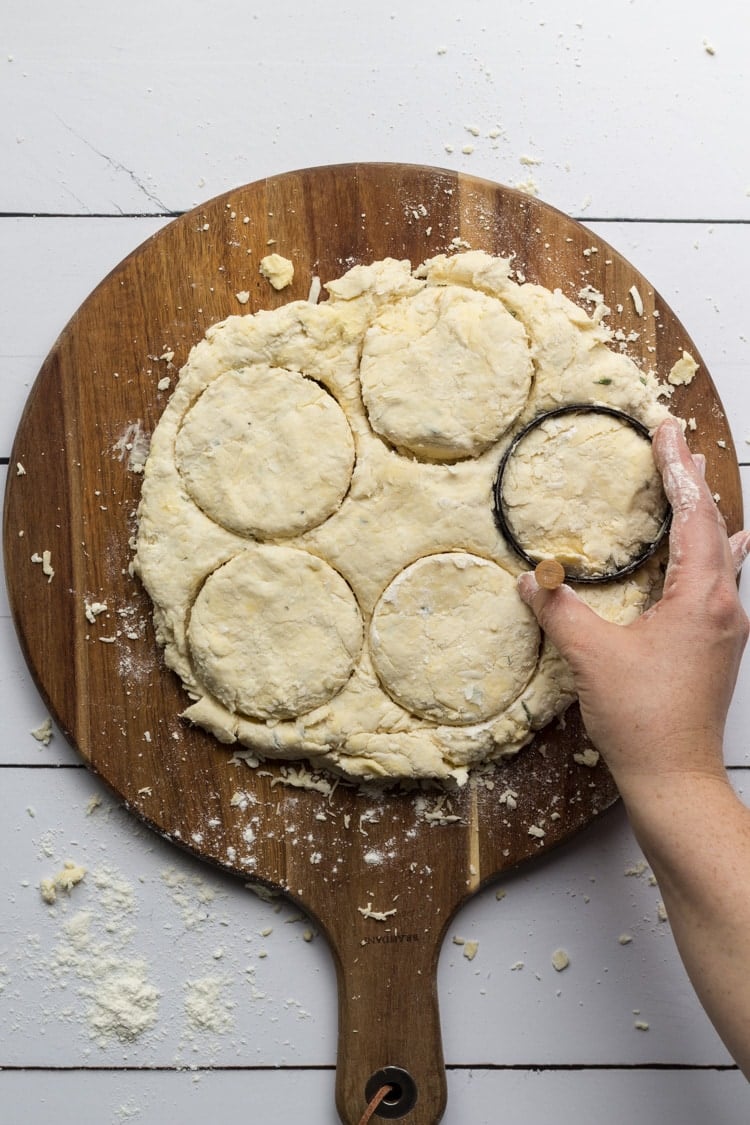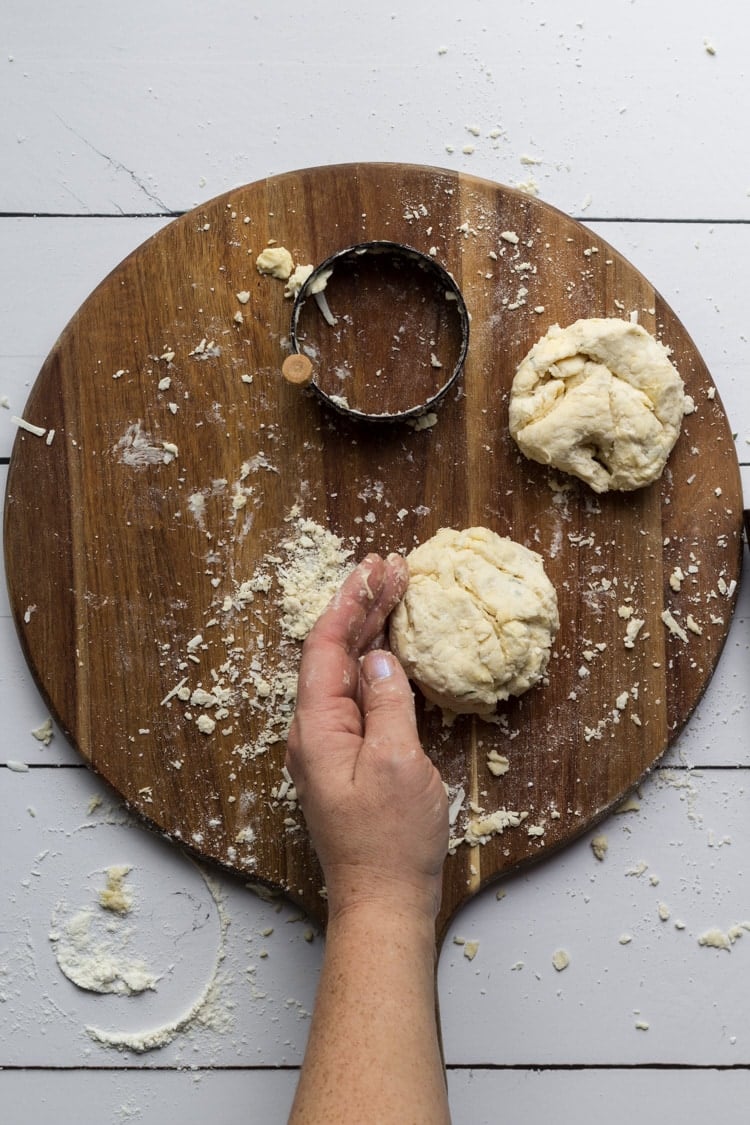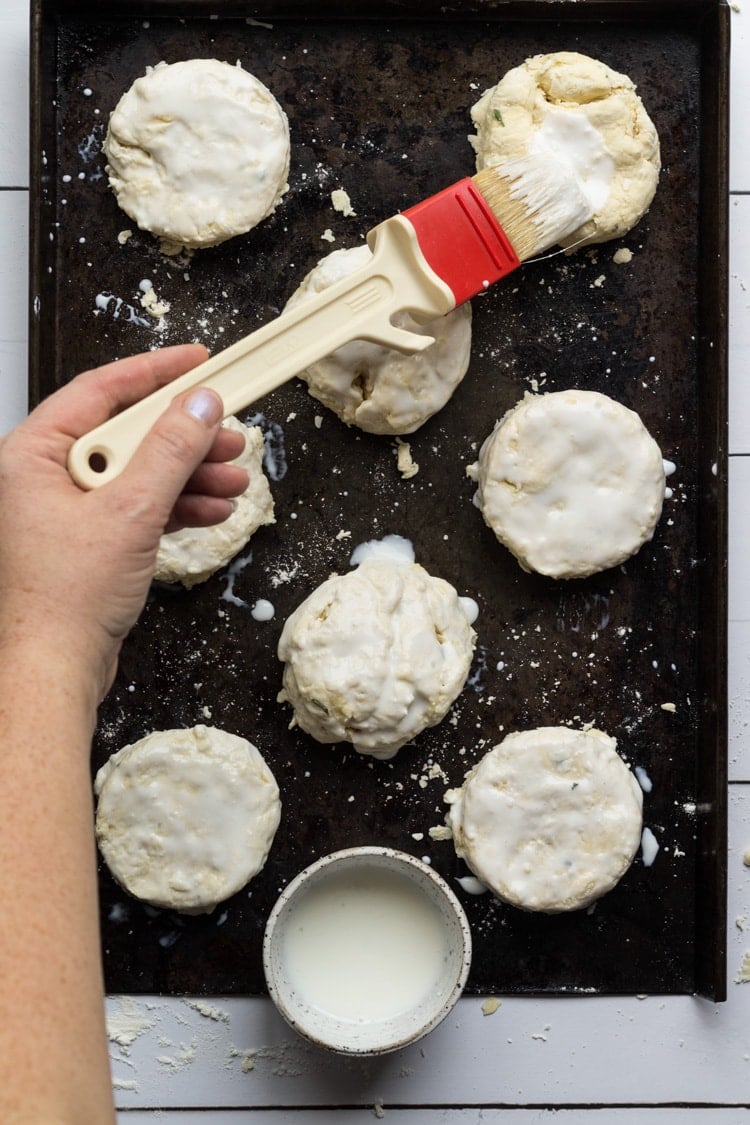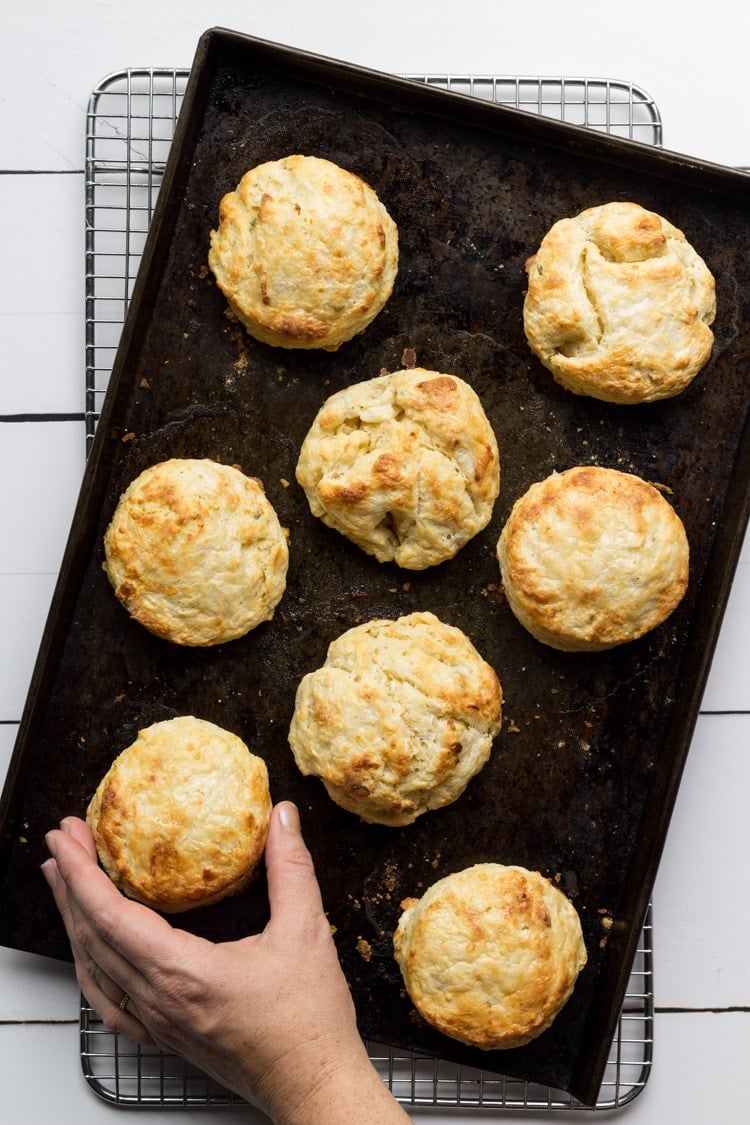 2-ingredient Honey Mustard Sauce
Honey and Dijon Mustard…that's it. Mix and drizzle over the chicken and top with the biscuit.
Biscuit & Baking Recipes on Bessie Bakes
Bourbon Apple Streusel Pie with Pie Crust from scratch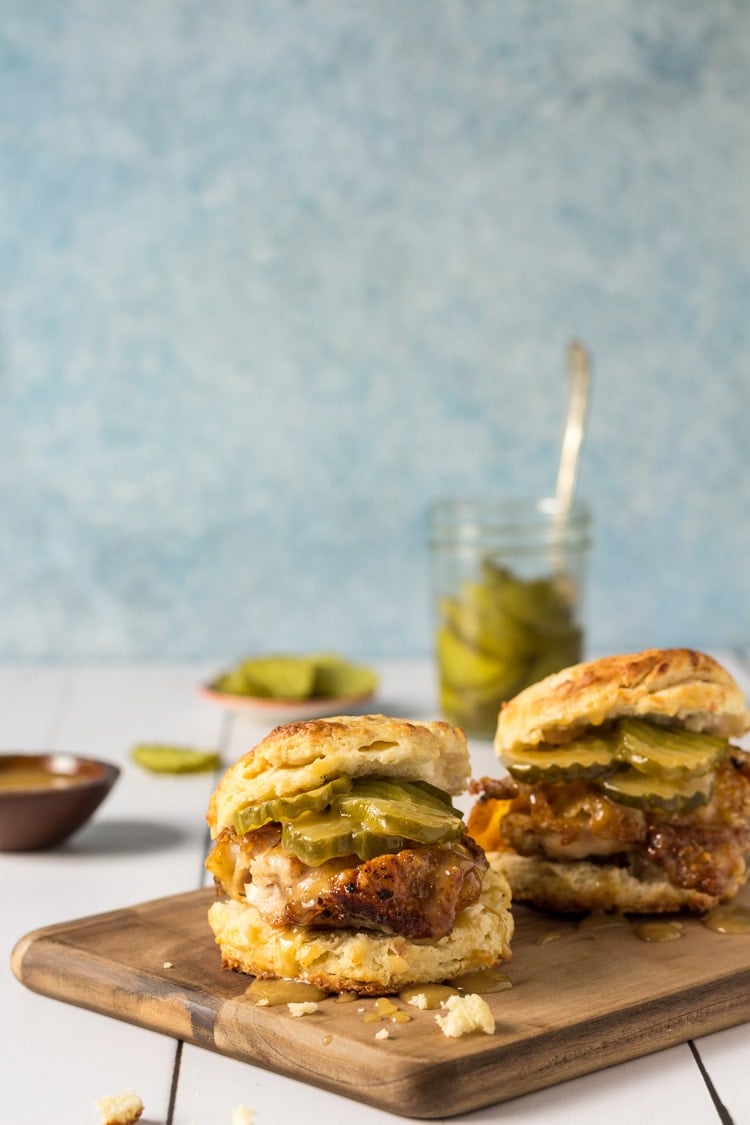 Bon Appetit Ya'll,
Leslie O.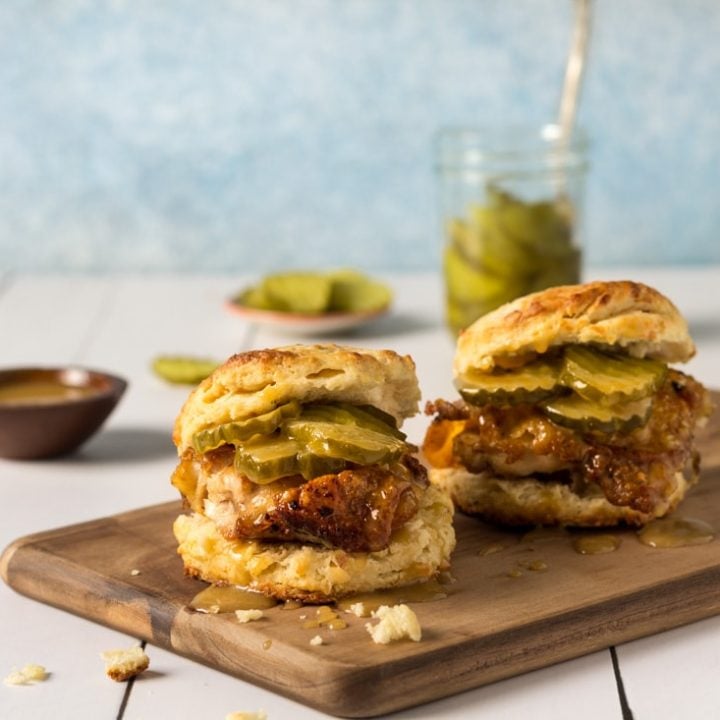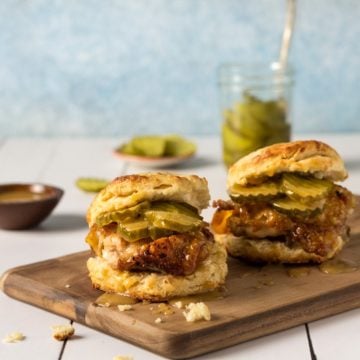 Chicken Biscuits Recipe & Honey Mustard Sauce
Make the ultimate chicken biscuits recipe from scratch with crispy chicken thighs & 2-ingredient honey mustard sauce!
Print
Pin
Rate
Ingredients
For the Biscuits
8

Tbsp

Butter

112 grams

2 ½

cups

All Purpose Flour

375 grams

1

tsp

Salt

6 grams

1/4

tsp

Baking Soda

1.5 grams

1

Tbsp

Baking Powder

12 grams

1/3

cup

Shredded Parmesan

25 grams

1 ½

tsp

Chopped Fresh Rosemary

2 grams

1/4

cup

Sour Cream

60 grams

1

cup

Buttermilk

240 grams
For the Chicken Thighs
8

chicken thighs, bone-in skin-on

salt and pepper
For the Honey Mustard Sauce
2

TBSP

Honey

2

tsp

Dijon or Stone Ground Mustard

whichever you prefer
Extra toppings
2-3 Pickle slices per biscuit

optional
Instructions
For the Chicken Thighs
Preheat the oven to 375 degrees.

Season the chicken thighs with salt and pepper and place in 2 large skillets over medium heat. Do NOT add any oil to pan! The fat from the thighs will render in the pan. Saute skin-side down for about 15 minutes or until the skin is golden brown, flipping once.

Place skillets in the oven and cook the thighs for about 10-15 more minutes or until the thighs are cooked through. If you don't have oven-safe skillets, transfer to a sheetpan.

When the chicken thighs are cooked, remove from the oven.
For the Biscuits
Turn up the oven to 450 degrees.

While the chicken is cooking, cut the 8 Tbsp. butter into small pieces and place back in the freezer to keep cold.

Chop 1 ½ tsp fresh rosemary and grate ⅓ cup Parmesan.

Mix dry ingredients together in a large bowl: 2 ½ cups flour, 1 TBSP baking powder, ¼ tsp baking soda, 1 tsp salt, 1 ½ tsp. chopped fresh rosemary, and ⅓ cup Parmesan. (The rosemary and Parmesan are optional but are so so good!)

Cut the cold butter into the dough with your fingers or a fork or pastry cutter until butter is in tiny chunks. (I used a pastry cutter in the step-by-step photos)

Mix in the buttermilk and sour cream with a fork until just combined.

Flour your counter or work surface.

Dump the dough out onto your counter or work surface. Gently pat the dough into a small rectangle 1-inch thick.

Using a bench scraper or spatula, fold the dough onto itself three times. Flour underneath the dough in between each fold if needed. This will create flaky layers of dough.

Gently pat the dough into a circle a half-inch thick and cut with a well-floured biscuit cutter.

Place the biscuits onto a parchment-lined baking sheet and brush with buttermilk on the tops and sides.

Bake for 12-15 minutes or until lightly golden brown on top. Keep checking after 10 minutes to prevent over baking.

While the biscuits are baking remove the chicken bones with a small serrated knife.

Mix the honey and dijon mustard together in a small bowl.

Cut the biscuits in half, top with a piece of chicken, add pickles if you like, and drizzle the honey mustard sauce over the chicken.