OH JOY, OH JOY! It's a big 2nd birthday party for my baby boy!!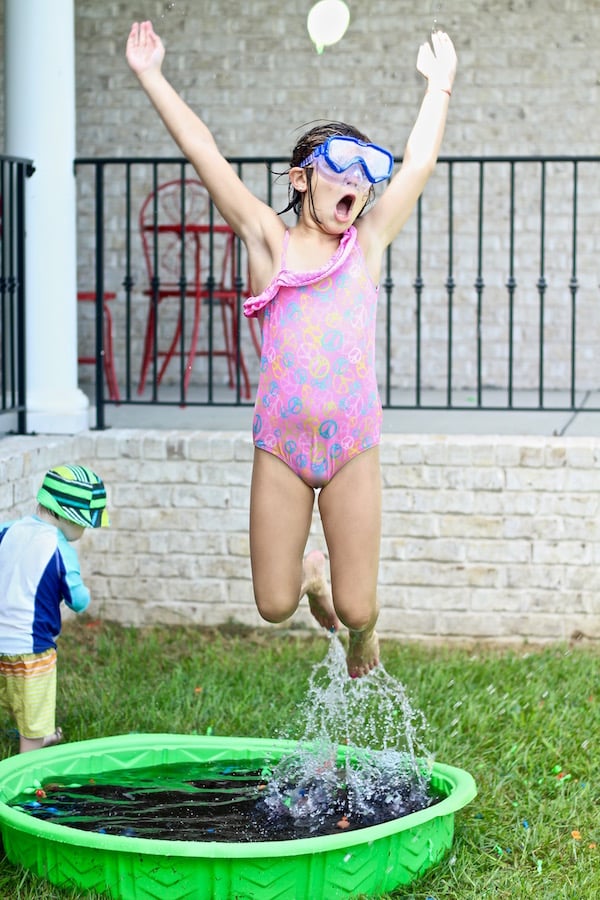 In the last two years my life has changed dramatically, but in the most joyous way. Today I share with you my sweet boy's 2nd birthday party. When I look back over these incredible two years, I feel the deepest sense of gratitude for the great honor of being mommy to a little man with the greatest smile and the sweetest heart. Being that my birthday is this weekend too, I have been reflecting on the great gifts in my life…those intangible larger-than-life experiences that are ultimately the only thing that really matter.
While I am overjoyed to share these sweet memories with you, I can't help but think of all the women out there that are waiting to be mommies. I'm so grateful to be a mom because it was such a heartbreaking process trying have a child. For all the women out there struggling with the grief of miscarriages or infertility, I've been there, and you are not alone. If you can, reach out to other women who have gone through the same thing, as I think just talking to someone who knows what you've been through can be deeply healing. I share this because I feel that these sort of topics are so taboo, but ought not to be. I'm fully aware that this is a food blog, but every now and then I want to share stories to shed light on matters of the heart.
From heartache to healing, I celebrate our happy little guy's two fulfilling years.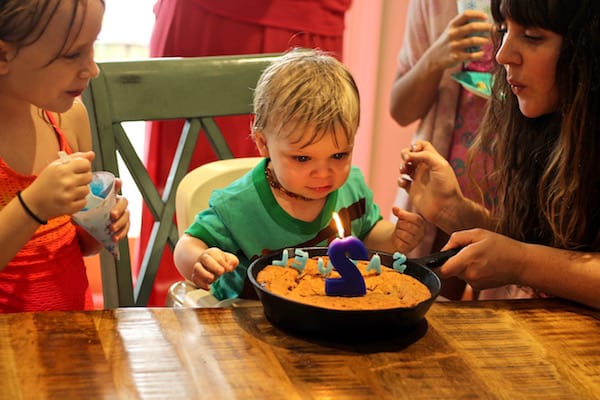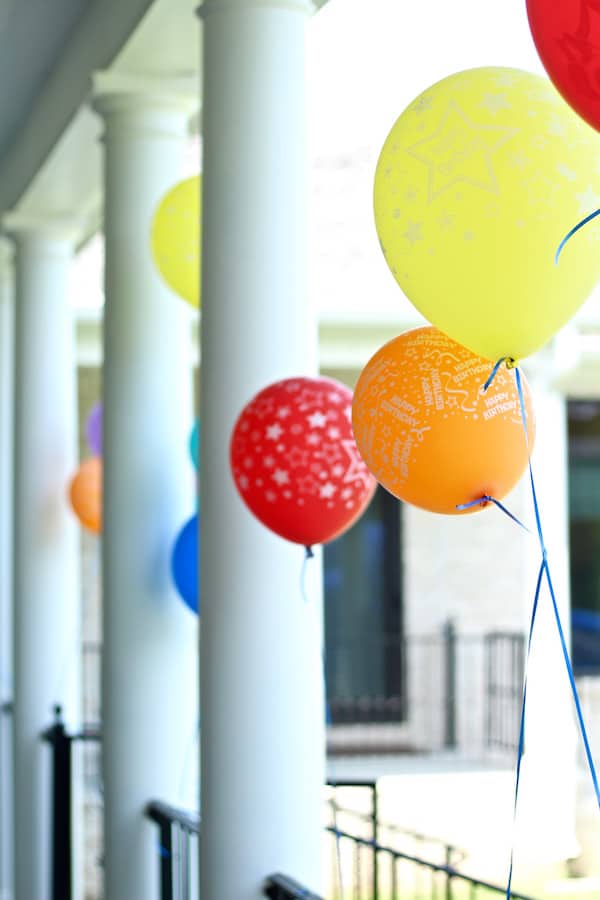 We celebrated his birthday at my in-laws home which was so great since we didn't have to worry about cleaning the house and getting ready for a party. Of course, we had all hands on deck to set up the fun water activities for all the kids outside! Once my little cousin arrived to play with my son, we could finally get going, HA! They played and played and played in this plastic kiddie pool filled with water balloons. We found a kit with 100 empty water balloons that you hook up to a hose and fill with about 30 water balloons at a time in SECONDS! It's loads of fun for the kids and so easy and affordable for adults.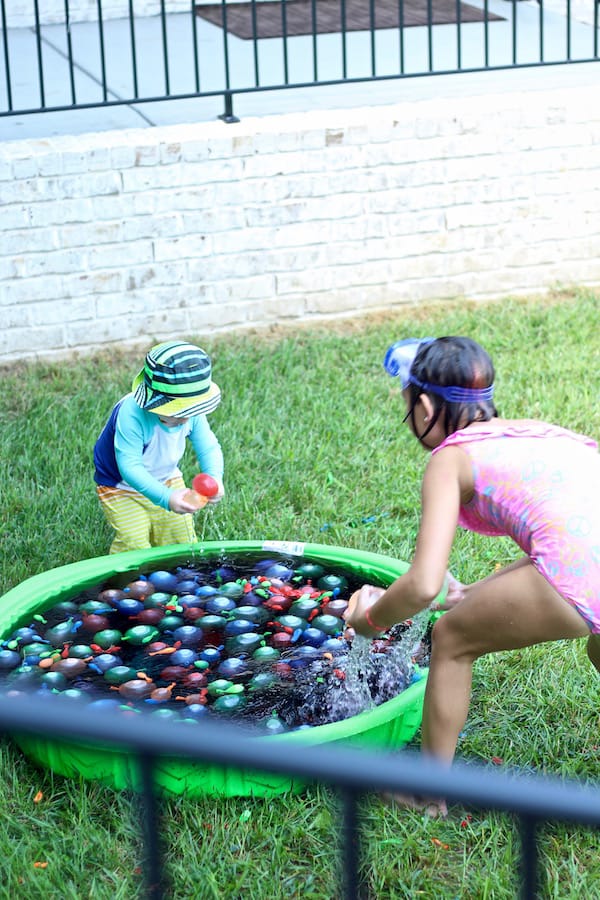 We also had a fire hydrant water sprinkler that sprayed out several feet in every direction!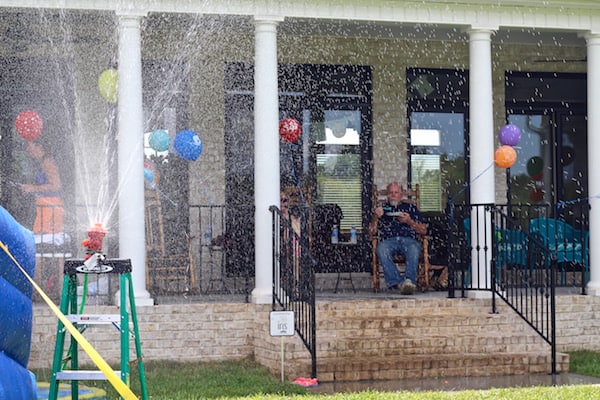 My in-laws splurged on a rentable water slide that you hook up to power and it's like an inflatable bouncing house, except 10 TIMES BETTER because it's a WATER SLIDE. At what point do we stop celebrating our birthdays with bouncy things and water sports?! I mean, my husband had the best time sliding down with the kids the entire day, and I'm kind of jealous that I decided to be an adult and mingle with the parents in dry clothes. Except for the fact that I was able to snap this freakin ADORABLE picture of them that is by far my favorite I've ever taken!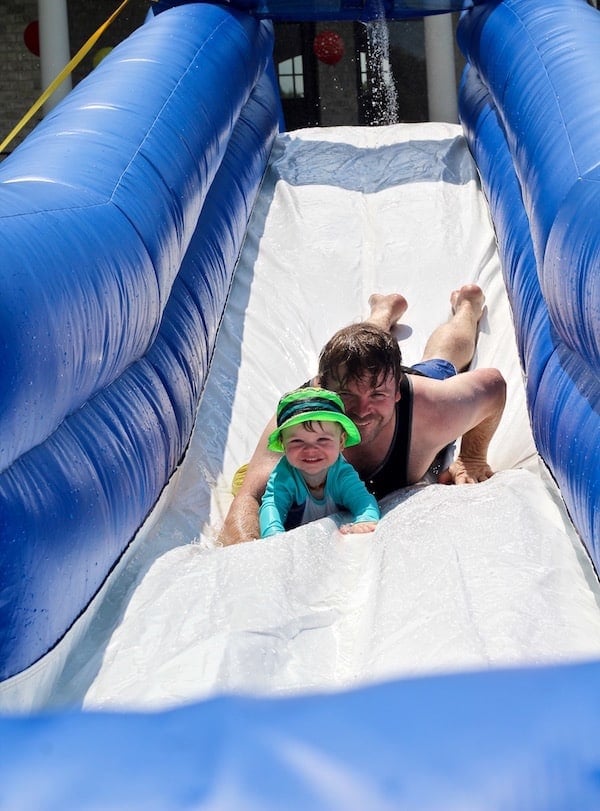 And of course, a non-negotiable for me for his birthday was a homemade skillet cookie that I intended to share with you but have run out of time finishing up my print version of Smoothies & Smoothie Popsicles For Toddlers and Kids that is ready to be printed on Amazon!!!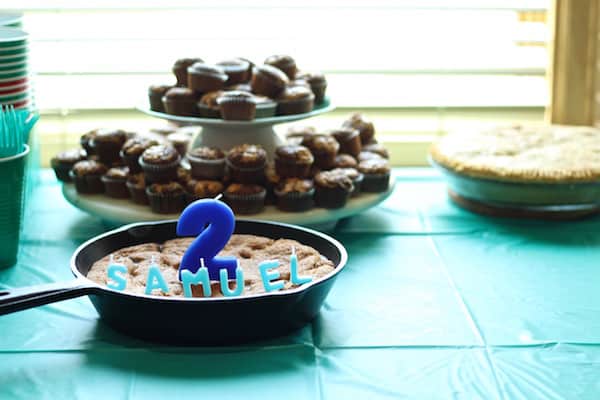 However I did have time to share these ridiculously easy and unbelievably delicious Chocolate Peanut Butter Browned Butter Mini Cupcakes that everybody gobbled up!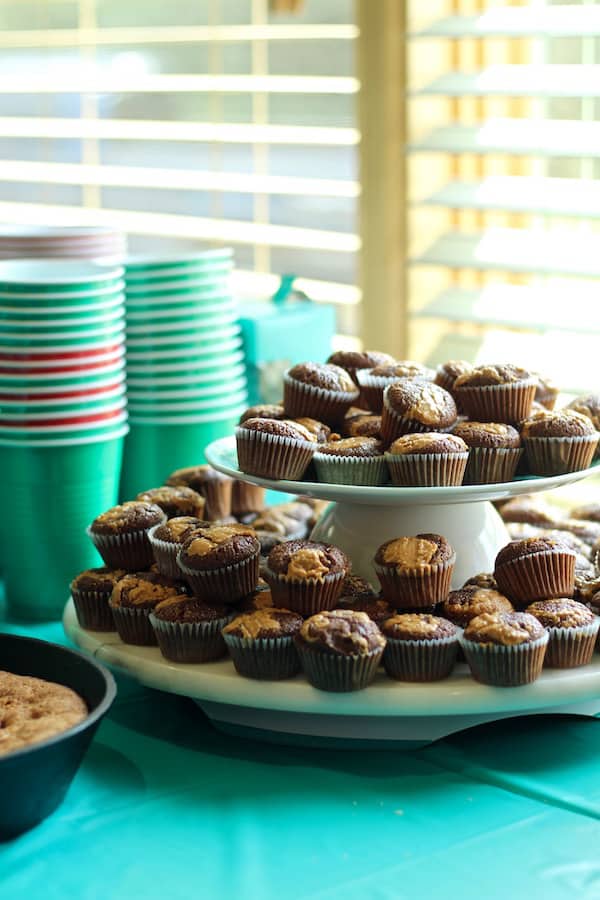 We enjoyed an enormous spread of baked beans, pulled pork, pasta, fruit, and caprese salads. Basically, everything you want for a hot summer day party!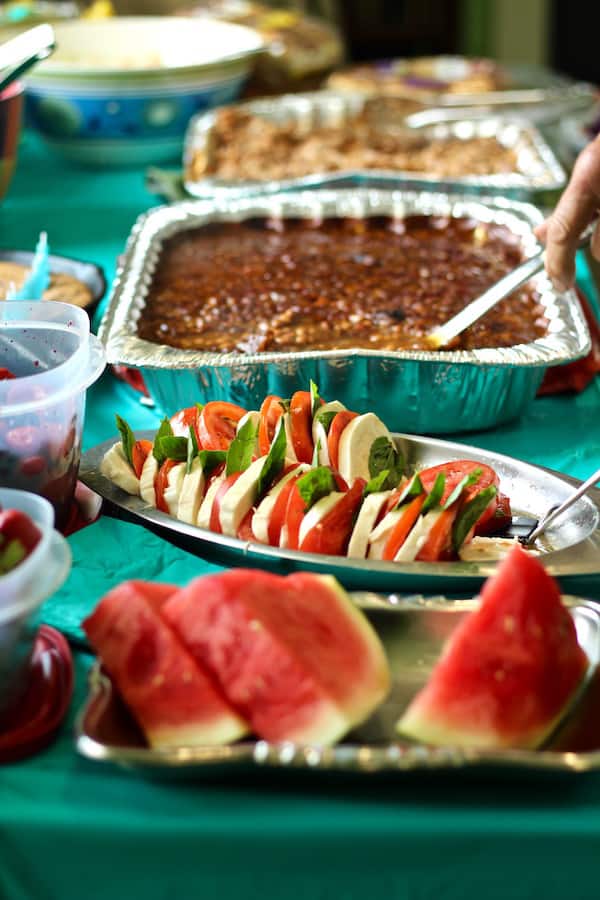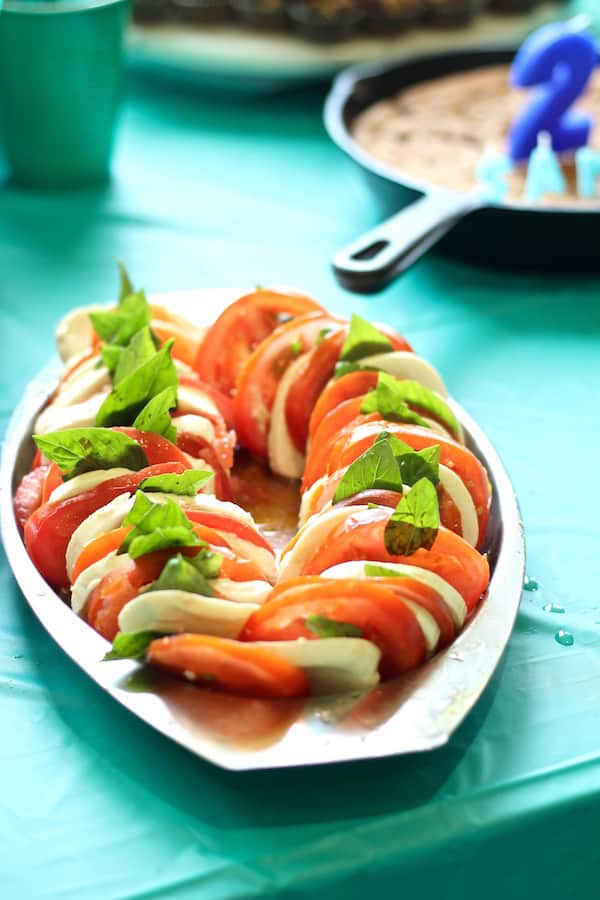 Then we finished the day by letting the kids visit the beautiful horses next door to my in-laws house and feed them apples.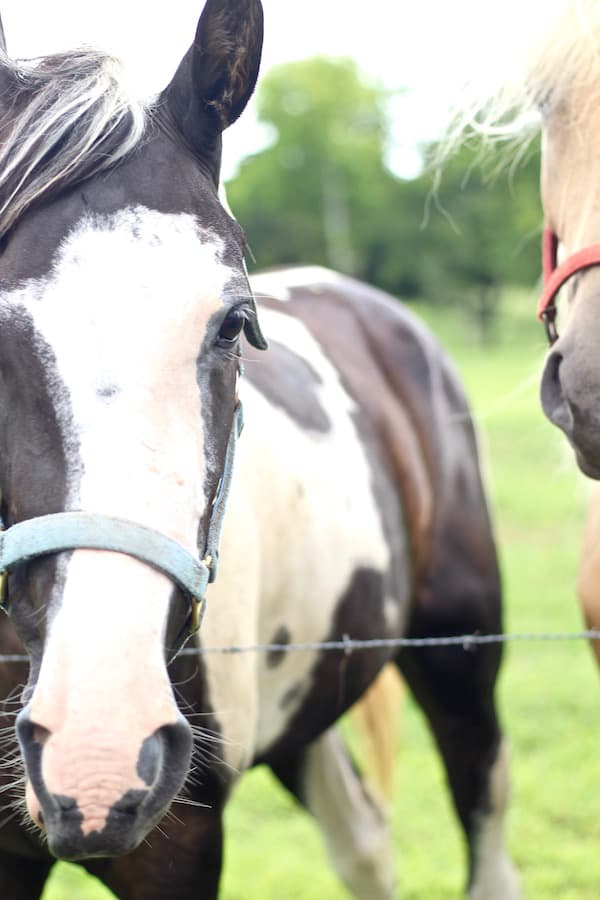 This horse was not interested…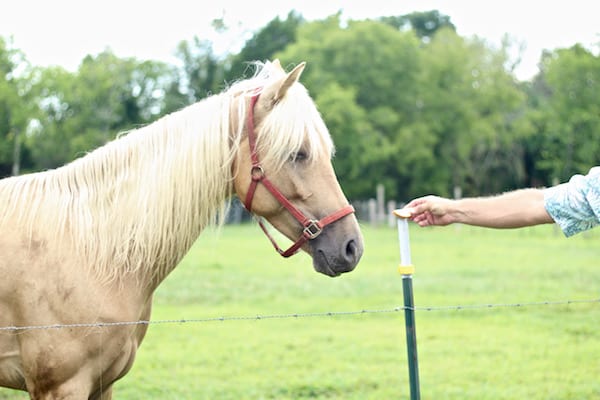 But still wanted to look camera-ready for me! What a beauty.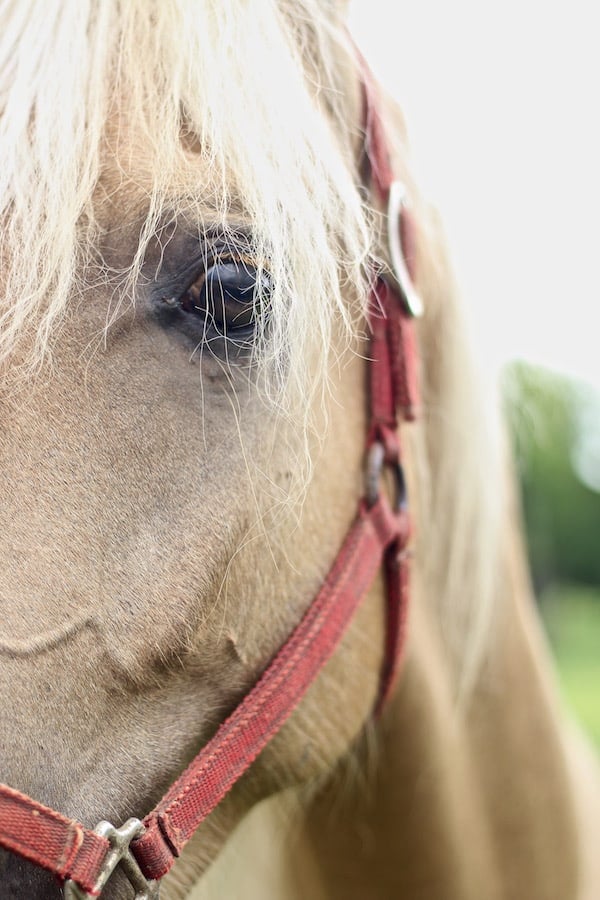 It was definitely a joyous celebration that I will cherish for years to come!
Bon Appetit Ya'll,
Leslie O.