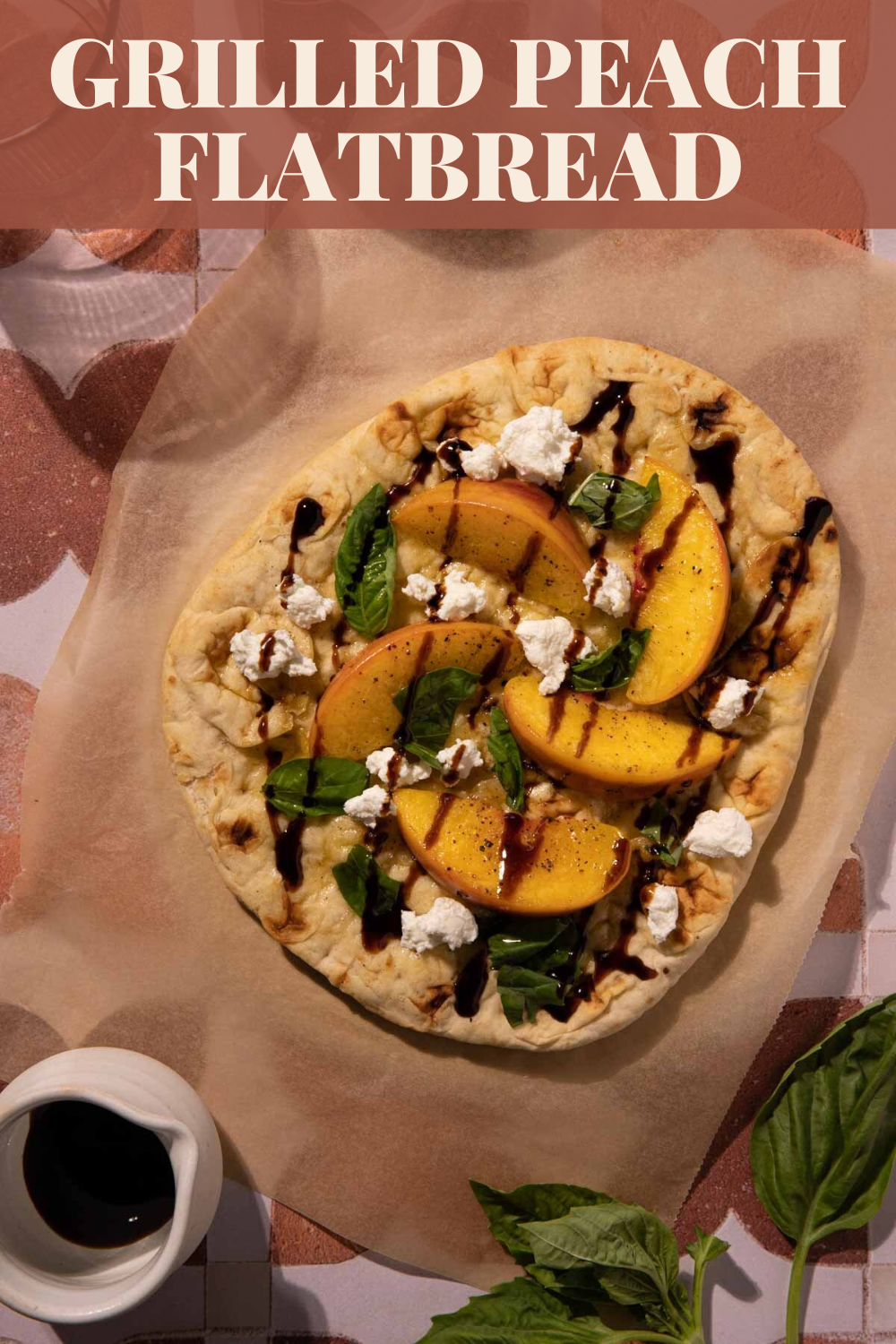 This Grilled Peach and Goat Cheese Flatbread with balsamic glaze is super delicious and can be ready in about 15 minutes or less! The flavors of juicy grilled or sauteed peaches, warm naan bread or flatbread, creamy goat cheese, fresh basil, and sweet and tangy balsamic glaze pair perfectly together for an easy flatbread pizza. These simple ingredients make the most amazing appetizer, light lunch, or dinner.
This recipe can be made on the grill, the stovetop, with a grill pan and/or the oven for ease of prep as well. I have instructions in the recipe card for all preparations.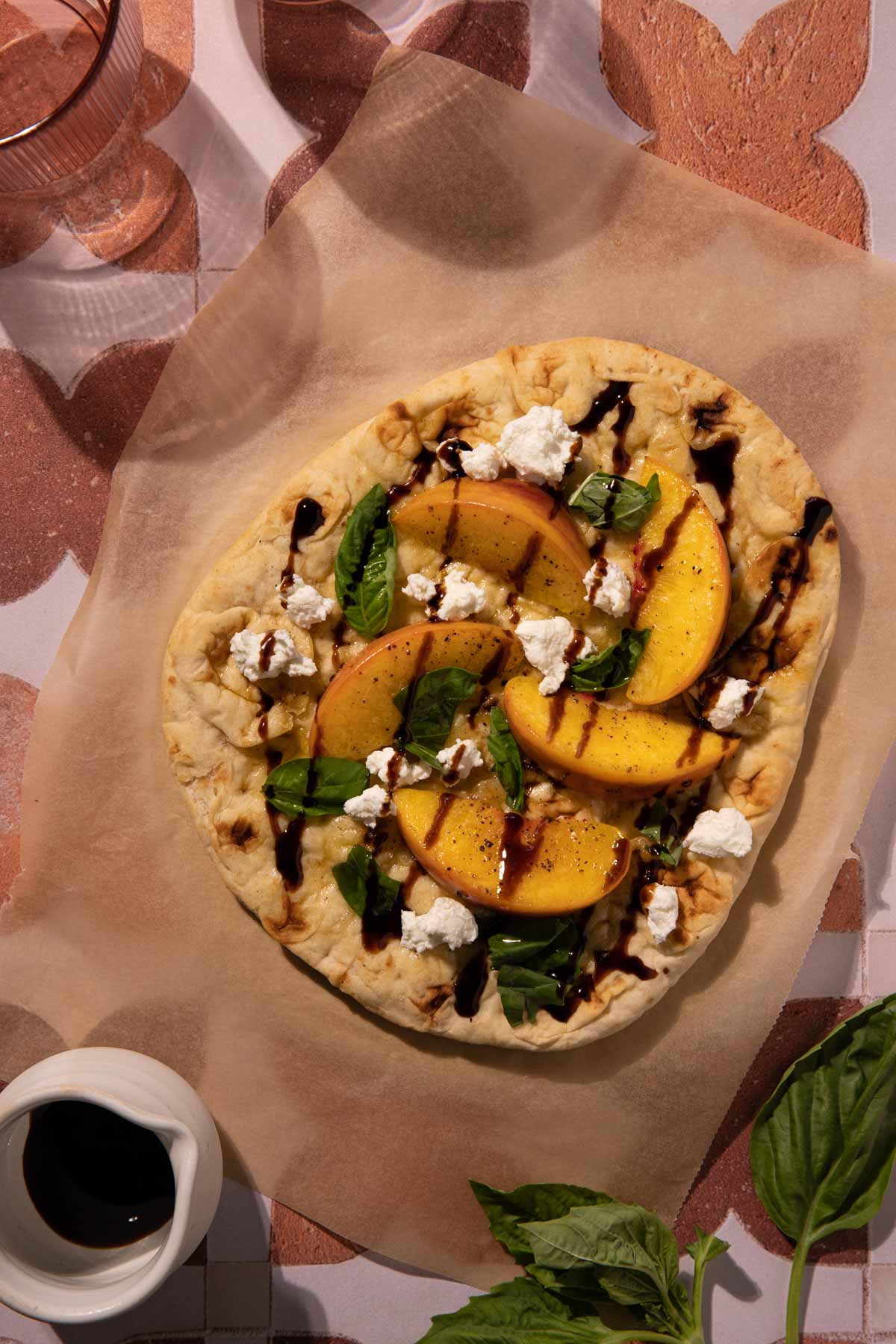 What kind of flatbread should I use?
Naan Bread is my favorite flatbread for this recipe because it's soft and chewy and tastes amazing toasted in the oven or on top of the grill
You can also use uncooked pizza dough but you'll want to fully bake it in the oven or on the grill on a pizza stone or you can grill it indoors with a grill pan. If you are using pizza dough for a large pizza, you'll want to double the amount of peaches, goat cheese, and fresh basil
Par-baked or fully baked pizza crust can be used as well. Just bake according to the package directions until it's toasted or reheat on the grill
Toppings and substitutions for this flatbread recipe
Ripe peaches or frozen sliced peaches will work for this recipe. If using frozen peaches, you'll want to saute them on the stovetop or on a grill pan so they don't fall through the grill slats.
Creamy goat cheese pairs beautifully with grilled or sauteed peaches. You can also use fresh mozzarella cheese, ricotta cheese or creamy burrata cheese instead of goat cheese
Balsamic glaze for a sweet and tangy addition to the peaches. You can buy balsamic glaze at the the store or you can easily make a balsamic reduction in a small saucepan on the stovetop
Fresh basil leaves
Olive and salt and pepper for flavor and seasoning
You can also add cooked bacon or sliced prosciutto for an extra salty bite if you wish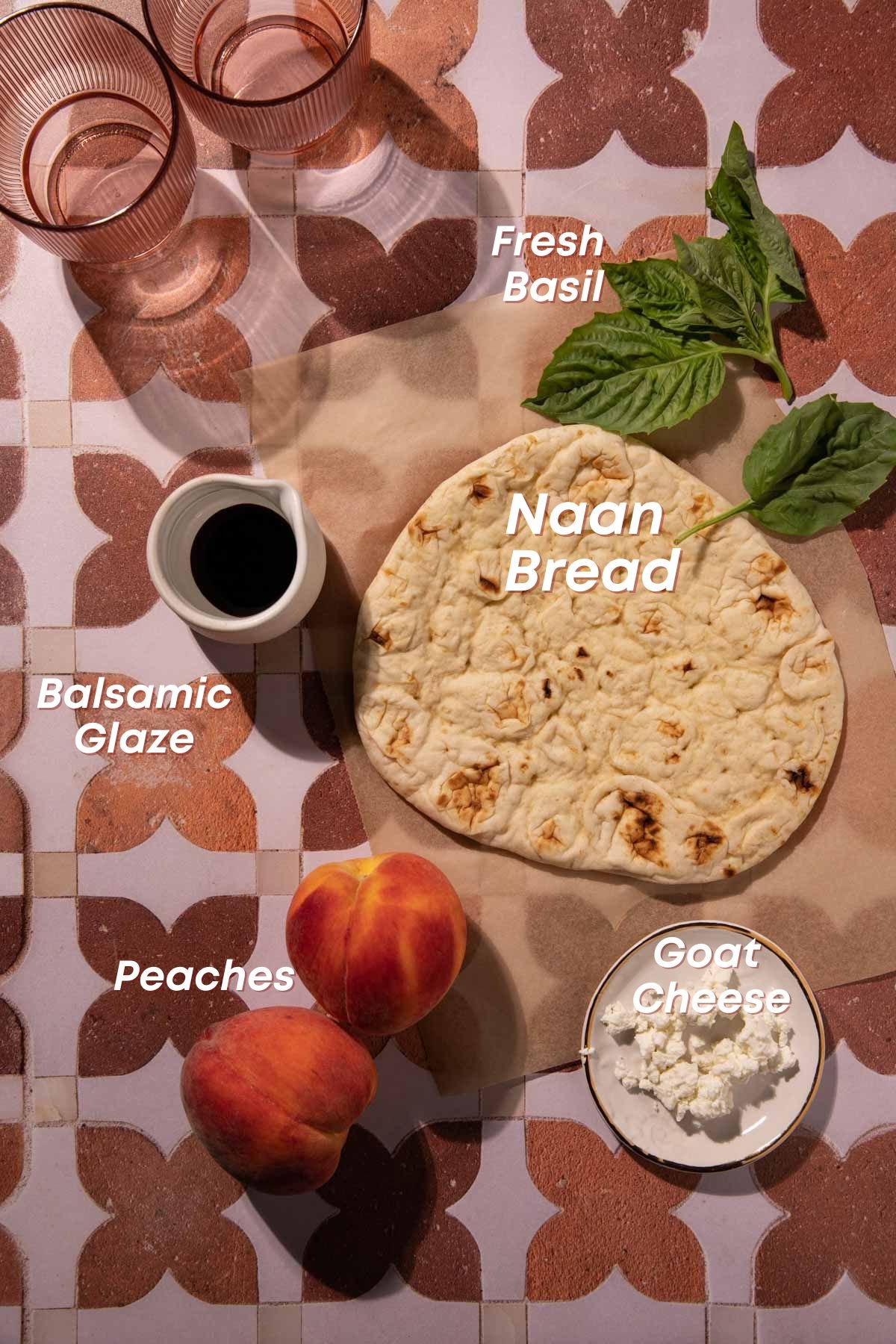 Below you can see that I'm sauteeing the peaches, but you can grill peach halves on the grill or you can grill them indoors on a grill pan. If your peaches aren't very sweet you can add a drizzle of honey over them once they are cooked.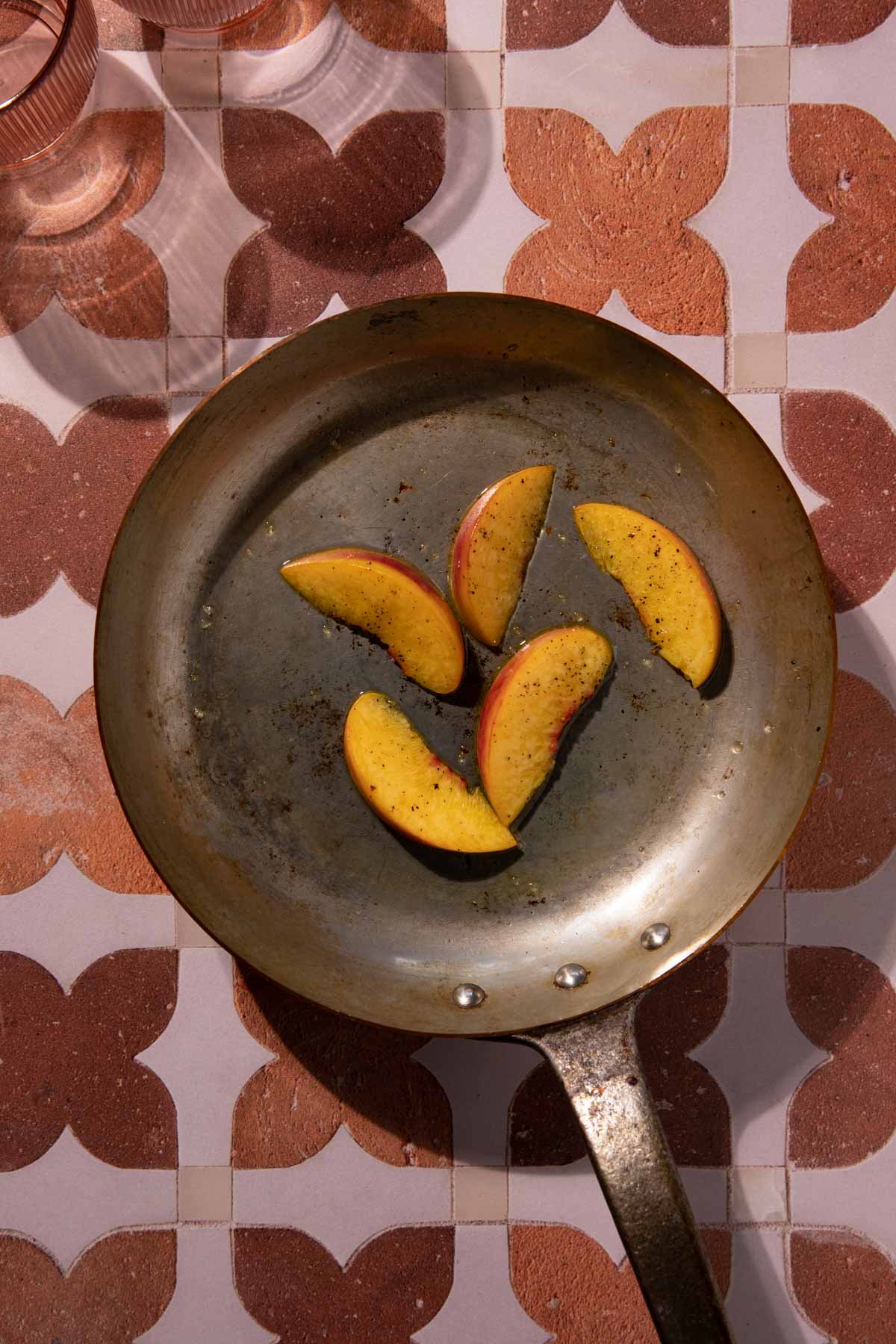 What's a balsamic glaze or balsamic reduction?
A balsamic glaze is balsamic vinegar that has been reduced down (simmered over moderate heat) until it thickens which makes it taste sweeter as well. You can add brown sugar or regular sugar to the balsamic vinegar while reducing it to sweeten it even more.
You can find balsamic glaze in the grocery store next to the balsamic vinegar if you don't want to make it. It only takes a few minutes to make a balsamic reduction (aka glaze) on the stovetop if you wish to do that instead. I prefer not to use regular balsamic vinegar in this recipe because it tends to be too runny and lacks the sweetness that a reduction/glaze has.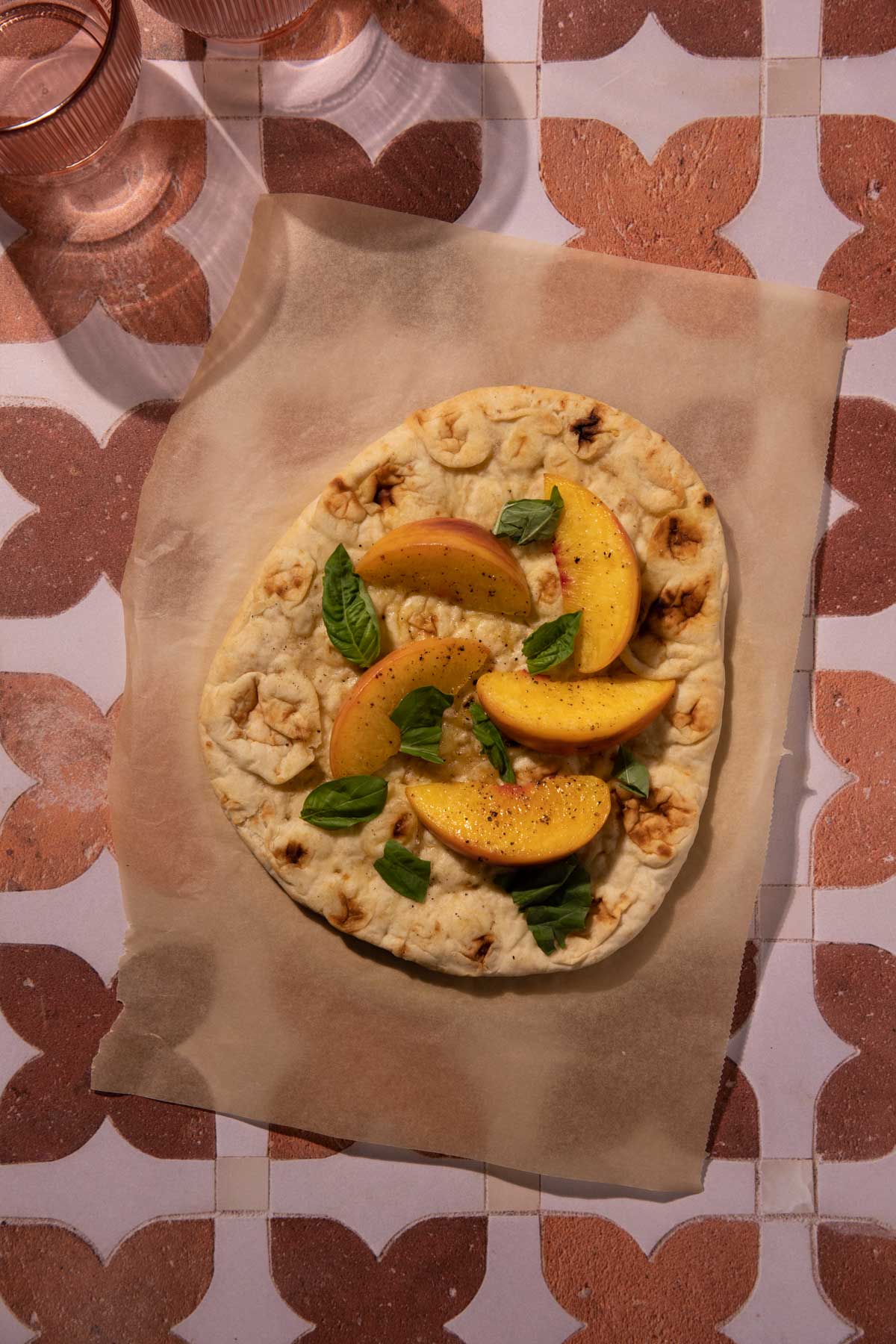 How ripe should the peaches be?
The sweetness of the peaches will be determined by how ripe they are. If they are pretty firm, they will be less sweet. I actually prefer the peaches to be a little bit firm but still give a little when you press on them. If they are too soft they will be more mushy when sauteed or grilled. So I like peach slices with a little bit of texture in them after being grilled or sauteed.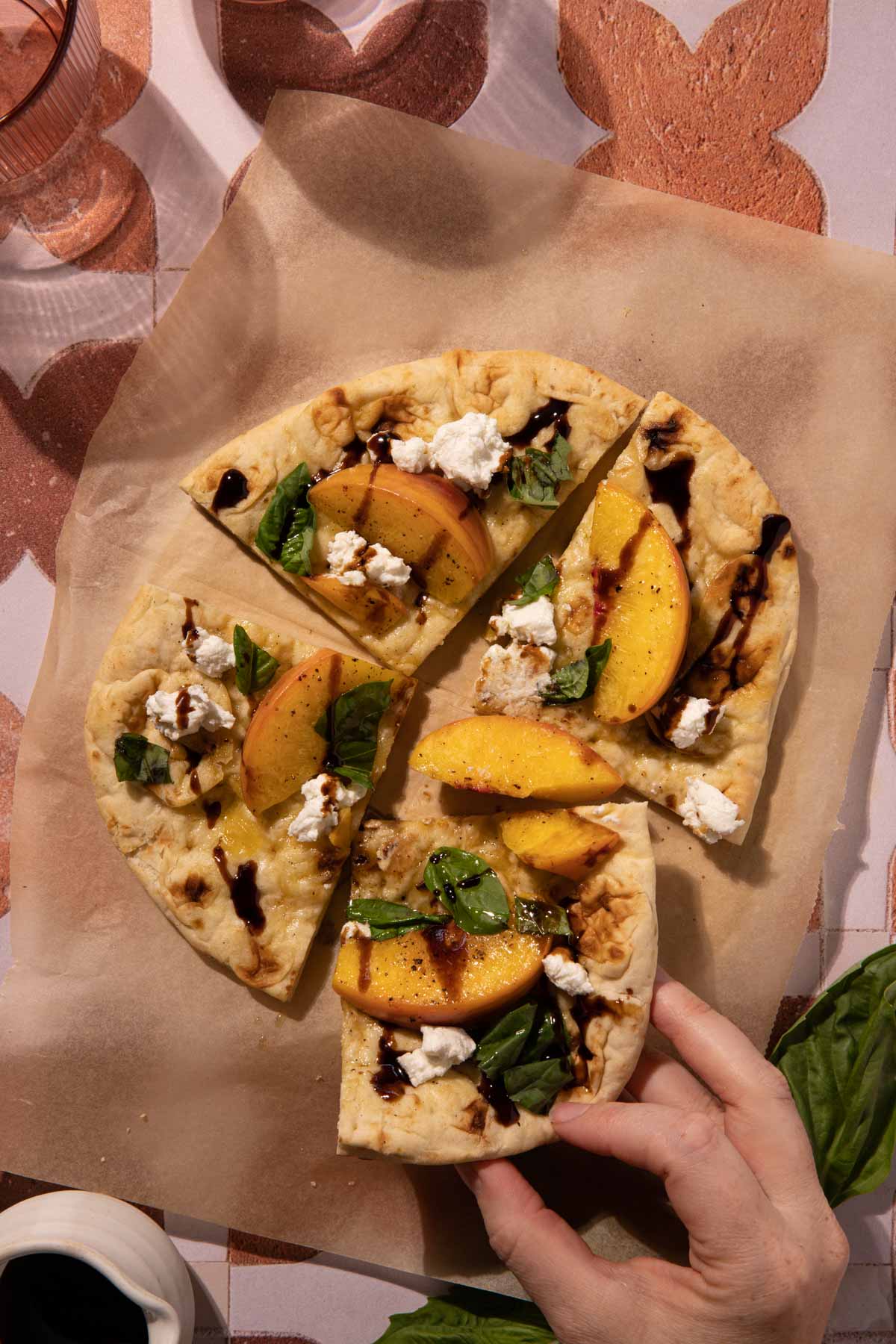 More Delicious Peach Recipes
Peach Crostata with Spiced Crumble
Vegan Peaches and Coconut Cream with a Macadamia Crumble
Bon Appetit Ya'll,
Leslie O.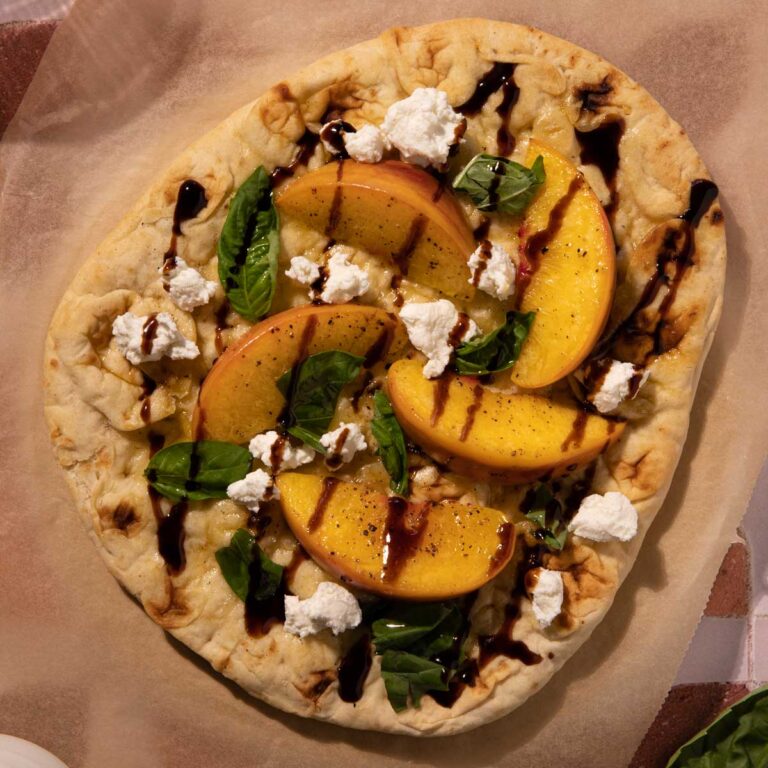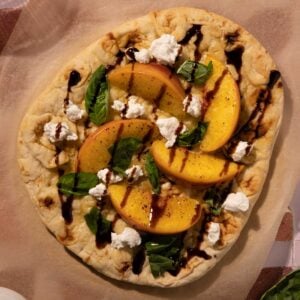 Grilled Peach Flatbread
The flavors of juicy grilled or sauteed peaches, warm naan bread or flatbread, creamy goat cheese, fresh basil, and sweet and tangy balsamic glaze pair perfectly together for an easy flatbread pizza.
Print
Pin
Rate
Ingredients
2

pieces

Naan bread or flatbread or pizza dough

see recipe instructions for each type of flatbread

3-4

tbsp

extra virgin olive oil

1

Fresh peach or 8-10 slices frozen peaches

4

tbsp

Goat cheese

2

tbsp

Balsamic glaze (store-bought or homemade)

see recipe instructions for making a glaze if you make from scratch

7-8

Fresh basil leaves

pinch

sea salt or kosher salt

or table salt

Fresh cracked black pepper
Instructions
Flatbread options
Naan bread is my favorite option because you only need to grill it or bake it for a couple of minutes on each side. To bake in the oven, bake at 375 degrees for about 5 minutes or until naan is nice and hot.

If using uncooked pizza dough, grill or bake the pizza dough according to package instructions, making sure to brush olive oil on top before. Cook through completely.

If using par-baked pizza crust or flatbread, cook on the grill or bake in the oven at 375 degrees until it's cooked through.
Grilling or sauteing the peaches
Grilling:

The grill should be at medium heat. Cut the peaches in half and remove the pit. Brush all sides with olive oil and season with salt and pepper. Grill for 4-5 minutes cut side down or until you get nice grill marks. Turn them over and move to a spot off the heat and grill for 3-5 more minutes. Remove them from the heat and set aside.

Sauteeing the peaches:You can use a regular saute pan or a grill pan. Heat over medium heat. Heat 1-2 tsp olive oil in a saute pan and saute sliced peaches for 2-3 minutes per side. Set aside. If you are using frozen sliced peaches, you'll want to saute them in a pan for ease of cooking.

If using a grill pan, cut the peaches in half and remove the pit and brush each side with olive oil and salt and pepper. Grill cut side down for 3-5 minutes until you get nice grill marks. Flip over and cook the other side for 3-4 minutes until softened a bit. Set aside.
If making flatbread on the grill
Preheat a grill over medium heat.

For naan bread:

Brush some of the olive oil on each piece of naan bread or flatbread. Grill for about 2 minutes on both sides or until you get nice grill marks.

If your pizza dough is par-baked, heat for a bit longer on both sides according to package directions.

For uncooked pizza dough, flatten out the dough to a round shape and brush olive oil on both sides. You can place it directly on the grill for grill marks, making sure not to burn the dough. Alternatively, a heated pizza stone on the grill helps bake it through completely. Please note if using a large uncooked pizza dough, you'll want to double the amount of peaches and other toppings to fill the large pizza.
Serving the flatbread
If you grilled the peaches, slice them into about 4 slices per half. Top each flatbread with 4-5 slices of peaches, 3-4 fresh basil leaves, 2 tbsp goat cheese, a drizzle of olive oil, salt and pepper.

Drizzle over the balsamic glaze and serve immediately.
If you make the balsamic glaze from scratch
Add ½ cup balsamic vinegar to a small saucepan over medium heat. Add 1 tbsp of brown sugar and stir in. Bring the vinegar to a slight simmer, then turn the heat down to medium-low. Simmer until the glaze has reduced by half, about 7-9 minutes. Let cool. It will thicken as it cools. Drizzle the balsamic over the flatbread when it's all put together.