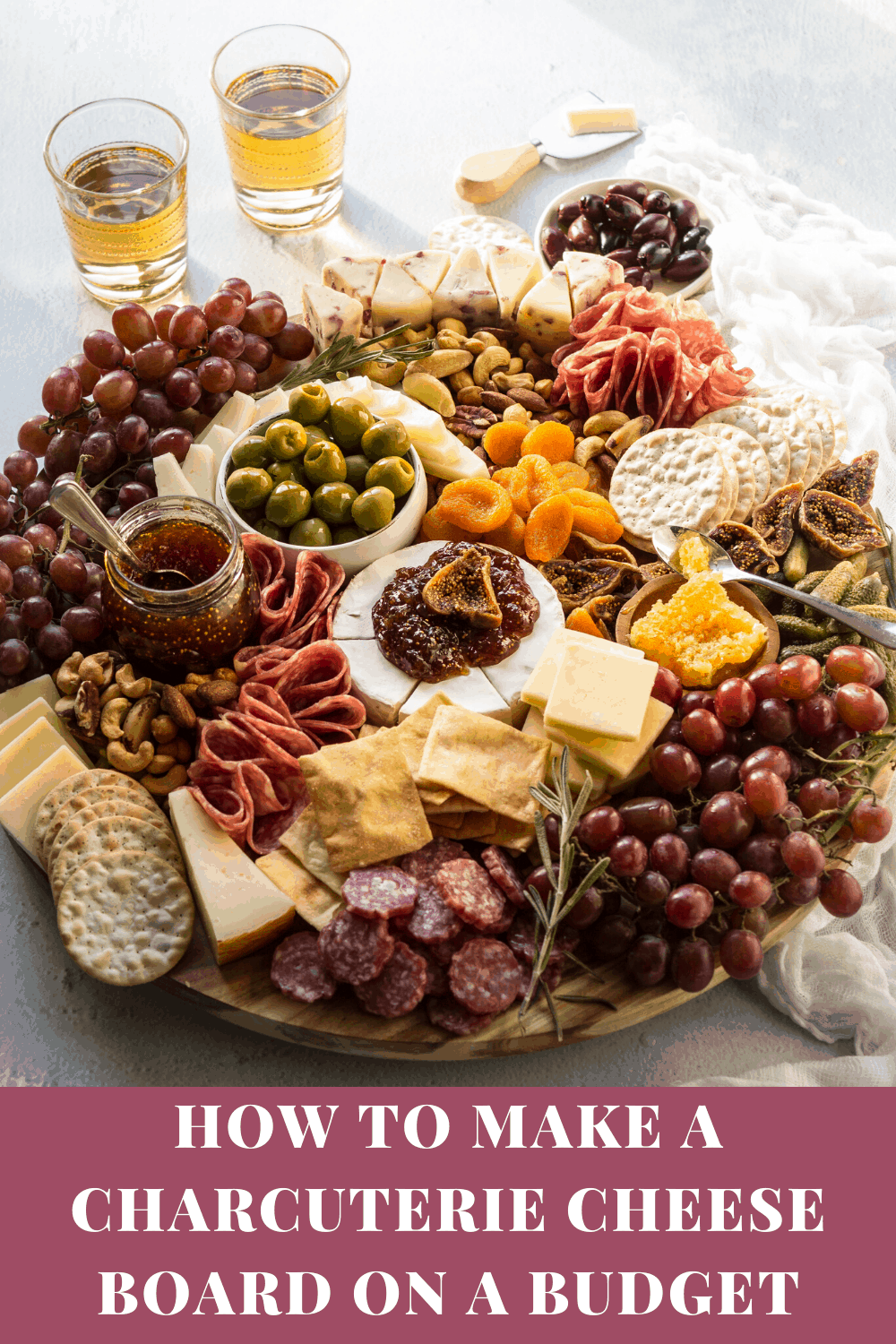 If you are throwing a holiday party or having a lots of guests over for a shindig and you want to create a show-stopping platter, then you need to make this Epic Charcuterie Cheese Board on a Budget!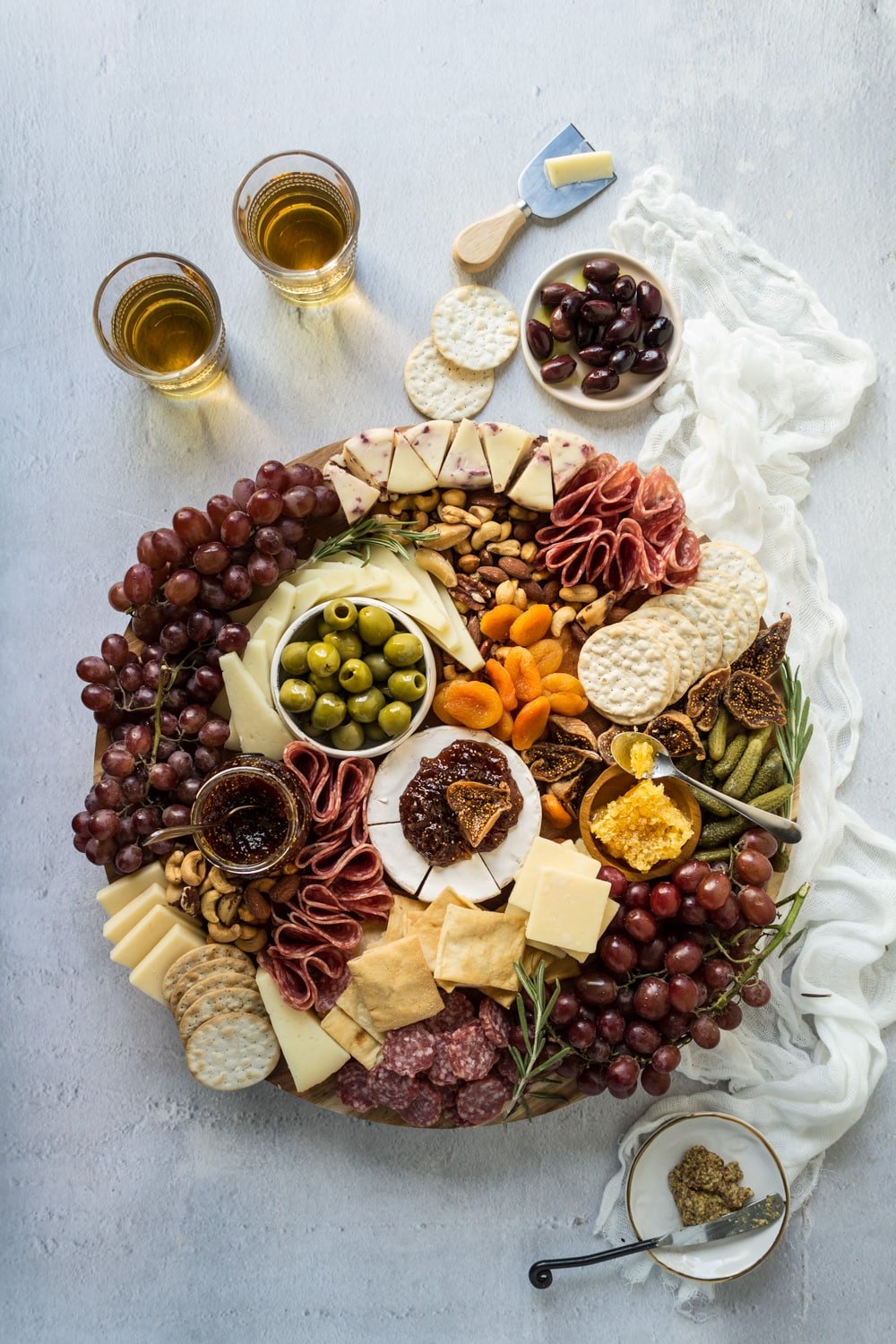 In this post we'll cover:
How to raid your pantry for charcuterie board items
What types of nuts, dried fruit, and fresh fruit to buy
What are the best cheeses on a charcuterie board
Delicious options for olives and pickled items, jams, crackers, and additional add-ons
Several options for each item category so you can mix and match based on your budget
Where to shop for these items (in the U.S) to find the best deals
Options for charcuterie serving boards
How to assemble a charcuterie platter with WOW factor
I'll include a free downloadable checklist so you can check off things you already have in your fridge or pantry and to use as a shopping list too!
Raid your pantry and fridge first
When creating this charcuterie cheese board I was amazed at how many different items I had on hand in my pantry and fridge. I had plenty of crackers, olives, stone-ground mustard, and dried fruit that was still fresh and needed to be enjoyed. I ended up buying too much at the store because I didn't check what I had on hand first.
On the downloadable checklist you can mark off what you already have so you don't overspend.
Please taste-test your items first to make sure everything is fresh and not stale or past the sell by date!
Where to find the best deals on Charcuterie items (U.S.)
Aldi, Costco, and Sam's Club will have the best deals on nuts, cheeses, salami, and dry-cured sausages. It's worth the trip to any one of these stores if you have one close by because the savings are enormous!
Pro-tip: If you are making this cheese board during the busy holiday season, buy your nuts, cheeses, and dry-cured sausages right away since some stores like Aldi will often sell out. Since these items are preserved and shrink-wrapped, they will last for at least a couple of months.
The only exception may be Brie cheese or other soft cheeses. Check the sell-by dates on these items and purchased as far in advance as possible so you can be ahead of the holiday frenzy!
Nuts, dried fruit, and fresh fruit
Based on what I found in stores, the "mixed nuts" containers were the most affordable and best option because you have a nice variety of nuts in one container instead of having to buy several different kinds and having too many leftovers. The container I purchased had pecans, cashews, almonds, brazil nuts, and hazelnuts.
Nuts, dried fruit, and fresh fruit options:
Pecans
Walnuts
Pistachios
Cashews
Marcona Almonds (they are more buttery than regular almonds…pricey but SO good)
Apricots
Dried Figs (Fresh figs are great but they spoil very quickly)
Dates
Golden Raisins
Grapes
Pro-tip: Although pears and apples are wonderful on a charcuterie cheese board, you have to soak them in lemon water beforehand to prevent browning. If you are throwing a party yourself, this is an inconvenient extra step that can't be done far in advance.
This is why I just used grapes. They require no prep and you can leave them on the stems which looks prettier anyway!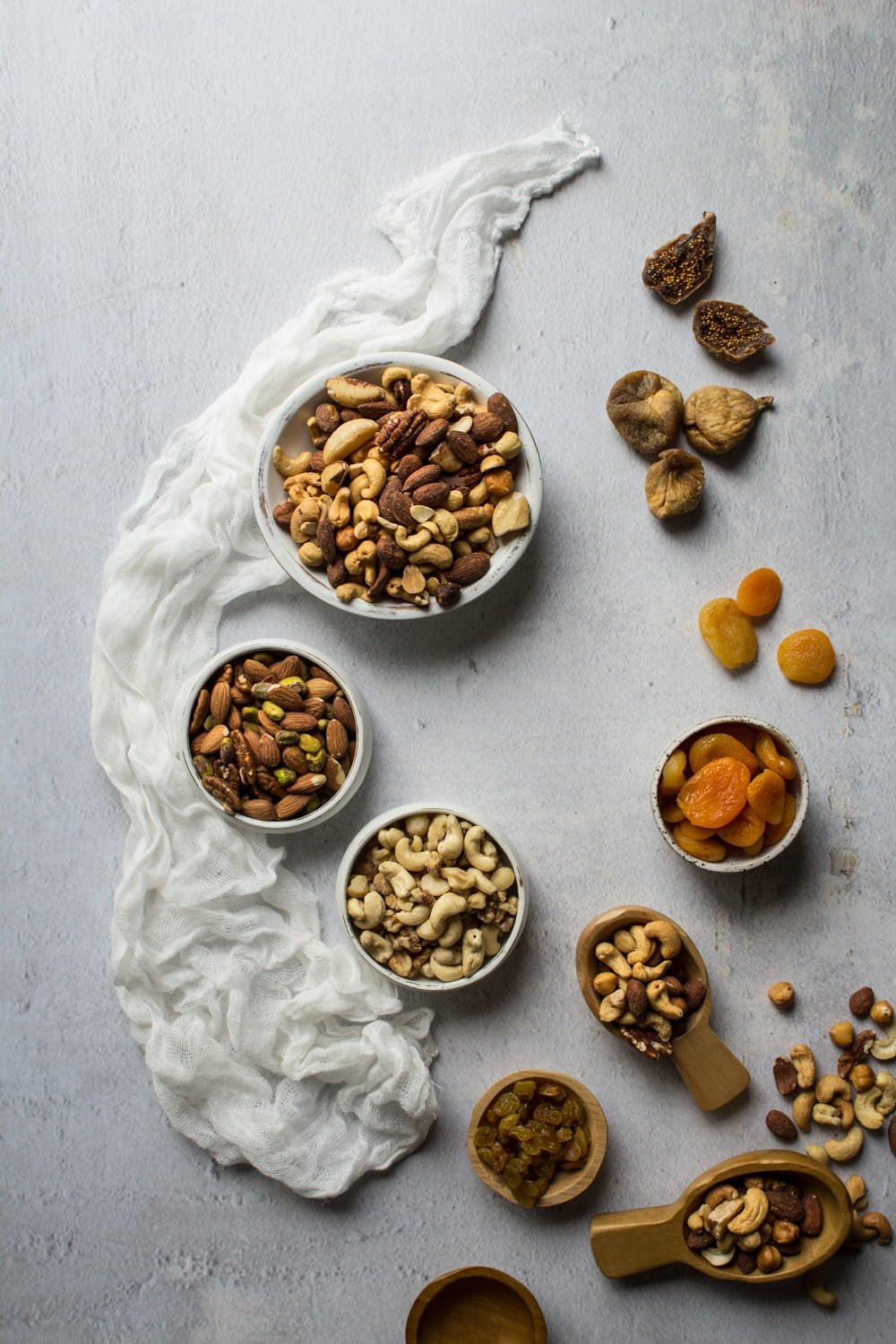 Meats, cheeses, and olives for a charcuterie cheese board
There is really no right or wrong answer to what type of cheese goes best on a charcuterie board. It's merely a question of how much you want to spend and what type you and your guests will love.
Usually 3-4 cheese options are a good mix. Make sure to have mild option, a soft cheese, and a firm cheese. If you or your guests like robust cheeses, then bleu cheese, goat cheese, or a fancy French cheese are good to serve.
Cheese Options:
Aged White Cheddar
Yellow Cheddar for a more affordable option
Goat Cheese
Boursin Cheese (it's a soft spreadable cheese that's so good)
Smoked Gouda
Provolone
Brie
Manchego (pricey, but Aldi and Costco have waaaay lower prices)
Gruyere (same as above)
Bleu Cheese
Whole Mozzarella if you like Italian cheeses
Just go into your local grocery stores and see what they have available and what their prices are. Again, Aldi and Costco will often be 30-40% less than regular grocery stores!
Olives and Pickled things:
The prices of olives depends on the brand and quality. The ones in glass jars tend to cost more than canned ones, but are better tasting in my opinion. I also prefer them to be packed in water and spices instead of oil. I usually drizzle olive oil on top before serving anyway.
Green Olives
Casteveltrano Olives (my favorite green olives, a bit pricier than regular olives)
Black Kalamata olives
Bleu Cheese stuffed olives (pricier but are great if you love bleu cheese)
Cornichons (they look like miniature pickles)
Pickled carrots and other veggies
Olives in glass jars with spices
Dry-Cured Meats:
Thin-sliced Salami (price depends on the brand)
Bite-size Salami circles (price depends on brand)
Pepperoni (most affordable option)
Dry Sausage flavored with spices or wine
Proscuitto (pricey but good)
The prices for all of dry-cured meats vary, pepperoni being the most affordable. Having 1-2 options for dry-cured sausage is great.
Pro-tip: If you look at the pre-packaged dry-cured sausages, check the price per ounce. Then go to the deli counter and check the price per ounce there to see the best deal and most flavor options. But again, Aldi and Costco have best prices!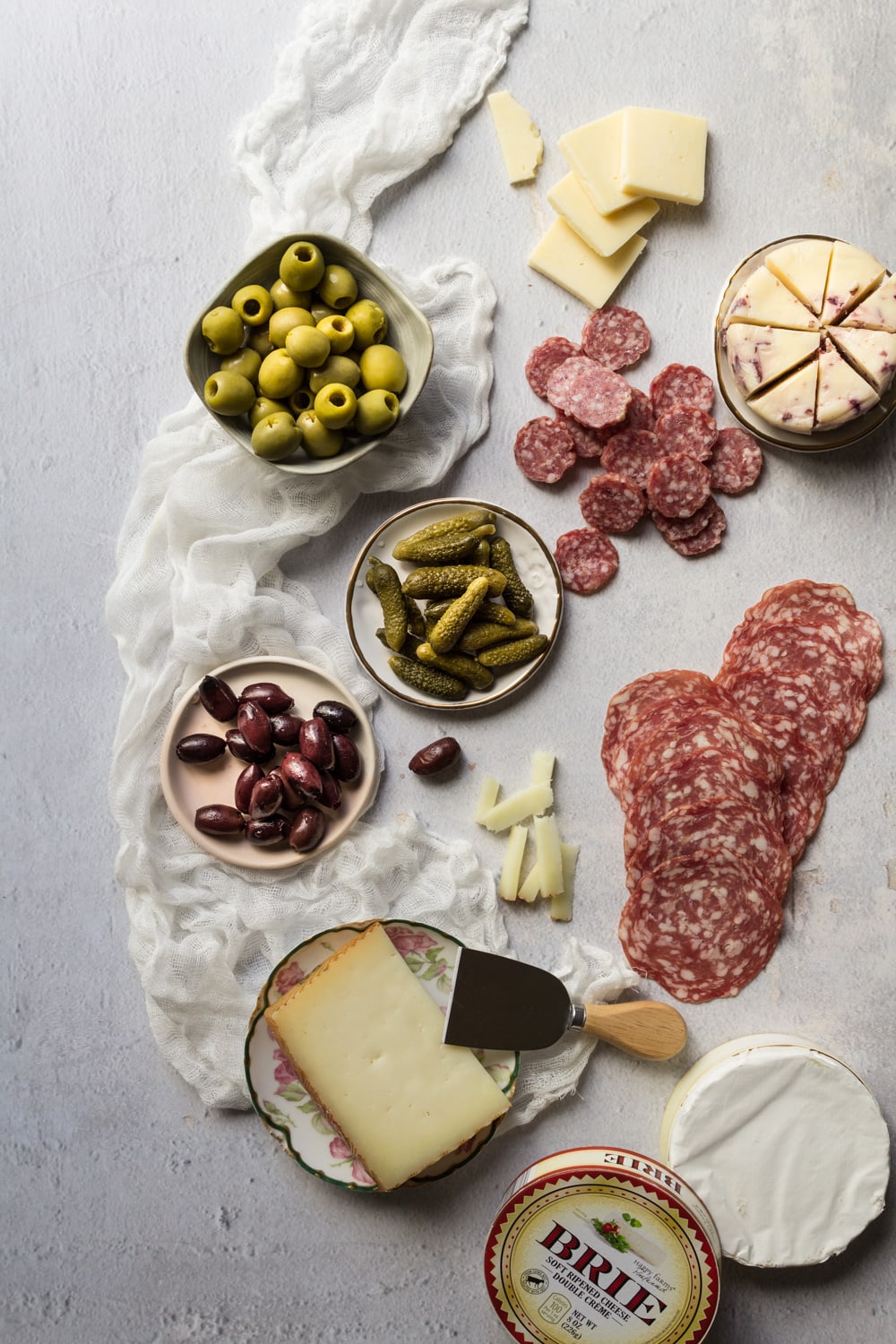 Crackers, Jams, and add-ons
When picking a jam, go with something that pairs well with savory food. This is why I only recommend a few options.
Jams and spreads:
1-2 options for a jam or spread is perfect
Fig Jam is my absolute favorite. I splurged on the fig jam with the seeds in it because it looks and tastes wonderful. You can find more affordable fig jam without the seeds that's still great.
Apricot Jam
Blackberry Jam
Apple Butter
Honey
Honeycomb (this is show-stopping and delicious to serve but it's more of a splurge)
Stone-ground Mustard or Spicy Brown Mustard
Crackers and bread:
It's time to raid your shelves for all those cracker boxes hiding in the back. You can easily find gluten free crackers at grocery stores if need be.
Sliced baguette
Seeded crackers (like sesame crackers) or gluten-free seeded crackers
Plain crackers
Pita Chips (so crunchy and so good!)
Bagel Chips
Wafer Crackers
Options for charcuterie serving boards
Believe it or not, you likely have a serving platter that's perfect for your charcuterie board. If you don't have one large piece, you can use 2-3 pieces to serve everything on.
I actually used my lazy susan from World Maket that I use on my kitchen counter. It's 18 inches in diameter so it's great for large gatherings. Plus your guests can swivel the lazy susan around to reach their food!
If you are on a tight budget there is no need to go out and buy a wood board for your charcuterie platter.
Serving Boards:
Large cutting boards (preferably wood)
Several small serving platters or one large platter
Round or rectangular wooden cutting boards
I used this large (not sponsored) Lazy Susan from World Market
A piece of slate tile from Home Depot or Lowe's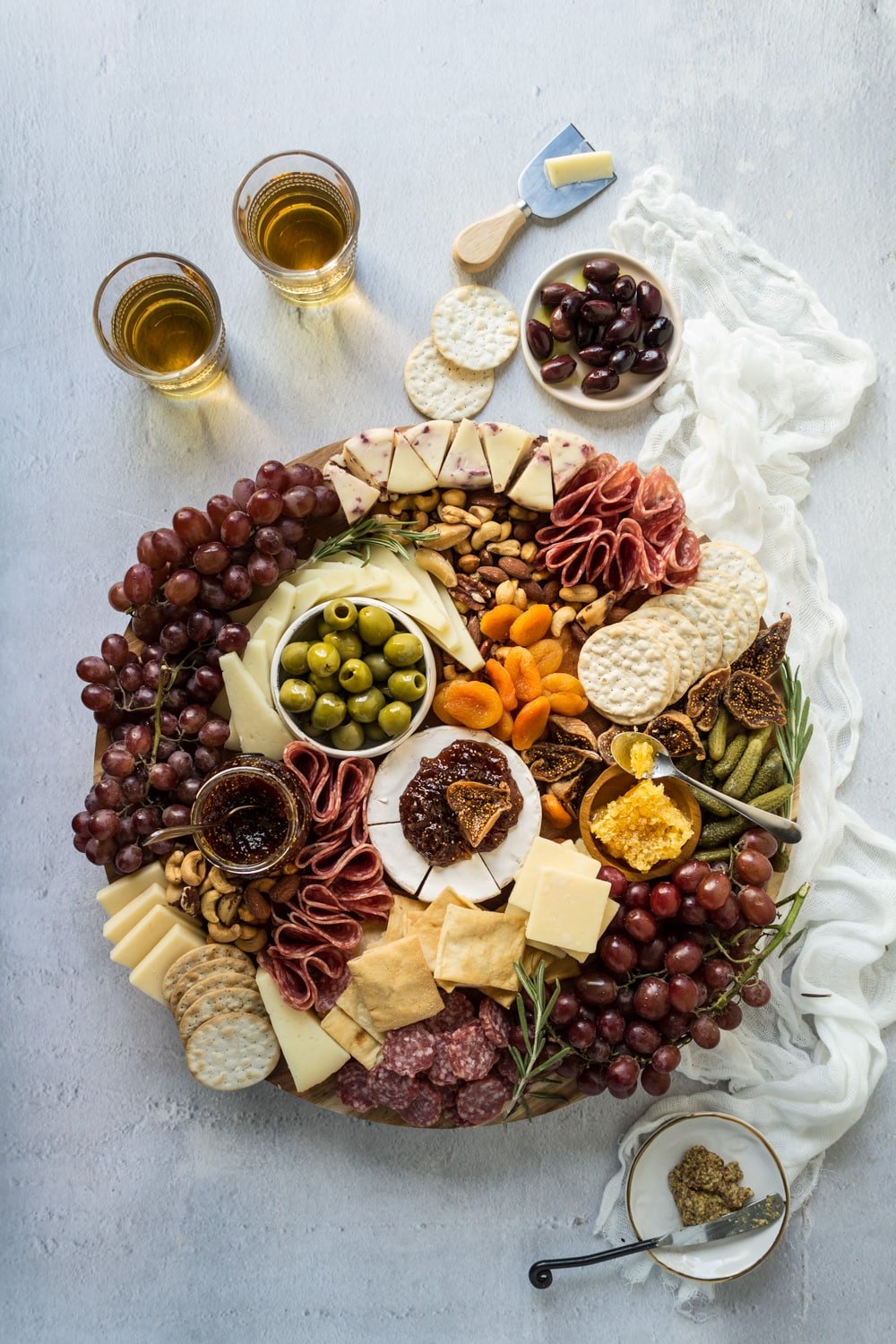 How to assemble a charcuterie cheese board
This was my first cheese board I ever assembled that looked beautiful. So if I can do it, you can do it. I recently attended a food photography workshop and learned a lot about food styling so I was able to apply what I learned to this board.
Place bowls of items on your board in staggered positions so they aren't perfectly lined up (olives, jams, spreads).
Start by placing some items around the rim of your board to act as a wall to hold everything in place (grapes, cheese slices, etc).
If using thin round slices of salami, fold them in half, then fold in half again. Line them up facing up in a curve, a straight line, or an S-curve for visual interest.
Wrap slices of cheese or other items around the curve of your bowls. I wrapped Manchego triangle slices around the bowl of olives as you can see below.
If you are slicing rounds of cheese, slice them into triangles and alternate every other piece (one pointing one way, and the other pointing the other direction).
Line up items in rows as you lay them down or cluster them together. Alternating between the two is visually interesting.
Pre-cut slices of brie (if using) into triangles so your guests don't have to do that. Top the brie with jam or sweet spread of your choice. You can also add some honeycomb to the top if you have it! Add fresh or dried fruit on top that pairs well with the jam you used. I used a dried fig.
If you know your guests love brie with toppings, you can serve extra helpings on the side on another platter.
Fill in all the cracks of your board! Add extra items into any spots that need filling.
Place tiny spoons or cheese knives for the spreads, honey, and jam.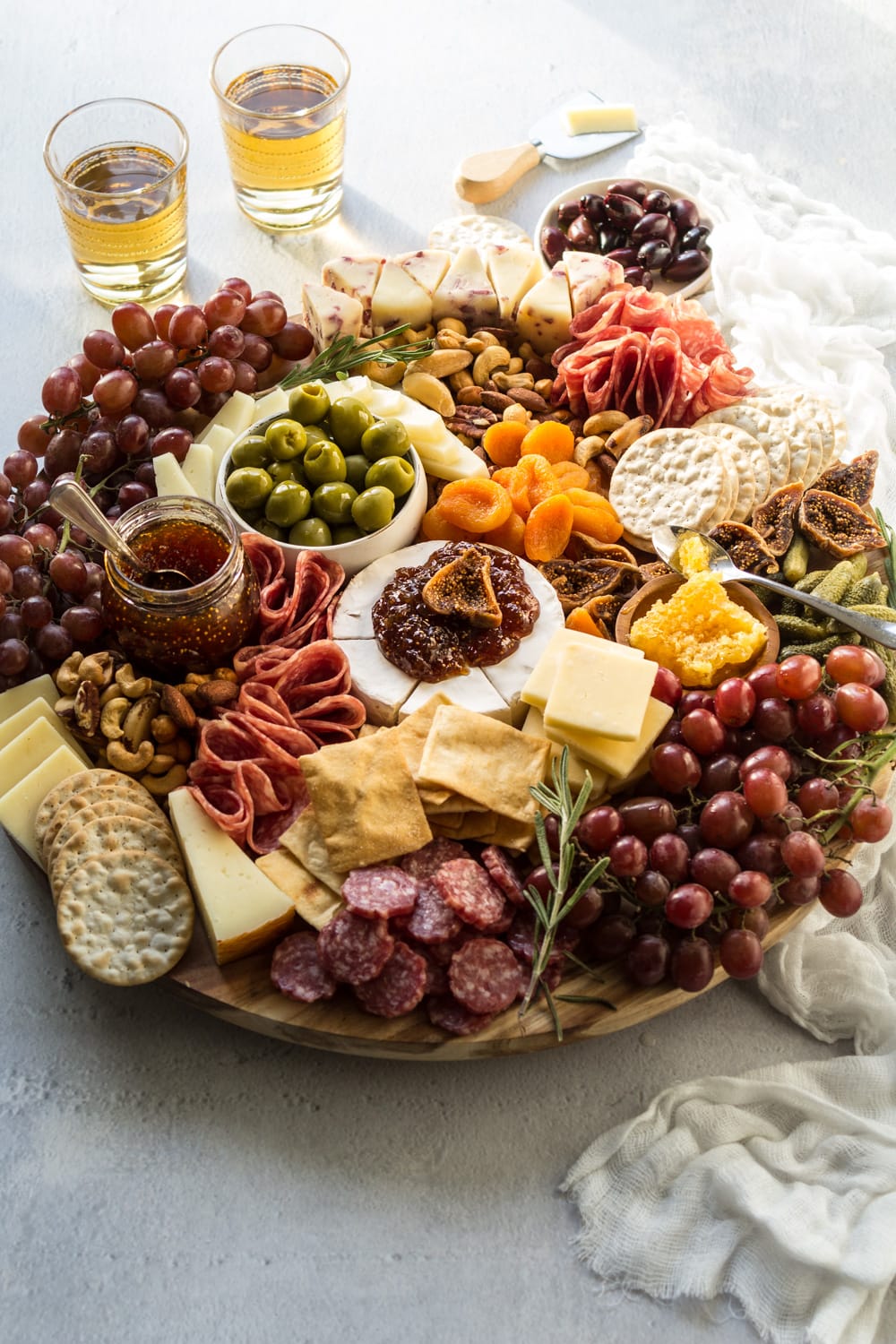 Ok, are you ready to create your own epic charcuterie cheese board?! What are your favorite things to enjoy on a cheese platter? Comment below!
Don't forget to download and print off your charcuterie board checklist here. It's FREE and no strings attached!
Bon Appetit Ya'll,
Leslie O.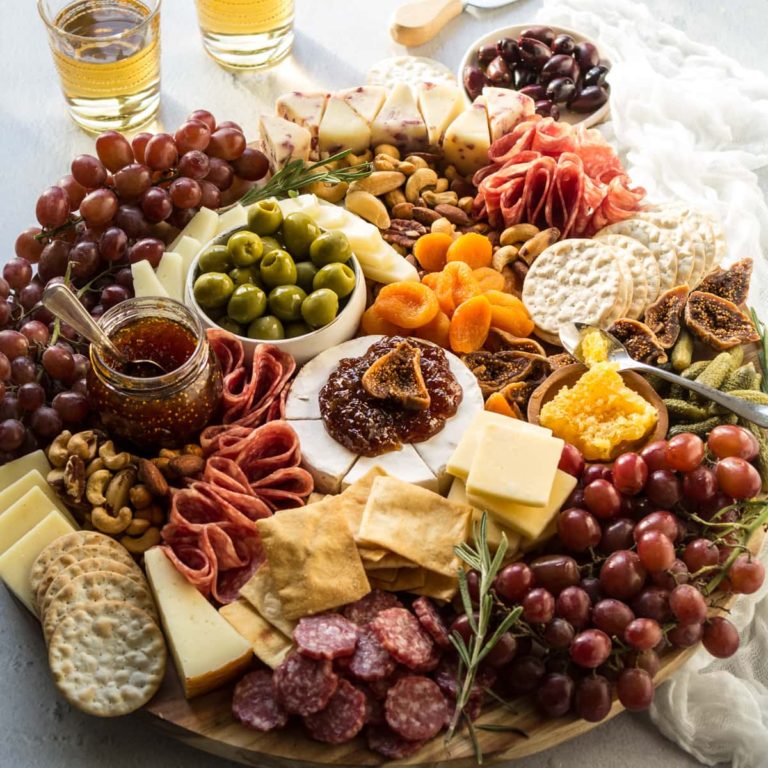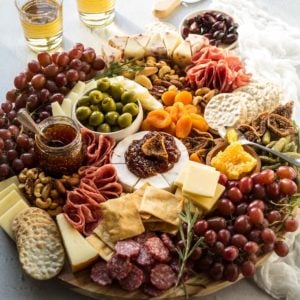 Epic Charcuterie Cheese Board on a Budget
Learn how to assemble a show-stopping charcuterie cheese board so you can mix and match items based on your budget.
Print
Pin
Rate
Ingredients
Options For the Olives and Pickled Items
1

jar

Green Olives

Castelvetrano are my favorite, packed in water

Black Kalamata Olives

packed in water

1

jar

pickled vegetables

optional

olive oil for drizzling on olives

1

jar

cornichons

they look like tiny whole pickles

Choose 1 or all of these options above!

you might not use all of each jar
Options for Dry-Cured Meats
8

oz

Bite-size salami circles

16

oz

Salami slices

1

package pepperoni

1

package proscuitto

or other dry-cured sausage flavor

Pick 1 or 2 of these options for your platter
Options for Nuts, Dried Fruit, and Fresh Fruit
1

container Mixed Nuts (cashews, walnuts, pecans, almonds, brazil nuts, etc)

you only need about 10-12 ounces

Or mix and match nuts below, 10-12 ounces altogether

Pistachios

Almonds

Walnuts

Cashews

Marcona Almonds

a bit pricey but so good!

Dried Apricots

Dried figs

you only need about 5-6 ounces of dried fruit

or a handful of golden raisins

2

bunches of grapes

less than 1 bag
Jams and Spreads
1

jar

fig spread

1

jar

apricot jam

1

jar

blackberry jam

honey

Apple Butter

honeycomb (it's fancy and a bit pricey but so good!)

choose 1 or 2 of the above jams or spreads

2

Tbsp

Stone ground or spicy mustard
Options for Crackers and Bread
2

handfuls of crackers

1

handful Pita chips

1

handful Bagel Chips

Seeded crackers or gluten free crackers

1

baguette sliced

Choose 1-3 of the options above
Instructions
Use one extra large platter or wooden board or large cutting board to serve the charcuterie items. A piece of slate tile from Home Depot works too.

Assemble the cheese board ingredients by placing the items in bowls on the board first.

Then place the grapes and different items around the perimeter to keep the ingredients from falling off the board.

If using thin slices of salami, fold them in half, then fold in half again. Line them up in an s-curve, or shape them around the outside of one of the bowls, or line them up in a row.

You can line up the cheese slices, nuts, dried fruit, crackers or bread, and meats in rows or little piles.

Cut the brie and any other cheeses that are shaped as rounds into triangles and place them on the platter. Top the brie with jam or honey (and honeycomb) of choice.

Finish by drizzling the olives with a bit of olive oil if using olives packed in water.
Making the cheese board ahead of time
If you want to make it ahead of time, make sure you have room in your fridge for the board or platter you are using. Place all of the items except for the nuts, crackers and/or bread on the platter and cover with plastic wrap. Leave room for the crackers or bread and place them on the platter before serving.

If your platter is too big to fit in your fridge, prepare the cheeses ahead of time by slicing them and top the brie with jam. Then save about 15-20 minutes to style your board before guests arrive.