Start your day off right with a healthy and EASY QUINOA BREAKFAST BOWL packed with protein, healthy fat and fresh cherry summer tomatoes!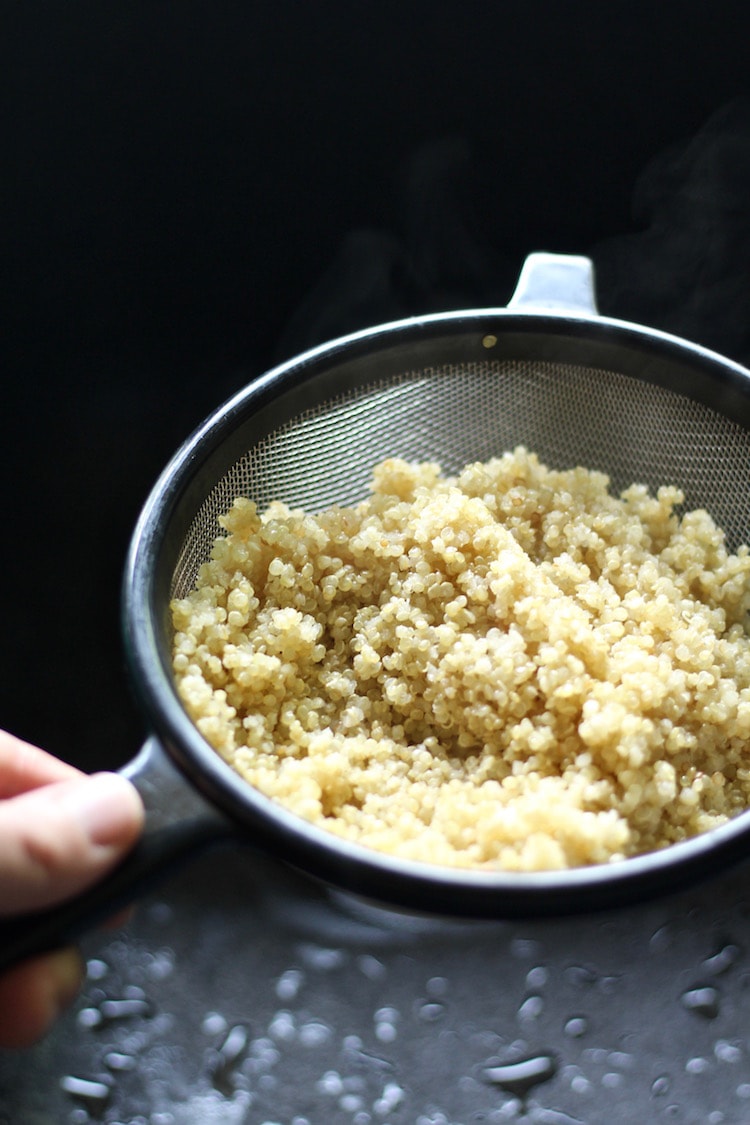 I made this quinoa breakfast bowl for lunch today and took photos on a whim while my son was napping. Creating a recipe from scratch, planning on how I'm going to shoot the recipe, making and styling the food usually takes hours, but this recipe is so simple, I was able to throw together some tasty items I had on hand, put it together and photograph it in no time, with no pre-planning, YEAH!
This is a wonderful breakfast for the weekend or a day off. To make things even easier, slice the tomatoes and olives, and toss them with the mozzarella balls the night before. Top with balsamic vinegar, olive oil, and fresh basil just before serving. The next morning fry up an egg, slice the avocado and your superhero breakfast is DONE!
A note about quinoa and grains in general
If you are a super savvy, in-the-know foodie, you might already have an understanding about phytic acid in grains. If you have no idea what I'm talking about then listen up.
The outer portion of whole grains contains phytic acid which is a compound that blocks your digestive system from being able to absorb nutrients like magnesium, calcium, iron, and zinc. These nutrients are the very thing that is located in the outer portion of the grain! It's a complete conundrum.
So how on earth can your body access these nutrients? It's actually quite simple. Many ancient cultures have intuitively understood for centuries the benefits of soaking grains to aid digestion. For quinoa and other whole grains, you can simply soak them in warm water with a little bit of vinegar for at least a few hours or overnight. The soaking action helps to neutralize phytic acid and create enzymes known as phytates, which make it possible to absorb the powerful nutrients in whole grains, especially quinoa.
For more information about the many problems with grains and modern-day bread, subscribe to my blog and receive a FREE guide for 5 Reasons modern-day bread is making you sick…and what you can do about it. There is a form at the end of this post!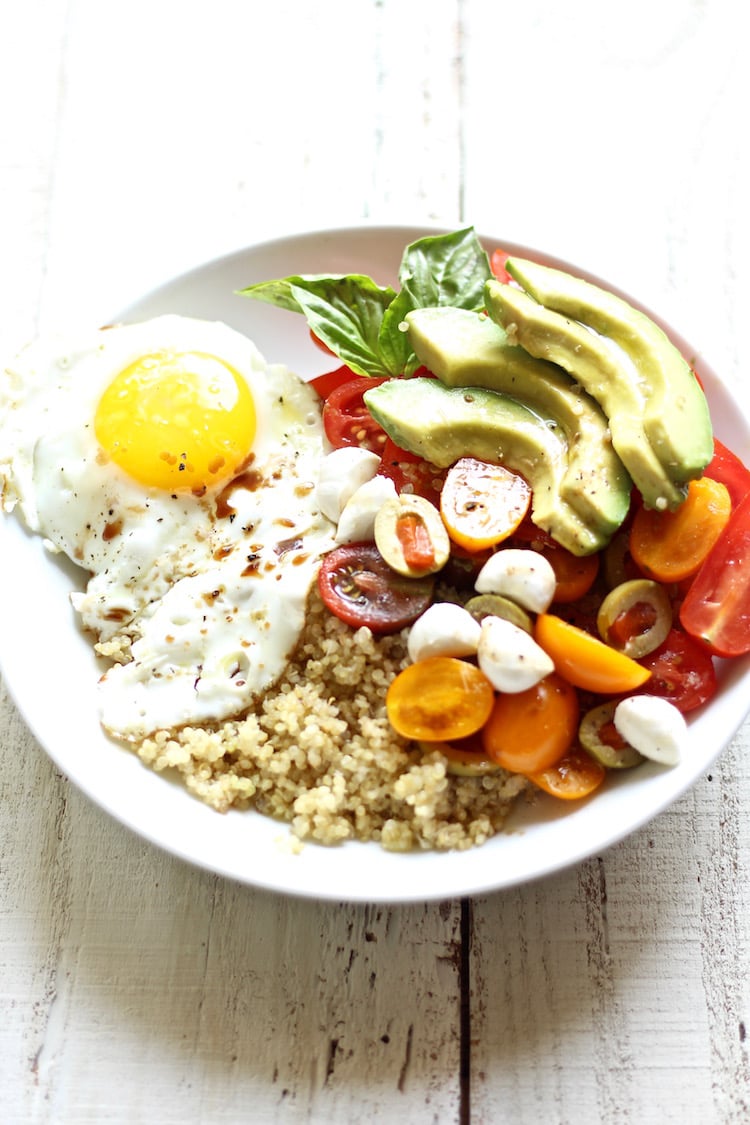 If you want to speed up the process, cook the quinoa the night before and just reheat it quickly while you slice the tomatoes and avocado and cook the crispy egg. I find one egg per serving is perfect because the quinoa is nice and filling. I drizzled a touch of olive oil and balsamic over the dish at the end, and MWAH!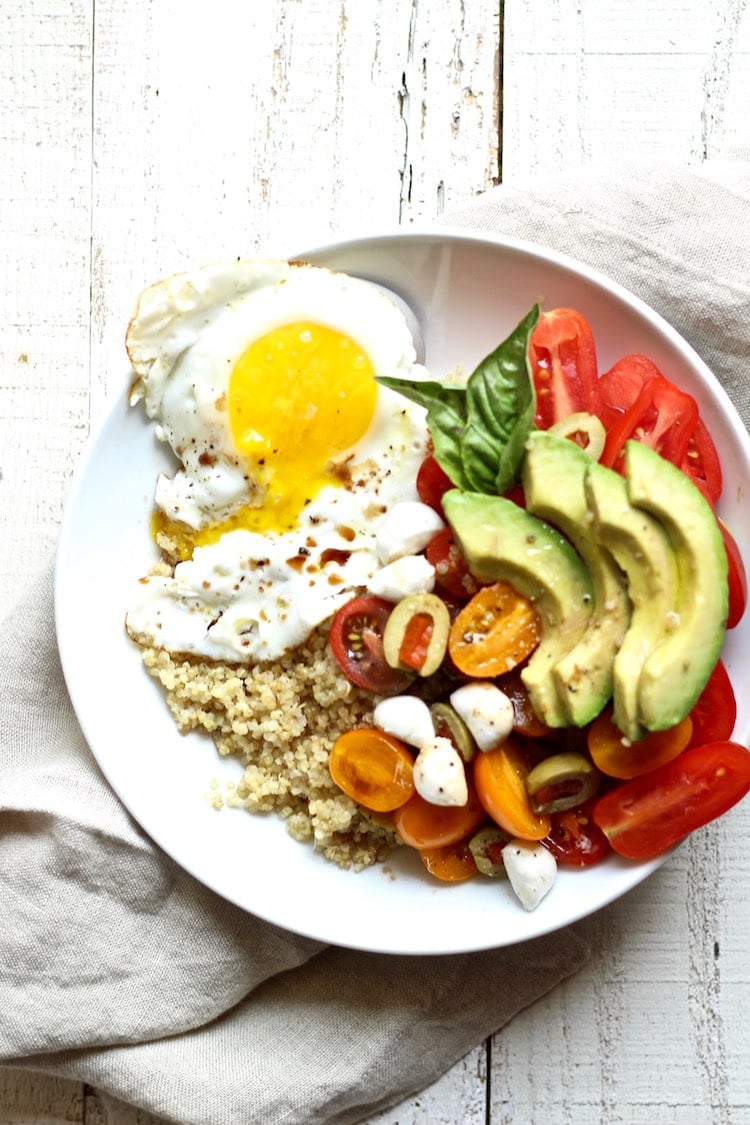 Release your inner superhero with this amazingly delicious breakfast, lunch, or dinner bowl!
Bon Appetit Ya'll,
Leslie O.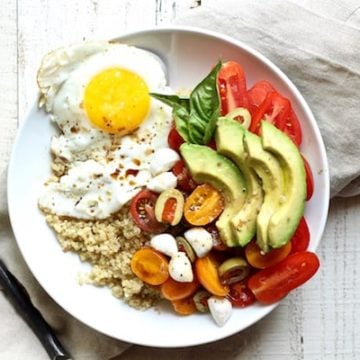 EASY QUINOA BREAKFAST BOWL
Whip up an easy quinoa breakfast bowl for a delicious and satisfying meal filled with healthy fat and fresh produce!
Print
Pin
Rate
Ingredients
1/2

cup

quinoa

1 1/2-2

cups

cherry tomatoes

sliced in half

1

avocado

2

eggs

1/2

cup

olives

I used pimento-stuffed but any kind will do

1/2

cup

small mozzarella balls

1

clove

garlic

3-4

sprigs fresh basil

torn by hand

1 1/2

Tbsp

. balsamic vinegar

plus a dash for the avocado

1 1/2

Tbsp

. olive oil

salt and pepper
Instructions
Cook the quinoa according to package directions, it should take around 15 minutes or so. Fluff with a fork when it's done.

Meanwhile, slice the avocado, tomatoes and olives, and mince the garlic. Mix the tomatoes, olives, garlic, mozzarella, basil, and salt and pepper together. Pour a dash of balsamic vinegar and a sprinkle of salt over the avocado to keep from browning.

Whisk the balsamic vinegar, olive oil, and salt and pepper together. Pour half of it over the tomato salad and half of it over the cooked quinoa.

Fry the eggs in a little olive oil until desired doneness. I like a runny yolk for extra sauce.

On two plates, divide the quinoa, salad, avocado slices, and eggs. Drizzle a touch of balsamic over the eggs and serve immediately.
Notes
Make Ahead Option:
To neutralize the phytic acid in the quinoa, simply soak the grains in warm water with a touch of vinegar for several hours or overnight in a mason jar.  You can do this the night before you make this for breakfast, or you can even soak it, then cook a larger portion of quinoa for the week, refrigerate, then just reheat it when you are ready to cook.