If you love lamb, then you'll love these Easy Lamb Meatballs that come together quickly. I've paired the meatballs with a refreshing Caesar salad for a satisfying lunch or dinner!
The recipe and photos in this post were updated in August of 2019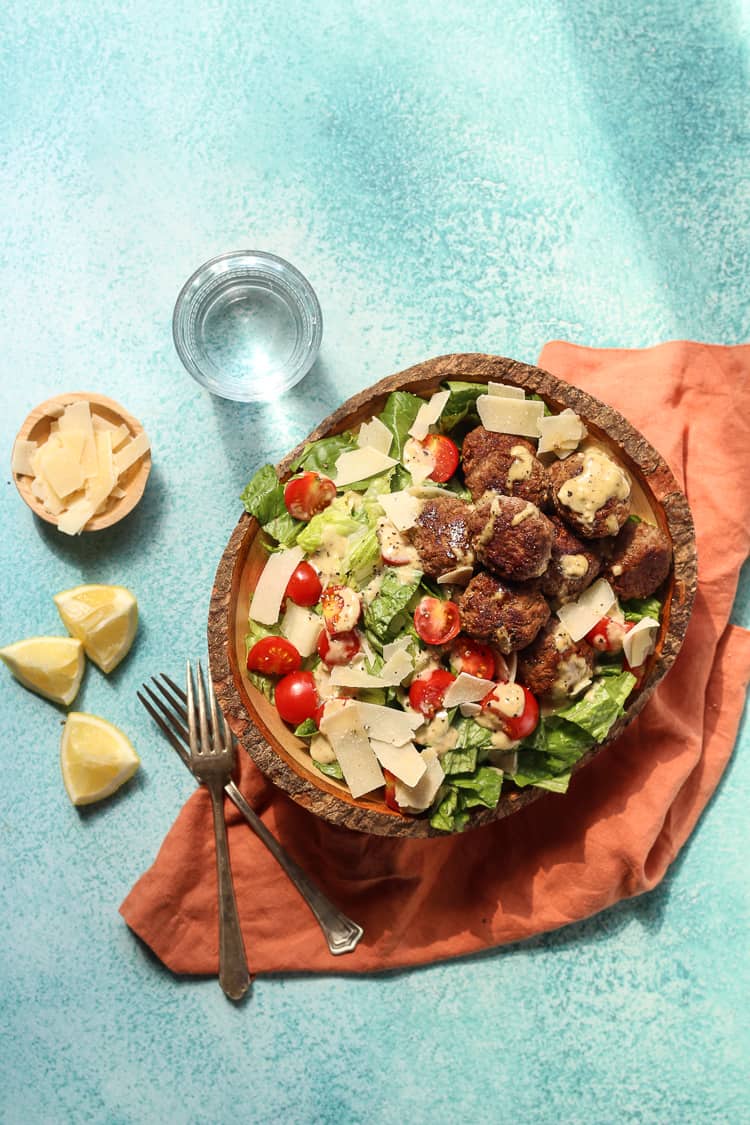 I'd be willing to bet that you've never tried lamb meatballs paired with a Caesar salad. The first time I had this combo was at a Greek restaurant in Nashville called Taziki's (spelled differently than tzatziki sauce).
They have the most amazing grilled lamb tenderloin Caesar salad, and because I love Caesar salad when it's made from scratch, I had to recreate one at home!
Where to find ground lamb in the meat section
I had to change the type of lamb used for this recipe because I can't find lamb tenderloin at my grocery store unless it's the holidays. Plus lamb tenderloin can be quite expensive if you can only find an entire lamb shoulder. Ground lamb on the other hand costs about as much as grass-fed ground beef.
Ground lamb can typically be found next to the ground beef or ground turkey in the meat department.
What does ground lamb taste like?
Although this isn't a completely accurate description, for me ground lamb is a cross between ground turkey and beef. It's lighter than beef, but richer tasting than turkey. I don't usually like gamey-flavored meat, but lamb is succulent when prepared properly.
If you've ever had lamb then you'll know, yep that's lamb, and that's good!
How to make easy lamb meatballs
For this recipe I've simplified the ingredients so you can put this together as quickly as possible.
Ground Lamb
Ground Oregano
Squeeze of lemon
Chopped Garlic
Olive Oil
Salt & Pepper
Just mix the ingredients and form into meatballs. Heat a large skillet with olive oil over medium heat. Medium heat allows for a slower cooking process but will still get the outside caramelized without burning it while the inside cooks evenly and stays moist.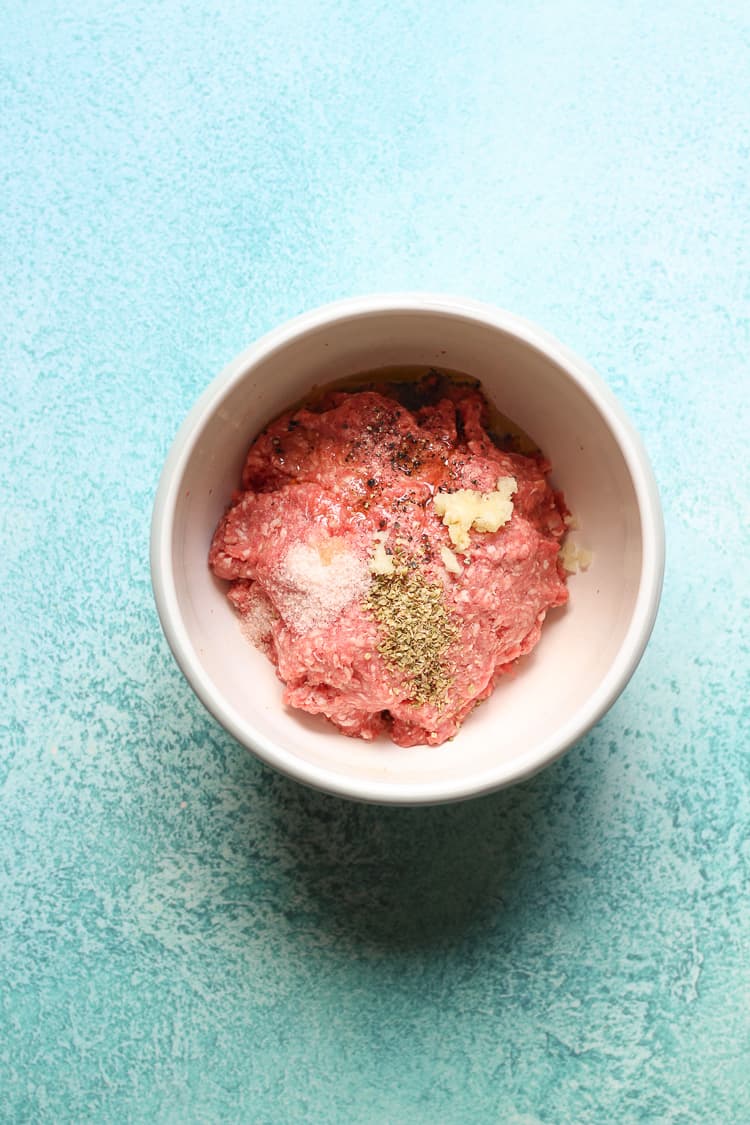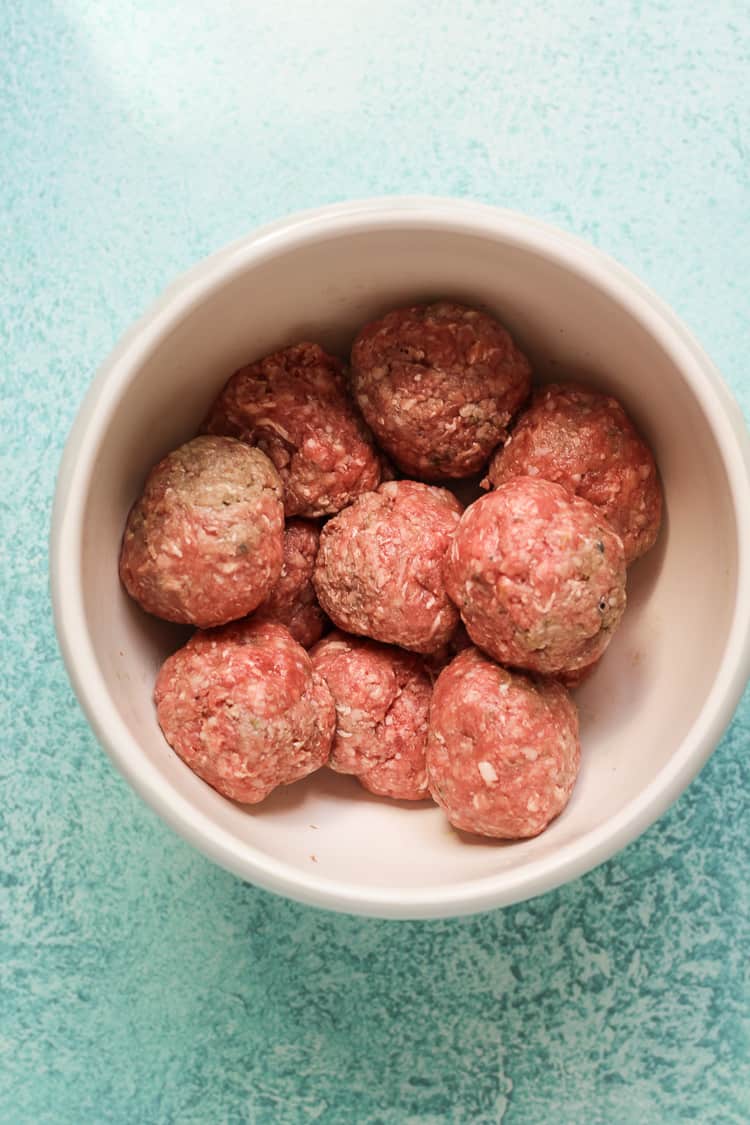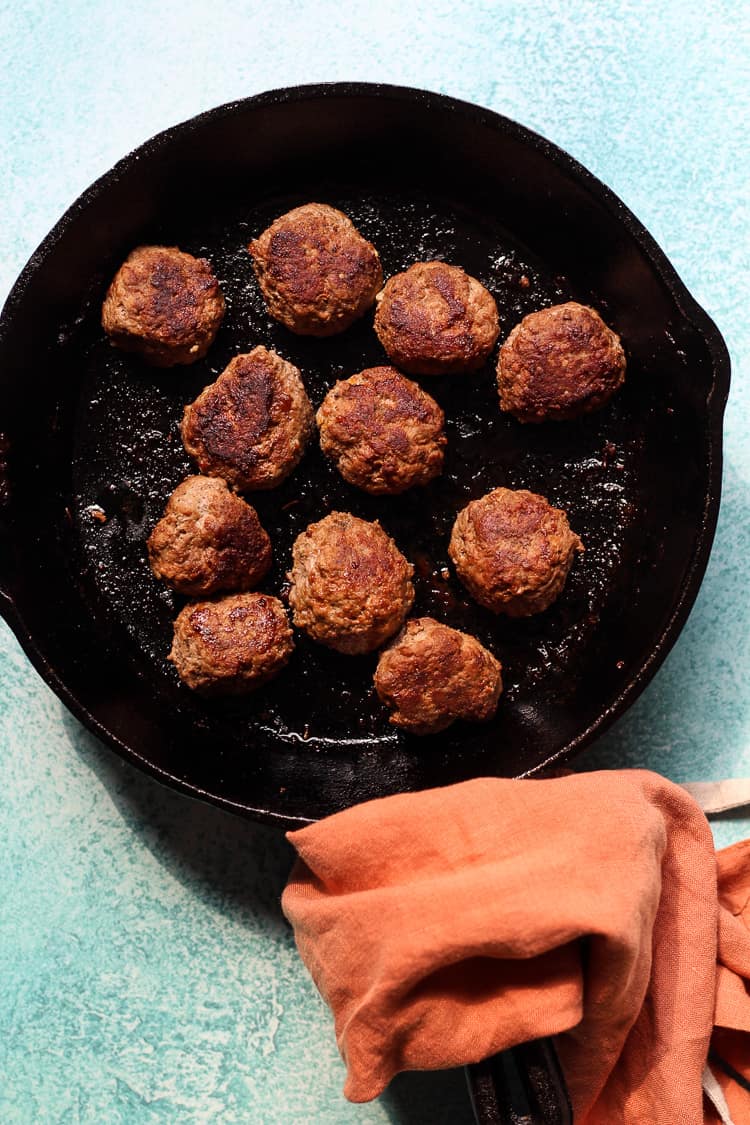 What's in Caesar Dressing?
Caesar dressing is SO easy to make as you just need to whisk some ingredients together for a creamy dressing. You do need to chop garlic really finely to a paste, or you can use a garlic press (Amazon affiliate link!) which will make the garlic smooth.
And yes, anchovy paste is in this recipe. If you feel weird about that just know that if you've ever eaten a Caesar salad, you've had anchovies and didn't know it. Anchovies melt into whatever you're making and give it a salty bite.
They have an umami flavor to them, kind of like Worcestershire sauce, which is also in this recipe!
Caesar Dressing Ingredients:
More Garlic, chopped finely into a paste
Lemon
Anchovy paste (a tube is great because you can put the top back on it to keep it fresh)
A touch of mayo
A dash of Worcestershire (did I spell that right?)
Shredded Parmesan
Stone ground or dijon mustard
Olive oil
How to make garlic paste
Again, a garlic press is the easiest and fastest way to make garlic paste. You can also use the flat side of your knife to press down on the garlic clove to smash it, remove the skin, then chop finely with your knife. Once it's chopped sprinkle with a tiny pinch of salt and take the flat side of your knife again and smush the garlic back and forth until it forms a smooth paste.
The last option is to smash it with a mortar and pestle to make a paste.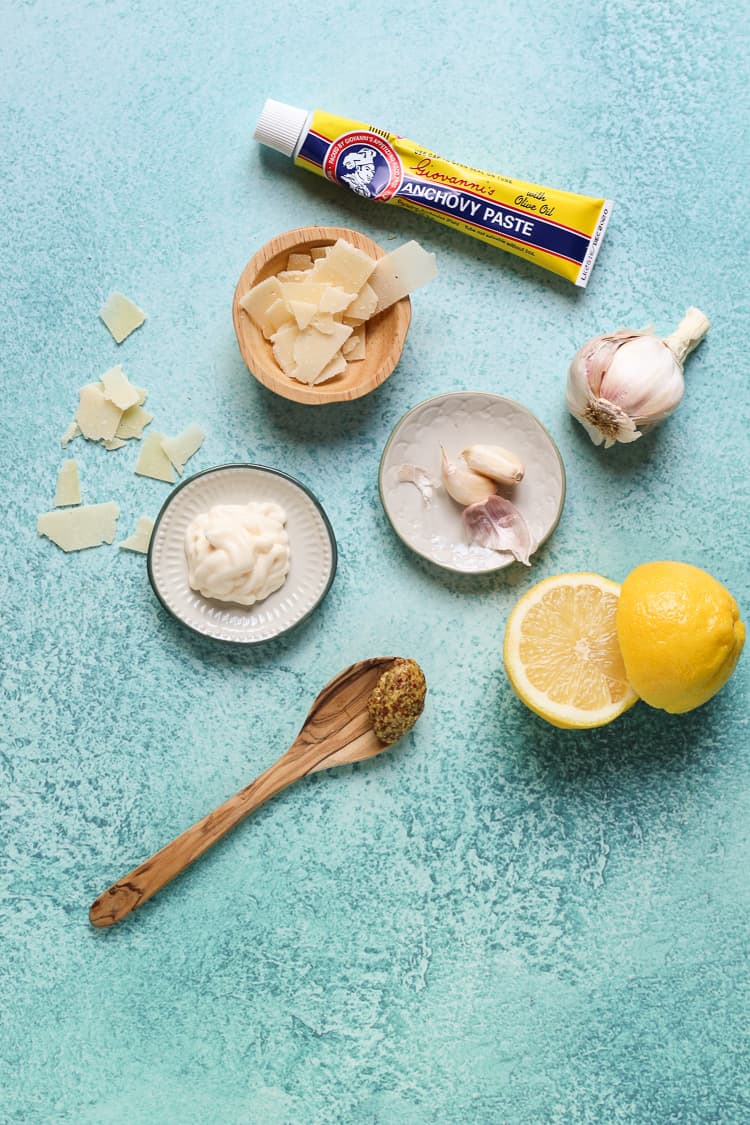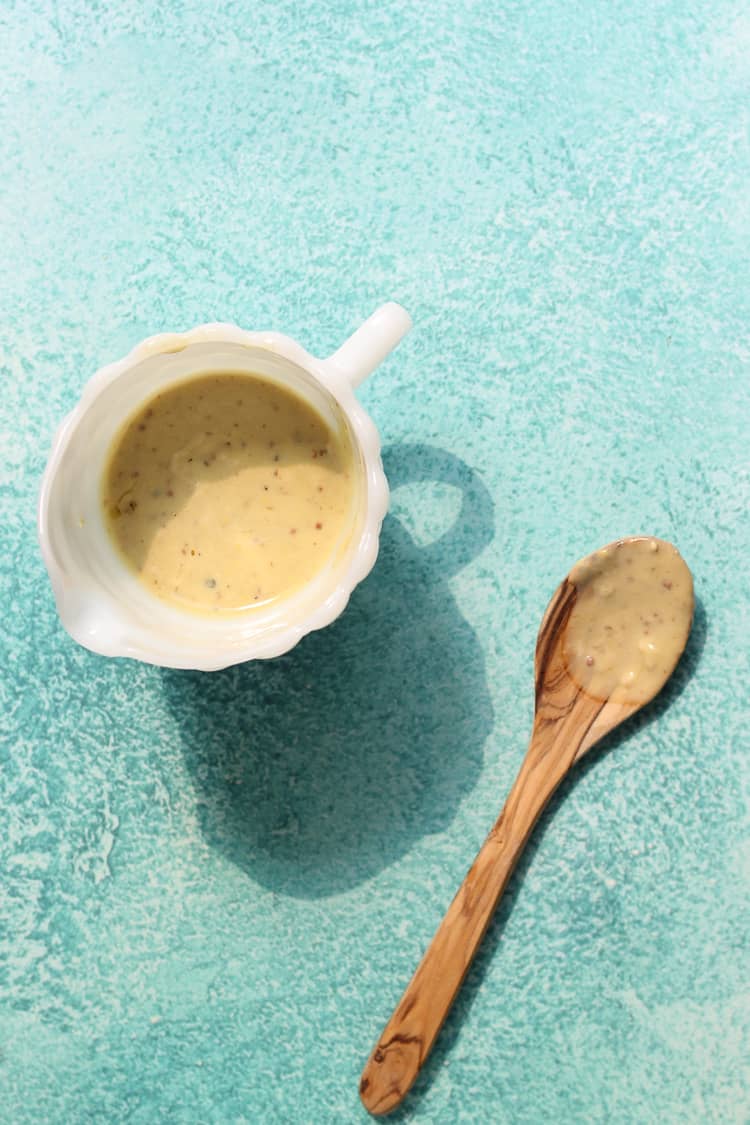 Serving the Easy Lamb Meatballs
Obviously there are lots of sides you can serve lamb meatballs with but give a Caesar salad a try! Just chop your lettuce, slice some tomatoes, top with more shredded or sliced parmesan, add the dressing, and squeeze a bit more lemon top.
More Caesar Salad Recipes
Healthy Chicken Caesar Salad Recipe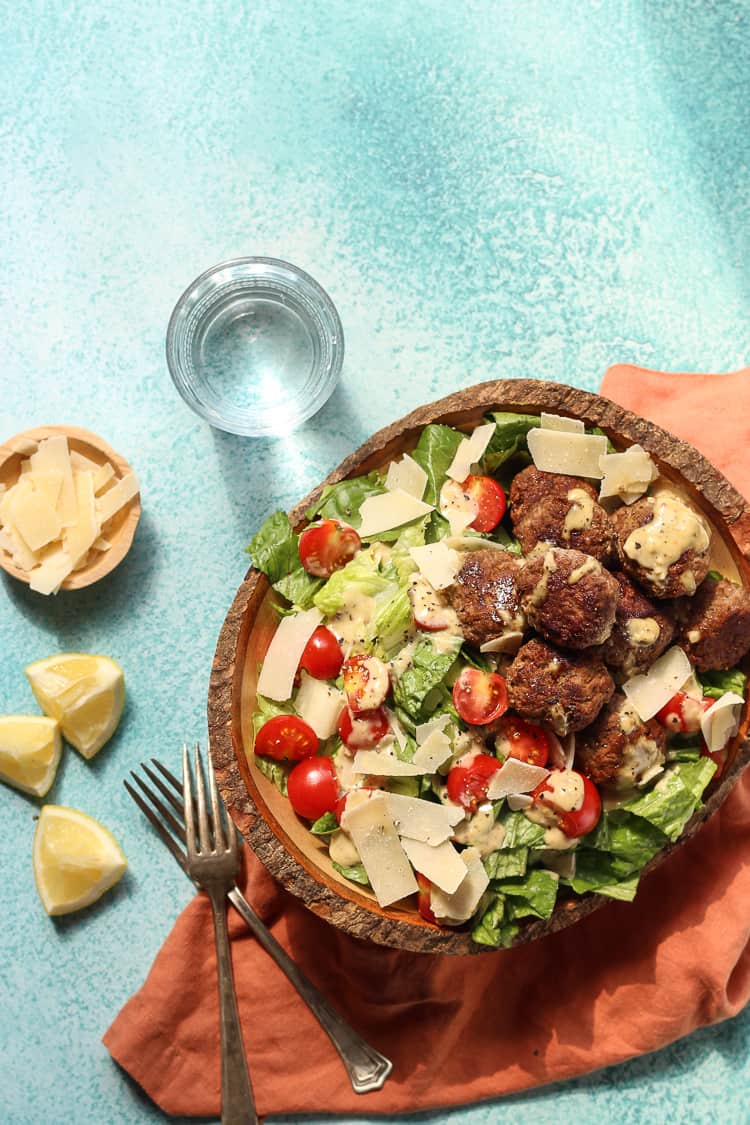 Are you ready to give this recipe a try? Let me know in the comments below if you make it!

Bon Appetit Ya'll,
Leslie O.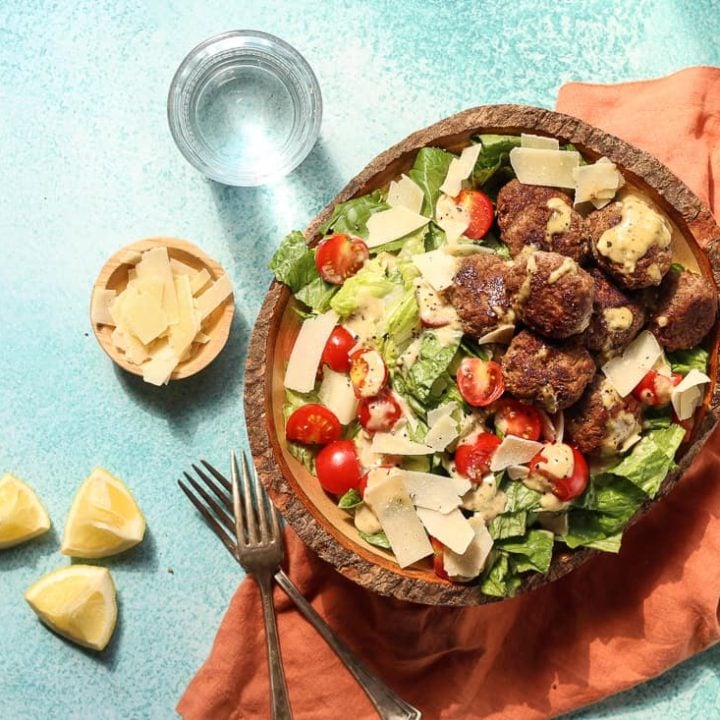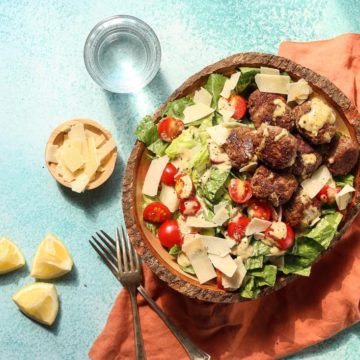 Easy Lamb Meatballs & Caesar Salad Recipe
Moist and flavorful lamb meatballs pump up the volume on traditional Caesar salad for an easy weeknight dinner!
Print
Pin
Rate
Ingredients
For the Lamb Meatballs
1

pound

ground lamb

1

clove

garlic, plus more below in the dressing

chopped

squeeze of lemon

1

tsp

dried oregano

1/2

tsp

salt

black pepper

1

Tbsp

olive oil
For the Caesar Salad
2

heads romaine lettuce

1/2

cup

cherry tomatoes

sliced in half
For the Caesar Salad Dressing
3

Tbsp

olive oil

2

cloves

garlic

finely chopped into a paste

1

tsp

anchovy paste or 4 anchovies

1 1/2

Tbsp

mayo

1/2

lemon

juiced

1/2

tsp

mustard

dash of worcestershire sauce

2

Tbsp

shredded parmesan

plus more for topping on the salad
Instructions
Preheat a large skillet to medium heat for a few minutes. Cooking the meatballs over moderate heat will allow them to cook more slowly without burning the outside and will keep the inside tender. Drizzle some olive oil into the pan.

Mix all the ingredients for with the ground lamb together in a bowl (1 clove garlic, 1 tsp dried oregano, squeeze of lemon, 1 TBSP olive oil, 1/2 tsp salt, black pepper) until incorporated well.

Place the in the skillets to cook 5-6 minutes on each side, flipping them when each section is caramelized. This process should take around 15 minutes or so, depending on the size of your meatballs.

While the meatballs are cooking prepare the dressing in a large bowl.

Chop the garlic really finely, or use a garlic press.

Whisk all the ingredients for the dressing, except for the olive oi,l together. When the ingredients are combined, slowly drizzle in the olive oil, whisking the entire time until the dressing is emulsified (fully combined).

Season with lots of cracked pepper and a touch of salt.

Chop two heads of romaine lettuce in half on a diagonal, or into smaller pieces if you prefer.

Toss the romaine with the dressing, top with the meatballs, cherry tomatoes, more shredded parmesan, and cracked pepper.

Serve immediately.