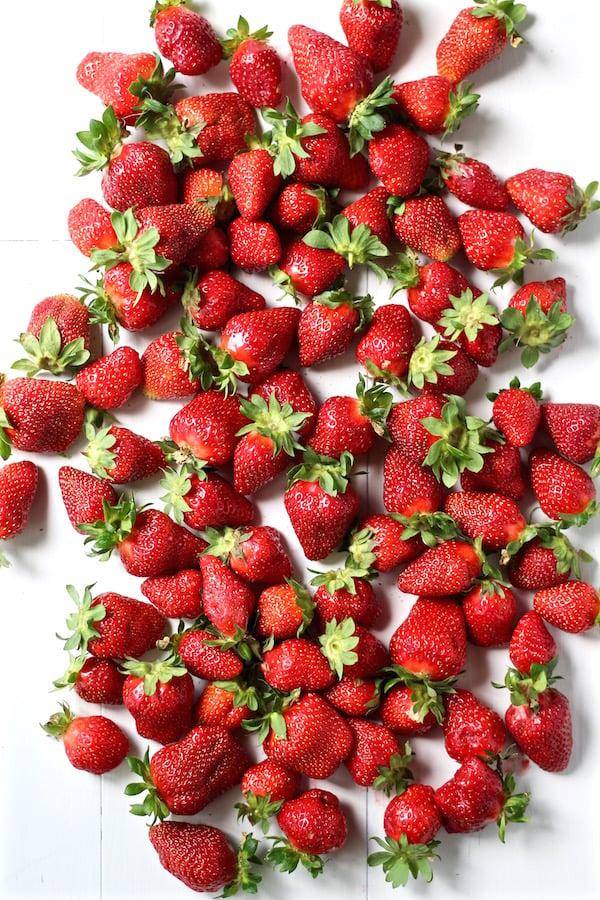 Let me just start off by saying I suck at decorating cakes.
If you are an avid baker like me (or only bake occasionally) and struggle with making your cake or cupcakes look like they came out of a Martha Stewart magazine, then you've come to the right place.
This is a no-judgment zone for all those lopsided, uneven, not perfectly smooth cakes that I am so great at creating. The good news is, I've got some awesome cake decorating hacks for this unbelievably delicious Dreamy Gluten Free Strawberry Cake & Not-Too-Sweet Strawberry Meringue Buttercream.
I'm always in awe of those show-stopping, perfectly decorated cakes I see on Pinterest or in Southern Living magazine and have wanted so desperately to emulate their styling. However, I only bake cakes 2-3 times a year, so I don't get enough practice to become an expert buttercream piper.
It really takes A LOT of practice to master the art of cake decorating and I just don't think my waistline can handle it. So instead of moaning and groaning over my lack of decorating skillz, I decided to use some easy tricks for making this dreamy cake not only taste amazing, but look beautiful and rustic and perfectly imperfect.
TIPS FOR NATURALLY ENHANCING STRAWBERRY FLAVOR
Strawberry cake is quite often filled with fake strawberry jello to enhance the strawberry flavor, and food coloring is added to give it that pink tone. I don't like using either of these in my cakes as I try to use as many organic ingredients as possible. A few years ago, I found the answer to naturally enhancing strawberry flavor on the Cook's Illustrated website.
Their tip was to macerate the strawberries first to bring out their natural sweetness. All you do is place fresh or frozen strawberries in a colander over another bowl and sprinkle them with a little bit of sugar and let them sit for about two hours. This really sweetens the strawberries with no need for unnatural additives. You can also do this if you want to enjoy fresh strawberries by themselves or with whipped cream or ice cream.
Here in the southeast, strawberries come into season at the end of April or beginning of May and last through June at the latest. I go every year to one of two local strawberry farms and pick fresh strawberries to stock for the year. I only buy about 10 pounds because I don't have the freezer space. I do the same for fresh blueberries too. It's amazing how much sweeter freshly picked local berries are, plus they are a fraction of the price of what you pay in the store.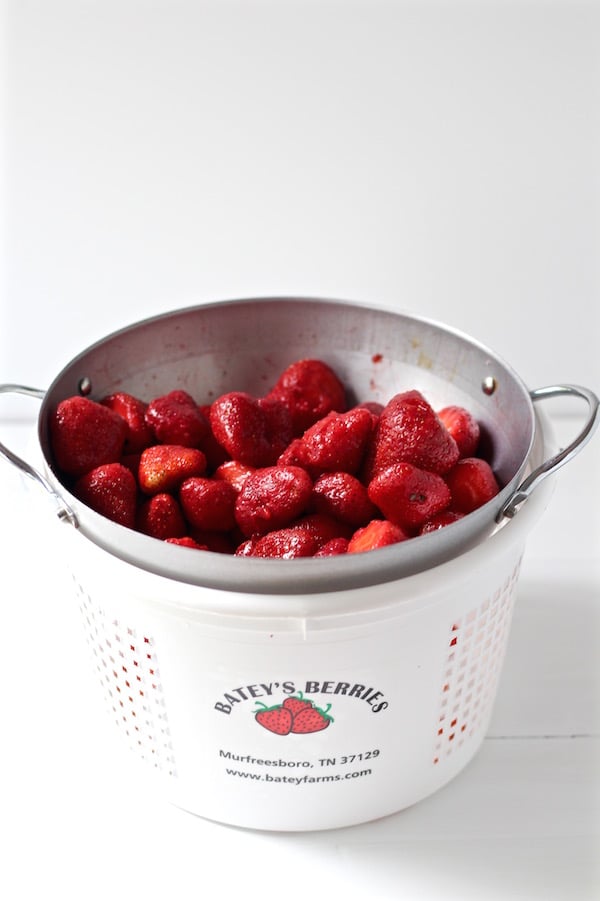 Ok, now we are on to the cake! I adapted this strawberry cake recipe from the Cook's Illustrated site. It's a light and spongy cake that isn't too sweet and is oh-so-good. I replaced coconut milk with regular milk because I wanted a more tropical flavor. It's subtle, but it definitely enhances the cake. I also made this a gluten-free strawberry cake because I am baking this for two lovely people that have been buying gluten-free baked goods from me for a few years.
Actually, if you use the right blend gluten-free cakes can sometimes be better because gluten-free flours don't have the proteins that wheat flour has, resulting in a cake that is light and airy.
what kind of gluten-free flour blend should i use?
For this cake and many other gluten-free baked goods, I use Bob's Red Mill 1-to-1 Baking Flour because it has a clean flavor and great texture for cakes.
By all means, if you want to make this cake with regular flour, this recipe works perfectly with cake flour. Cake flour will lend a lighter texture than all purpose flour.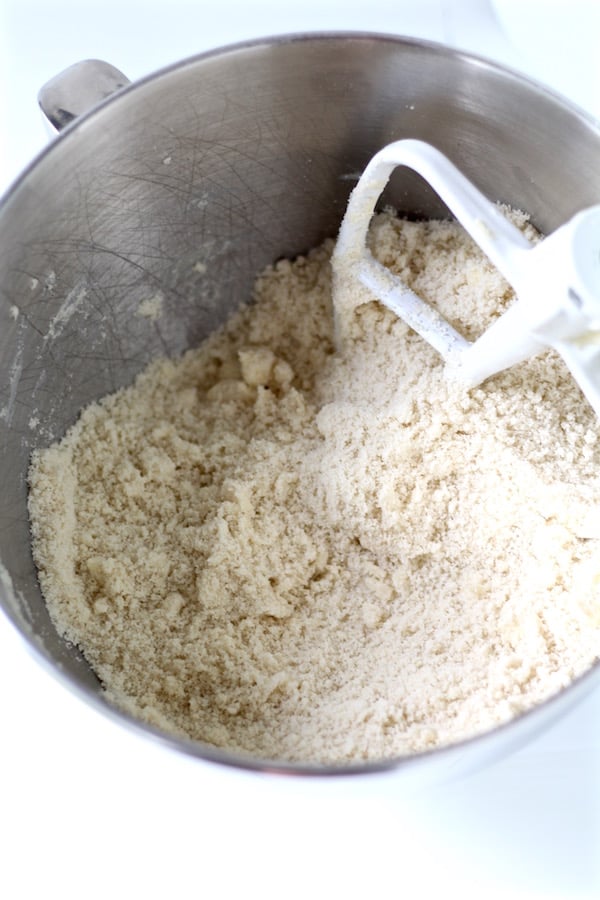 Instead of creaming the butter and sugar together in the beginning, you want to add softened butter after you mix the dry ingredients. This process is called "sanding" because the batter will have a sandy texture when the butter is incorporated. Sanding gives a tender crumb to cakes.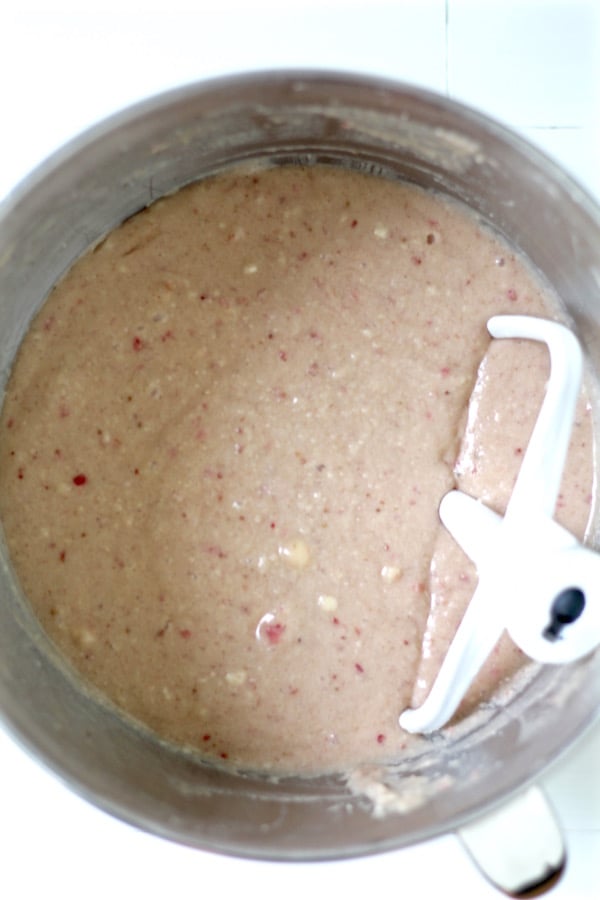 Then you add the wet ingredients until combined. It's ok if you have tiny little chunks of butter throughout the batter, as they melt when baked.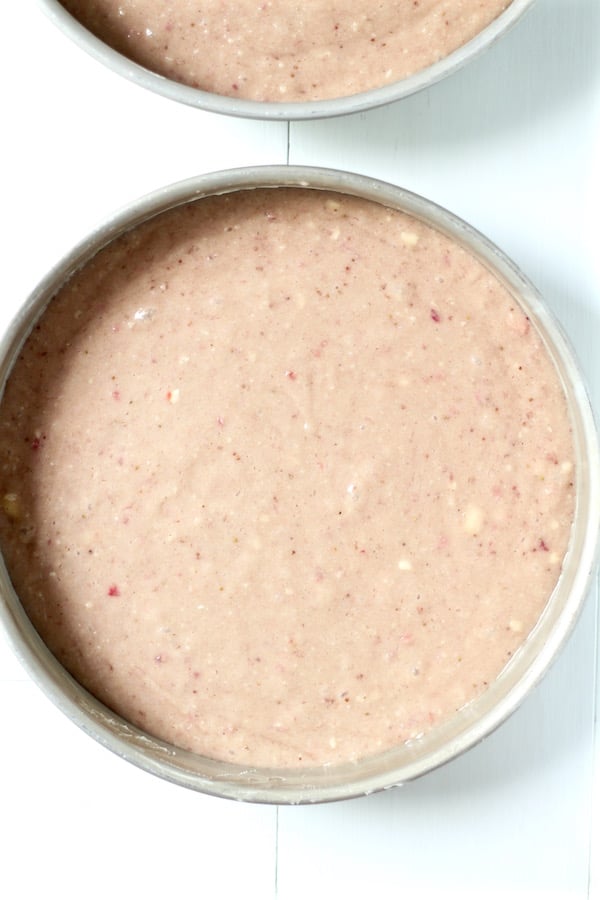 Butter two 9-inch round cake pans and cut a piece of parchment paper in a circle so that it fits the bottom of the pan. Butter the top of the parchment paper too. I always use parchment because cakes can easily stick to the pan, so it's extra insurance they will pop right out when baked.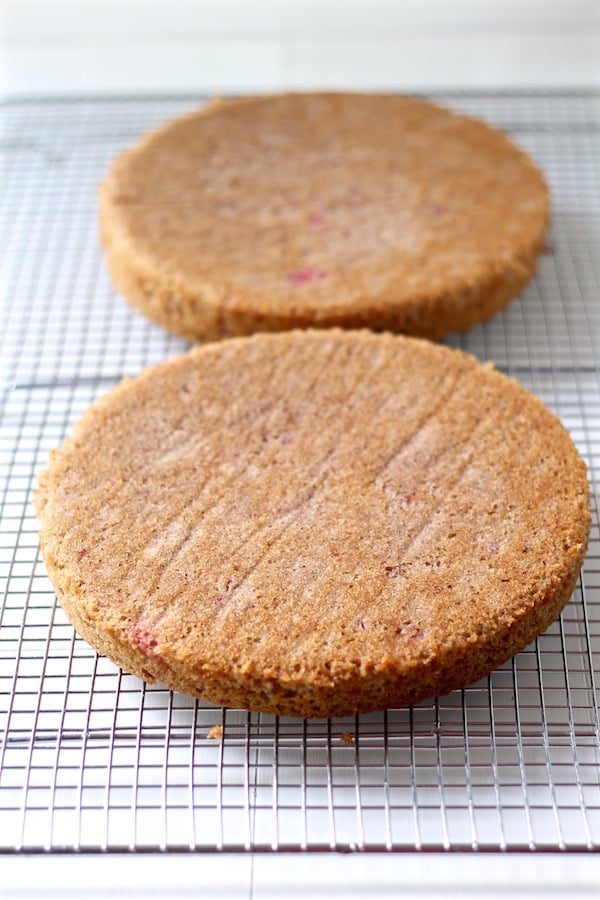 HOW TO MAKE NOT-TOO-SWEET STRAWBERRY BUTTERCREAM
Most strawberry cakes I've eaten are so sweet they make my head spin. American buttercream is a base of butter and lots and lots and lots of powdered sugar. Although you might not realize it, a plain vanilla buttercream for an average sized cake can have anywhere from 4-6 cups of powdered sugar! When you add liquid to flavor it (in this case we are using strawberry puree), you sometimes have to add even more.
When you add liquid to flavor it (in this case we are using strawberry puree), you sometimes have to add even more powdered sugar to stabilize the buttercream. This is why I always make Italian meringue buttercream, which is a mixture of meringue, lots of butter, and a little bit of sugar.
I actually like fusing American buttercream and Italian Meringue buttercream by adding a bit of powdered sugar at the end to sweeten it up a bit more and to help to stabilize it.
It starts with a base of egg whites and a simple syrup of sugar and water. While whipping the egg whites, you simmer the sugar and water until it reaches 240 degrees. Turn down the mixer to low, then slowly pour in the simple syrup in between the beater and the bowl so it doesn't stick to the sides of the bowl.
Once it's all incorporated, turn the mixer back to medium-high speed and whip until the bottom of the outside of the bowl is cool to the touch, about 15 minutes. You will have a nice sturdy meringue at this point that looks like the photo below. I like using this thermometer because you can keep it in the liquid the entire time it's simmering and it can also be placed inside meat while baking or roasting with the oven door closed so you keep an eye on the temperature as it cooks.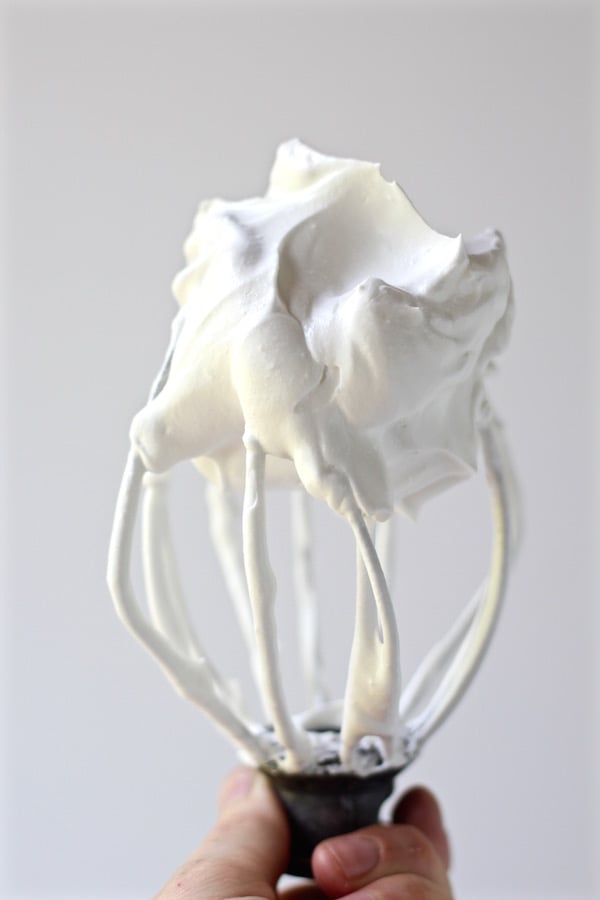 THE MERINGUE WILL COLLAPSE, BUT DON'T WORRY!
When the meringue is done, whip in softened butter. The buttercream will collapse at this point and almost look curdled, which might make you very sad.
Don't worry, this is completely normal, so don't throw the buttercream in the trash!! Just keep whipping and it will come back together in a couple of minutes. When it comes back together, add the strawberry puree, and the powdered sugar.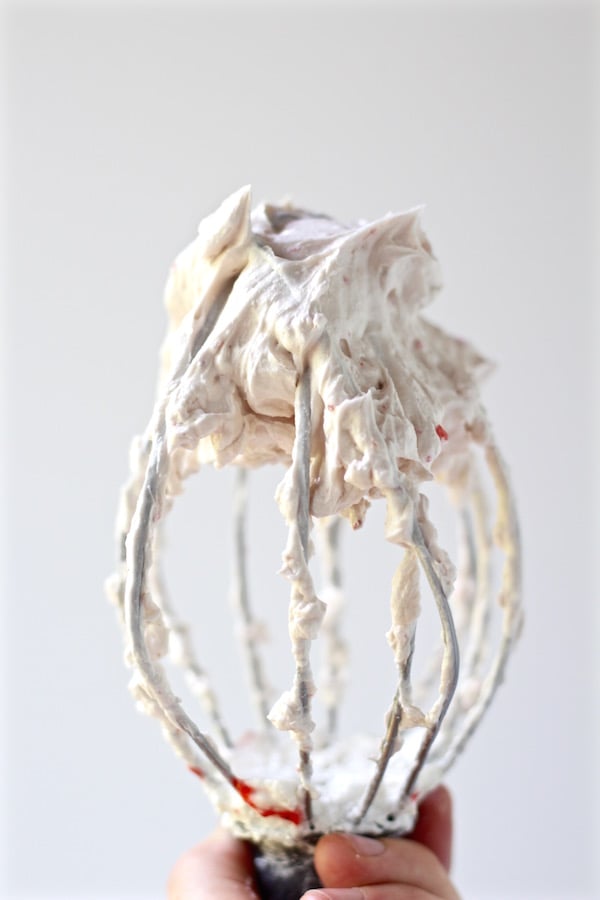 Now we are ready to start frosting the cake. For this cake, I was short on time and didn't level it out first. Since I was adding lots of strawberries to the top of the cake, I wasn't worried about it looking lopsided. If you wish to level the cake first, use a serrated knife to trim the top layer and the sides if necessary. Make sure to add some buttercream in between the layers first. Once it's leveled, wipe off the crumbs, and add a crumb coat, which is a thin layer of buttercream all around the top and the sides to seal in the crumbs. Place the cake back in the fridge for about 30 minutes to set the buttercream.
Again, I skipped the crumb coating myself because of time constraints and went straight to frosting the whole cake all at once. I knew this was going to be rustic- looking cake and perfection wasn't something I was looking for. But if you really want your cake to look clean, then leveling it and adding a crumb coat is a good way to go. Using a turntable is a much better way to frost and level cakes. In the photo below, I placed my round marble top on of the turntable since that is what I used to serve the cake on and I didn't want to have to transfer it again. Here is a link for the turntable that I have here. At under $12.00, it's a bargain and works great.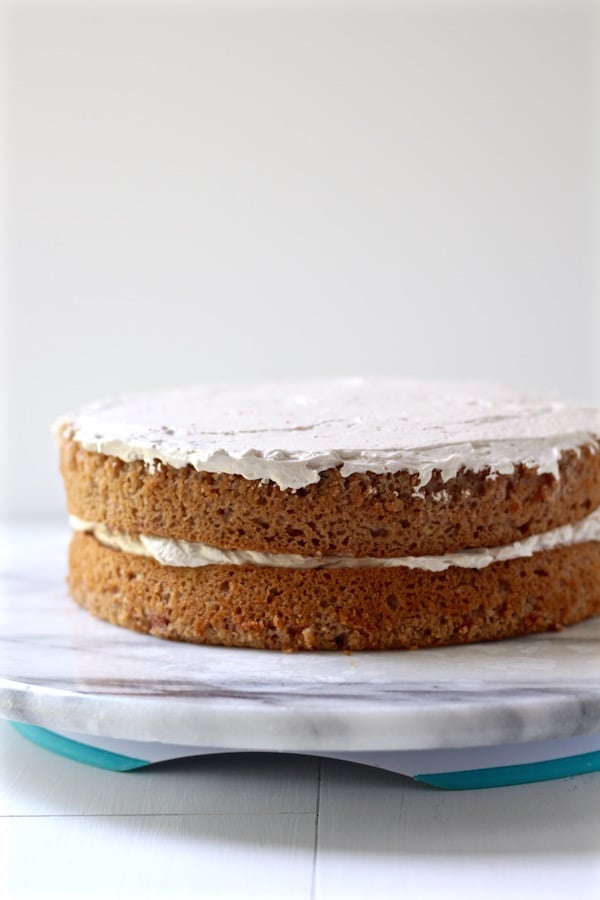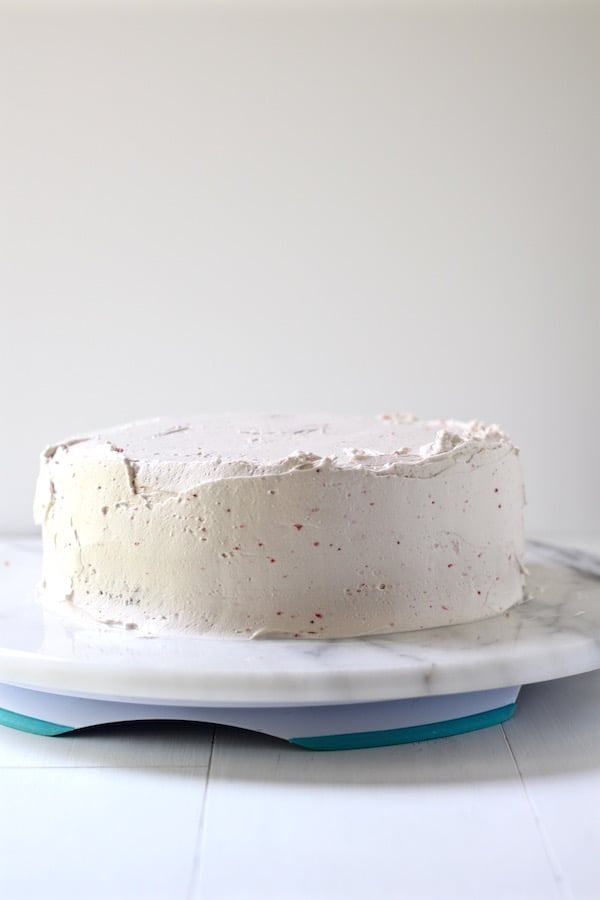 EASY CAKE DECORATING HACKS
As you can see below, I didn't spend much time making the buttercream perfectly smooth, and I'm totally ok with that. To finish decorating the cake, I piped little flowers with the Wilton rose tip. I piped them in a disposable piping bag by simply squeezing and releasing straight up. It's about as simple as you can get for piping flowers. I piped two rows around the cake to ensure that it would hold the strawberry sauce without leaking down the sides of the cake.
I used the remaining strawberry puree and made it into a sauce by simmering it with a little bit of cornstarch and sugar to help thicken it. Make sure your sauce has been chilled before pouring over the cake! You don't want hot or even warm sauce to melt the buttercream. The sauce and flowers really add a nice touch to the top of the cake and hide any imperfections.
To decorate the bottom of the cake, I added toasted coconut chips instead of piping more flowers. I think it gives the cake some charm and texture and is perfect for all you folks out there that aren't expert buttercream pipers like me.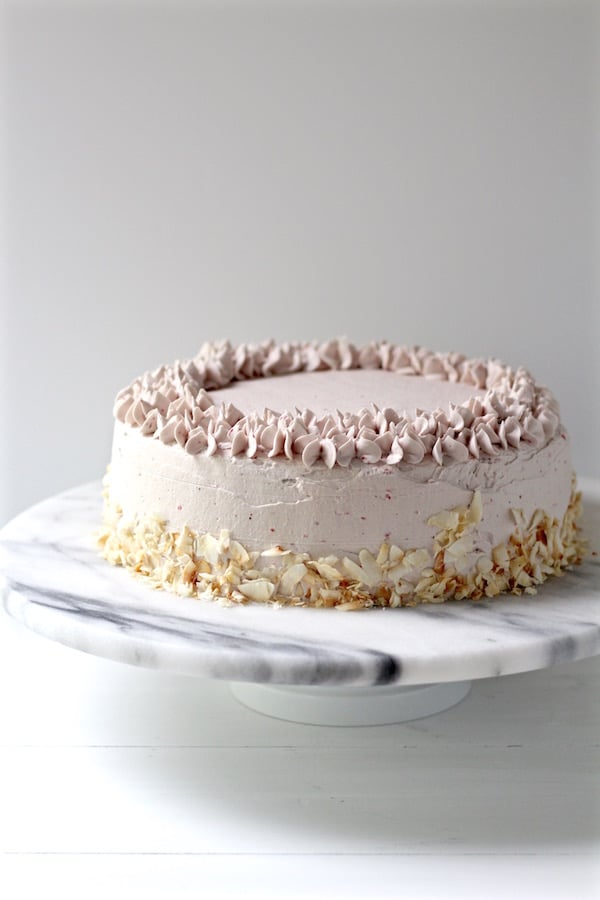 Even though my cake wasn't perfectly level and my piping wasn't perfect, the sauce (plus the extra strawberries that go on top) really hide it well.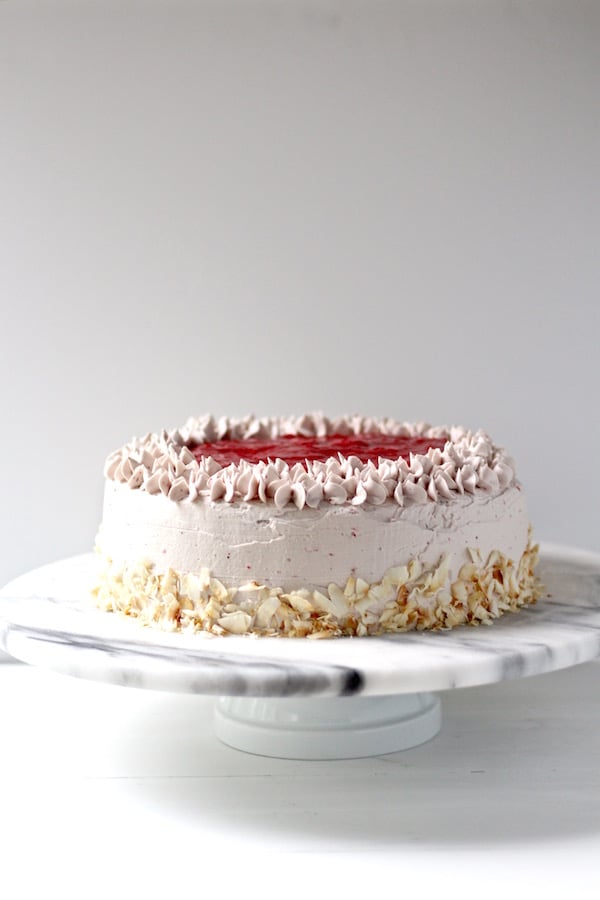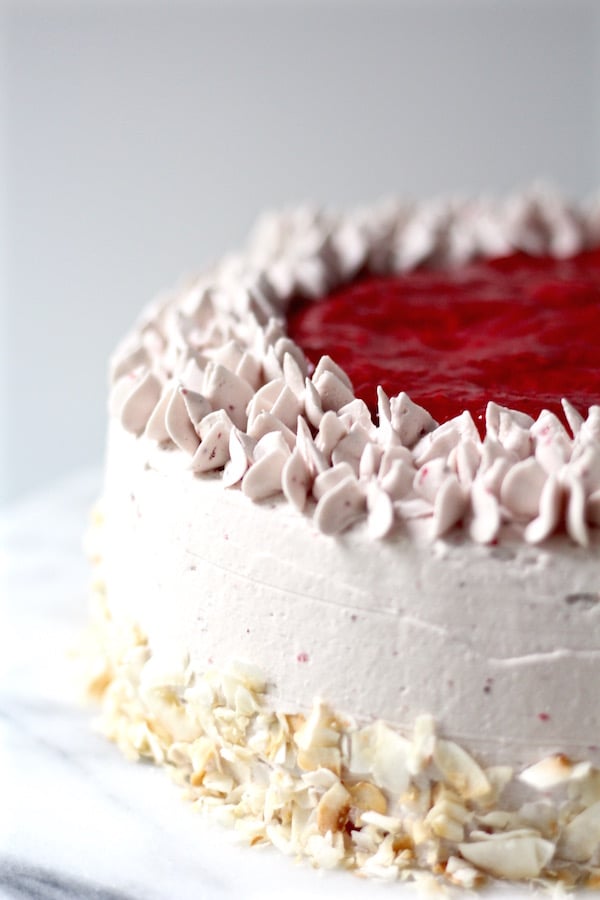 I think the fresh strawberries on top add another dimension of height and color, and really taste great to drive home that real strawberry flavor. I would encourage you to buy extra strawberries for decorating!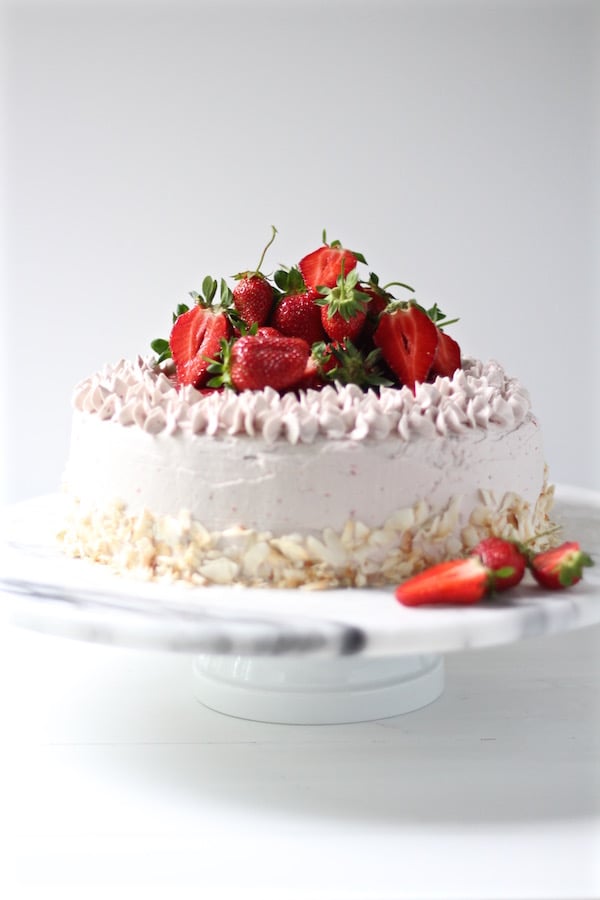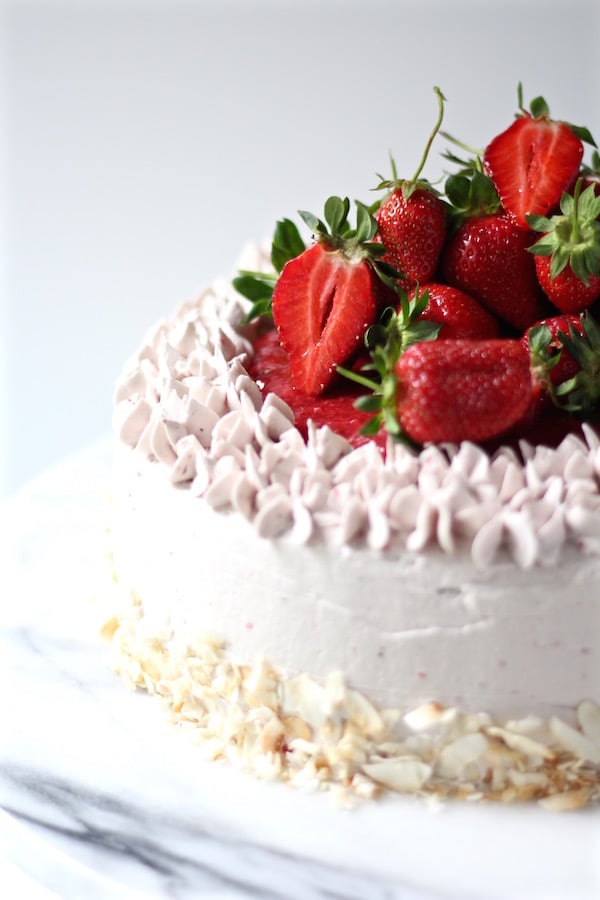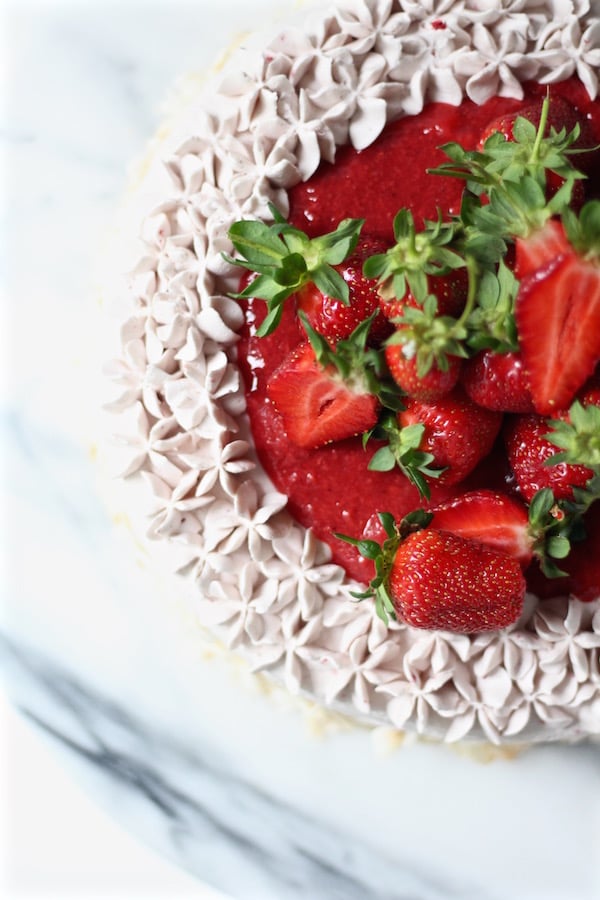 As long as you haven't cut into the cake, you can keep it refrigerated for 24 hours. Any more and I would freeze it to keep it fresh. Also, once you have cut into the cake, you can freeze extra slices for later. As with most cakes, let it sit and room temp for 15-30 minutes before serving, as the cake will have a better texture.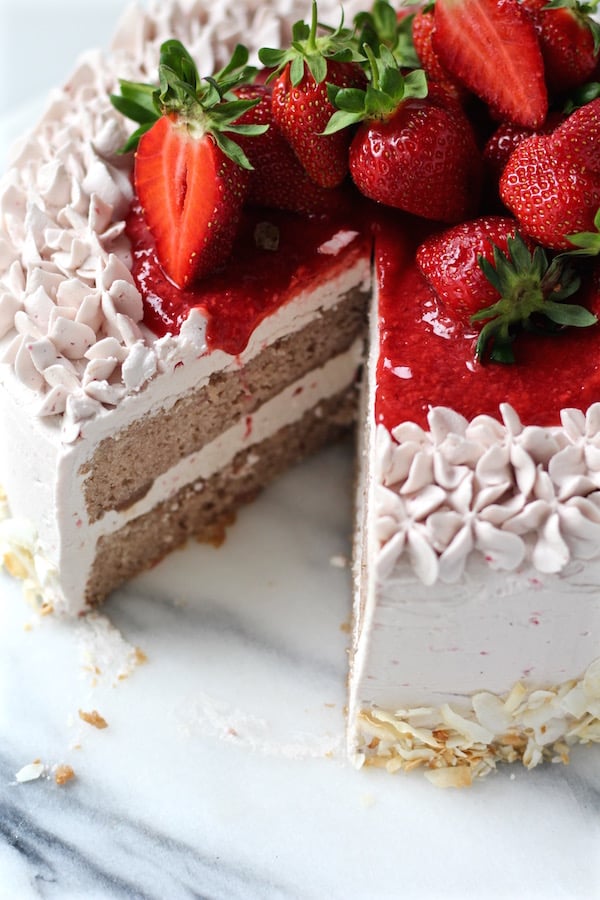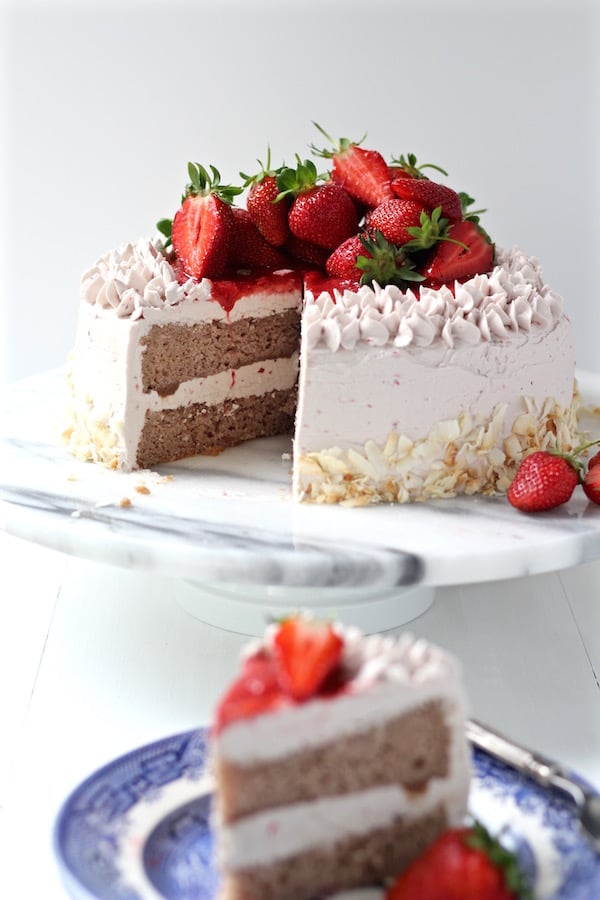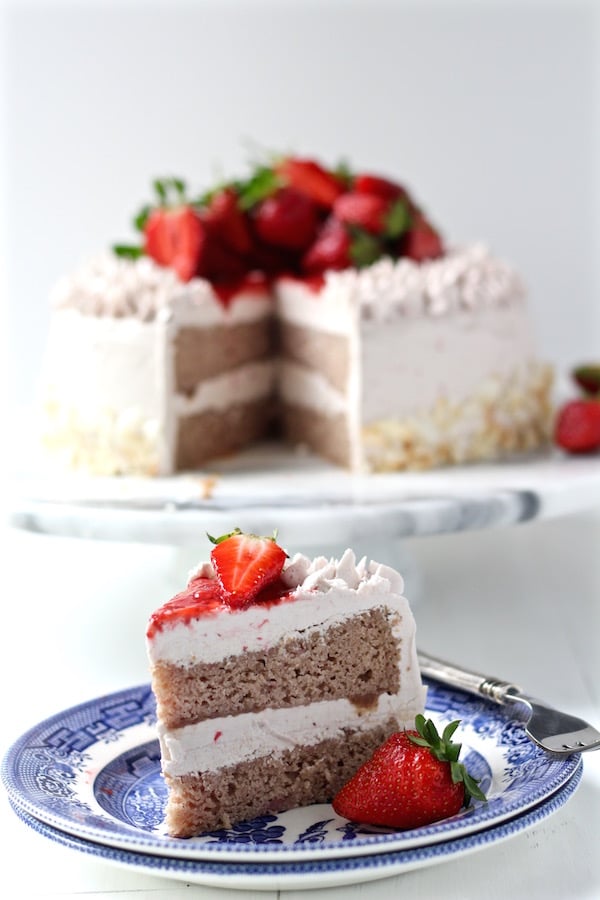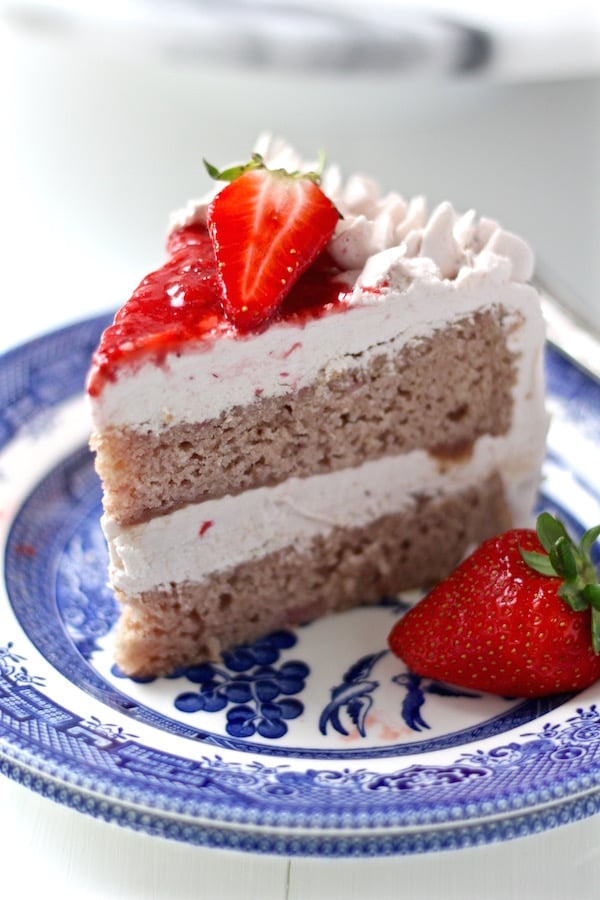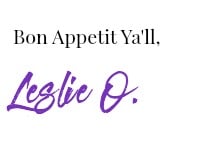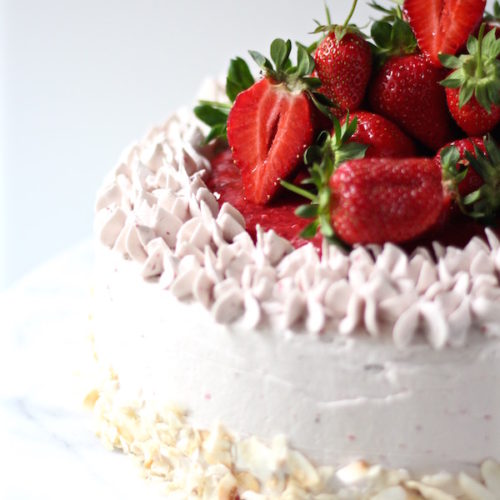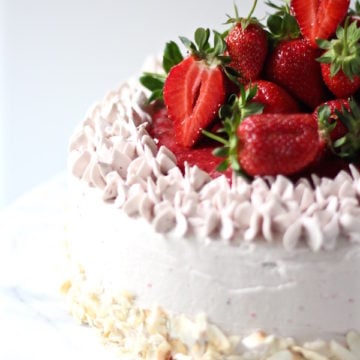 DREAMY GLUTEN FREE STRAWBERRY CAKE & NOT-TOO-SWEET STRAWBERRY MERINGUE BUTTERCREAM
Learn how to make a strawberry cake filled with no artificial ingredients and all natural strawberry flavor. Take your cake to the next level with a not-too-sweet buttercream and easy decorating tips!
Print
Pin
Rate
Ingredients
For the Strawberry Puree
4 1/2

cups

strawberries fresh or frozen

24 oz.

2

tsp

sugar
For the Cake
2 1/4

cups

Gluten Free Flour with xanthum gum added

I like Bob's Red Mill 1 to 1 Baking Flour

1/2

cup

coconut milk

6

egg whites

1 3/4

cup

sugar

2

tsp

vanilla

4

tsp

baking powder

1

tsp

salt

12

Tbsp

butter

softened to room temp.
For the Buttercream
8

egg whites

3/4

cup

plus 2 Tbsp. sugar

2

Tbsp

water

1

tsp

cream of tartar

4

sticks

butter

1 pound or 453 grams

1/4

cup

macerated strawberries

leftover from strawberry puree

2-3

cups

powdered sugar

sifted (depending on how sweet you like it)
For the Strawberry Sauce Topping
Remaining strawberry puree

leftover from the cake and buttercream

2

tsp

sugar

1

tsp

cornstarch
For Decoration
cup

Toasted coconut chips

about 1/2-3/4

cup

About 1 of fresh strawberries

Recipe Adapted from Cook's Illustrated
Instructions
For the Strawberry Puree
Place strawberries in a colander and sprinkle 2 tsp. sugar over them. Place the colander in another bowl to catch the drips. Macerate for about two hours until the strawberries have sweetened. Stir occasionally.

Puree the strawberries in a blender or food processor and set aside.
For the Cake
Preheat the oven to 350 degrees.

Mix the flour, sugar, baking powder, and salt together in a bowl or standing mixer.

Add in the 12 Tbsp. softened butter and mix until the mixture resembles course sand.

Combine the coconut milk, 3/4 cup of the strawberry puree, and vanilla. Add the wet ingredients to the batter.

Add in the whites and mix until incorporated.

Butter two 9-inch cake pans and cut out a piece of parchment paper to the bottom of each one. Butter the top of the parchment paper too.

Add equal amounts of the cake batter into the pans.

Bake for about 22-25 minutes or until the cake just springs back to the touch and the edges of the cake are separating from the pan.

Remove from the oven and place on a rack to cool, about 20-30 minutes.

Skim a knife around the edges of the cake to release if from the pan. Invert the cakes on a rack to finish cooling.
For the Buttercream
Whip 8 egg whites in a standing mixer with the whisk attachment over medium- high speed. If the egg whites reach stiff peaks before the sugar and water mixture is ready, simply turn down the mixture to medium speed until it's ready.

Stir the sugar and water together in a small saucepan and turn on medium-high heat. Insert a thermometer into the sugar and water mixture and let it reach 240 degrees. Remove it from the heat immediately and slowly pour in the simple syrup in between the whisk and the side of the bowl so it doesn't stick to the bowl. You don't want the sugar/water mixture to go above 250 before adding it to the egg whites.

On medium-high speed and whip until the bottom of the outside of the bowl is cool to the touch, about 15 minutes. You can place ice packs around the bowl to cool the bowl down faster.

Now add in the 4 sticks of butter (in chunks) until they are incorporated. The mixture will deflate and almost curdle or look soupy, but DON'T WORRY, this is normal. Just keep whipping until it comes back together.

Add in 1/4 cup strawberry puree.

Add 2-3 cups of powdered sugar on low speed, depending on how sweet you want it.
For the Strawberry Sauce
Add the remaining strawberry puree to a small saucepan with 1 tsp. cornstarch and 2 tsp. sugar. Simmer for 3-4 minutes or until it starts to thicken. Let cool and place in a bowl and refrigerate.
Decorate the Cake
Place one of the cakes on a turntable and cover with buttercream. Place the other cake on top and check for unevenness. You may choose to level the cake. Add a crumb coat to the cake by frosting a thin layer all around it. This will seal in the crumbs. Place in the fridge for about 30 minutes to set the frosting. It doesn't need to be covered.

Now frost the cake with buttercream and smooth the edges as much as possible. Using a

bench scraper

is helpful.

Take a piping bag and place a

Wilton rose tip

(or whatever decorating tip you like) inside. Cut the tip of the bag and place more buttercream inside.

Pipe two rows of flowers all the way around the top of the cake.

Fill the center of the flowers with the strawberry sauce.

Coat the base of the cake in toasted coconut chips and top with fresh strawberries.

Keep the cake covered in the fridge until ready to serve. Let the cake sit at room temperature for about 15-30 minutes before serving. The cake will soften and have a better texture.