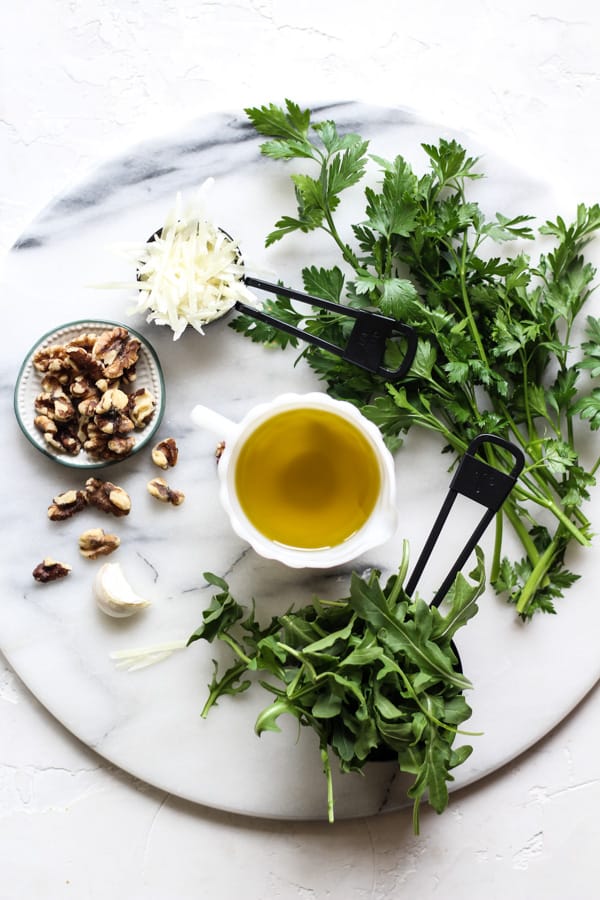 Being inspired by your food is essential. I mean, we all have to eat every day to live, so why not enjoy what you are putting into your body?!
Pesto is one of those tasty accompaniments made for dolloping small amounts that can really wake up your palate, and your food. Some of my favorite ways to enjoy pesto are drizzled on a crispy fried egg, coated in angel hair pasta, topped on hearty tomato soup…I could go on and on and on.
However, there are a couple of downsides to traditional basil pesto that I don't love:
1. It can really overwhelm the taste of your food. One dollop too many, and you will be tasting basil and garlic for the rest of the day (which is really not that bad).
2. Basil pesto contains pine nuts, which have the most wonderful crunch and nutty flavor. But, have you seen the price of pine nuts!! They can range anywhere from $13-20/ lb, so you really pay for that flavor. YIKES!! Instead, use walnuts or sunflower seeds.
3. Fresh basil oxidizes really quickly (it turns dark), so you must add ascorbic acid to keep it fresh. Arugula and parsley won't oxidize like basil, keeping the flavor fresh for longer.
Arugula lends a peppery bite, while parsley gives earthy, herbaceous notes.
The last change I've made to traditional pesto is the cheese. Now there is absolutely nothing wrong with shredded parmesan or the more expensive counterpart, Parmigiana Reggiano cheese.
But I find that pecorino Romano is right up there with some of the finest Italian cheeses. You can find it right next to the blocks of fine cheeses in the grocery store. It's a sheep's milk cheese with a sharp flavor that is oh-so-good!
HOW DO YOU MAKE PESTO?
A food processor is the easiest way to blend pesto.
If you don't have a food processor, you could also work really hard and chop up the arugula and parsley really finely and use a mortar and pestle to blend all the ingredients together.
Or you could just bang your head up against the wall.
A blender works just fine too. If you use a blender, fold in the grated cheese by hand to help it keep its texture. A food processor won't puree it as finely if you pulse it a few times just to combine.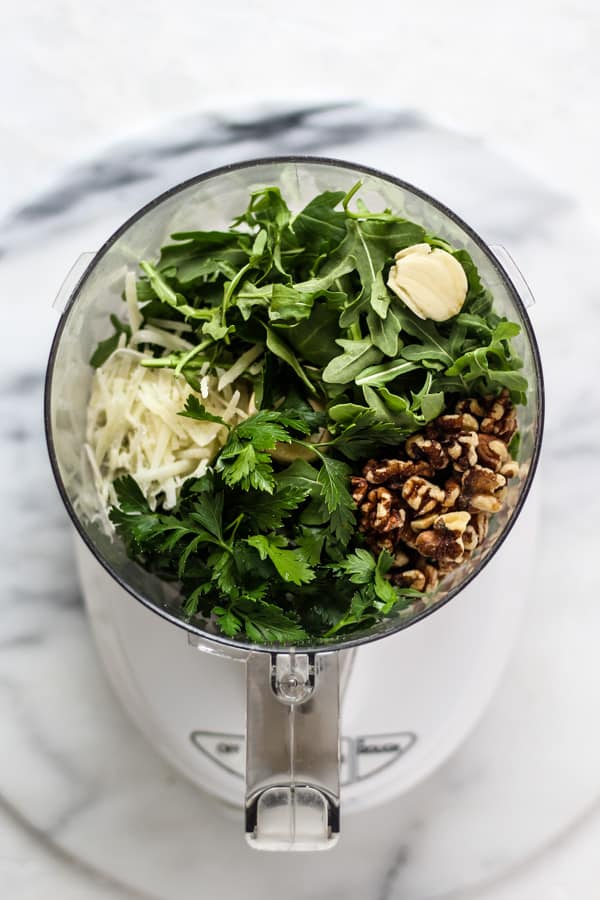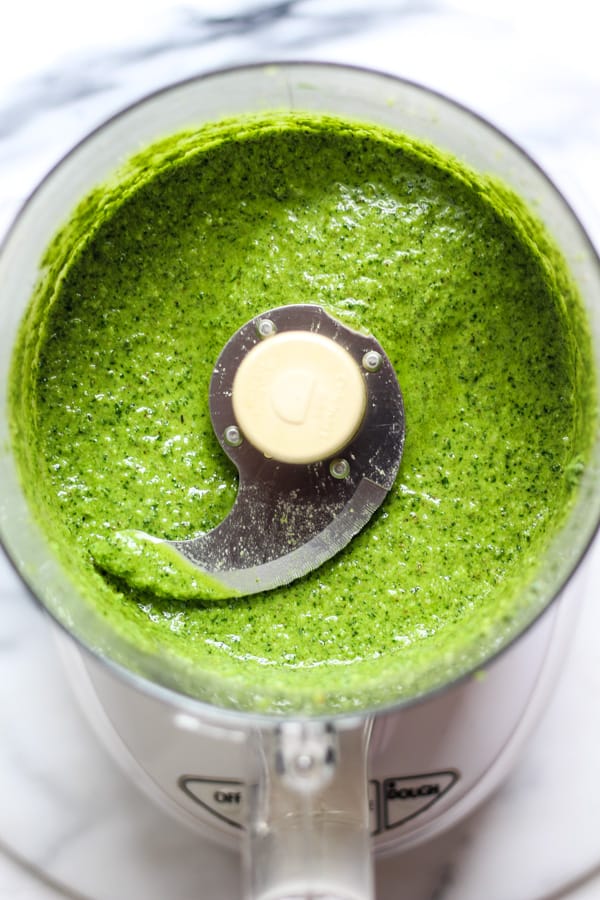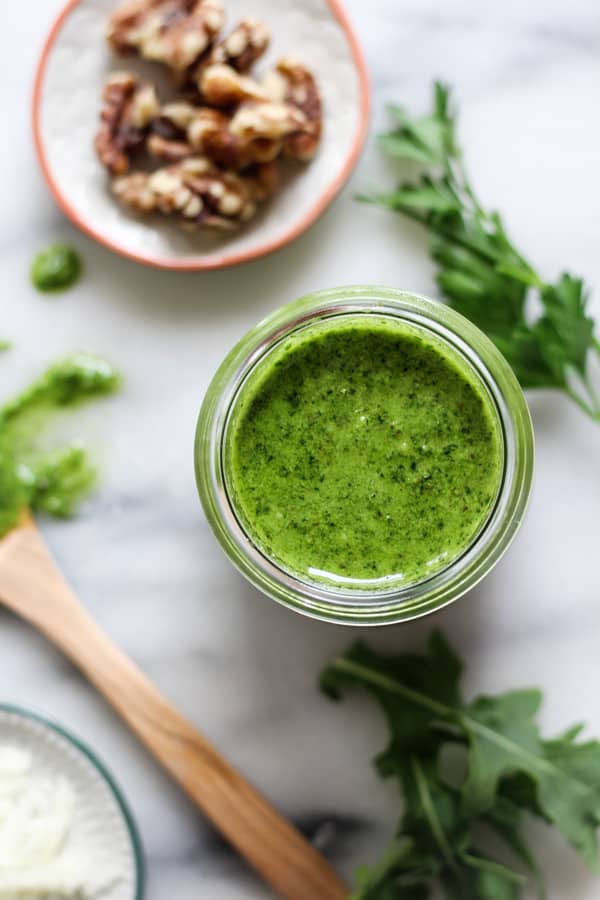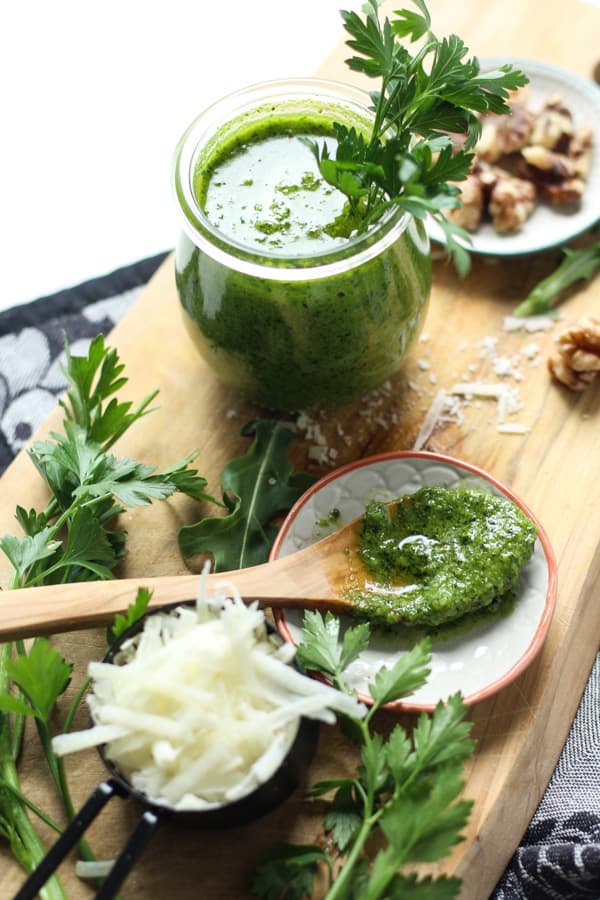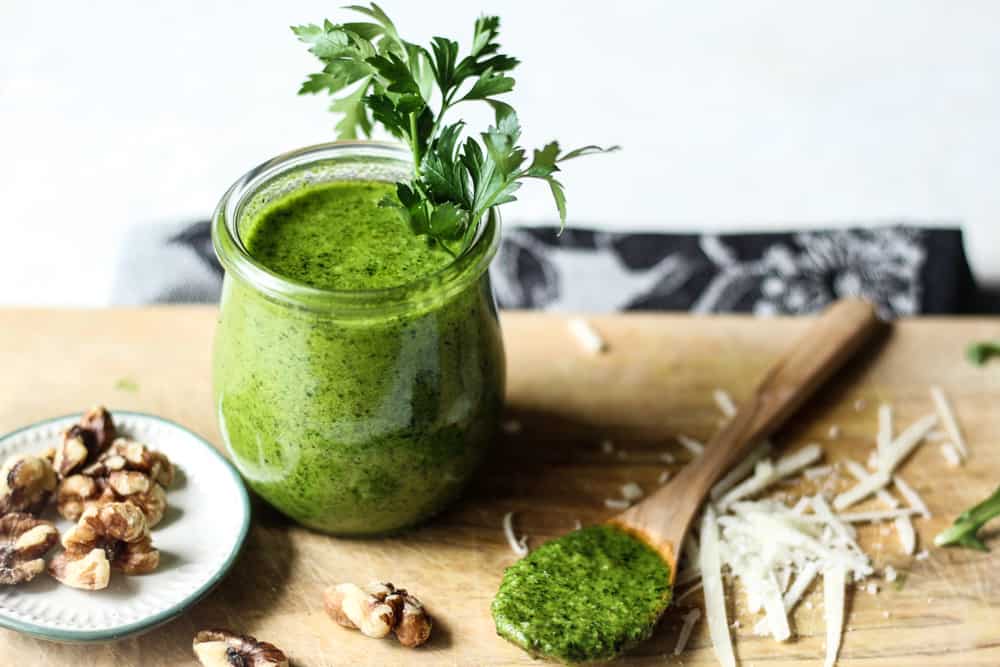 So dollop, slather, or smear this lovely pesto on any and everything!!
This post contains affiliate links for amazon.com. If you purchase any items through the links, I receive a small commission, which helps support Bessie Bakes! I only recommend products I use and love.
Bon Appetit Ya'll,
Leslie O.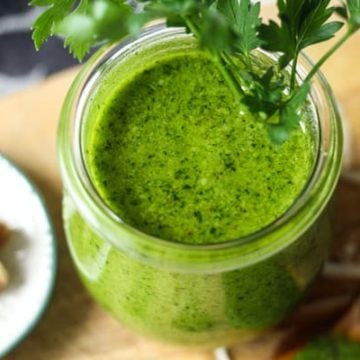 Easy Arugula Parsley Pesto
Try this new and tasty version of traditional pesto with peppery arugula, herbaceous parsley, and pecorino cheese!
Print
Pin
Rate
Ingredients
2

cups

arugula

small handful flat leaf parsley

1/2

cup

olive oil

1/4

cup

pecorino Romano cheese

shredded

3

Tbsp

walnuts or sunflower seeds

1

clove

garlic
Instructions
If using raw walnuts or sunflower seeds, toast in a dry pan over medium heat until slightly golden brown. Remove from the heat immediately. Don't burn them!!!

In a food processor, pulse the arugula, parsley, and walnuts or sunflower seeds.

With the processor running, drizzle in the olive oil until combined.

Add the pecorino Romano cheese and pulse a few times until just combined.

Store in a glass jar with a tight-fitting lid. Top with a little more olive oil to preserve.

If using a blender:

Add all the ingredients except for the cheese and blend on medium-low speed until combined.

Remove from the blender and fold in the cheese.

Store in a glass container with a tight-fitting lid. Top with a little more oil to preserve.