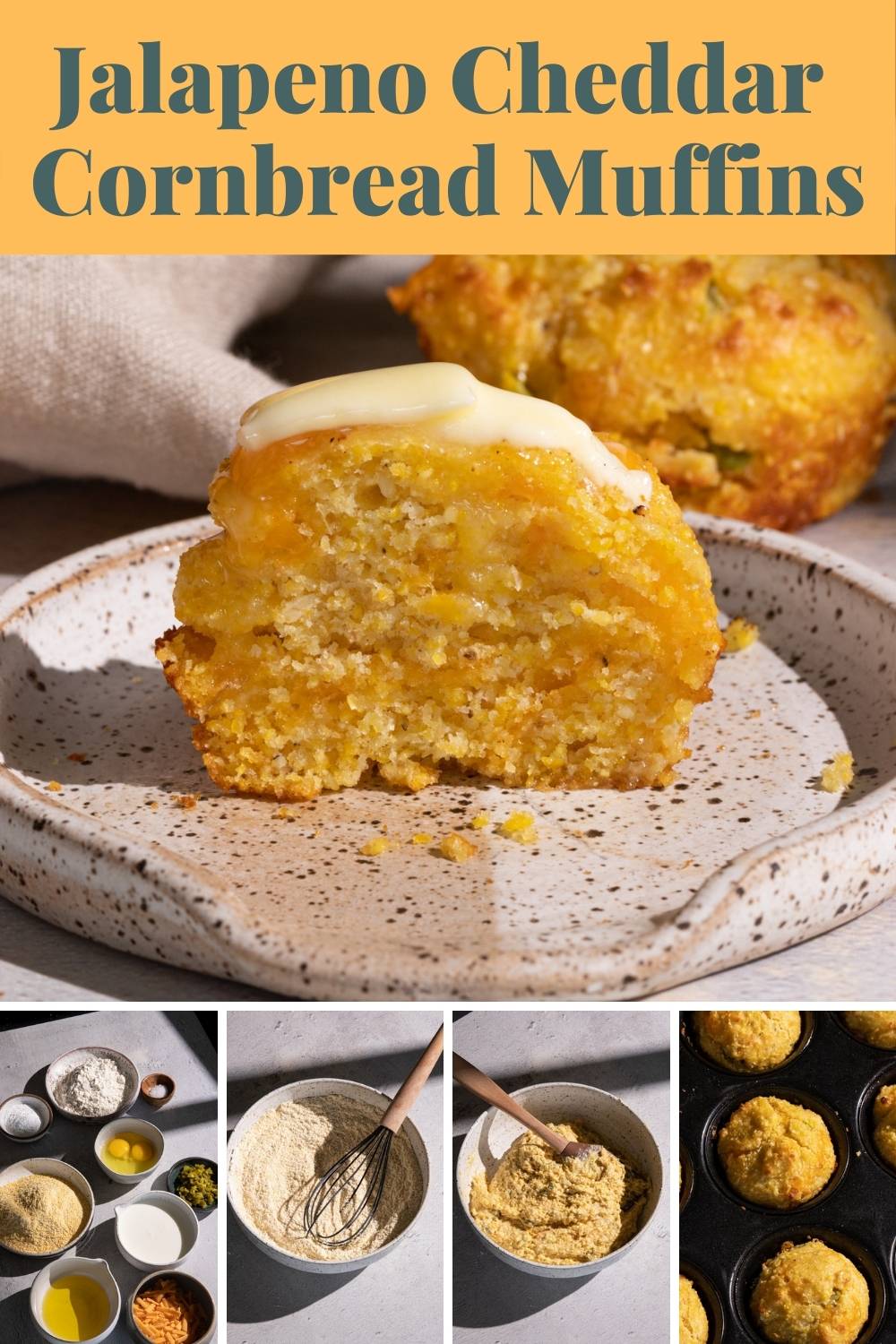 This Jalapeno Cheddar Cornbread is savory and crispy on the outside and soft on the inside. The slightly spicy and cheesy flavors pair perfectly with traditional cornbread!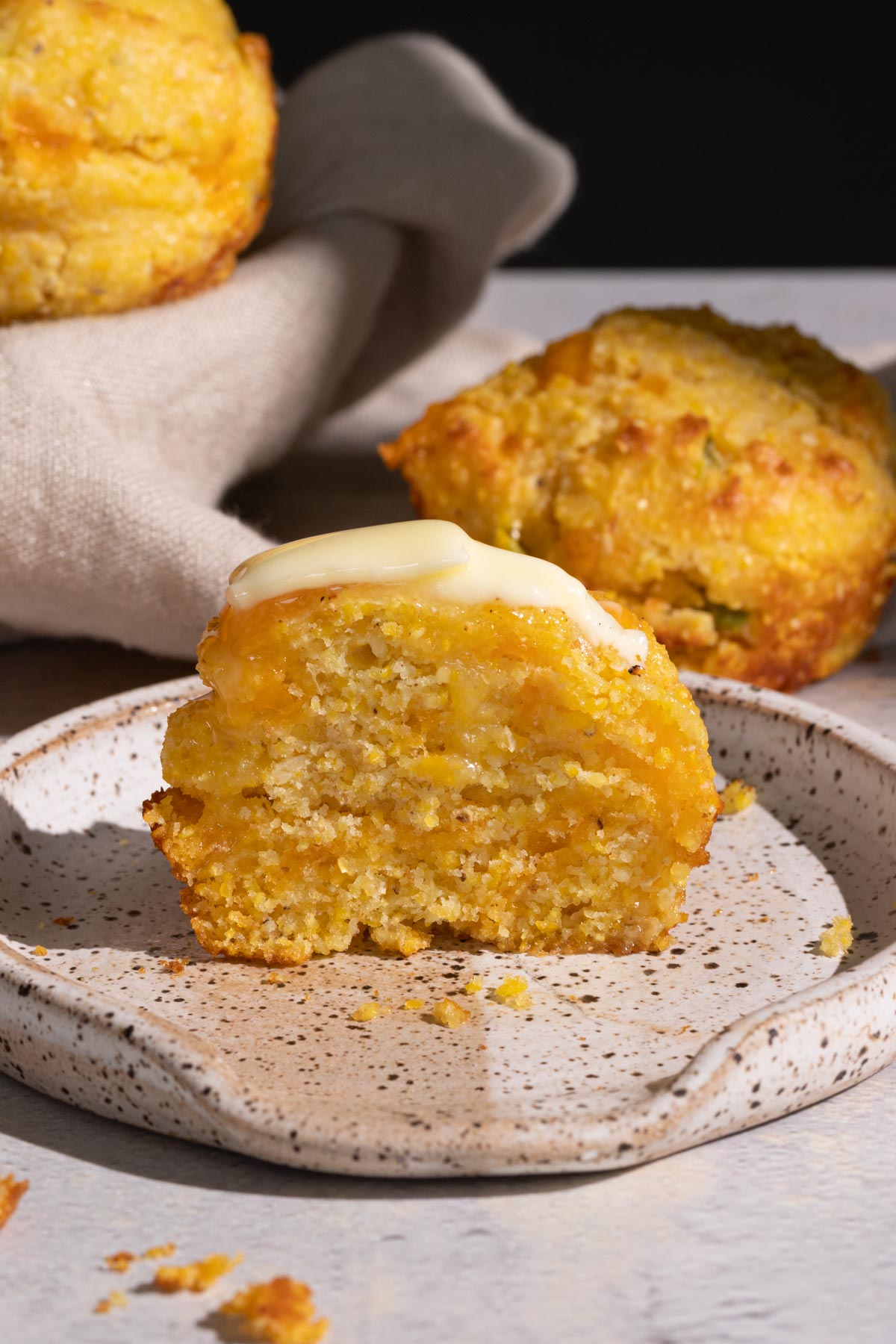 People from different regions in the U.S. have their own preferences for how they enjoy their cornbread. I personally prefer my cornbread more savory and not sweet, so this recipe reflects that.
I do however love honey butter with my cornbread (even with the jalapenos and cheddar) because I don't ordinarily add sugar in my cornbread batter.
I love the layers of flavor from the pickled jalapenos, to the cheesy bites, mixed with the cornmeal.
Is this cornbread spicy?
I use canned jalapenos, which are pickled and aren't very spicy at all. They are widely available at grocery stores too in the canned food section. Canned jalapenos are a great way to add flavor but with less heat. If you prefer a spicier cornbread just add 1 more tablespoon of chopped canned jalapenos.
What kind of cornmeal should I use?
The more course the cornmeal grind, the more texture the cornbread will have. I try to find a medium grind cornmeal, or for a bit more texture, stone ground works well too.
If you prefer a soft and light texture with a milder cornmeal flavor, look for finely ground cornmeal. Sometimes you won't find the grind type on the packaging so if it doesn't say, it will likely be in between a fine to medium grind which will work great.
It can be confusing because some cornmeal options will say "Self-Rising Mix", which has baking powder or baking soda added, plus traditional flour too. These won't work for this recipe since we are adding in the rising agents and all purpose flour in this batter. Just look for "plain cornmeal" or check the ingredients on the back and make sure it doesn't have extra flours, baking powder or baking soda, or dried buttermilk, etc. added.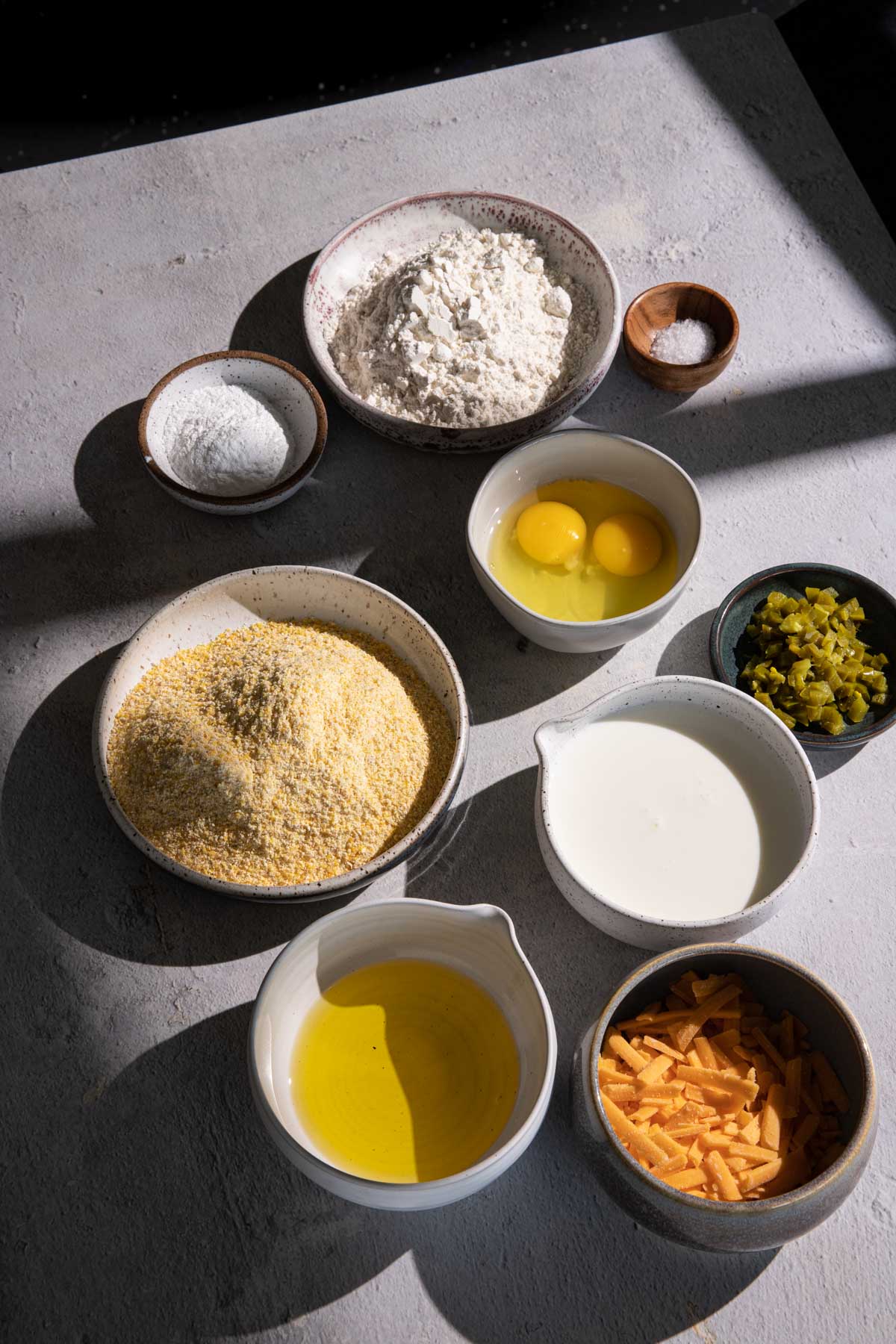 How to make this recipe
It's so simple to make cornbread batter because it can be made in one bowl with a whisk! Just whisk your dry ingredients together, then add the wet ingredients, then fold in the cheese and jalapenos. Scoop into a muffin pan and bake.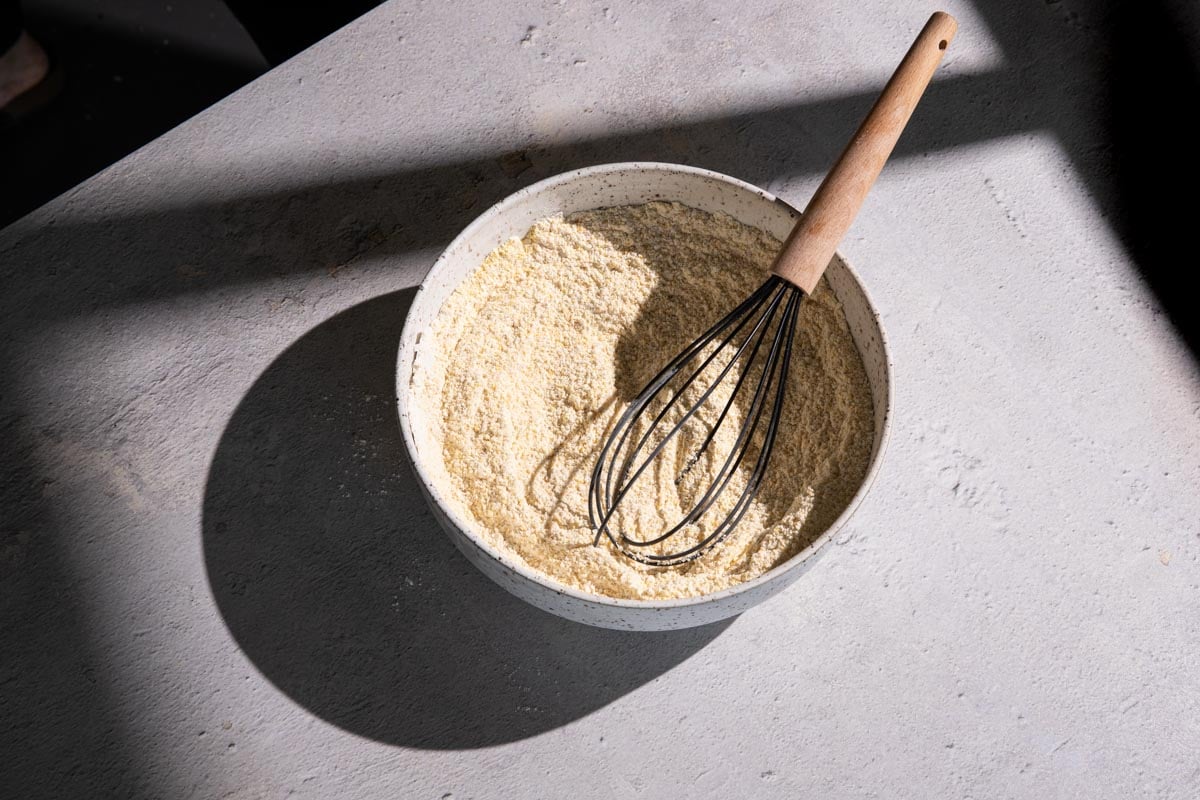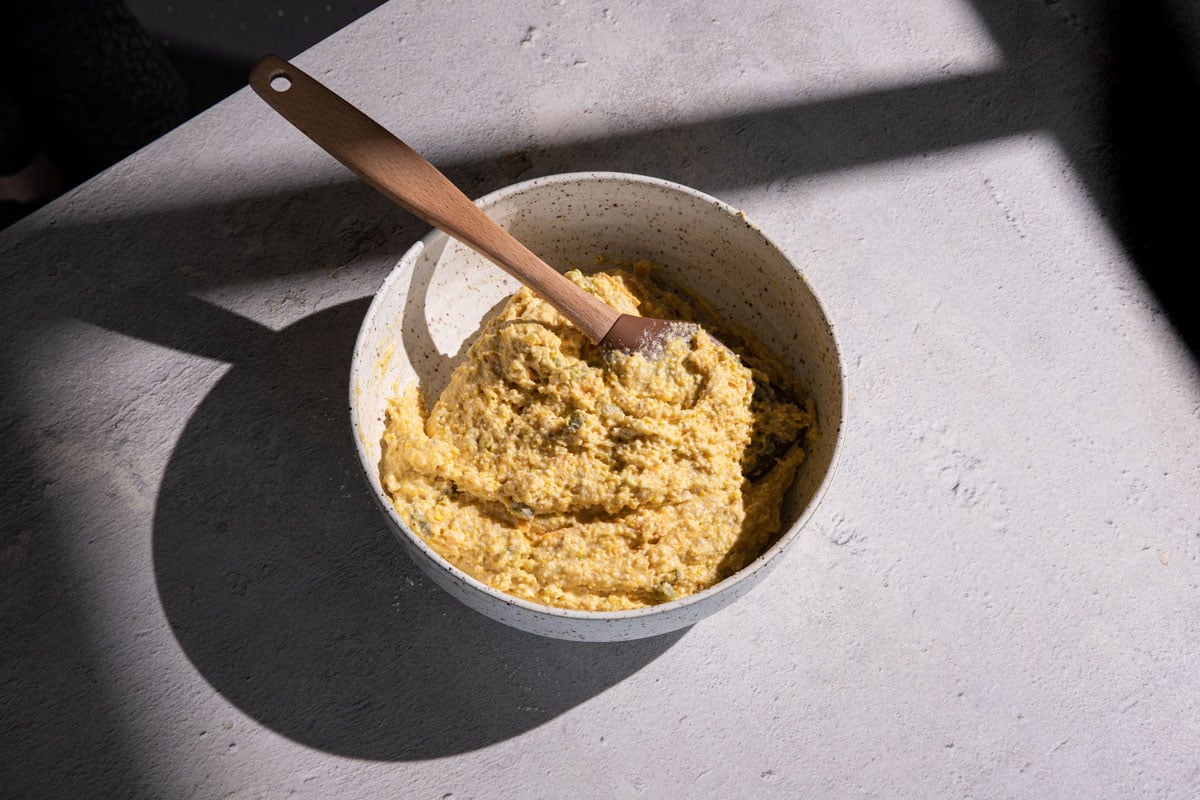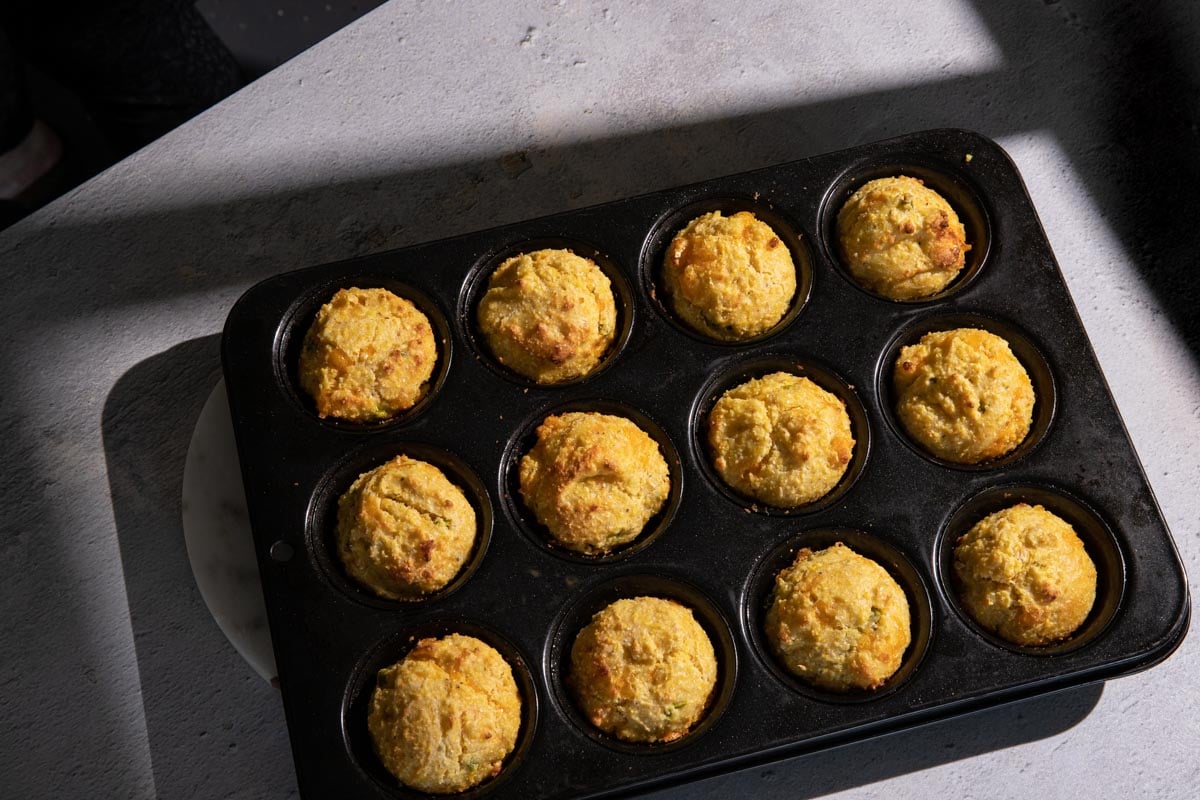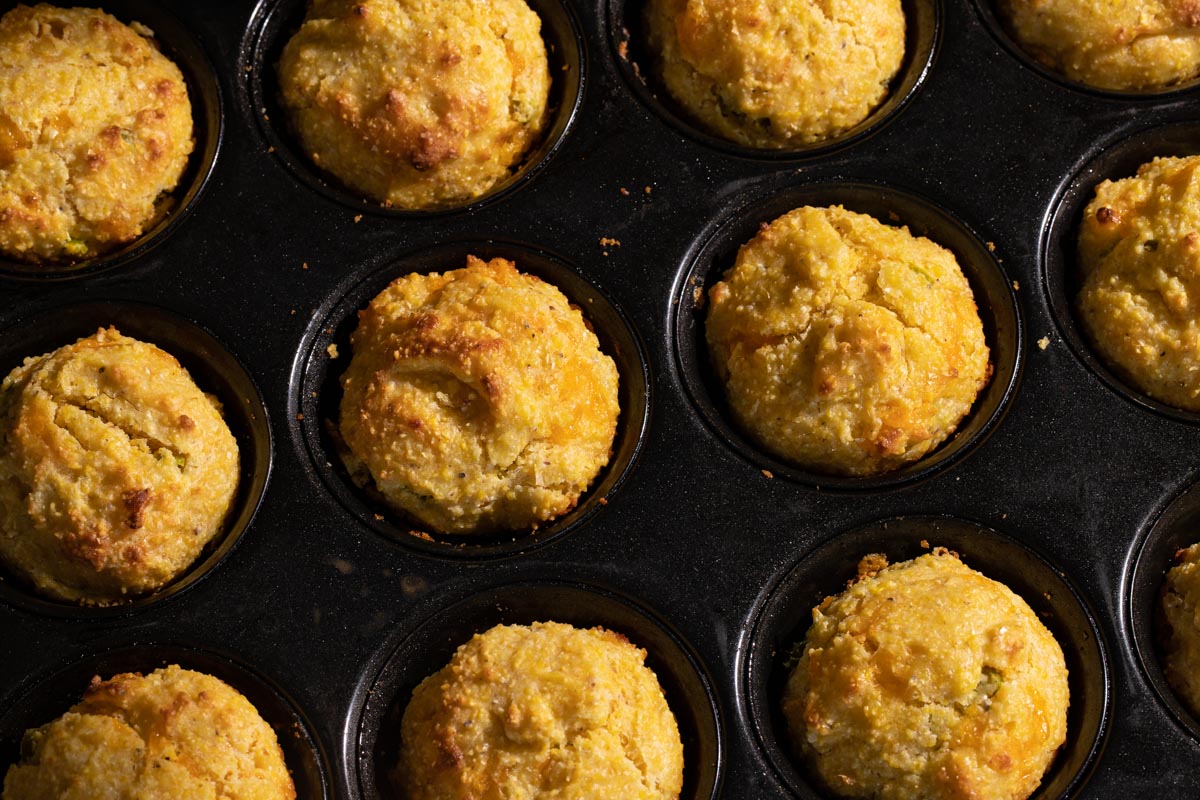 Can I make this in a cast iron skillet instead?
Yes! I originally intended on making this cornbread in a cast iron skillet (because that's how my grandmother always made it) but I do like the fluffier texture of muffins, so I opted for that instead. If you use a cast iron skillet, just add some oil to the pan to grease it to keep the cornbread from sticking. It will take longer to bake, so take out of the oven when it's golden brown on top.
Here is an affiliate link on Amazon for a best-selling cast iron pan (you can pick what size you want).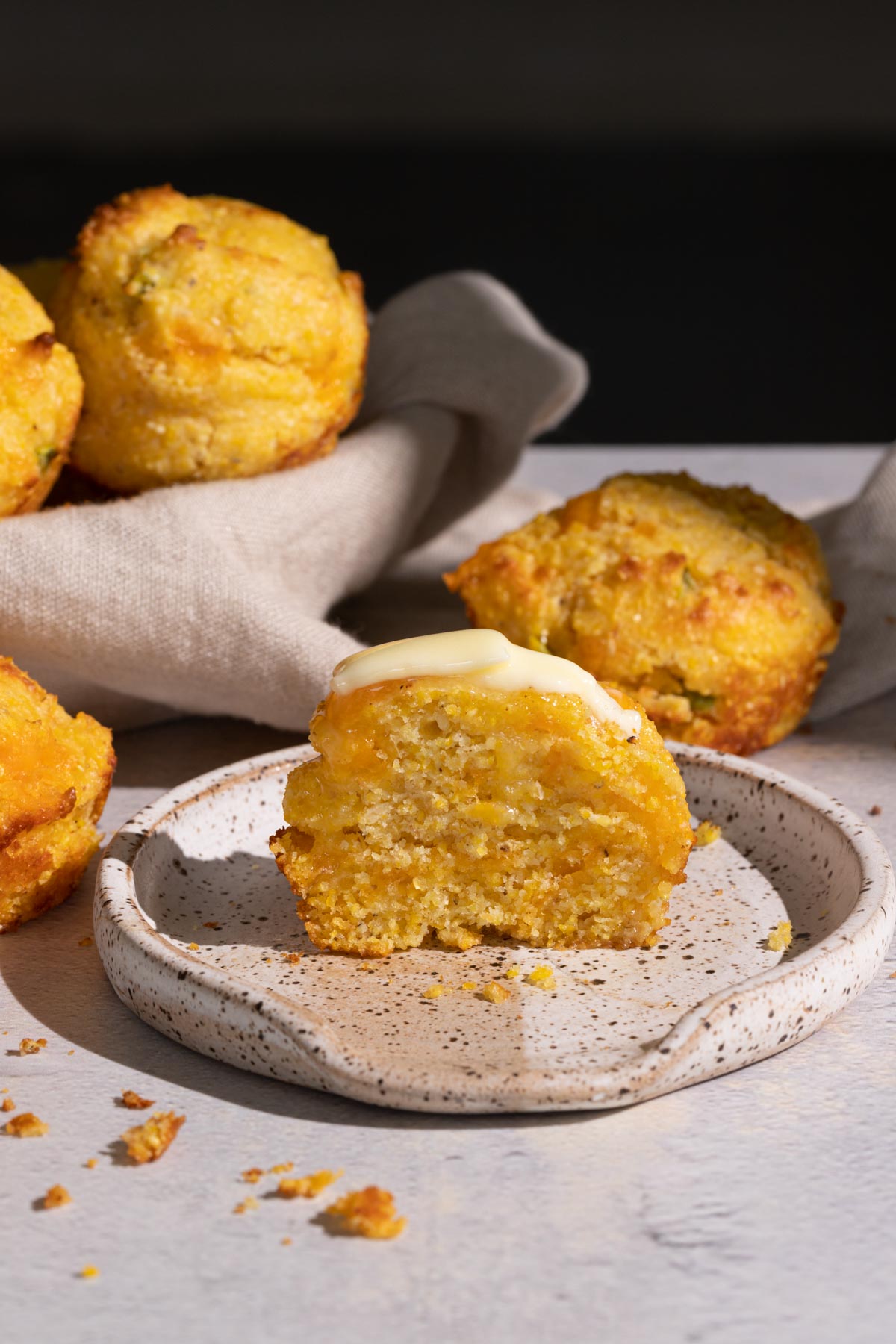 Serve the cornbread immediately with butter on top and add a drizzle of honey if you like too!
Sizzle sizzle ya'll,
Leslie O.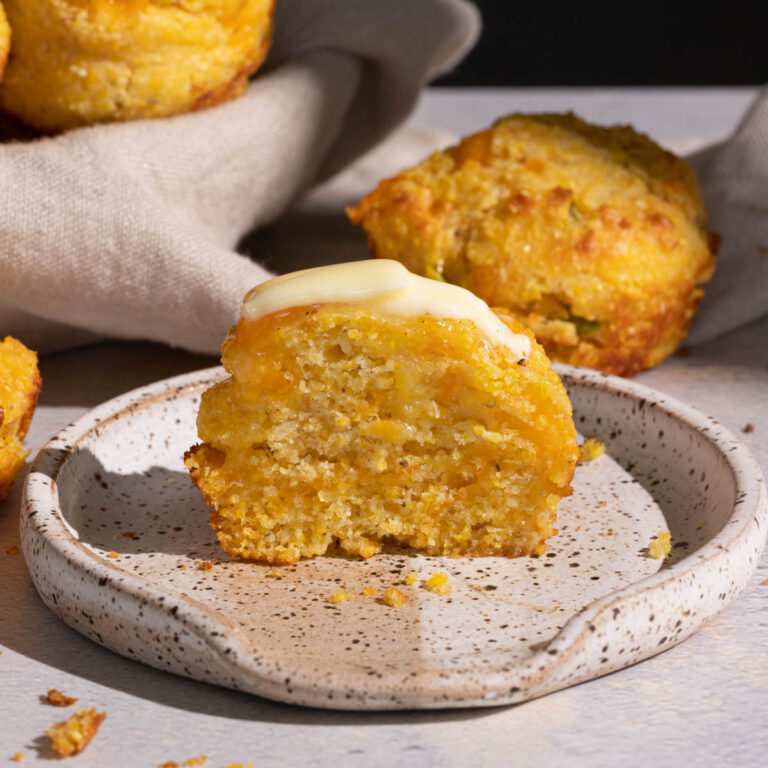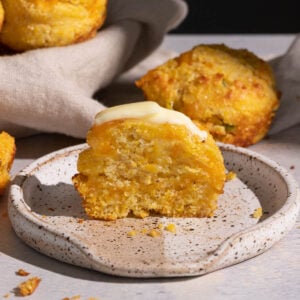 Jalapeno Cheddar Cornbread
Southern-style savory cornbread gets a flavorful boost with jalapenos and cheddar cheese!
Print
Pin
Rate
Ingredients
1½

cups

Cornmeal, medium or fine grind

238 grams

1½

Tbsp

Baking powder

17 grams

1

cup

All purpose flour (or gluten-free all purpose flour)

135 grams (gluten-free flour will weigh less)

1½

tsp

Salt

7 grams

1¼

cups

Buttermilk (or 1 cup milk mixed with 1 Tbsp. vinegar)

300 grams

2

Eggs

¼

cup

neutral oil like grapeseed or canola oil

54 grams

1

cup

cheddar cheese, shredded

100 grams

2

Tbsp

canned jalapenos, chopped

add an extra Tbsp if you like it spicy
Instructions
Preheat oven to 450 degrees.

Shred the cheddar cheese if you purchased a block of cheddar.

Whisk cornmeal, flour, salt, and baking powder in a large bowl.

Add buttermilk, then whisk in eggs and oil.

Fold in the cheddar cheese and jalapenos.

Brush oil into 12 muffin tins. Scoop into 12 equal portions for smaller muffins. If you want larger, fluffier muffins, scoop into 9 muffins (which I prefer).

Bake until the crust is golden brown about 10-11 minutes depending on how many muffins you scoop.