Check out these 5 Ingenious Ways For How to use a French Press with lots of step-by-step photos and a fun video too!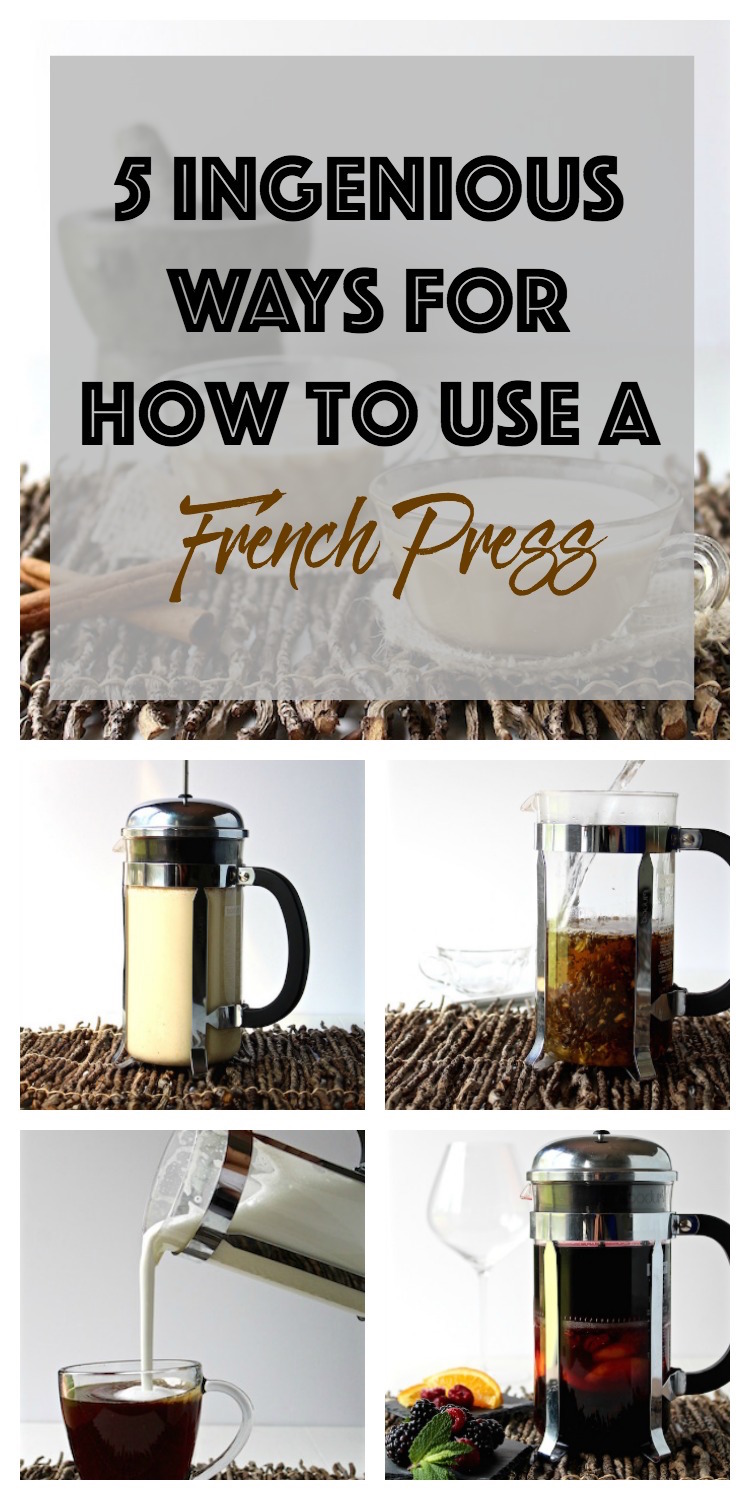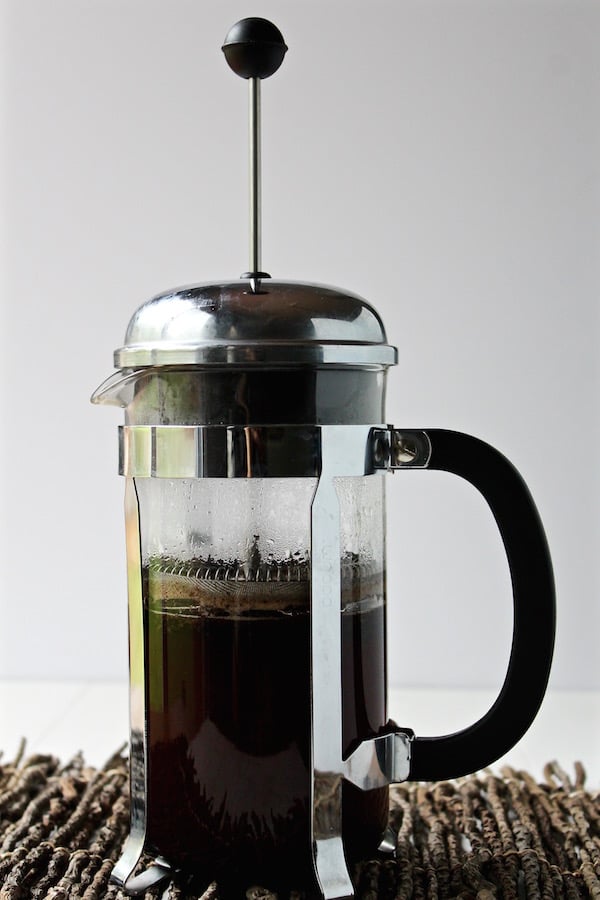 I can't even tell you how excited I am about this post because I found 5 Ingenious ways for how to use a French press! The handy dandy French press can make a lot more beverages than just coffee. Some of the ideas below are fairly common uses for a French press, however, I have come up with a few MORE awesome ways that you might never have considered. One of them is quite INGENIOUS, I must say! I have included some step-by-step photos to show you just how versatile this little miracle product really is.
A FEW REASONS WHY I LOVE MY FRENCH PRESS
It's compact and barely takes up space in your cabinet, leaving your countertops clutter-free. It's perfect for dorm rooms, apartments, or anyone who is tired of large appliances hogging up precious cabinet space.
It makes absolutely delicious coffee, OBVIOUSLY!
There is no need for coffee filters or coffee pods that create an ENORMOUS amount of waste for our planet, which in turn, saves you money!
It doesn't require electricity, so you could take it camping or on vacation if need be.
It's VERY easy to clean. All of the components can be taken apart and cleaned if necessary.
The fine-mesh strainer makes it perfect for straining liquids with even the finest particles.
Now I'm going to show you how to use your French press, for more than just coffee!
1. MAKE FROTHY MILK FOAM FOR COFFEE
Are you spending upwards of $4.00 for a cup of coffee at coffee shops just so you can get that wonderful frothy milk? Did you know you easily make it in just seconds right after steeping your coffee? Just look at that perfect milk foam!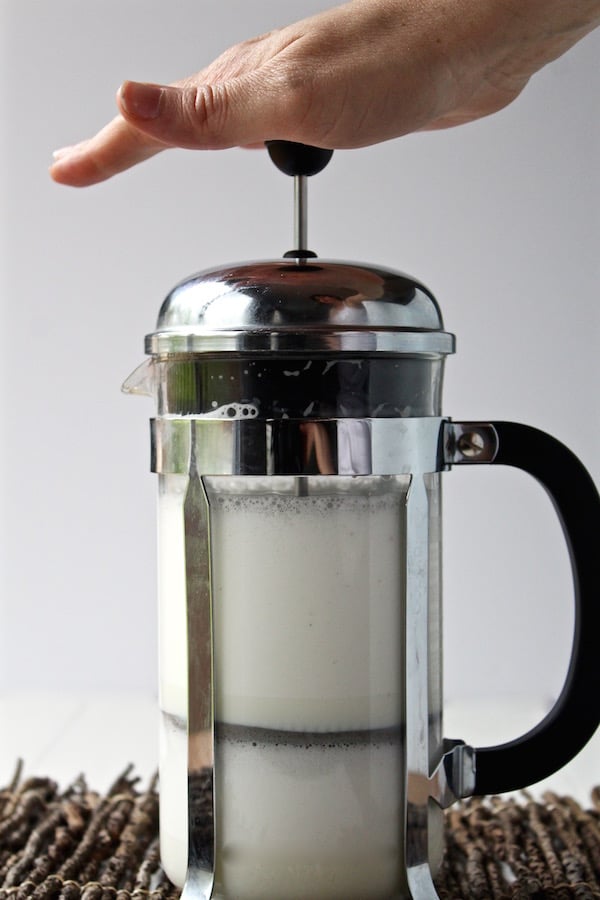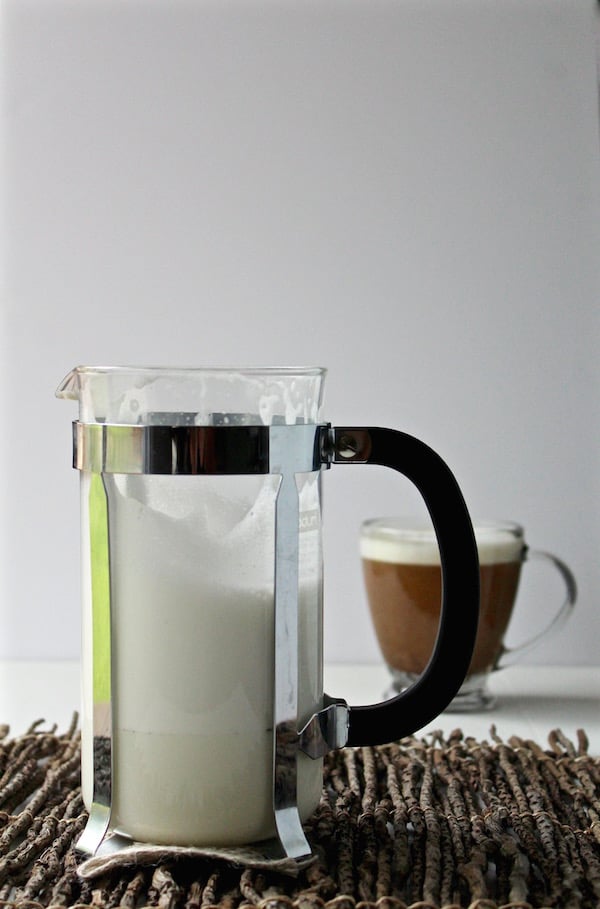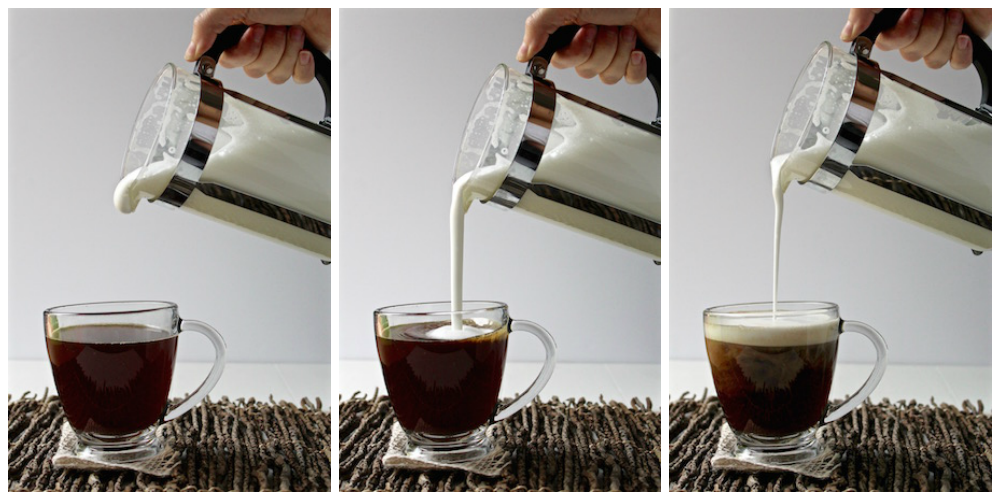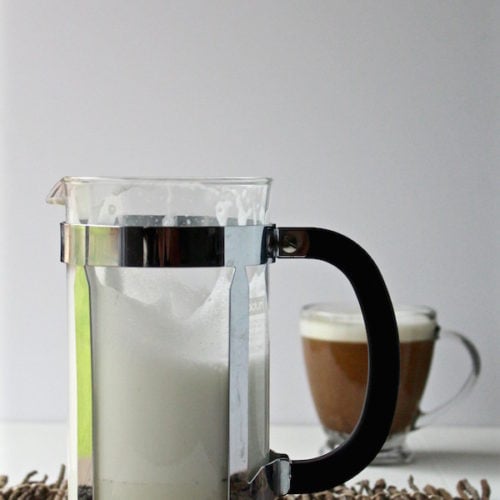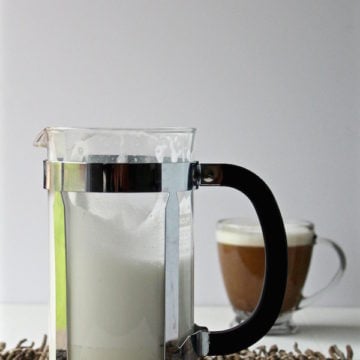 How to Make Frothy Milk Foam with a French Press (STEP-BY-STEP PHOTOS)
Save money and learn how to make perfect frothy milk for your coffee in your French press at home in just seconds!
Print
Pin
Rate
Ingredients
1

cup

milk for two cups of coffee (whole

reduced-fat, skim, half-and-half, or heavy cream)
Instructions
Heat milk or cream in a small saucepan over medium to medium-high heat while your coffee is steeping in the French press. Keep a close watch on it, as milk can bubble over!

Heat until it starts to barely bubble around the edges.

Pour your coffee into a cup, rinse out the coffee grinds really well and pour in the hot milk.

Pump the strainer up and down several times until the milk gets nice and frothy.

Pour over your coffee!
2. STRAIN HOMEMADE NUT MILKS
This tip is BY FAR my favorite! One morning I was wanting to make some homemade nut milks and my French press was still on the counter from my morning coffee and it HIT ME! If it could strain fine coffee grinds, then surely it could strain out the ground nuts from homemade nut milks, RIGHT? Well folks, it WORKED PERFECTLY, which means it's a breeze to make dairy-free milk at home now. No more waiting hours for it to strain through cheesecloth, and no need to deal with the mess of squeezing it through nut milk bags.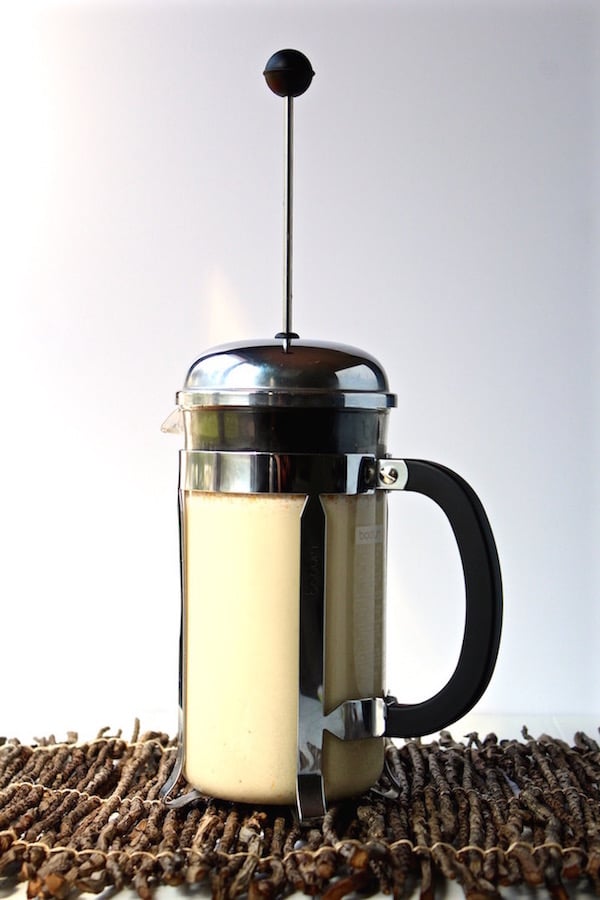 3. MAKE BLACKBERRY SANGRIA FOR TWO
I have to say, I really love this fun use for my French press because you can use whatever recipe you like for sangria and it will turn out beautifully. Just cut the recipe down so it will fit into your French press. I use the 8-cup Bodum French press which holds up to 34 oz. of liquid. I actually saw a restaurant in town serving house-made sangria in French presses and thought it was the cutest idea for serving them at home too! For my recipe, I used blackberries, raspberries, peaches, an orange, and cranberry juice to give it lots of flavor. If you happen to have Blackberry wine, this would be the perfect time to use it! NEVER use expensive wine for sangria because this beverage was created as a way to use up the cheap wine. The cheaper, the better!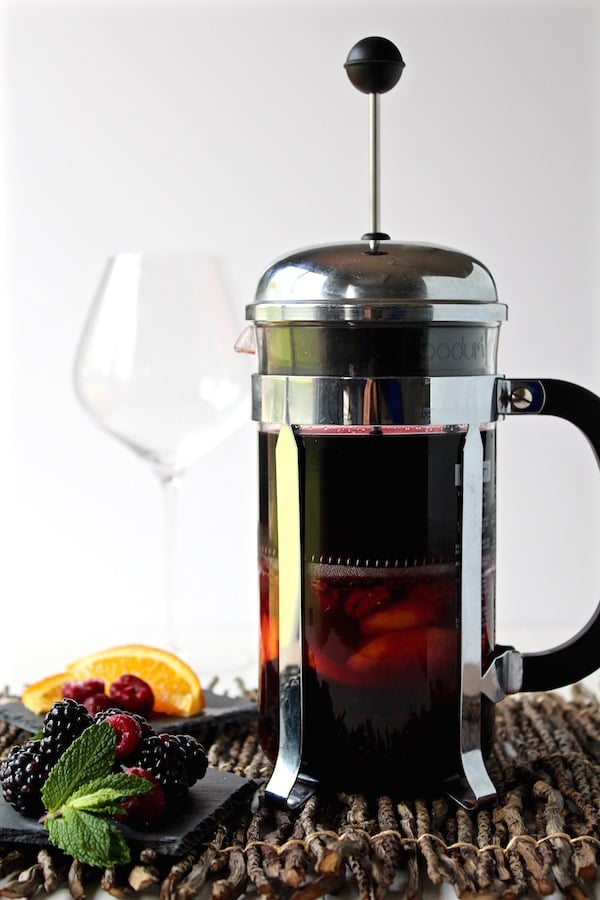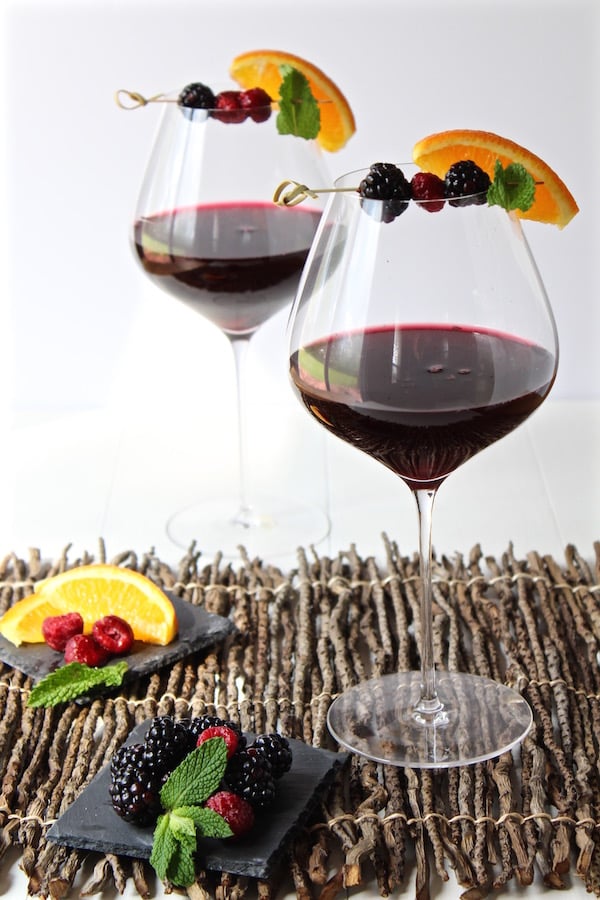 CHECK OUT THIS FUN VIDEO!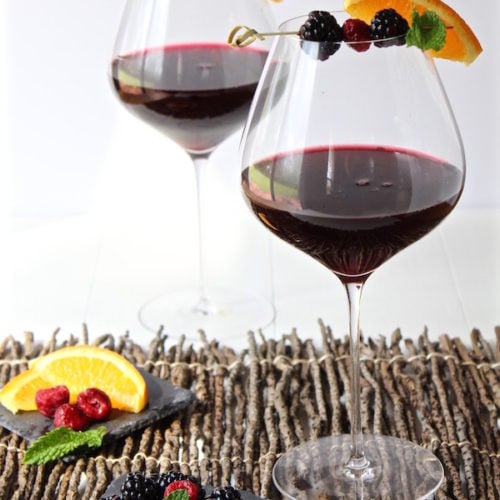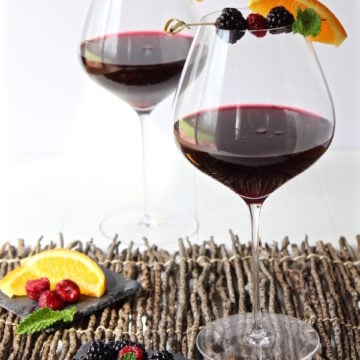 Blackberry Sangria for Two in a French Press
Blackberries, raspberries, peaches, oranges, and cranberry juice make a DELICIOUS sangria, while the French press is the perfect way to steep and serve this beverage for two!
Print
Pin
Rate
Ingredients
1 1/2

cups

blackberry wine or red table wine

the cheapest wine is the best

1

cup

cranberry juice (if you like it tart and less sweet

use unsweetened juice: SO GOOD)

1/2

cup

peaches

frozen or fresh and sliced

1/2

cup

raspberries

frozen or fresh

1

orange

sliced
Instructions
Add the fruits to a French press. If you don't have a French press, just use a glass jar (

mason jars

are great).

Press them down with the strainer a couple of times to extract the juices and release the essential oils from the skin of the oranges.

Pour in the wine and cranberry juice and stir to combine. Put the top on, but keep strainer above the liquid and store on the counter. If you want to steep it for more than 2 hours, you can cover it with plastic instead so it will fit in your fridge.

Steep for at least 2 hours or up to 12 hours. The longer it steeps, the better it gets!
4. STEEP LOOSE TEA
I am quite the hot tea junky, but I prefer loose tea over tea bags because the flavor and aroma is incomparable. Tea strainers are great, but a French press makes sure no tea leaves fall into your cup. By the way, if you like tea kettles over boiling in saucepans, I love this Breville electric tea kettle because it boils water in a fraction of the time. It's also great if you live in a dorm room and don't have access to a stove. To make the tea, use the appropriate measurement of loose tea per serving (check package directions) and steep, strain, and serve!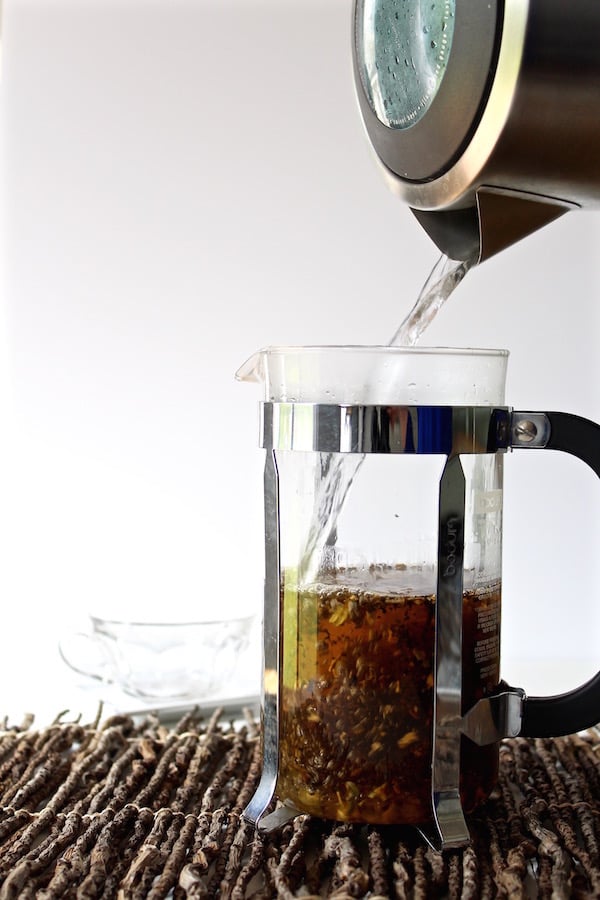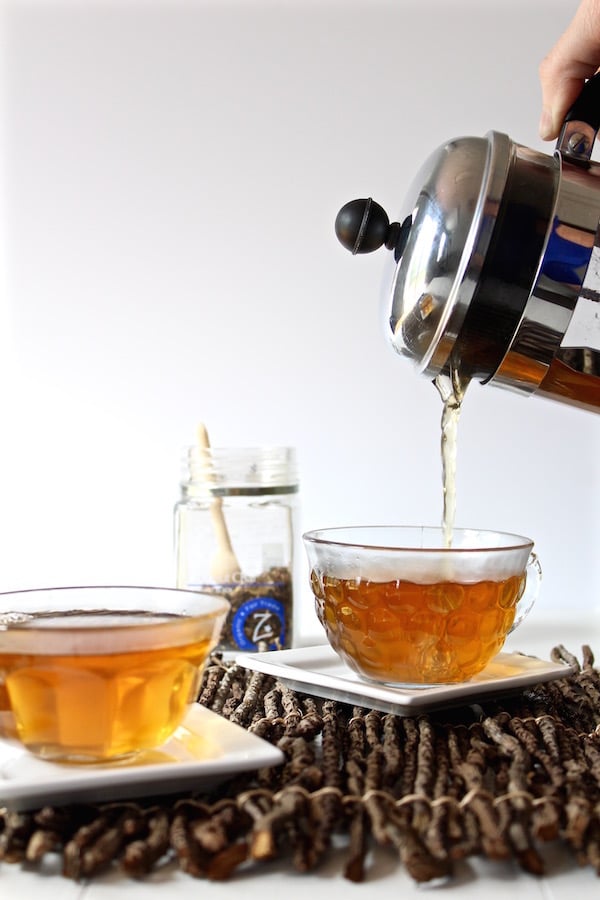 5. MAKE THE BEST CHAI TEA FROM SCRATCH
I absolutely LOVE Indian food, and whenever I go to a restaurant, I always order chai tea. However, making it home is easy peasy with a French press! Being able to steep whole spices like cinnamon, clove, allspice, and fresh ginger makes all the difference in the world in terms of flavor and aroma. It just takes a few extra minutes to extract the essence of the spices, but it's totally worth it. And of course, the French press makes it EVEN better because you can add regular milk or coconut milk and make it frothy! I prefer my chai unsweetened because the spices have an innate sweetness. My recipe is for a Vegan Chai Tea with coconut milk, mmmmmmm.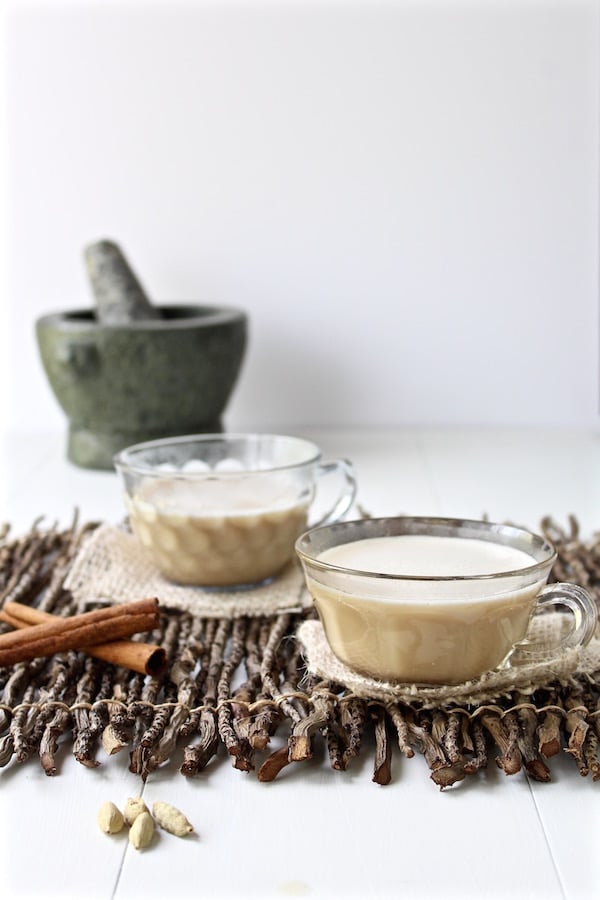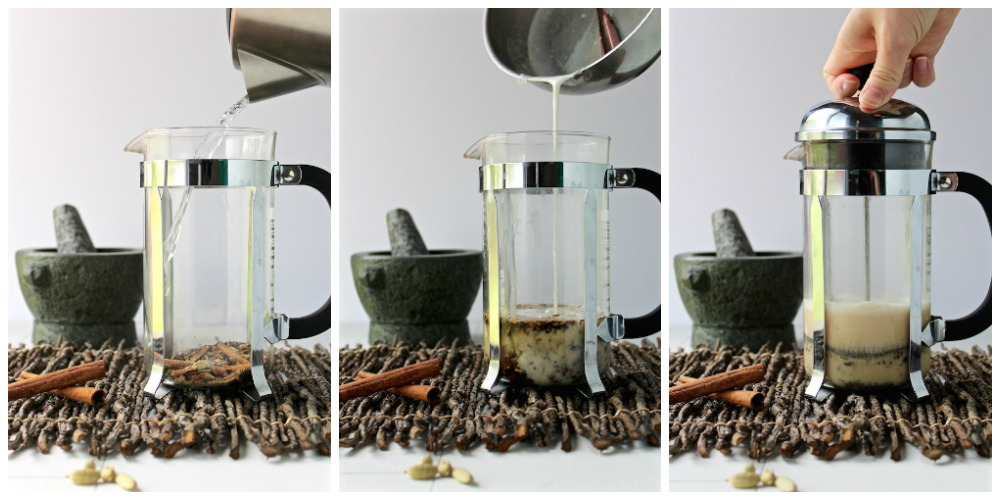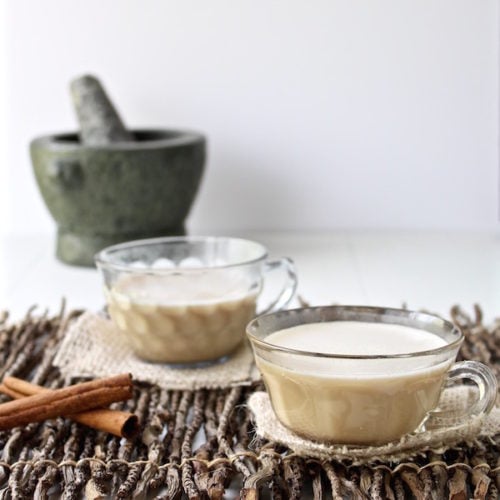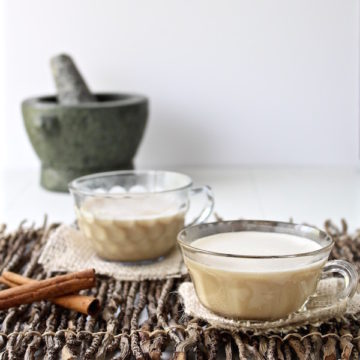 How to Make Vegan Chai Tea with a French press
Luscious coconut milk replaces dairy milk, and whole spices enhance the aroma and flavor in chai tea. The French press strains the spices and helps to froth the coconut milk!
Print
Pin
Rate
Ingredients
1 1/2

cups

water

2/3

cup

coconut milk

I like unsweetened canned

2

tsp

. loose black tea

4

cardamom pods

4

allspice berries

2

cloves

whole or 2 pinches of ground cloves

2

tsp

cinnamon sticks or 1/8 . ground cinnamon

1/2

inch

slice fresh ginger

*optional drizzle of honey or raw sugar
Instructions
Crush the spices one or two times with a mortar and pestle or bottom of a small pan.

Add water to a saucepan and add coconut milk to another saucepan. Add half of the spices to the water, and half to the coconut milk.

Add the loose black tea to a French press.

Bring the water to a boil and pour over the black tea. Cover with the lid just to the top of the water. Steep for five minutes.

Bring the coconut milk to a simmer at the same time as the water. Keep on a low simmer until the tea has steeped in the French press for five minutes. Remove the lid of the French press and pour the coconut milk over the tea. Cover again and let steep for 4-5 minutes.

Pump the strainer a few times before serving to froth the coconut milk. Serve with a drizzle of honey or raw sugar if you like it sweetened.

Serve immediately.
I hope you have found this post helpful and has inspired you to get a French press if you don't already have one.
Psst. This post contains affiliate links for amazon.com. If you purchase any of the products through the links, I receive a small commission at no cost to you, which helps support Bessie Bakes! I only recommend products I use and love.