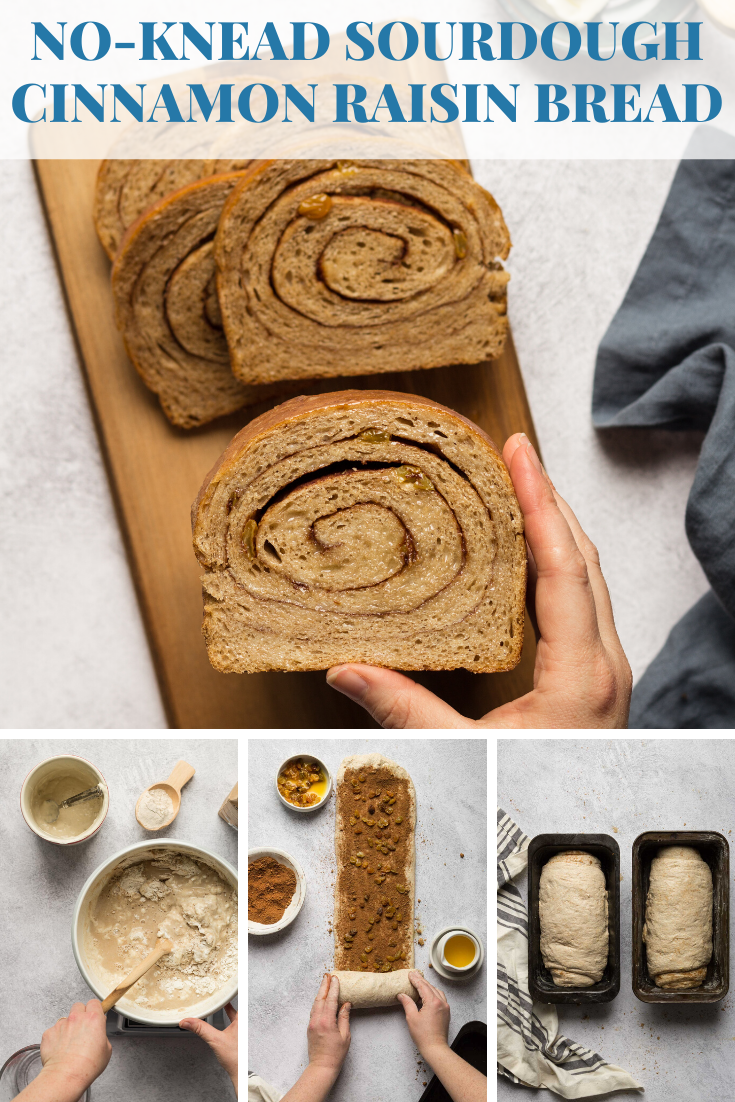 There are moments in life when your body and soul wants nothing more than cinnamon raisin toast with butter on top. The aroma of this no-knead sourdough cinnamon raisin bread is unbelievable and you'd be amazed at how simple it is to bake this beautiful bread!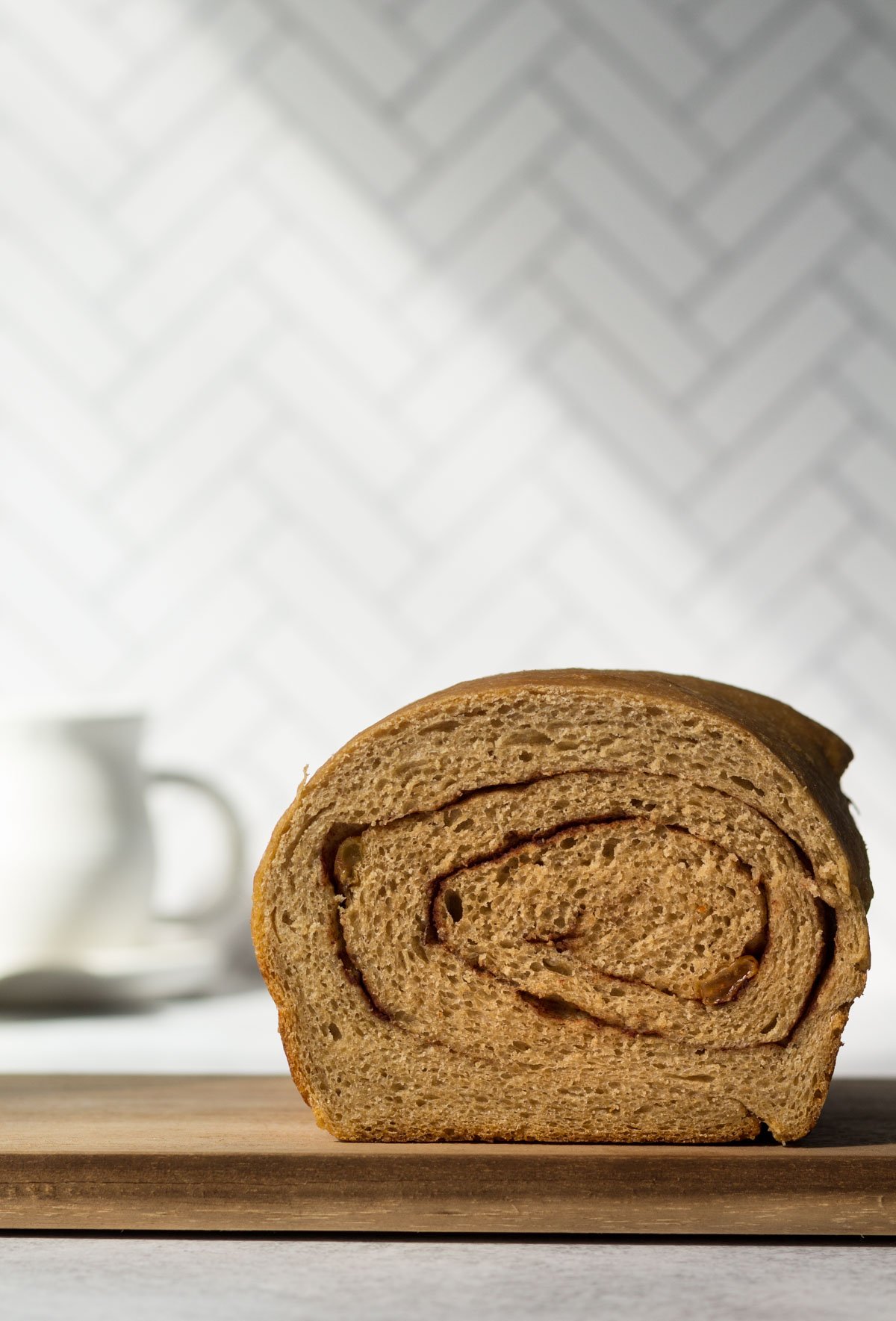 Recipe Update:
After a few readers had trouble with this recipe, I decreased the amount of whole wheat flour to lighten up the loaves and the texture and flavor of this bread is 1000 times better! In the comment section you will read that this recipe actually makes two loaves instead of one (a mistake on my part).
Original Recipe vs. New Recipe
Below you will see the original recipe and the updated recipe and the difference in the texture and how much it rises. I also updated how long you stretch the dough out before rolling. The extra length makes for better swirls and overall shape once it's baked.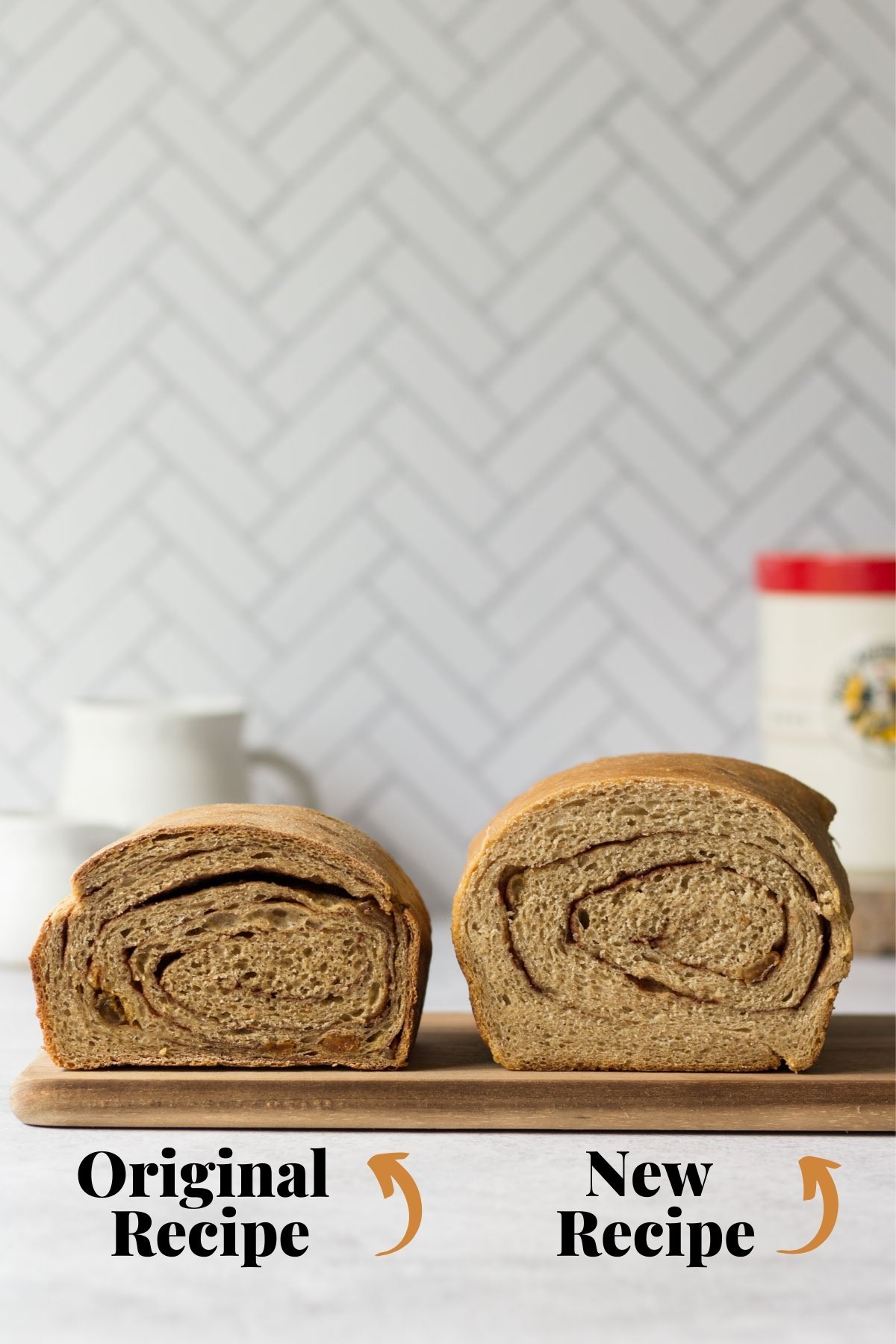 "So how do you put together this soft and tender bread", you ask? In the words of Lionel Richie, "It's as easy as Sunday morning".
The mantra for bread here at Bessie Bakes is slow and easy. Slow as in, long fermentation. Easy as in, you barely lift a finger and let a sourdough culture and natural fermentation do the rest.
Recipe Notes
A sourdough starter ferments dough more slowly so it won't over-proof after a long fermentation like this.
You can add a few tablespoons of water at a time after you've mixed the dough if it needs more moisture.
I use brown sugar and golden raisins in the filling but you can use regular raisins if you prefer.
Feed your starter about 8-10 hours before you are ready to mix the dough to ensure it's nice and bubbly and ripe like the photo below.
You can freeze individually wrapped slices of this bread or you slice the loaf in half and freeze one section if you don't see yourself eating the entire loaf within two days.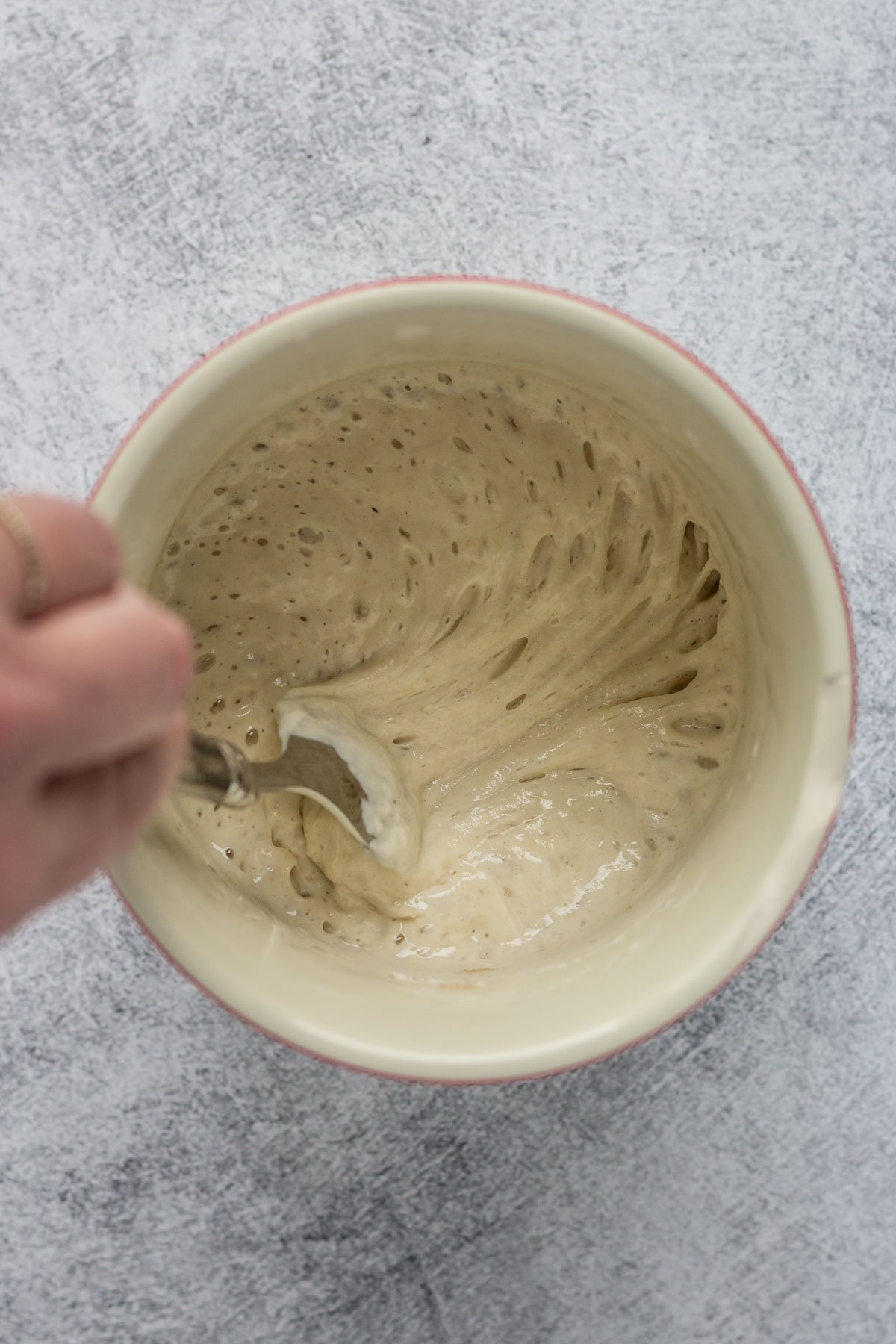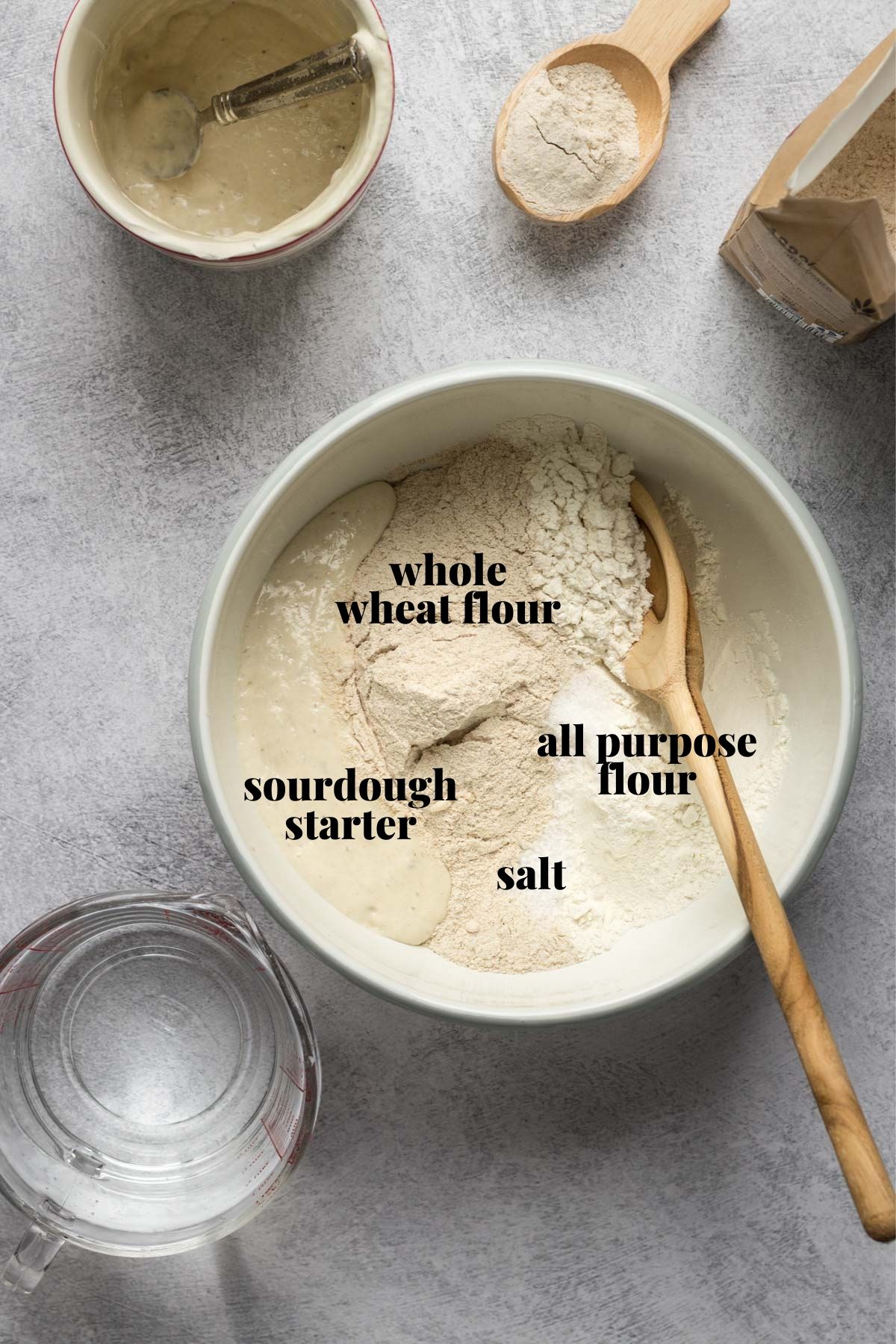 Easy step-by-step instructions
Mix the ingredients together with a wooden spoon until combined, cover and let ferment all day or overnight.
When it's risen, place on your countertop and cut the dough in half to make two loaves
Roll out to a 6 x 20-inch long rectangle. Sprinkle with brown sugar, cinnamon, and orange juice-soaked raisins.
Roll like a jellyroll and pinch the ends together to seal
Proof for about 60-90 minutes, and bake at 350 for about 55 minutes.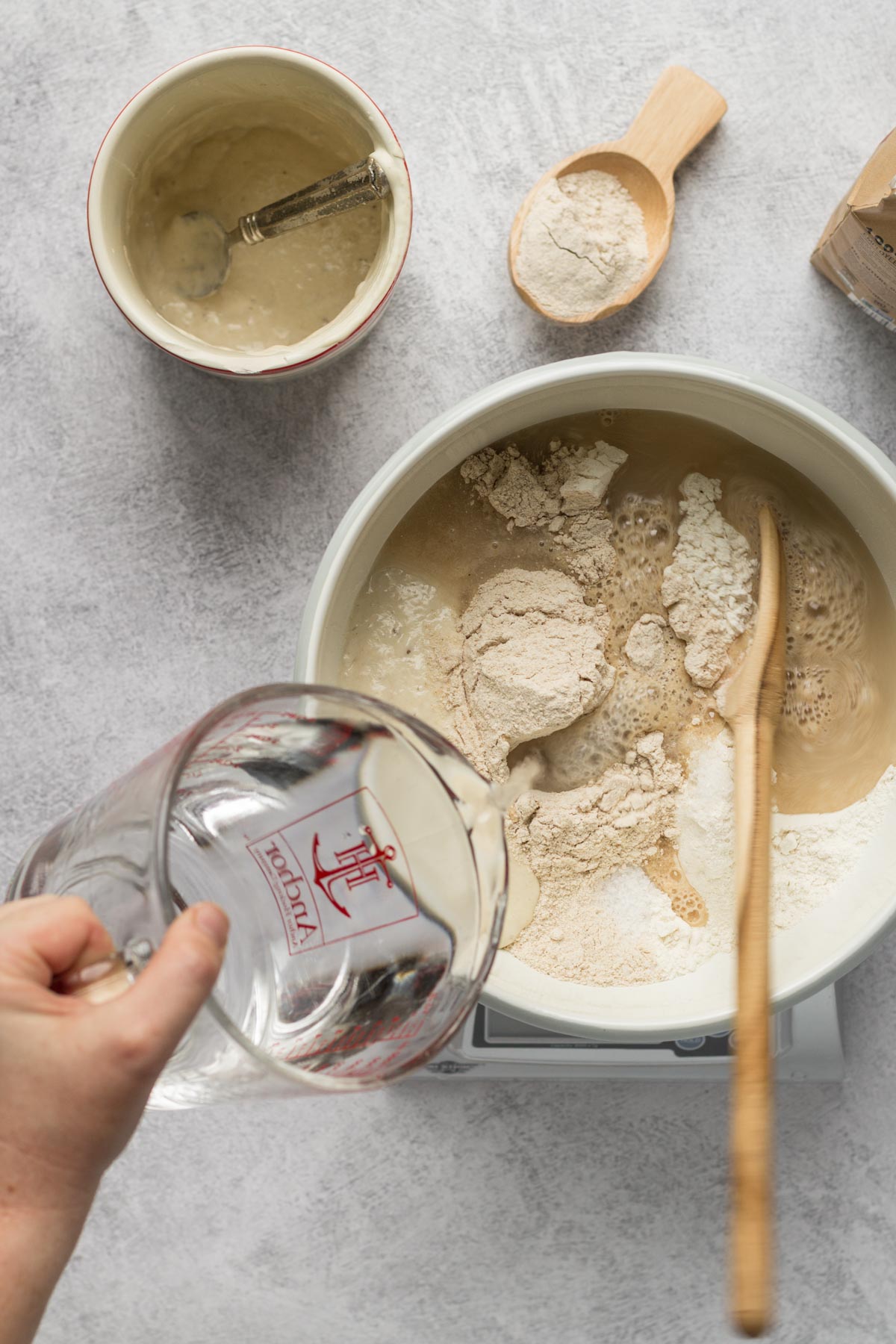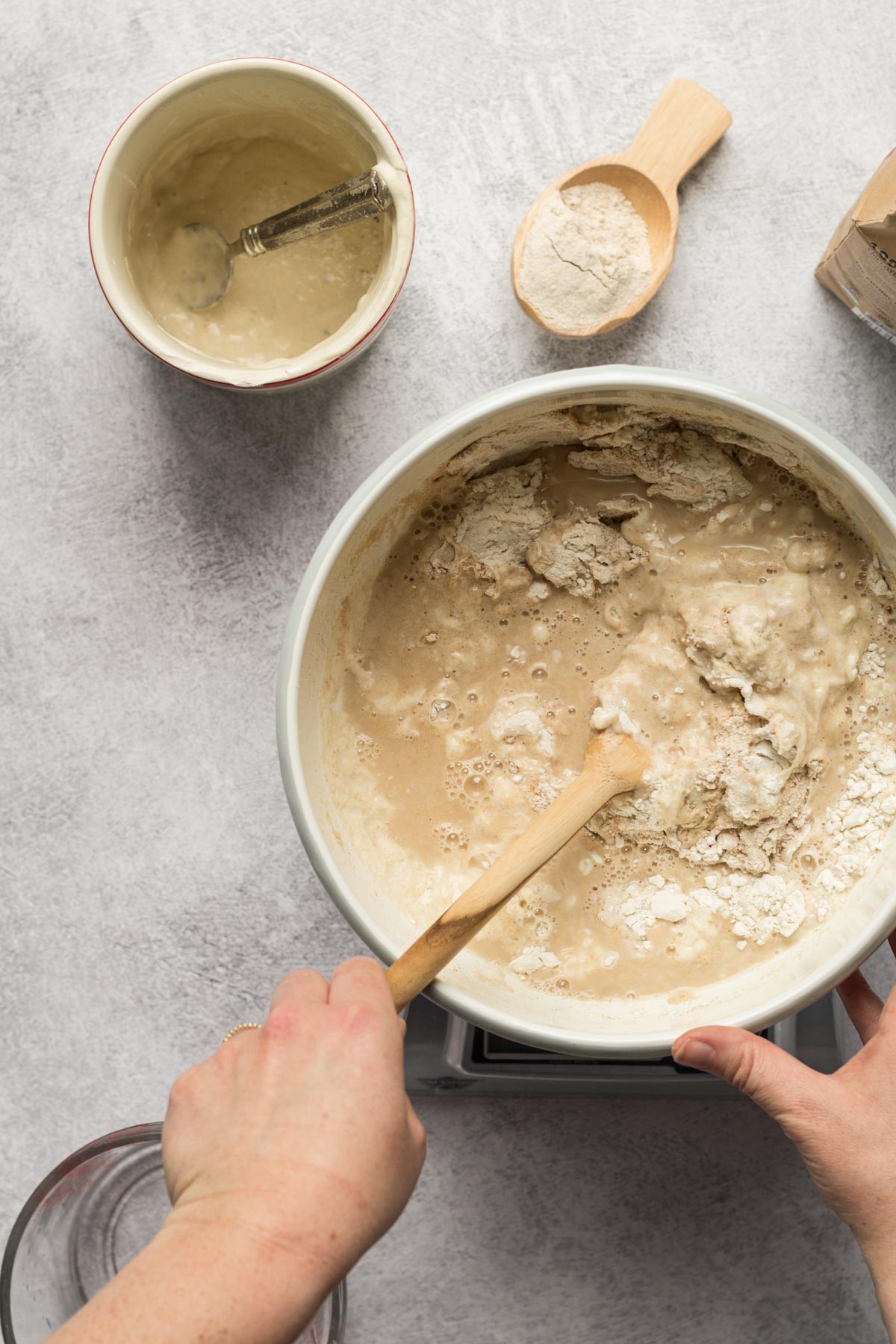 Below is what the dough looks like after mixing. Your only aim is to mix the ingredients together. This is a no-knead recipe so the long fermentation will help create the structure of the dough.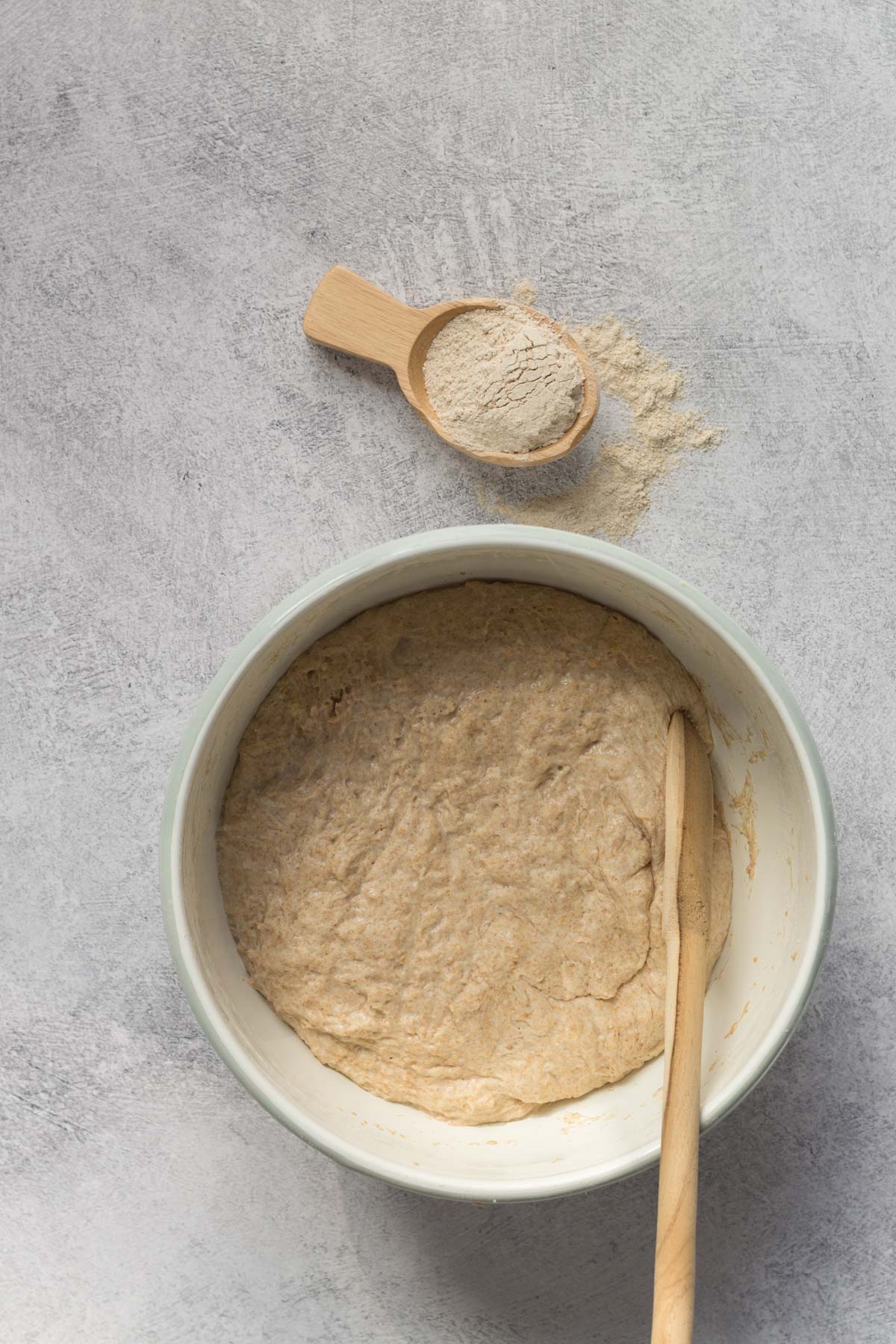 Cover and let the dough ferment all day or overnight at room temperature. The photo below shows what the dough looks like after it's doubled in size.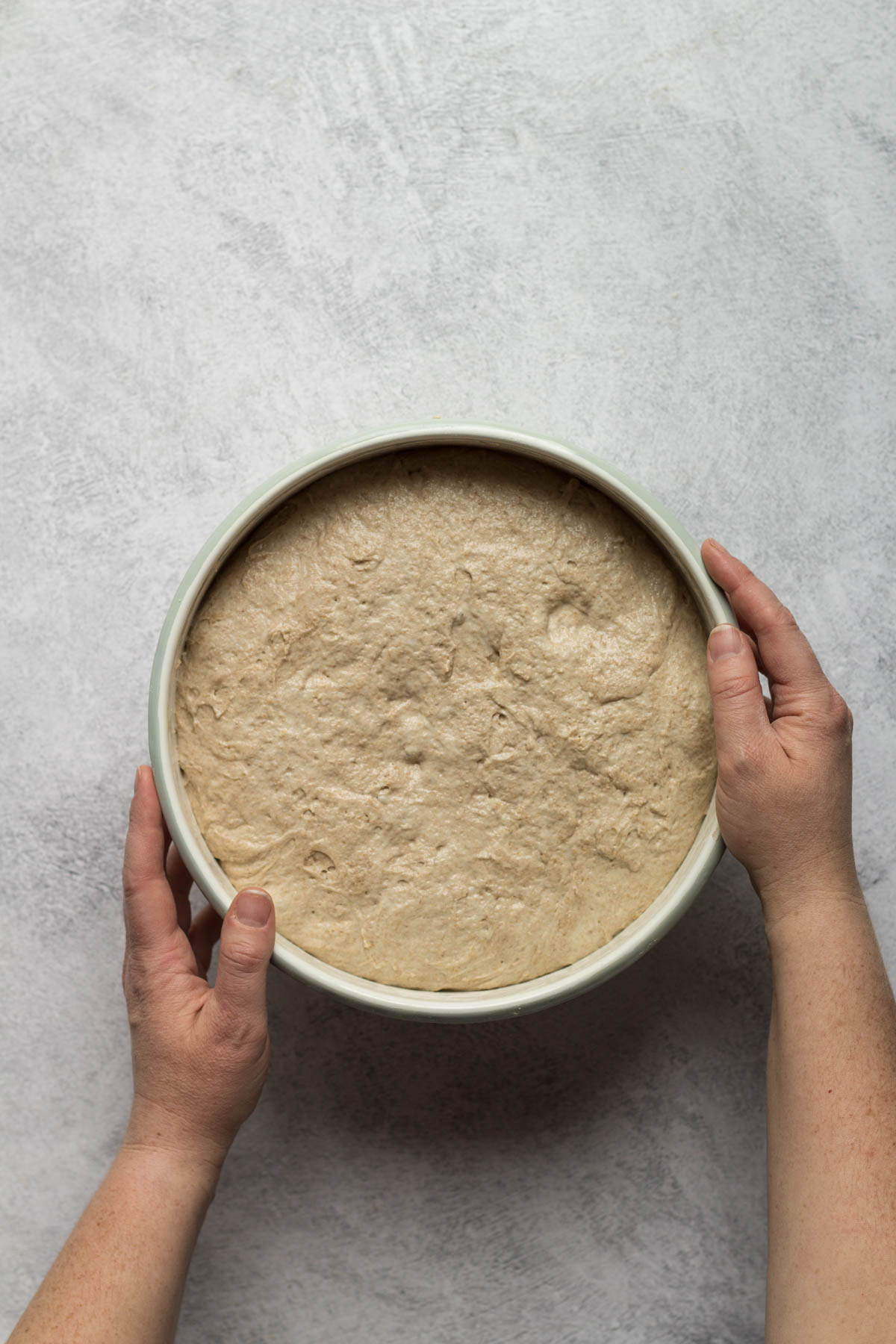 I used a bench scraper to cut into two equal portions. You could use a knife if you don't have a bench scraper.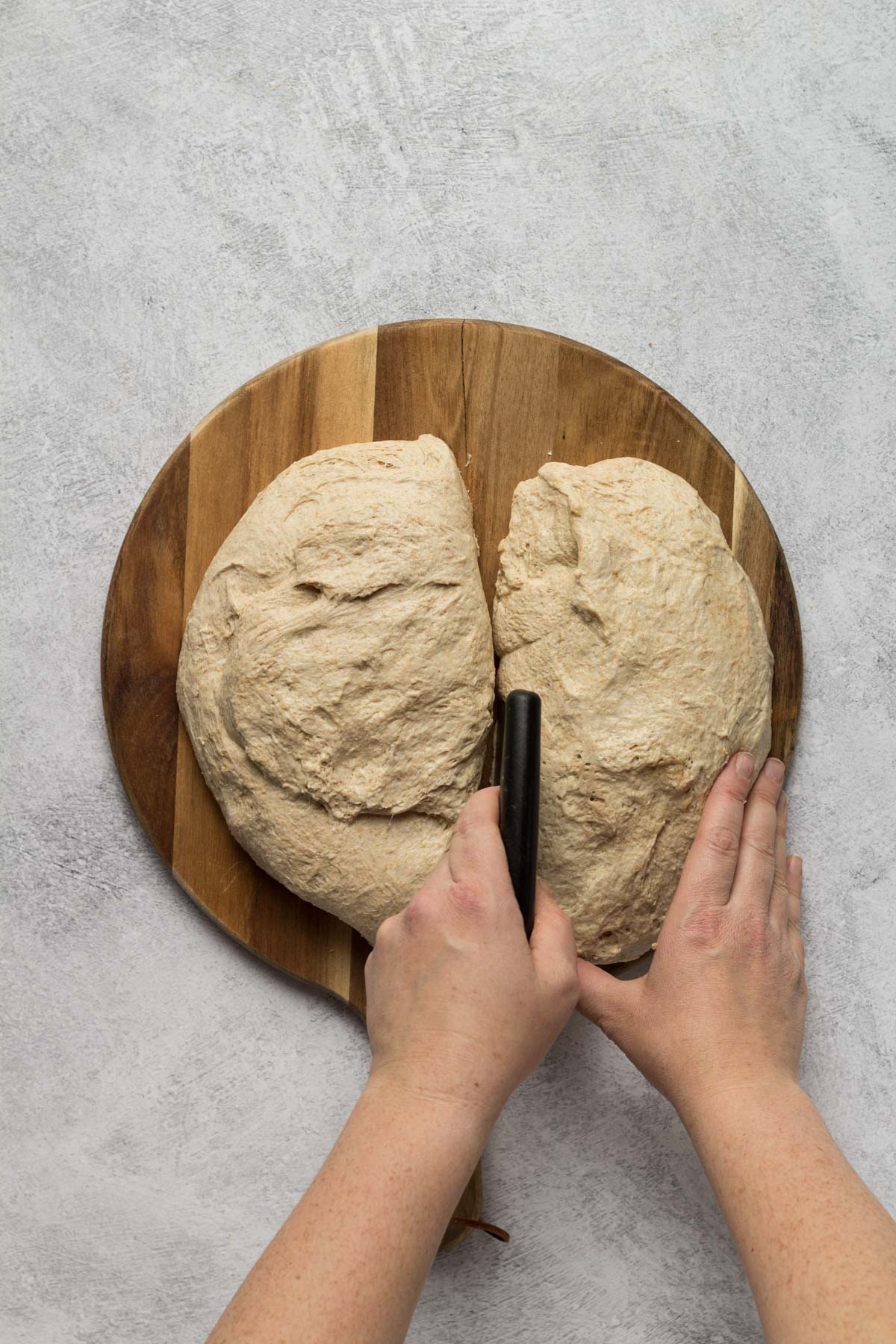 As you can see below, I gently stretched out the dough to a 6 x 20-inch rectangle. I just used my hands to gently get it to that size. You don't need a rolling pin for this.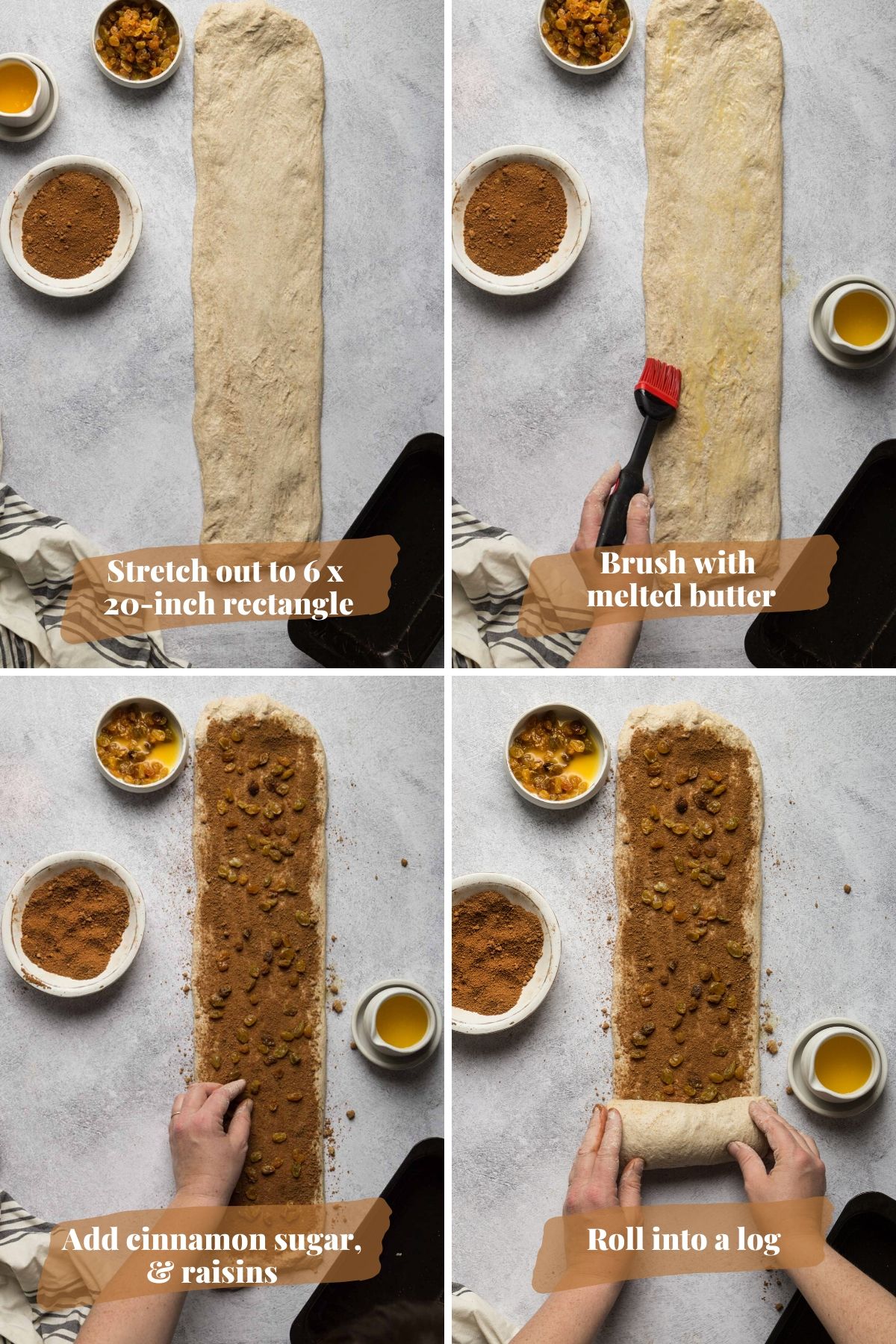 To seal the roll, pinch the ends of the dough together with your fingers.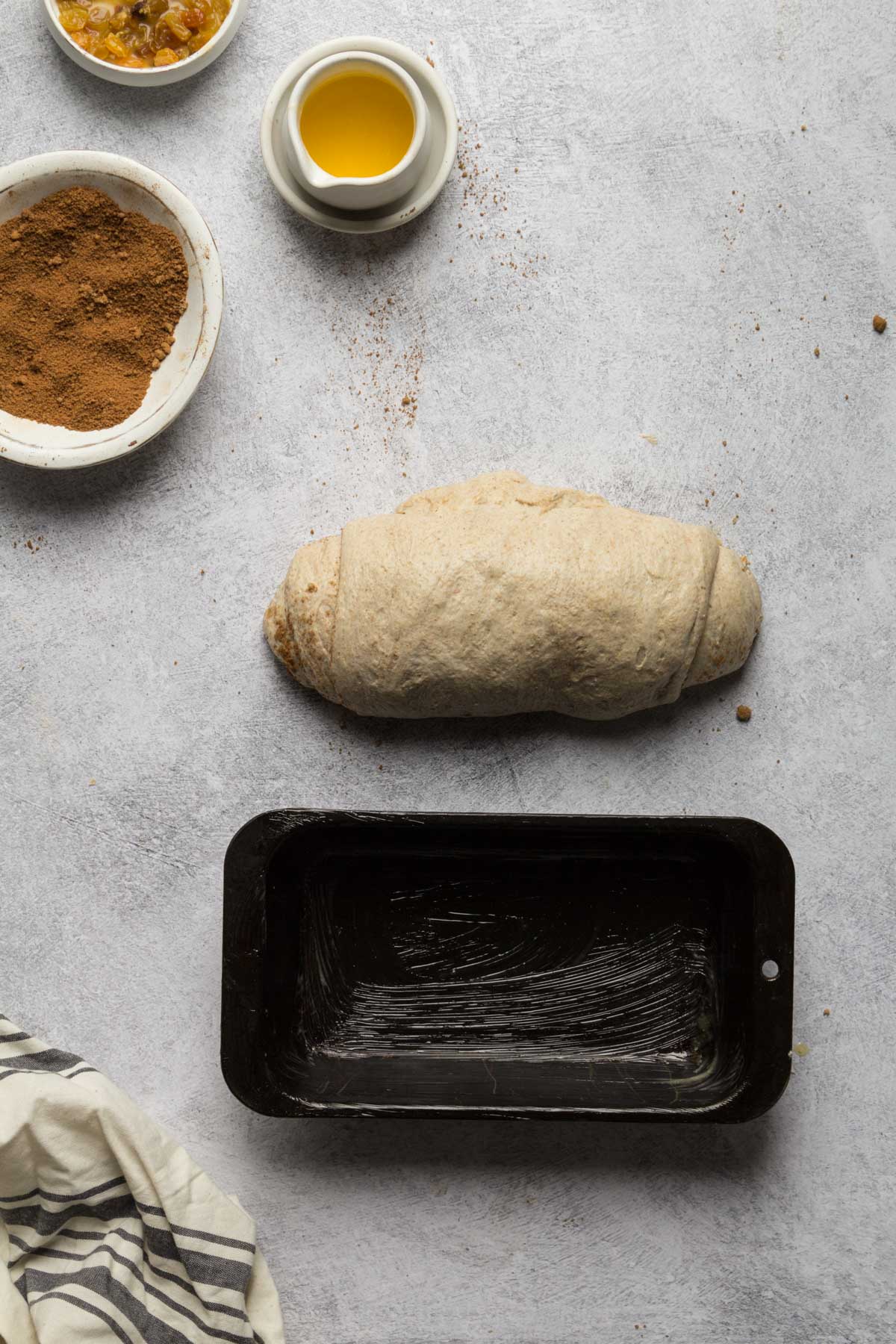 Brush two loaf pans with softened or melted butter and place the two shaped loaves in the pans. Cover with a clean kitchen towel and let proof for 60-90 minutes.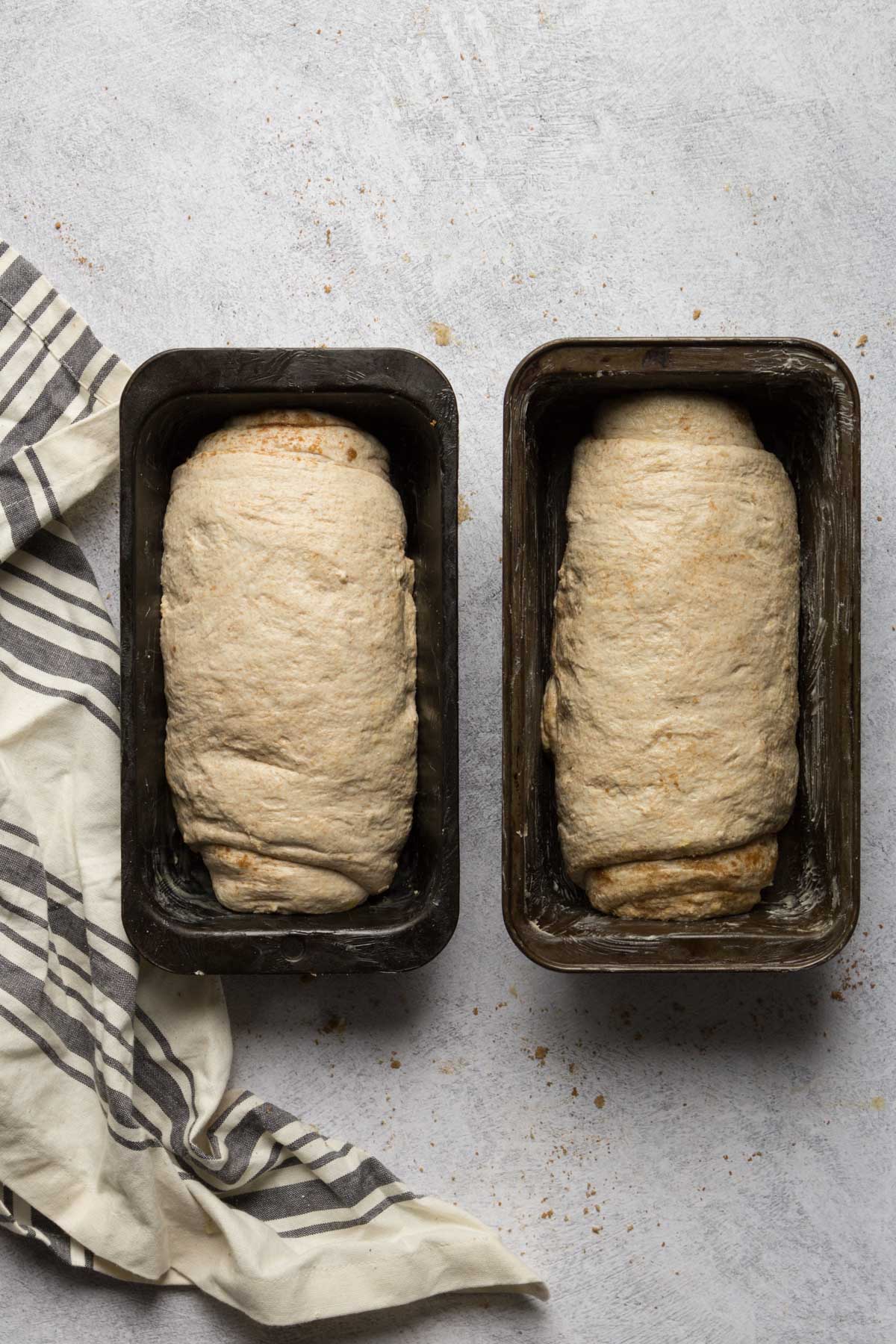 Bake for about 55-60 minutes or until the top is a pale golden brown. Brush some butter over the bread when it comes out of the oven. The photo below is the color of the bread after I brushed butter on top.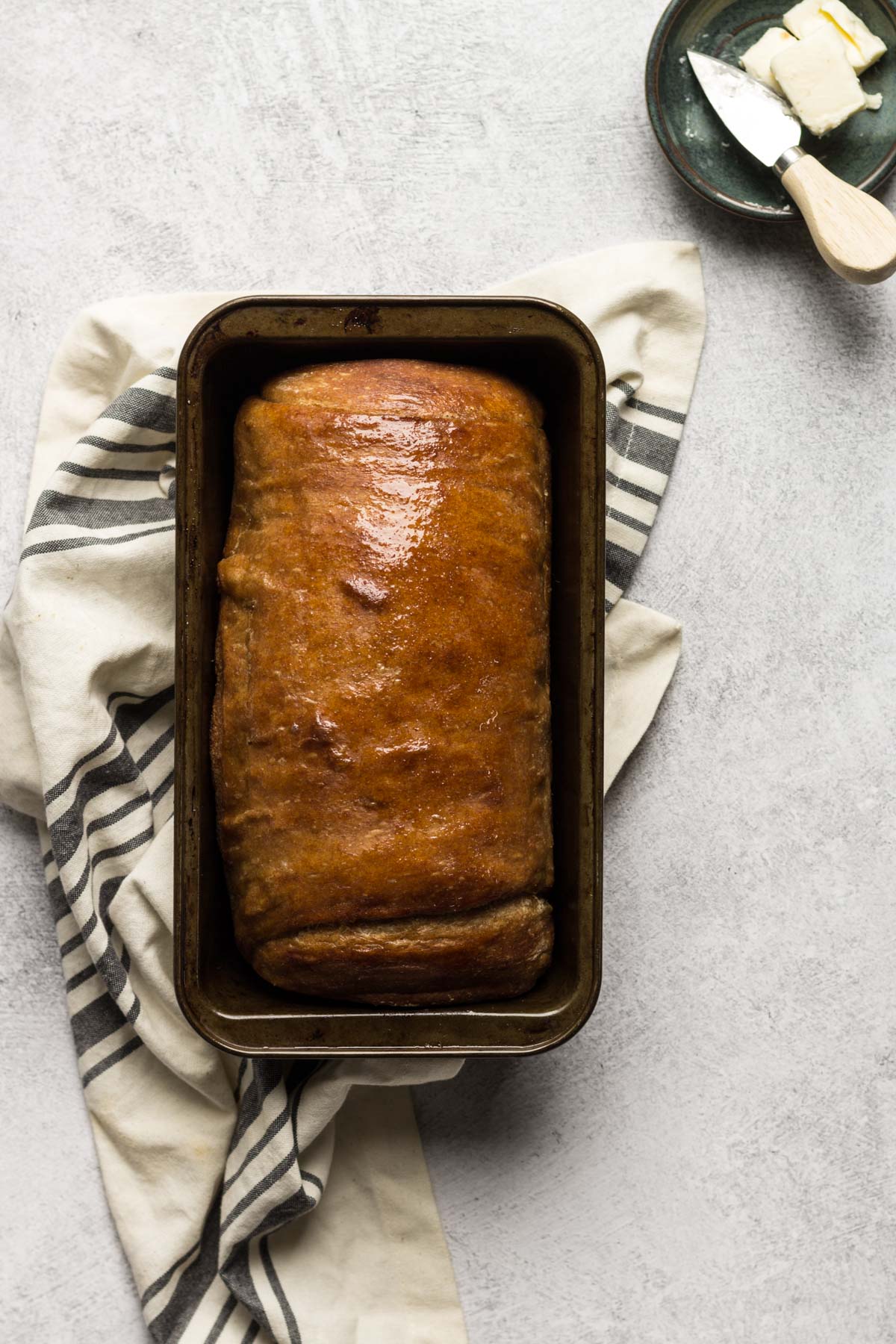 Always wait at least 30 minutes before slicing into your bread as the center is still setting.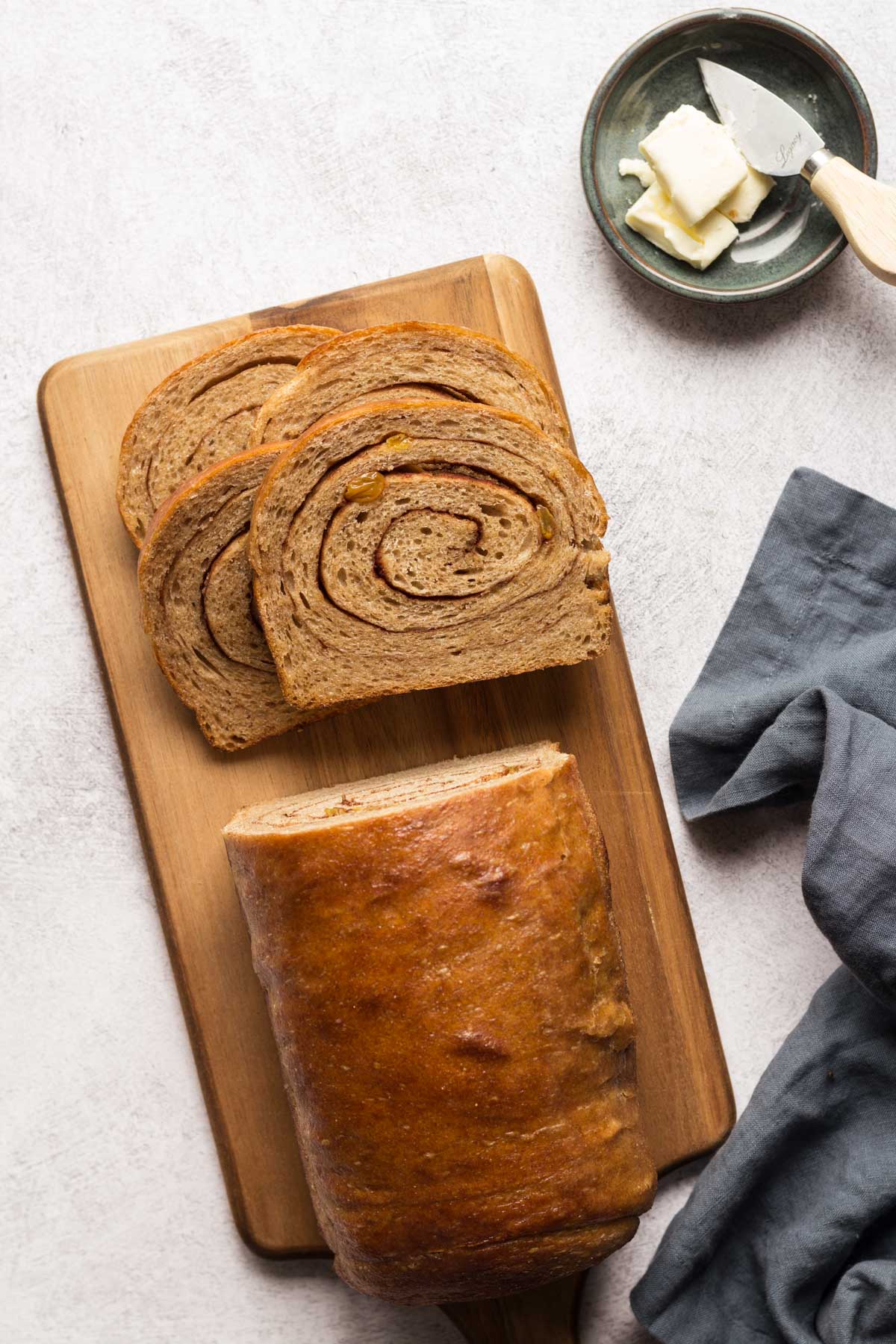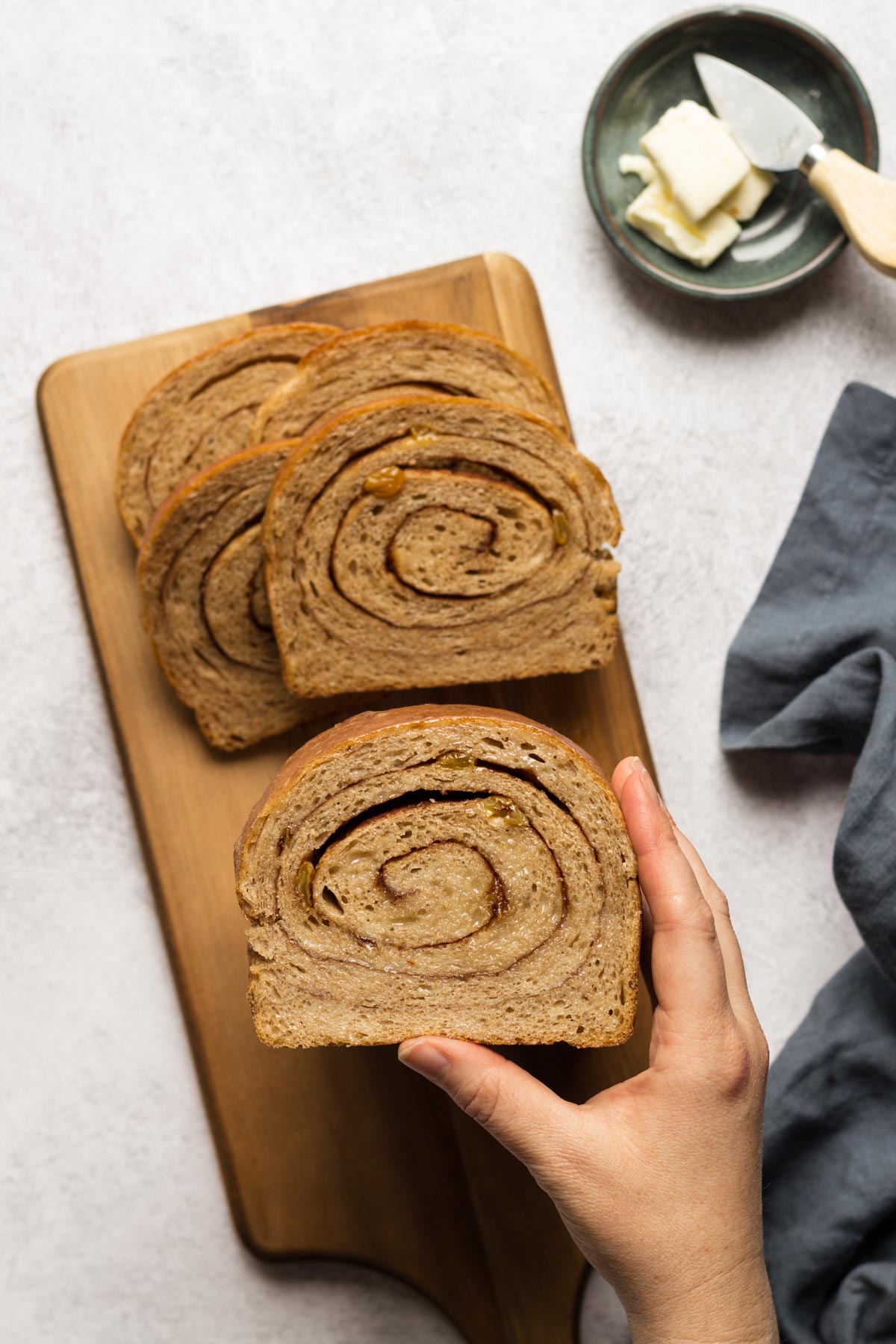 Slice and serve with butter, and maybe reserve some pieces for French toast. Mmmm…good.
More Sourdough Recipes on Bessie Bakes
The lazy baker's guide to caring for a sourdough starter
Easy Sourdough Bread Recipe + Shaping Video
Easy Sourdough Discard Biscuits
Bon Appétit Ya'll,
Leslie O.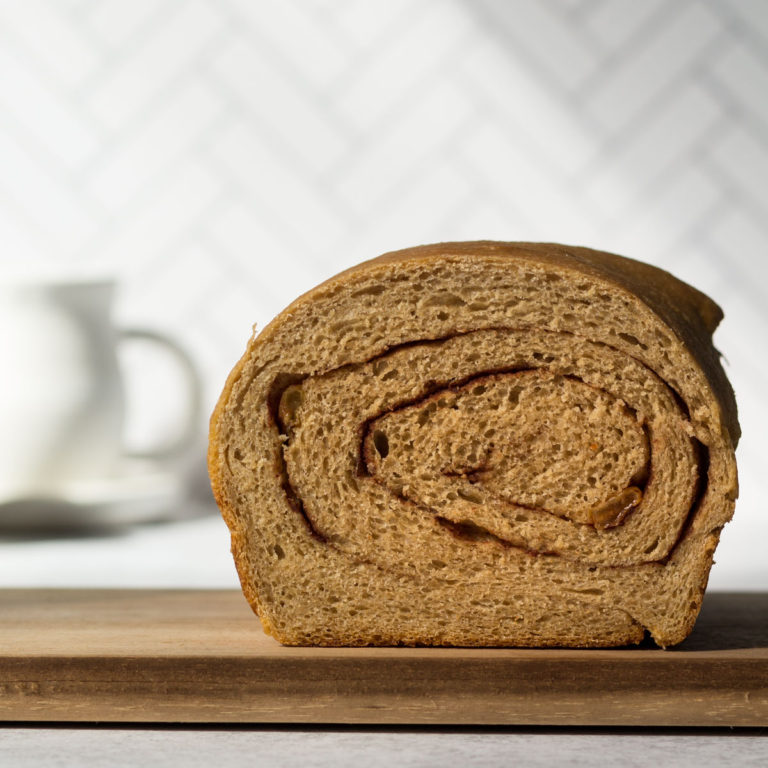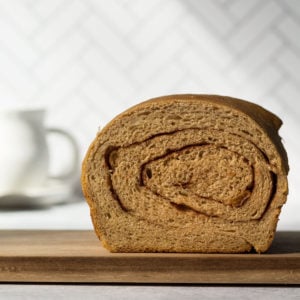 No Knead Sourdough Cinnamon Raisin Bread Recipe
Sweet cinnamon, brown sugar, and juicy raisins leave a swirl of goodness inside this lovely whole wheat sourdough bread. This recipe makes 2 loaves.
Print
Pin
Rate
Ingredients
For the dough
555

grams

Whole Wheat Flour

555

grams

All Purpose Flour

809

grams

Water, room temp

3¾ cup

20

grams

Salt

1 Tbsp

116

grams

ripe unfed Sourdough Starter/culture

½ cup
For the Filling
1/2

cup

brown sugar

firmly packed

2

Tbsp

Cinnamon

1/2

cup

Golden Raisins or regular raisins

soaked in 2 Tbsp orange juice or warm water to soften

Butter or oil

for brushing the dough and the pan
Instructions
Mix the whole wheat and all purpose flour, and salt together until combined.

Add the water and sourdough culture/starter and stir with a wooden spoon or spatula until combined. If the dough looks a bit dry, you can add an extra tablespoon of water at a time because whole wheat flour absorbs a lot of water. You don't have to knead the dough because the long fermentation will create the structure you need.

Cover the bowl with plastic wrap and let ferment at room temperature for 8-12 hours. Because there is no dry yeast added, the sourdough fermentation is very forgiving, in that it takes a lot to over-ferment a sourdough bread dough.
Make the filling
Add orange juice or warm water to the raisins to soften for a few minutes.

Mix the brown sugar and cinnamon together.
Shaping the Dough
When the dough has doubled in size, place the dough onto your counter and cut the dough in half. Shape each half into a 6 x 20-inch rectangles.  You want it to be the same width as your loaf pans after rolling it up.  Spread melted butter or oil over the rectangle.

Spread the cinnamon and brown sugar filling all over the rectangle, leaving about an inch open at the ends.  Add the raisins on top.

Roll the bread like a jellyroll and pinch the ends together to seal the bottom.

Brush a loaf pan really well with butter or oil. Place the dough in the pan. Once it's in the pan, take your fingers and lift the dough away from the sides all the way around and add a little extra butter or oil around the edges of the dough to keep it from sticking. Smooth back out and cover with plastic wrap to proof.
Proofing the bread
You can proof the bread one of two ways.

* Proof the bread in a warm spot in your kitchen or inside a completely cooled oven with the light turned on to keep it warm for 60-90 minutes or until it's almost doubled in size.

* Or for convenience, you can proof the bread overnight in the fridge if you want to bake it first thing the next morning. The temperature of the fridge will slow down fermentation so it doesn't over-proof. If it's still not completely proofed in the morning, you can put in on the counter for 15-30 minutes until it's proofed.

Bake at 350 degrees for about 55 minutes.  The top should be a golden brown color.  If you are unsure if it's baked in the center, remove it from the loaf pan and tap the bottom of the bread.  If it sounds hollow, it's ready.

Let rest for 30 minutes before slicing because the center will still be setting.
Notes
Sourdough Starter:
Always use ripe unfed sourdough starter to make bread rise.  That means your starter will be at it's peak ripeness about 4-8 hours before making this recipe.
Baking schedule:
If you want to bake it first thing in the morning as soon as you get up, you can start this bread the morning before, let it ferment all day at room temp, fill and roll it, and let it proof in the fridge overnight.  The extra fermentation time is great for the nutritional value and for ease of digestion.
You can also mix the dough, let it ferment overnight, fill and shape the next morning, proof, then bake.  Just keep in mind you will need 2-2 1/2 hours the next morning to finish that process.
This bread freezes perfectly.  Simply wrap really well in plastic wrap once it's completely cooled.