Are you ready to get stuffed like a turkey with the best gluten free southern cornbread stuffing?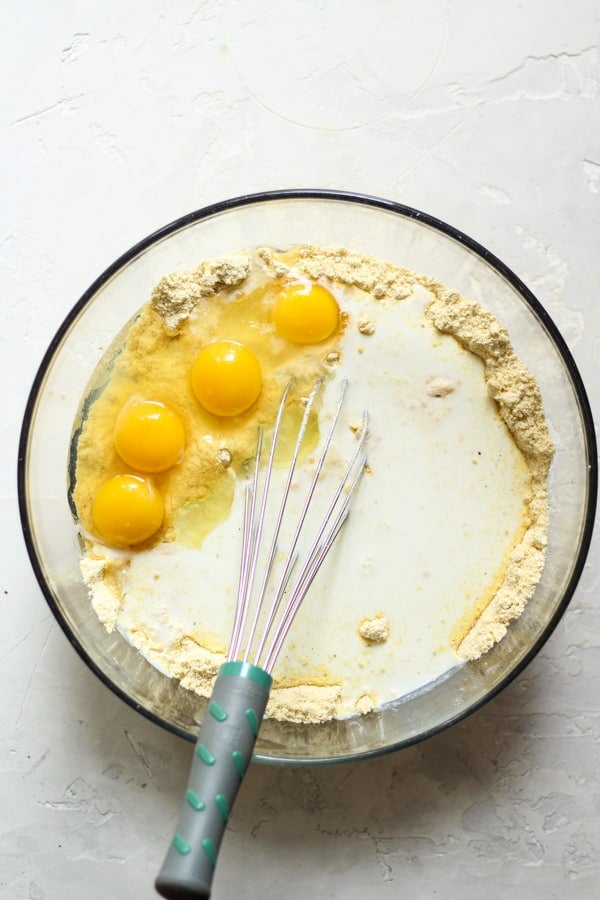 This cornbread stuffing, or as Southerners call it…dressing, is a version of my grandmother's beloved recipe. The main difference is that my grandmother added a few crumbled biscuits to the mix, which is what I've grown up with and devoured every Thanksgiving.
This year I decided to make a stuffing/dressing that was an all cornbread base so that it was gluten free. My brother found out he had a pretty bad wheat allergy a few years ago, so I always make sure there are plenty of GF options for him at Thanksgiving.
While we're at it, learn how to host an EPIC Thanksgiving Dinner with tons of recipes, and a FREE downloadable guide for how to prep THIS stuffing in advance, plus time all of your baking and cooking the two weeks out, the week of, and the day of!

Click the image above and a black screen with the guide should pop up. Click on the arrow pointing downward in the upper right-hand corner to download to your computer!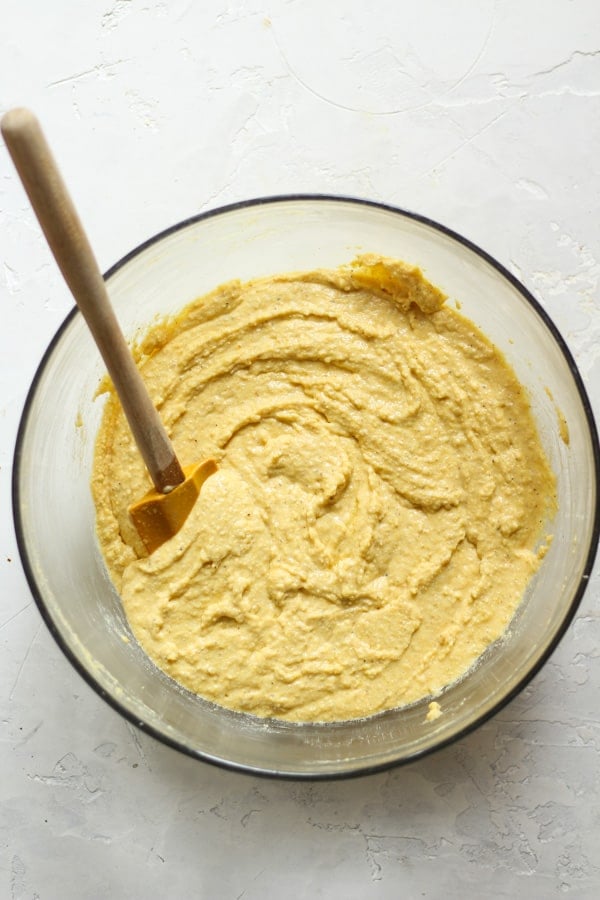 The best way to make stuffing is to make the base ingredients yourself. You certainly can buy pre-made cornbread at the store, but sometimes you can't control if it's on the sweeter side. Sweet cornbread in this recipe is a NO-NO✋!
It takes just a few minutes to put the cornbread together and it's best made at least two days in advance so it can dry out. The cornbread needs to be dry so it can absorb plenty of butter, onions, celery, and broth. You could also make the cornbread up to a month in advance and freeze it. Just be sure to thaw it out two-three days in advance.
HOW TO DRY OUT CORNBREAD FAST
If you are making this stuffing on the day of your gathering, break up the pieces of cornbread and spread on a sheet pan. Place in a 350 degrees oven for 5-7 minutes or until the surface feels dry. Let cool before adding celery, onions, and broth.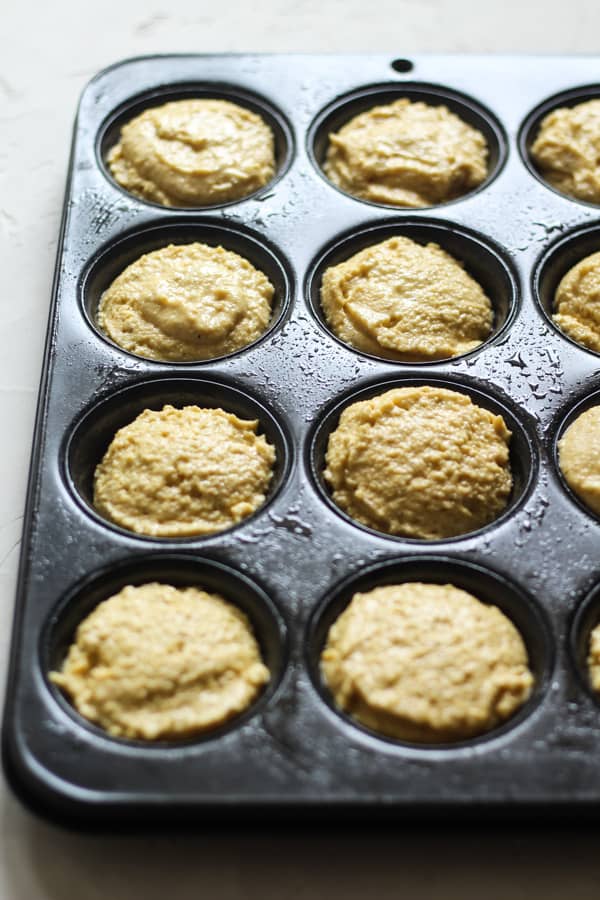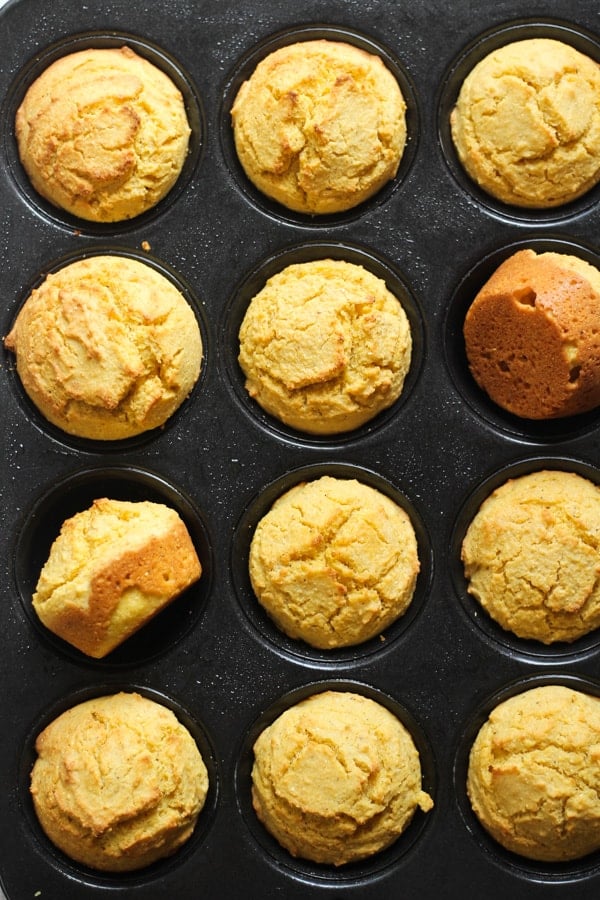 Once you are ready to put your stuffing together, start by sautéing butter, onions, celery, fresh sage, rosemary, and parsley on medium heat until softened…mmmm. The aroma is just heavenly!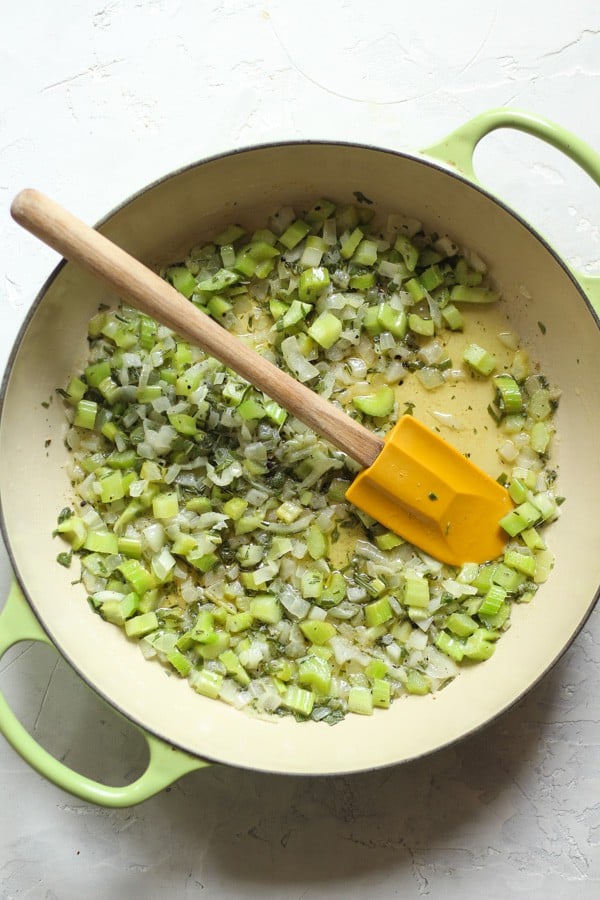 Now measure 4 and 1/2 cups of cornbread that has been crumbled somewhat or diced into equal sized portions. I prefer to crumble myself, but a dice is nice too. Now add the butter, onion, and celery mixture along with one egg about 4 cups of chicken or turkey broth.
If you have any turkey drippings, now would be a good time to steal some from the turkey pan and add it to the batter!
You want your mixture to look nice and moist as shown below. If you don't add enough liquid, your stuffing will be sad and dry. If the liquid isn't absorbing immediately, give it a couple of minutes to absorb the liquid, then add the rest and let it absorb again if needed.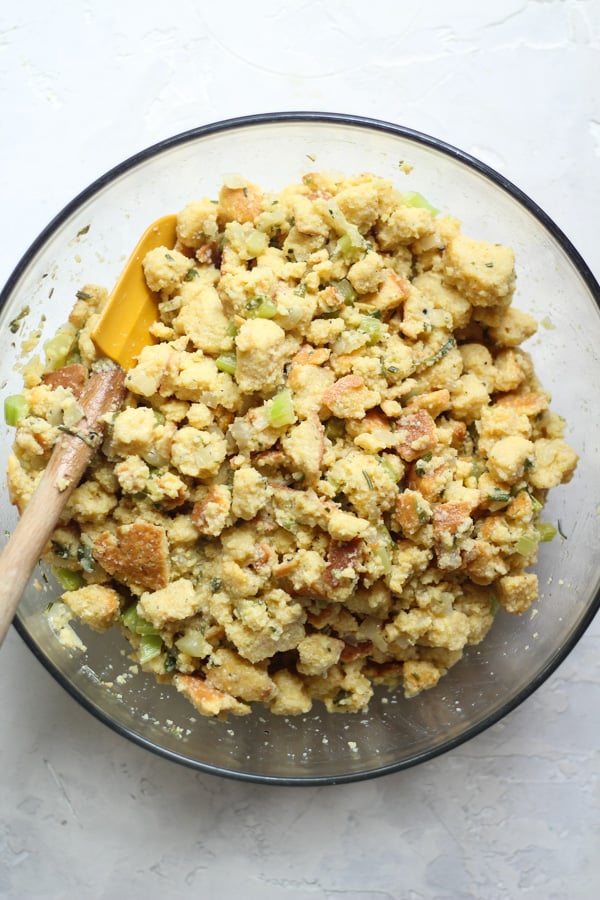 Now add your mixture to a buttered casserole dish and drizzle more melted butter on top to create a nice crispy crust!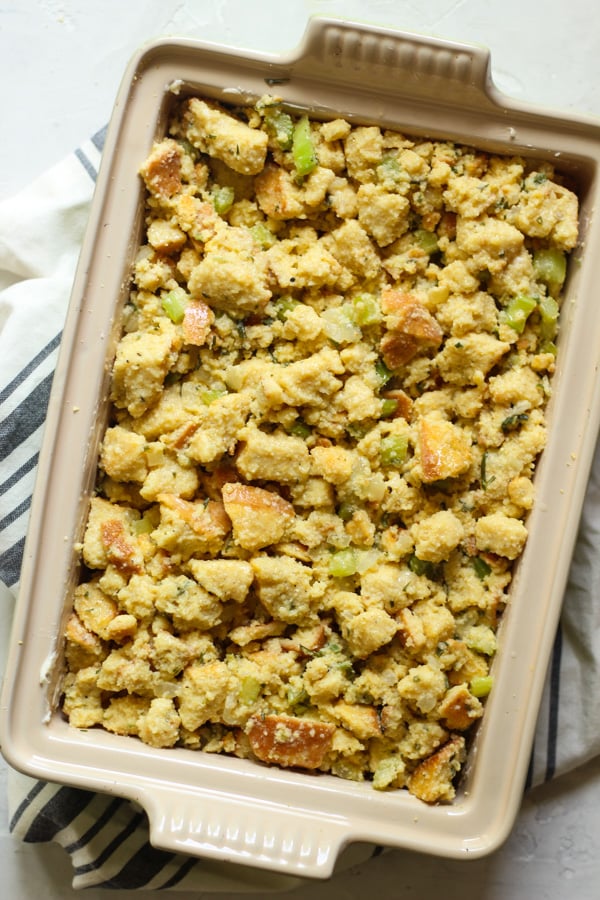 Bake at 375 degrees for about 40-45 minutes or until nice and golden brown.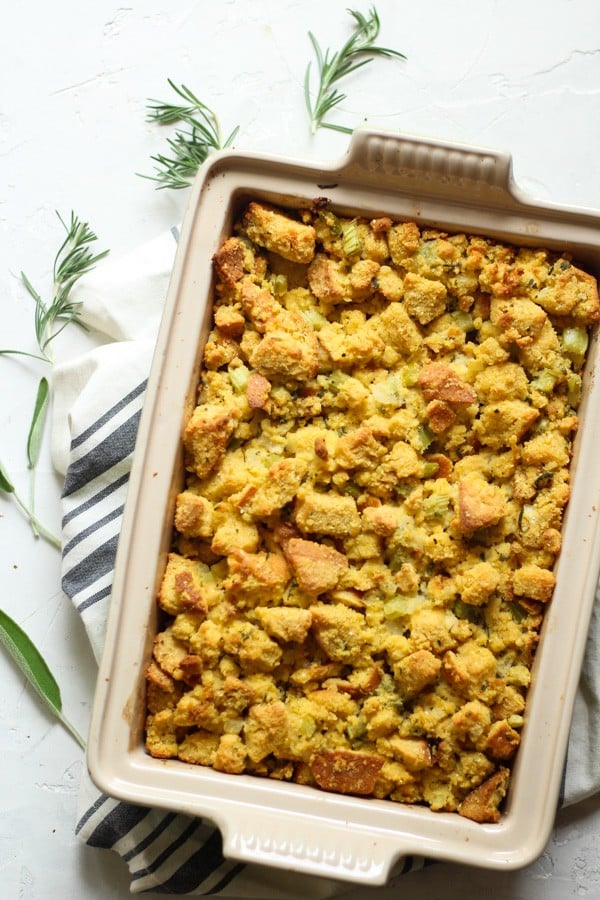 how to host an epic Thanksgiving dinner
Get my guide to being the hostess with the most-ess. See the epic post here. Here's a sneak peek:
Warm Apple Salad with Apple Cider Vinaigrette
Sourdough Garlic Rosemary Rolls
Epic Duck Fat Roasted Turkey (you're here!)
How to Keep Mashed Potatoes Warm (YES you CAN keep them warm and buttery and soft up to 4 hours in advance!)
Southern Cornbread Stuffing/Dressing
15-minute Cranberry Clementine Sauce
Perfect Pie Crust
Peach Crostata with Spiced Crumble
Cream Cheese Pumpkin Pie with Gingersnap Crust ( Recipe & Video)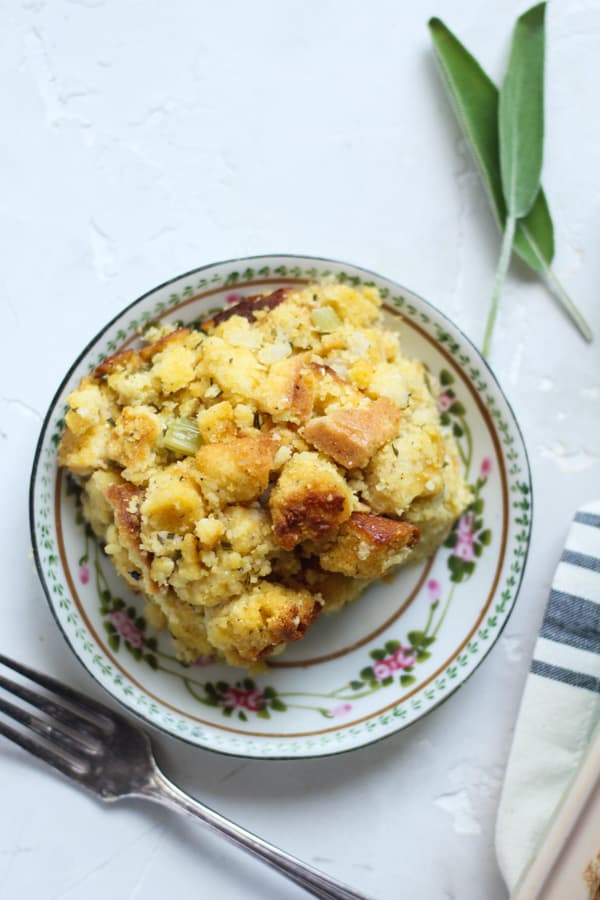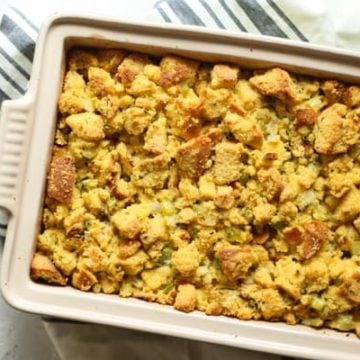 GF Southern Cornbread Stuffing
This traditional Southern stuffing/dressing recipe is a packed with fresh herbs, onions, celery, butter, and flavorful broth!
Print
Pin
Rate
Ingredients
For the cornbread
4 1/2

cups

cups cornmeal

4

eggs

2

cups

buttermilk or 2 cups milk plus 2 Tbsp apple cider vinegar

480 grams

1/2

cup

grapeseed or canola oil

54 grams

2

tsp

baking soda

3

tsp

salt

11 grams
For the dressing
1

cup

celery

diced

1

cup

onions

diced

1

egg

2

Tbsp

fresh rosemary

finely chopped

2

Tbsp

fresh sage

finely chopped

2

Tbsp

fresh parsley

finely chopped

1

stick butter

plus more for brushing

3 to 3 1/2

cups

chicken or turkey broth

1/2

cup

turkey drippings

or replace with 1/2 cup more broth if you don't have drippings

1

tsp

salt
Instructions
For the Cornbread
Preheat the oven to 450 degrees. Mix the dry ingredients together with a whisk until combined.

Mix the 4 eggs until combined, then add the buttermilk and oil and stir until incorporated.

Bake in a greased muffin pan until golden brown about 15 minutes or until the cornbread springs back when pressed.

The cornbread muffins need to dry out for about 1-2 days for best results. You can make the muffins up to one month in advance and individually wrap them in plastic wrap and place them in the freezer. Make sure to thaw them for 1-2 days to dry out before making the stuffing.

For the stuffing:

Heat a large sauté pan over medium heat. Melt the butter and sauté the onions, celery, and fresh herbs until the onions are softened and translucent, about 5-8 minutes.

Meanwhile, in a large bowl crumble 4 1/2 cups worth of cornbread with your hands or dice the cornbread into equal-sized portions.

Let the onions, celery, and butter mixture cool a bit, then add to the cornbread.

Add the salt, egg, then the chicken or turkey broth, and turkey drippings if you are using them. Stir until combined.

Place in a buttered casserole dish and drizzle more melted butter on top to help form a nice crunchy crust.

Bake at 375 degrees for about 40-45 minutes or until it's nice and golden brown on top.
Notes
You will have extra muffins leftover for this recipe depending on how much batter you scoop into the muffin tins.  Just use about 4 1/2 cups worth of crumbled baked muffins for one casserole dish.  
Bon Appetit Ya'll,
Leslie O.