This yummy post for Triple Chocolate Hazelnut Orange Cookies is sponsored by Sprouts Market and I am taking part in their Incredible Bulk Bin Treat Exchange with 11 other bloggers!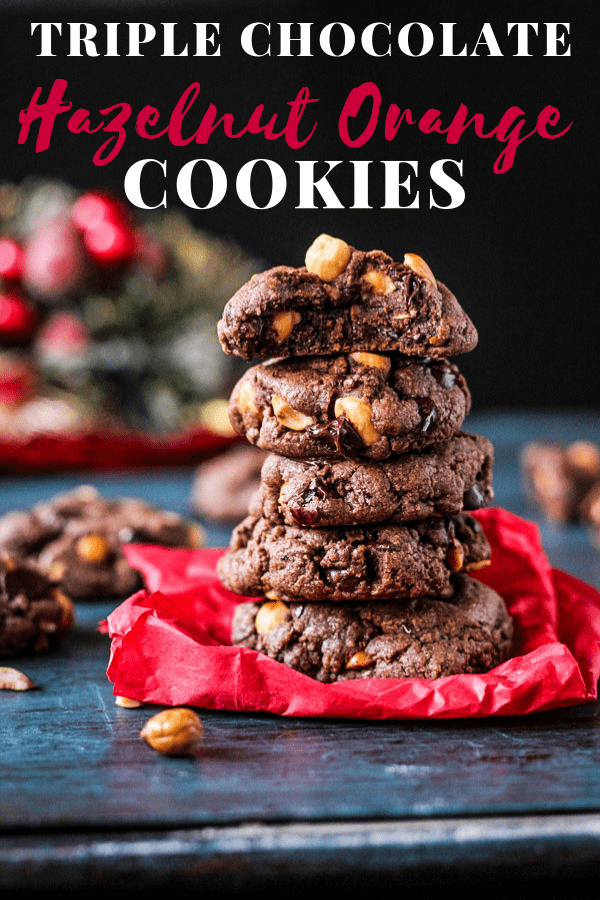 Now let's talk about these unbelievably deeeeelicious chocolate-ty, chewy, and nutty cookies shall we? Obviously, I chose whole hazelnuts from the bulk bin aisle because…HAZELNUTS AND THREE KINDS OF CHOCOLATE!! Seriously, do I need to explain why? OH, and the orange zest is just the perfectly perfect little bow on top of this treat!
THE INSPIRATION FOR TRIPLE CHOCOLATE COOKIES
I actually found this recipe inside my grandmother's green recipe box that I was fortunate enough to have passed down to me. What is so funny about my grandmother's recipes (especially her cookies) is that one batch usually makes 50-60 cookies. I'm not kidding! I guess in her day if you were making cookies, you were having the entire town over for a potluck.
Obviously, I cut the recipe in half.
The ingredients told me everything I needed to know about these cookies. It called for all the basic ingredients of any good cookie: Butter, brown sugar, regular sugar, eggs, and vanilla.
But then it got even better: a mixture of all-purpose flour and oat flour (or pulverized oats), which sounded like a lovely combo in a cookie. To top it off, there was chocolate chips, a chopped chocolate bar, and whatever kind of nuts you wanted.
Because the holidays are the perfect excuse to eat as much chocolate and cookies as your heart desires, I figured I would add cocoa powder for a triple chocolate explosion, and a bit of orange zest to brighten up and compliment the hazelnuts and chocolate.
If you like a little cookie with your nuts and chocolate, then this recipe is for YOU.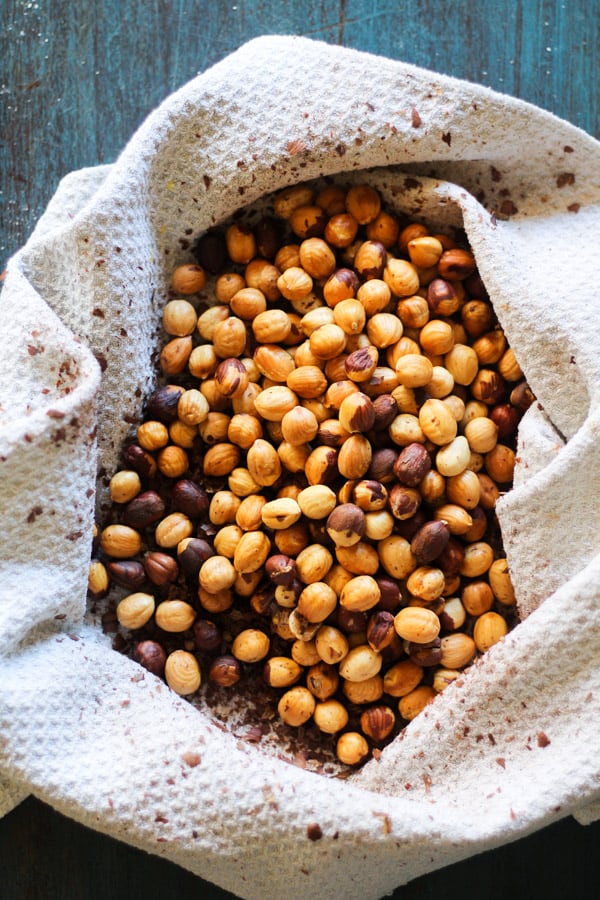 First, take whole raw hazelnuts and toast them in the oven for a few minutes, just until the skin starts to break. Then wrap them in a clean kitchen towel and rub them between your hands to release the skins. Don't worry if all the skin doesn't come off. Chop them coarsely and set aside.
Then you can start putting together your cookie dough by creaming the butter, then adding both of the sugars. Add the vanilla, eggs, orange zest and COCONUT OIL (or neutral oil). I use ALL CAPS because you might think of skipping the tiny bit of oil in this recipe, but DON'T. Oat flour absorbs more moisture than all-purpose flour which can dry out the cookie, so it needs a little boost from the coconut oil to keep the dough moist. I added this ingredient after I baked them once without it.
Now add your dry ingredients to the wet batter.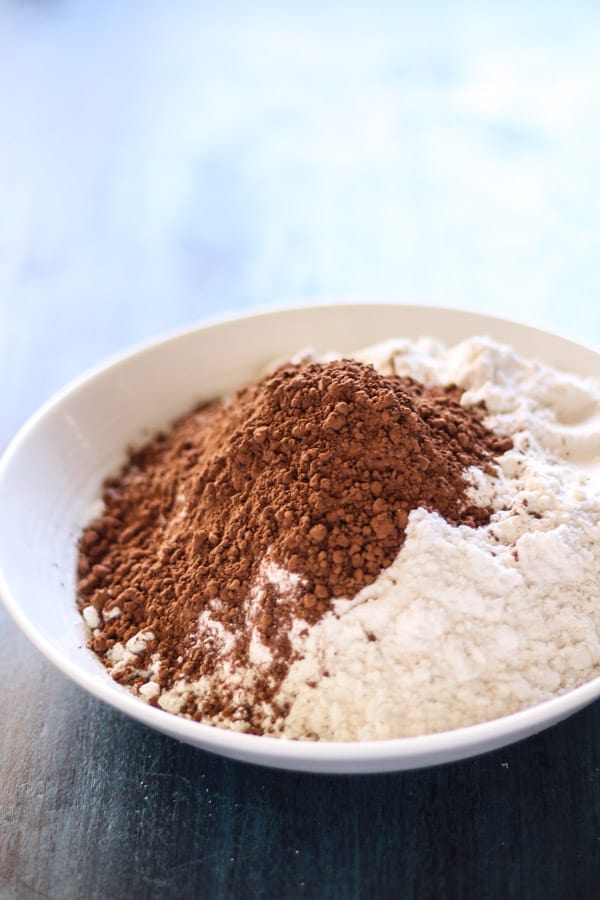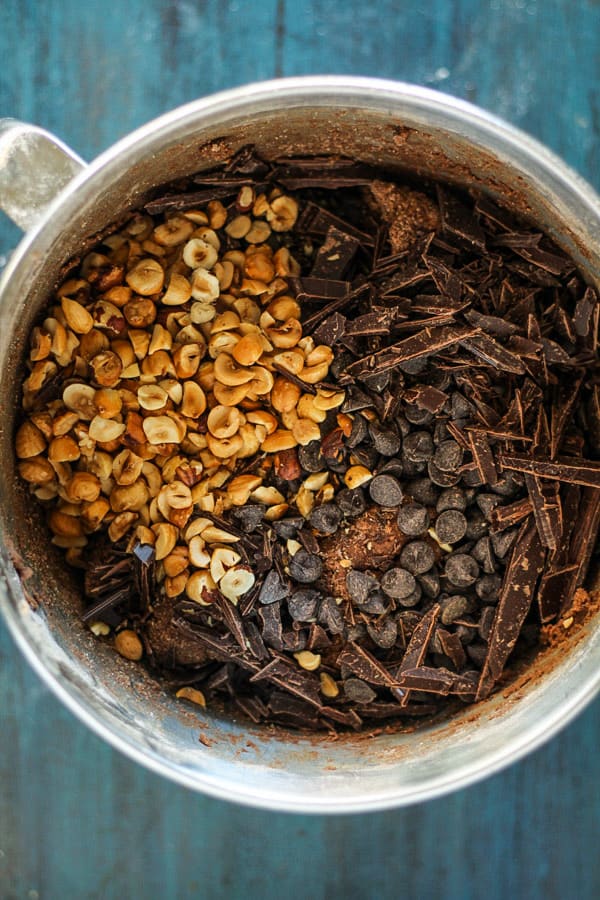 Mix until the nuts and chocolate are just combined. Because the dough has a large ratio of nuts and chocolate, you might need to press the scooped dough balls together with your hands to form them together.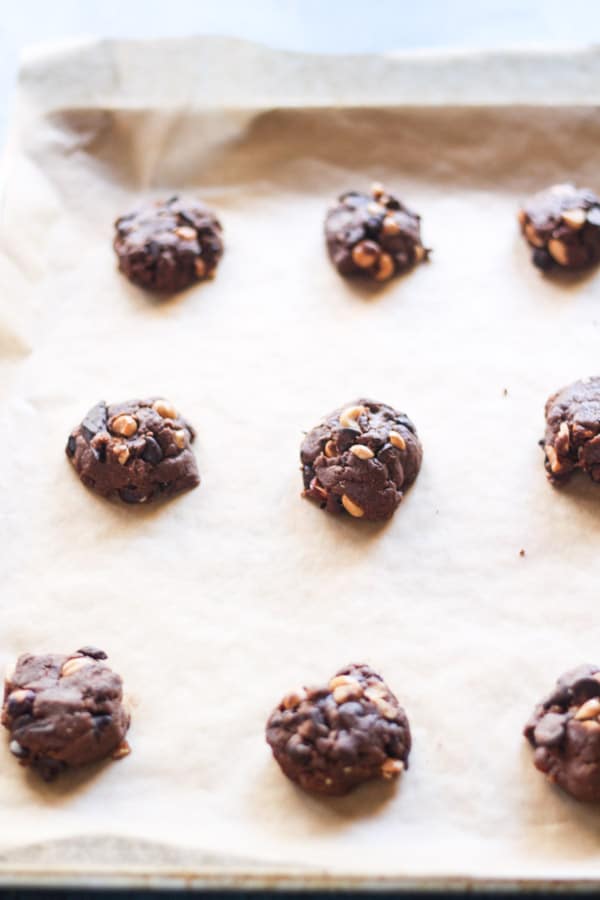 These bake really quickly: only 6-9 minutes in a 375 degree oven to make a chewy, gooey cookie. YUM!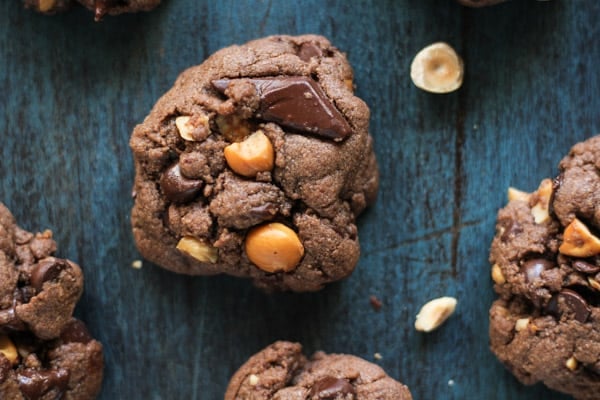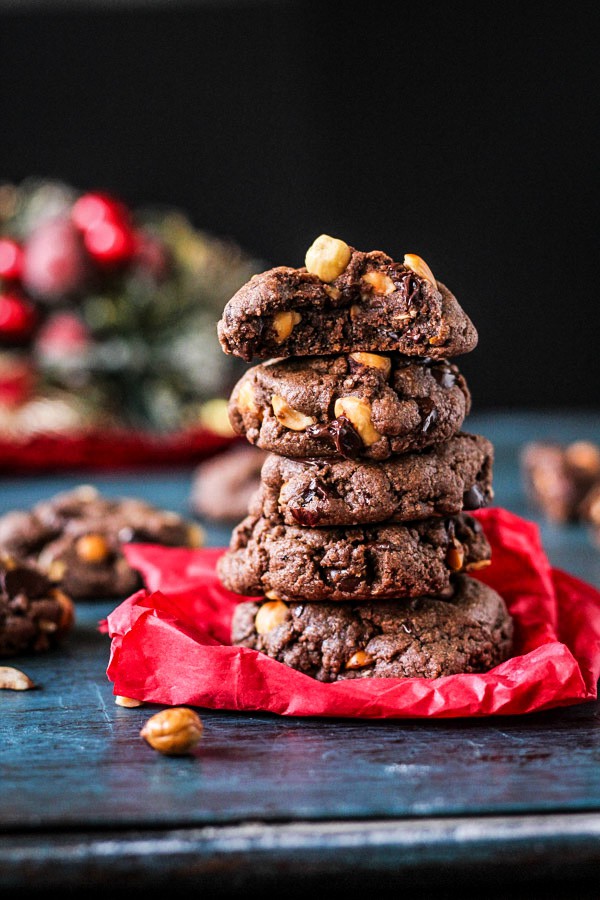 More recipes to discover from the Sprouts Treat Exchange:
These sweet and tart Orange Cranberry Bliss Bars that were sent to me from Handmade in the Heartland were bright and flavorful!
The second treat I received were these adorable Chocolate Walnut Gingerbread Boys from Buttermilk Lipstick which were tender and not too sweet, which I loved!
Bon Appetit Ya'll,
Leslie O.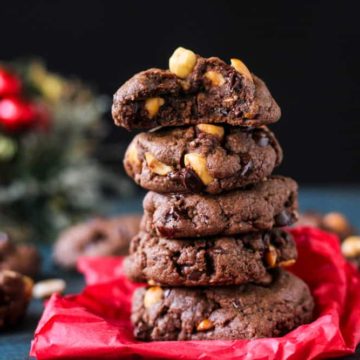 Triple Chocolate Hazelnut Orange Cookies
These rich and chewy cookies are filled with three kinds of chocolate, chopped hazelnuts, and a touch of orange zest.
Print
Pin
Rate
Ingredients
1

cup

(2 sticks) butter

softened to room temp

1

cup

sugar

1

cup

brown sugar

Sprouts brand is great

1 1/2

cups

all purpose flour

2 1/2

cups

oat flour

(or pulverized oats)

1/2

cup

cocoa powder

2

eggs

1/2

Tbsp.

vanilla

1/2

tsp.

salt

1

tsp.

baking powder

1

(12 oz. pack)

dark chocolate chips

4

oz.

dark chocolate bar

chopped

1 1/4

cups

whole hazlenuts

1

Tbsp.

coconut oil or neutral oil

Don't skip, it helps to hydrate the oat flour

1

large orange, zested

or 1 1/2 medium oranges
Instructions
For the Hazelnuts
Preheat the oven to 350 degrees. Toast the hazelnuts if they are raw for about 5-7 minutes until the skins start to break on the surface. Remove from the oven and wrap them inside a clean kitchen towel. Rub your hands over the towel to release the skins from the nuts. Remove as much of the skins as you can, but don't worry if some of the skin remains intact. Chop the nuts coarsely and set aside.
For the Cookies
Turn the oven up to 375 degrees.

Cream the butter for about 1-2 minutes on medium speed in a stand mixer with the beater attachment or with a handheld mixer until the butter resembles mayonnaise. Add the regular sugar and brown sugar and cream with the butter for about two more minutes.

Add the eggs one at at a time along with the vanilla, orange zest, and coconut oil, and mix on low speed, scraping the bowl to ensure all ingredients are incorporated.

Mix the oat flour, all purpose flour, cocoa powder, and salt together in a separate bowl.

Add in the dry ingredients a little at at a time over low speed and mix just until all the ingredients are incorporated, scraping the sides of the bowl occasionally.

Stir in the chocolate chips, chocolate pieces, and hazelnuts until evenly distributed, but don't over mix.

Scoop evenly sized portions onto a parchment-lined baking sheet about three inches apart (they won't spread very much). The scoops should be about 2 Tbsp. each. You may need to press each scoop together with your hands to ensure the ingredients form together.

Bake at 375 degrees for 6-9 minutes or until the tops of the cookies are just set. Baking them less lends are chewier cookie and will help them stay moist longer. When in doubt, take out around 7 minutes and let cool. Try one cookie, and if it's under baked, put it back in the oven for 1-2 minutes. Always SET A TIMER so you don't over bake your cookies 🙂

Store in an airtight container for up to three days. They are best if enjoyed within 24 hours.

This recipe makes 22-24 cookies.
Notes
You can make the cookie dough in advance by scooping the dough out into balls and placing them in a ziploc bag.  Lay them out on one layer flat inside the freezer so they don't stick together.  When you are ready to bake them, you may need to add 1-2 more minutes to the baking time since they will be frozen.