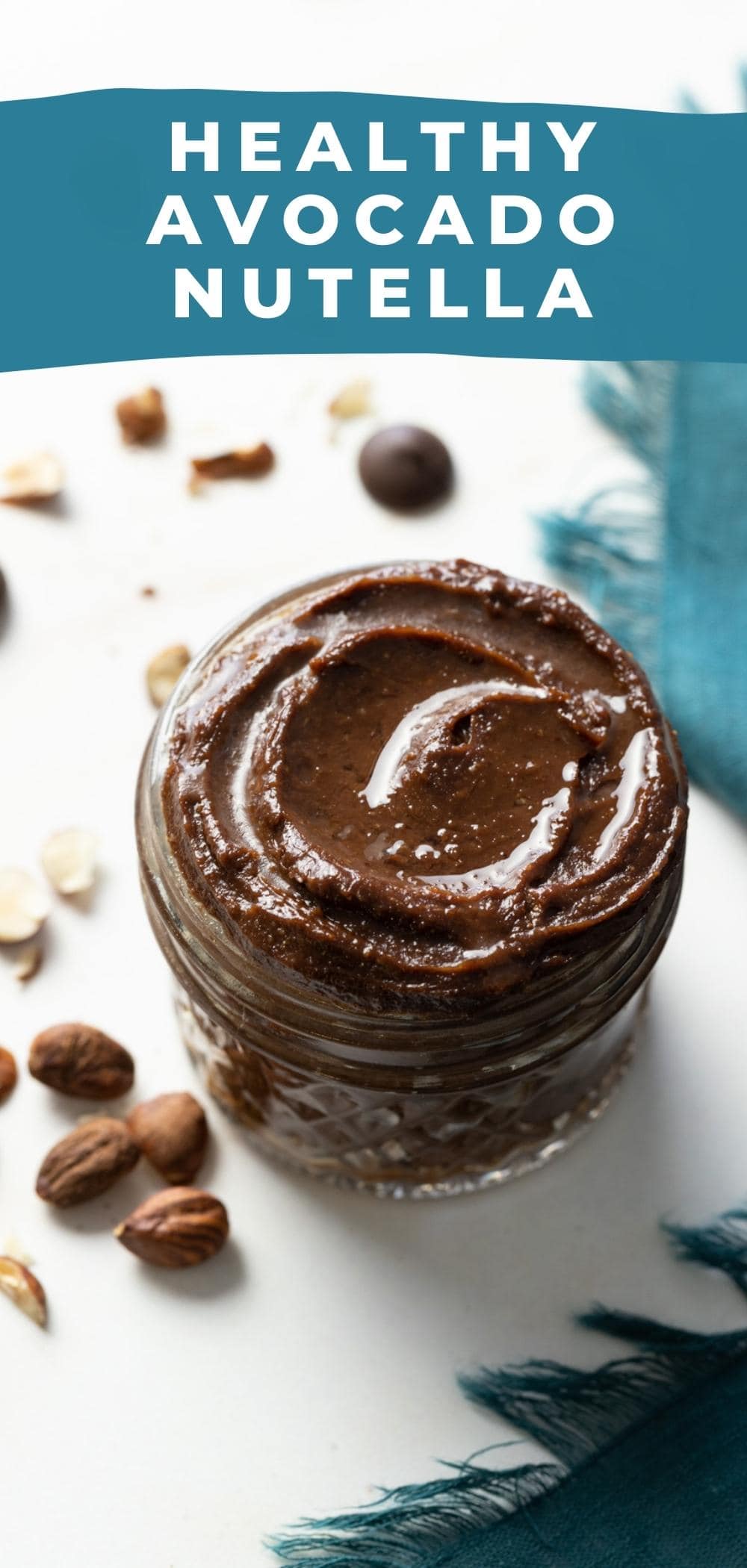 If you love nutella but want a healthier version then this Magical Chocolate Avocado Nutella recipe will satisfy your craving! It's luscious and chocolate-y, yet much lower in sugar than the store-bought spread.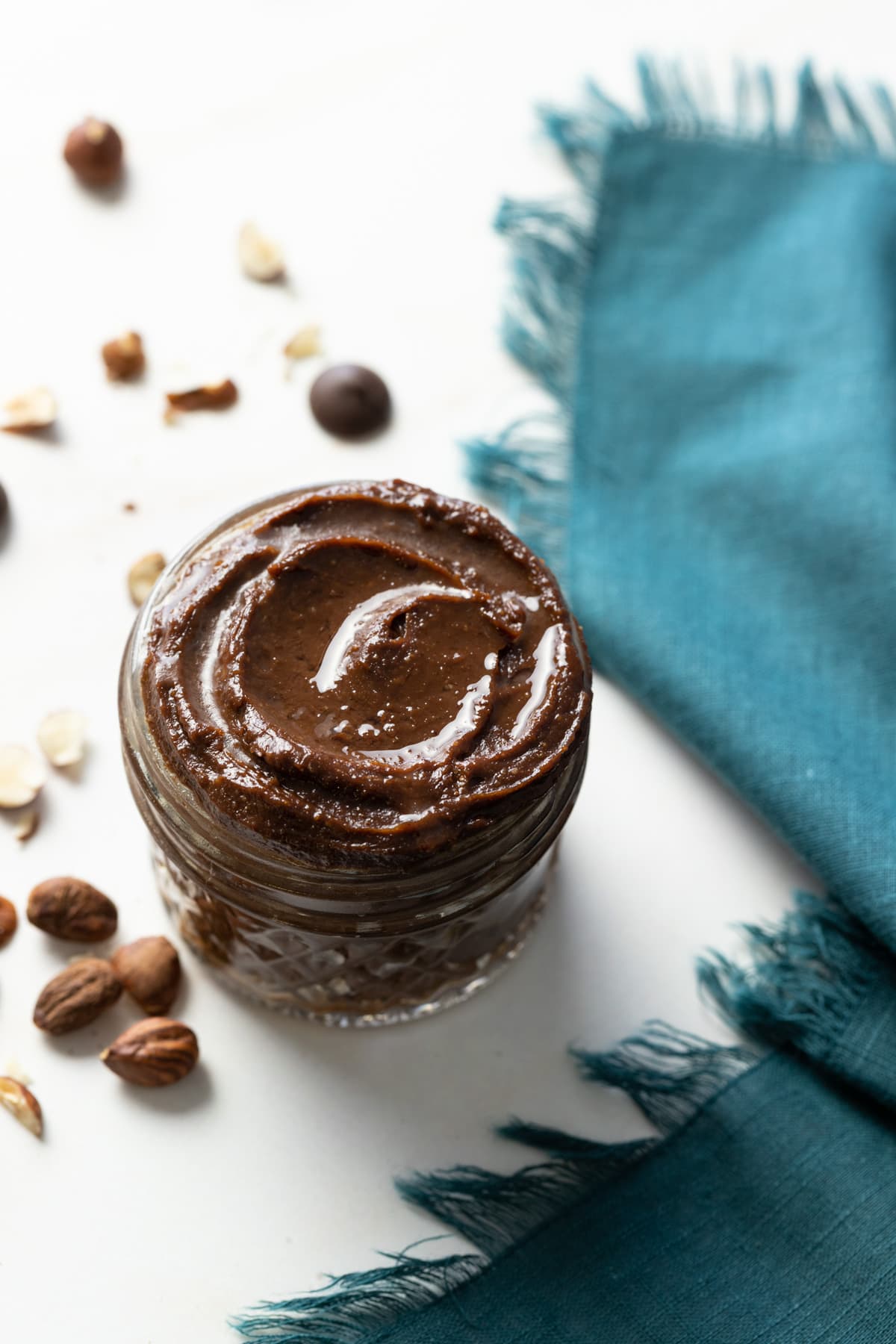 Avocado in Nutella, what?!
I know what you're thinking. Won't the avocado make the nutella go bad very quickly?!
Believe it or not, it DOESN'T go bad like guacamole. The oils and sugar help preserve this spread for 1-2 weeks in your fridge…and you can certainly FREEZE it too! I would just make sure not to use an overripe avocado that's brown, as this could affect the flavor.
Avocado has such a neutral flavor that if you don't add onions or garlic and lime juice it doesn't taste like guacamole either, ha! The avocado simply adds creaminess as well as nutrition without affecting the flavor.
Why this recipe works
The coconut oil mixed with the toasted hazelnuts makes a creamy hazelnut butter from scratch
A food processor helps to blend all the ingredients together with ease
You can also use a blender, but it's best if it has an agitator to help stir the ingredients as needed while blending
Melted chocolate makes this recipe even creamier and sweetens it perfectly
You can substitute the dark chocolate with dark chocolate that is sweetened with sugar alternatives if you wish
You can serve this avocado nutella on fruit (strawberries and bananas are great), spread it on toast, a bagel, or sourdough bread
It has only 6 ingredients
To get started, simply roast raw hazelnuts in the oven until he skins on the surface break. While they're still warm, take a kitchen towel and rub the skins off as much as possible. Watch the recipe video to see this is detail.
Some of the skin may still be intact, but that's ok, it will still be creamy. Add the hazelnuts and coconut oil to the food processor and blend until creamy.
Then add the milk of choice, vanilla, avocado, and melted chocolate and blend until smooth.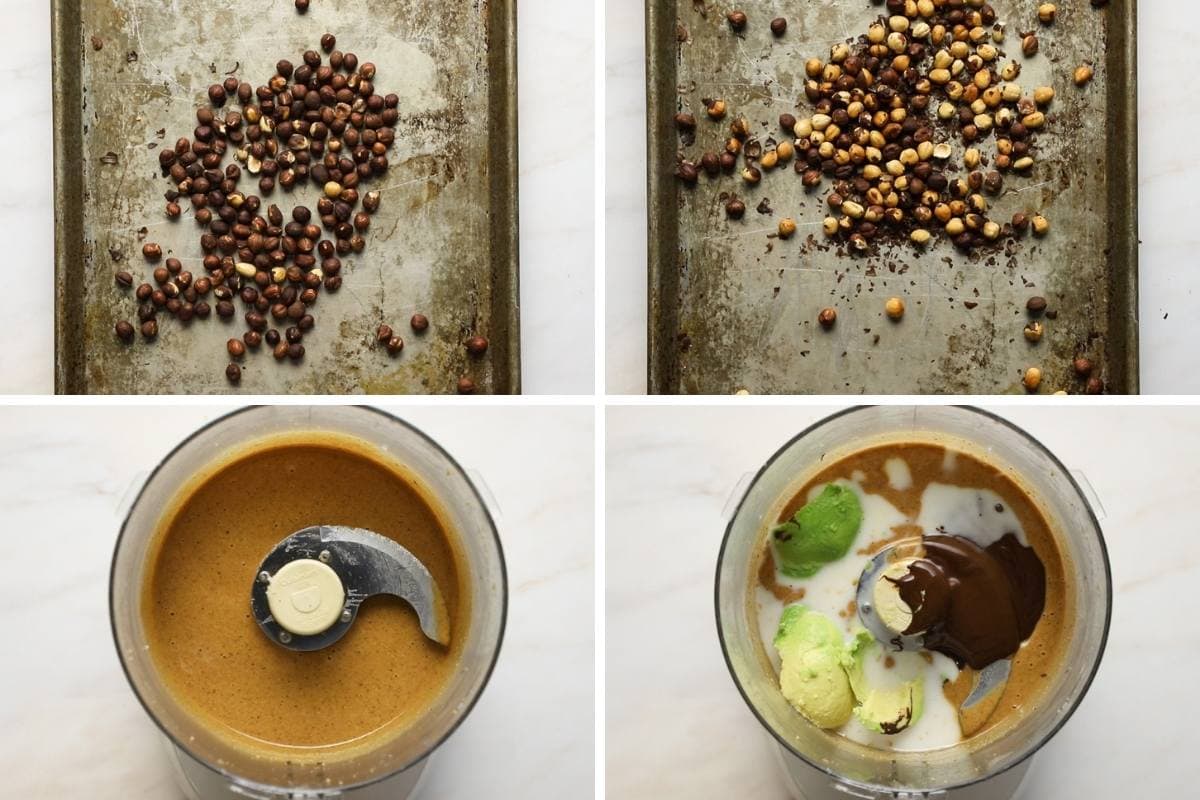 It's so simple and so delicious!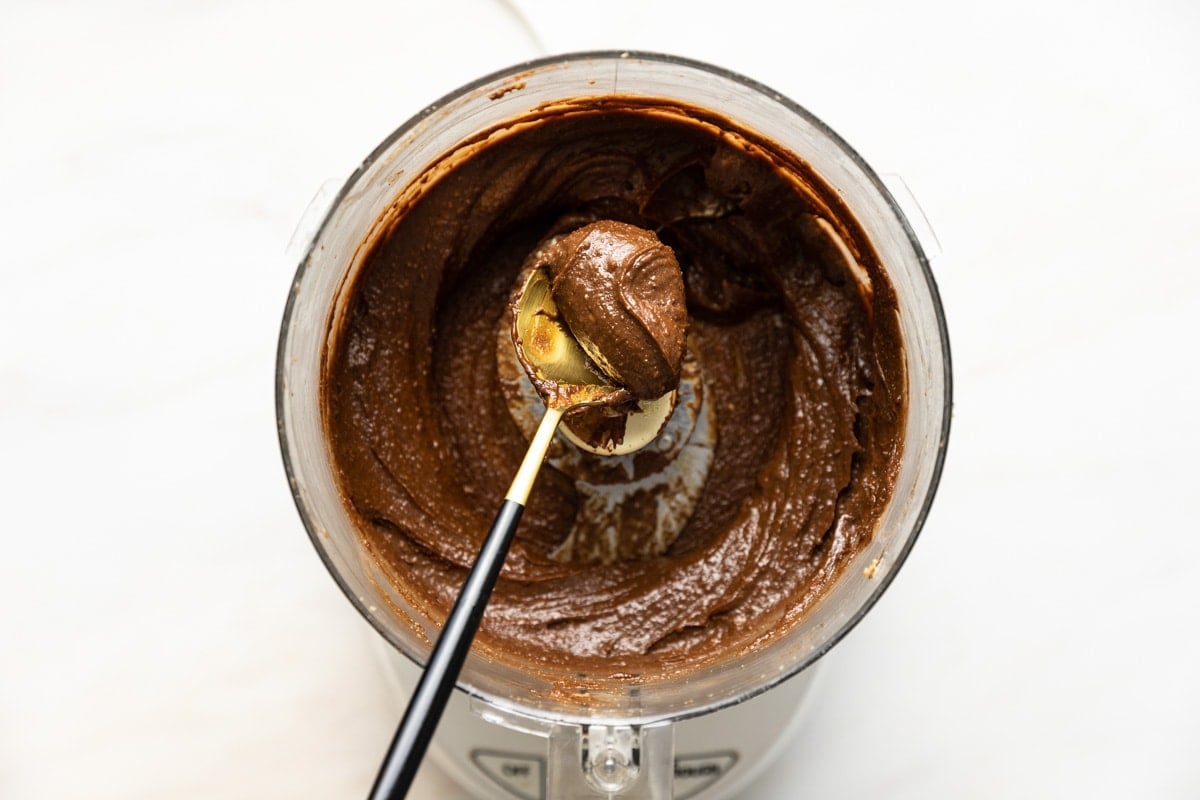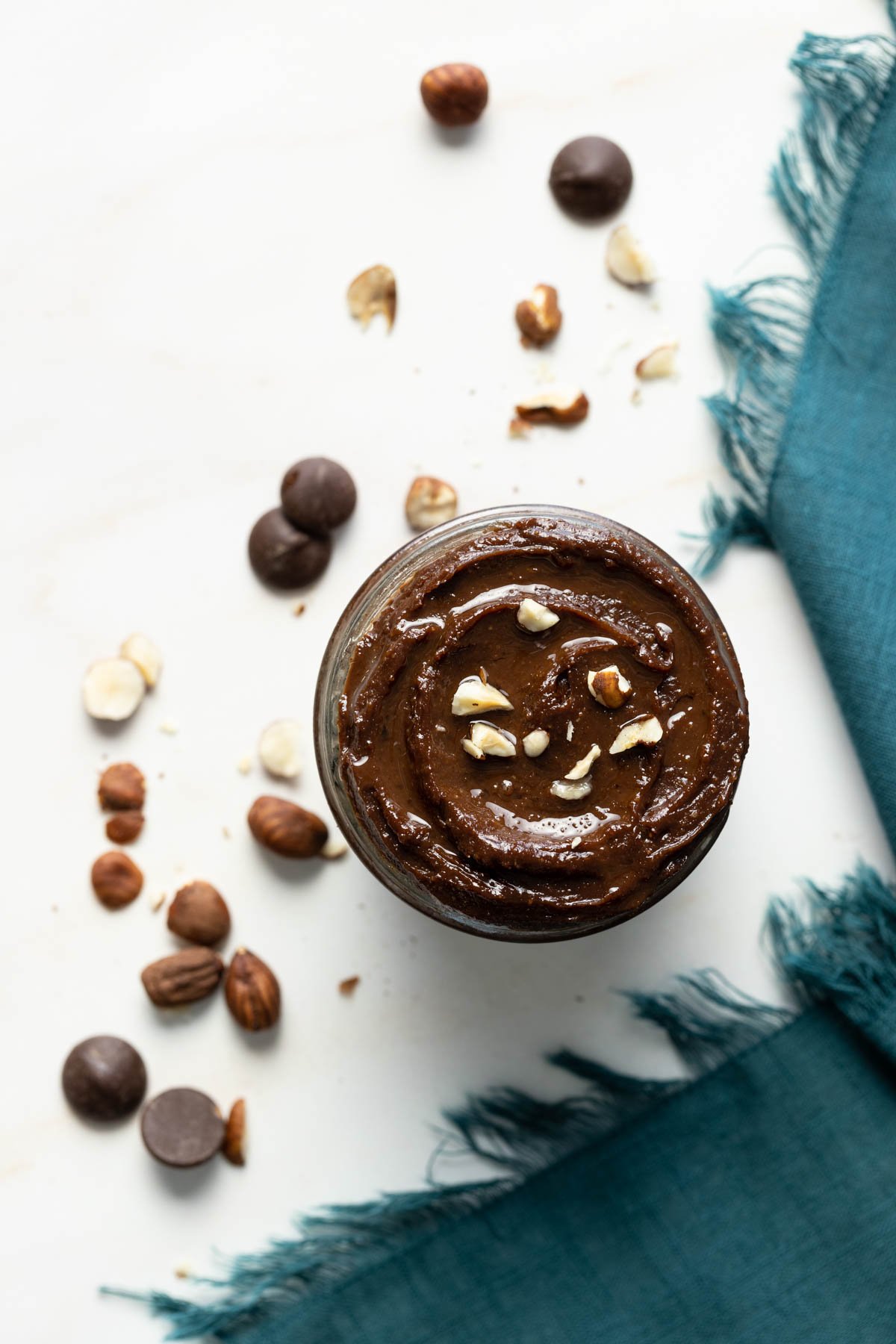 Bon Appétit Ya'll,
Leslie O.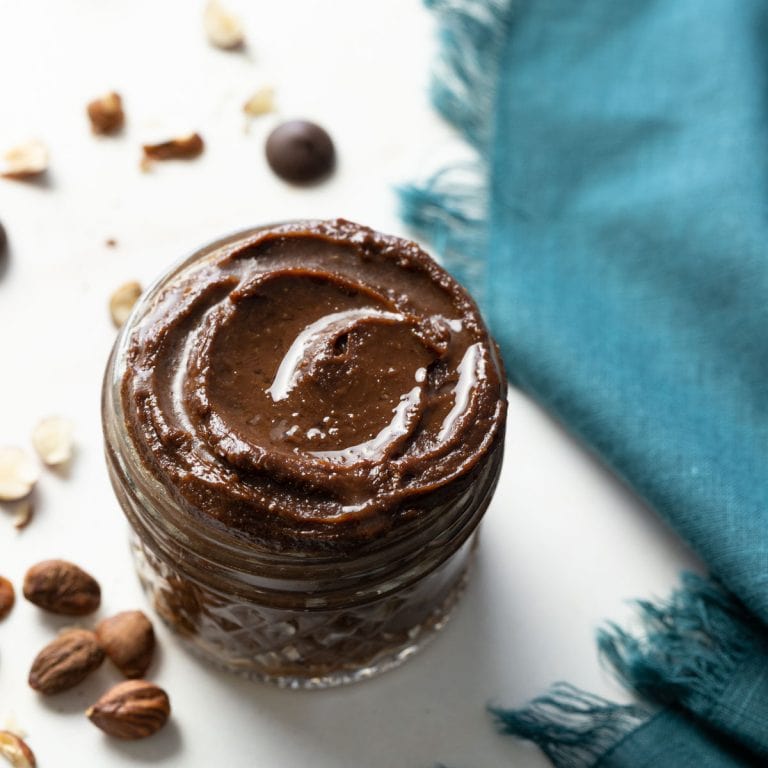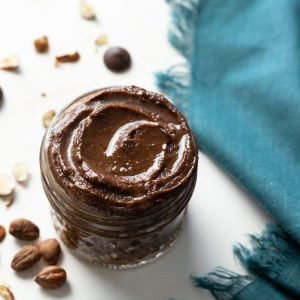 Magical Chocolate Avocado "Nutella" Recipe
Try this healthy and luscious better-than-the-real-thing homemade chocolate hazelnut spread!
Print
Pin
Rate
Ingredients
1

cup

hazelnuts

slightly toasted, skins removed

1

Tbsp

coconut oil

melted

1/2

cup

dark chocolate chips or dark chocolate bar

melted

1/2

avocado

1

tsp

vanilla

3

Tbsp

coconut milk, almond milk, or regular milk
Instructions
For the Hazelnuts
You can buy already toasted and chopped hazelnuts, or you can toast whole hazelnuts yourself.  

You can toast them two ways:

One way to toast them and loosen the skins is to toast them in a dry pan over medium heat on the stove top.  Toast for about 5 minutes, shaking the pan a few times throughout.  This will help to loosen the skins.  DON'T WALK AWAY, as it is easy to burn nuts.  Remove from the pan when they are slightly browned and you can smell their aroma.  

Or you can preheat your oven to 350 and toast until the skins begin to break and they smell slightly toasted, about 5-8 minutes. Again, be sure not to burn them.

Put them in a clean kitchen towel while they are still hot, and rub the towel over the nuts to remove as many skins as possible.  Don't worry if all the skin doesn't come off, it will still be creamy!
Making the Chocolate Spread
In a food processor or blender, add the nuts and the melted coconut oil and blend until smooth, about 3-4 minutes.

Melt the chocolate in the microwave for 10 second intervals until its almost all melted. Stir to smooth.

Add the melted chocolate and blend.  Then add the avocado, coconut milk (or milk of choice), and vanilla  Blend until smooth, about 1-3 more minutes.

Pour chocolate spread in a glass jar or container with a lid.

Serve immediately on toast, apples, or your fingers (I won't judge you). Cover with a lid and place in the fridge up to 1-2 weeks, or in the freezer for one month.
Notes
Substitutions
You can use a dark chocolate that has been sweetened with a sugar alternative if you wish.  I don't recommend using an unsweetened chocolate as that will make the spread taste bitter.