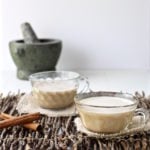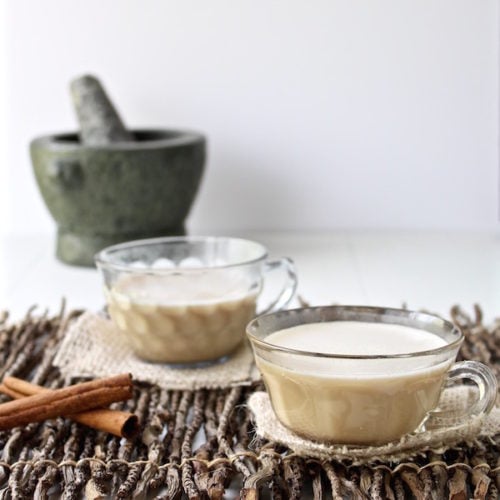 Print
How to Make Vegan Chai Tea with a French press
Luscious coconut milk replaces dairy milk, and whole spices enhance the aroma and flavor in chai tea. The French press strains the spices and helps to froth the coconut milk!
1 1/2

cups

water

2/3

cup

coconut milk

I like unsweetened canned

2

tsp

. loose black tea

4

cardamom pods

4

allspice berries

2

cloves

whole or 2 pinches of ground cloves

2

tsp

cinnamon sticks or 1/8 . ground cinnamon

1/2

inch

slice fresh ginger

*optional drizzle of honey or raw sugar
Crush the spices one or two times with a mortar and pestle or bottom of a small pan.

Add water to a saucepan and add coconut milk to another saucepan. Add half of the spices to the water, and half to the coconut milk.

Add the loose black tea to a French press.

Bring the water to a boil and pour over the black tea. Cover with the lid just to the top of the water. Steep for five minutes.

Bring the coconut milk to a simmer at the same time as the water. Keep on a low simmer until the tea has steeped in the French press for five minutes. Remove the lid of the French press and pour the coconut milk over the tea. Cover again and let steep for 4-5 minutes.

Pump the strainer a few times before serving to froth the coconut milk. Serve with a drizzle of honey or raw sugar if you like it sweetened.

Serve immediately.