Print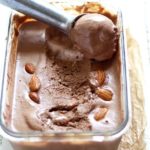 NO CHURN SPICY CHOCOLATE ICE CREAM RECIPE
This luscious spicy and chocolatey no churn ice cream has a secret ingredient to make it even more creamy and delicious!
For the chocolate syrup:
3.5

oz

dark chocolate

about 1 bar

1/4

cup

cocoa powder

2

Tbsp

. powdered sugar

1/2

tsp

. cayenne pepper powder

1/2

tsp

. expresso powder

optional

1

tsp

. vanilla

1/4

cup

hot water
Place the loaf pan or glass dish in the freezer.
For the ice cream base:
Whisk together the softened cream cheese, sweetened condensed milk, and 3 Tbsp powdered sugar.

With an electric beater or standing mixer, whip the heavy whipping cream until it reaches firm peaks. DO NOT OVER-WHIP!

Gently fold in the whipped cream in until combined. Place covered in the fridge while you make the chocolate sauce.
For the chocolate syrup:
Melt the dark chocolate bar in the microwave for ten second intervals, stirring each time until just melted. In another bowl, whisk together the cocoa powder, powdered sugar, cayenne pepper, and espresso powder. Whisk in hot water and vanilla until nice and smooth. Whisk in the melted chocolate bar. Let the chocolate syrup cool a bit if it's hot.

Fold in the chocolate syrup into the ice cream base until combined. Add half of the almonds and gently stir in.

Pour the ice cream into the loaf pan, the rest of the almonds to the top layer for presentation, and cover with parchment or wax paper. Cover with a tight-fitting lid or with plastic wrap all around the pan.

Let ice cream freeze in the coldest part of your freezer for at least 6 hours.
*Quick Tip
If you are serving the ice cream same day, especially for a party, you can let it freeze for just 3-4 hours and it will scoop very easily. Otherwise it needs to sit at room temp for about 20 minutes to soften before serving.