Print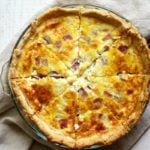 FRENCH BEER QUICHE W/ ALL BUTTER CRUST
Beer is the secret ingredient infused inside this buttery and delicious quiche!
Total Time
1
hour
45
minutes
Pie Crust
2

cups

all purpose flour

280 grams

2

grams

sticks butter

cold and cubed (454 )

3/4

tsp

. salt

6 grams

2

Tbsp

. vodka

2

Tbsp

. water

1

egg white
For the Pie Crust
Cut the butter into small pieces and place in the freezer for 10-15 minutes.

Mix the vodka and water together and place in the freezer too. you can also place the food processor bowl or mixing bowl in the freezer or fridge to stay cold.

Add the butter, flour, and salt to the food processor or mixing bowl. Pulse until small pieces form. If doing by hand, press the butter and flour together between your fingers.

Pulse in the egg white and vodka/water mixture until it just starts to form a ball. Place the dough onto your counter, cut in half, and wrap the two pieces in plastic wrap. Freeze one disc for future use. Refrigerate one piece for at least one hour.

The dough can be made in advance and placed in the fridge for up to two days, or in the freezer for one month.
For the filling
Over medium heat in a medium saucepan, sauté the onions and carrots in 2 Tbsp. butter until softened, about 8-10 minutes. Add the beer and simmer until almost all of the liquid has evaporated, about 30 minutes. Remove from the pan and set aside to cool.

Preheat the oven to 350 degrees.

Whisk together the eggs, milk, cream, salt and pepper.

Roll out your pie crust in between sheets of plastic wrap for easy rolling to the size of your pie shell. Remove one side of the plastic wrap and invert onto your pie shell. If your shell is too warm and tears apart, pop the crust in the pie shell inside the freezer for 10 minutes to firm it back up. The plastic wrap will remove easily without tearing this way.

Layer the carrot and onion mixture on the bottom of the shell first, then add the cheese, then the egg mixture. Top with sliced ham.

Bake in the oven for about 45 minutes or until the crust is golden brown and the quiche is set in the center. Let cool for 10 minutes before slicing.

Serve immediately.