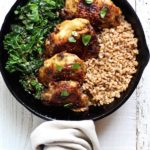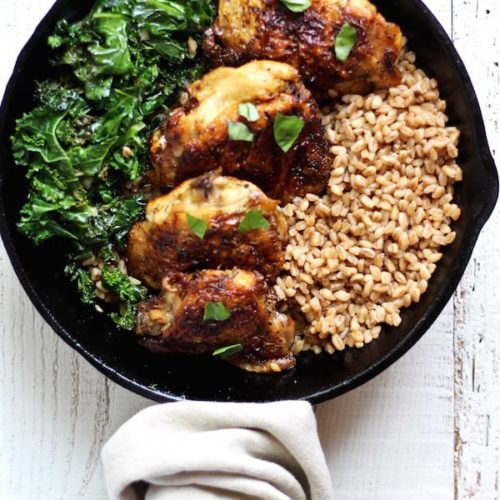 Print
CRISPY CHICKEN & KALE FARRO SALAD RECIPE
Crispy chicken thighs, sautéed kale, and nutty farro blend together to make a scrumptious lunch or dinner. It's great as leftovers too!
4

skin-on chicken thighs

1

cup

farro

2

cups

water

2

cups

kale

1

shallot

minced

2

cloves

garlic

minced

2

Tbsp

. balsamic vinegar

1

tsp

. olive oil

splash of white wine

optional

basil for garnish

optional

salt and pepper

Essence of Emeril seasoning blend for the chicken thighs (optional

but pretty much the best seasoning blend that ever existed)
For the Chicken Thighs
Preheat the oven to 375 degrees.

Heat an oven-safe pan like a cast iron skillet or sauté pan over medium heat. Do not add any oil to the pan if you use chicken thighs with skins. The fat will render out once they start cooking and they will crisp up nicely and will be very moist. Season the chicken thighs with either salt and pepper or Emeril's essence (or your favorite chicken seasoning blend). Place the chicken thighs skin-side down and sauté for a few minutes until the skins are completely crispy. Flip and brown the other side really well for a few more minutes. Place in the oven to finish cooking. It should take about 10-15 more minutes.
For the Farro
While the chicken cooks, rinse the farro in a colander under cold water for a bit to remove some of the starch. Heat a saucepan over medium heat and add 1 tsp. olive oil. Sauté the farro for about one minute or until it starts to smell slightly nutty. Add the water and season with salt. Let the water come to a simmer and cover with a lid and turn the heat down to low. Simmer for about 15 minutes, or until the farro is tender but still has a bite. Remove from the pan, and drain the excess liquid from the farro. Add it to a bowl and dress it with salt and pepper and 2 Tbsp. balsamic vinegar.
For the Kale
While the chicken and farro are cooking, mince the shallot and garlic and set aside.

Remove the chicken from the oven when it's fully cooked and remove from the pan and set aside. Place the pan you cooked the chicken in on the stovetop and turn on a burner over medium heat. Remove all but 1-2 Tbsp. of the pan juices and sauté the kale, stirring frequently. After about two minutes when it's almost cooked, add the shallot and garlic and sauté stirring frequently for about 30 seconds only as you don't want to burn the garlic and shallot. Deglaze the pan with a touch of white wine or balsamic vinegar and stir until the liquid is evaporated. Season with salt and pepper and remove the kale from the pan.

Serve immediately.