Sometimes I look in the mirror and I don't like what I see.
Every time I step on the scale, I find myself looking up and gritting my teeth before I look at that dreaded number in between my toes.
You hear from beautiful and empowered women that it's just a number, and you shouldn't let it define you.
I want so desperately to feel that beautiful and empowered, but honestly, all too often I don't.
I'm really good at seeing the beauty in others, and telling them how awesome they are, but when it comes to seeing that in myself, I struggle almost everyday.
It's so tragic that women are completely brainwashed from the time we are born to believe that our self worth is so greatly influenced by our waistlines, and not by our intellect, or wisdom, or the fact that we literally grow human beings inside our bodies and keep the human race alive!
Seriously, enough is enough.
I know there will be moments when I will forget about my true divine nature, which is the true essence of every woman, every child, and every man.  It is no understatement that we are the embodiment of love.  The hard part is remembering this every day.
I believe that part of loving myself means that I eat healthy whole foods everyday and try to incorporate soul-satisfying nutrition and flavor into my meals.
So for today, I share a recipe that helps me feel nourished and strong, and is utterly delicious at the same time.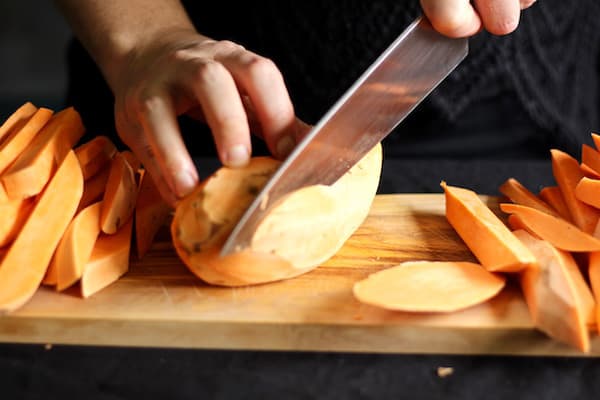 These sweet potato fries are crisp and the avocado sauce has a bit of coconut milk to give it a subtle tropical flavor that is so light and refreshing.
Yes, this is life-giving food.
HOW TO SLICE SWEET POTATOES (without slicing off your fingers):
1. Slice a portion off of the sweet potato to create a safe flat surface to chop from.
2. Lay the sweet potato flat side down and slice about 1/2-inch size slices width-wise.
3. Slice them into fries.  Remember that the sweet potatoes will shrink in the oven so don't slice them paper thin.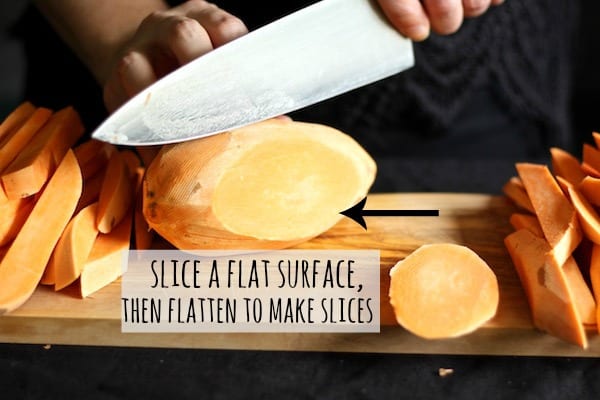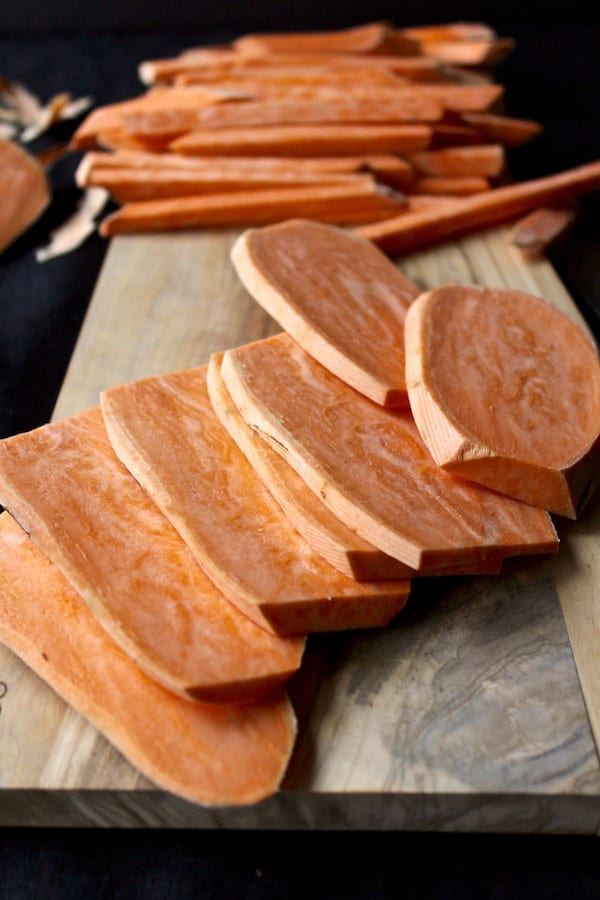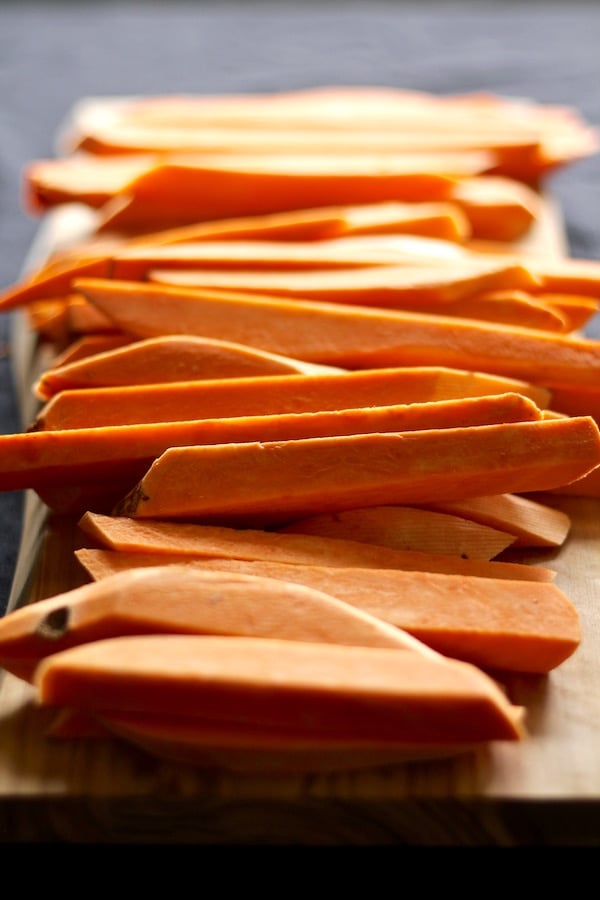 Now coat them with chipotle powder, smoked paprika, potato starch, and olive oil.  Don't salt them until they are done, as the salt pulls out moisture and will make them a little soggy.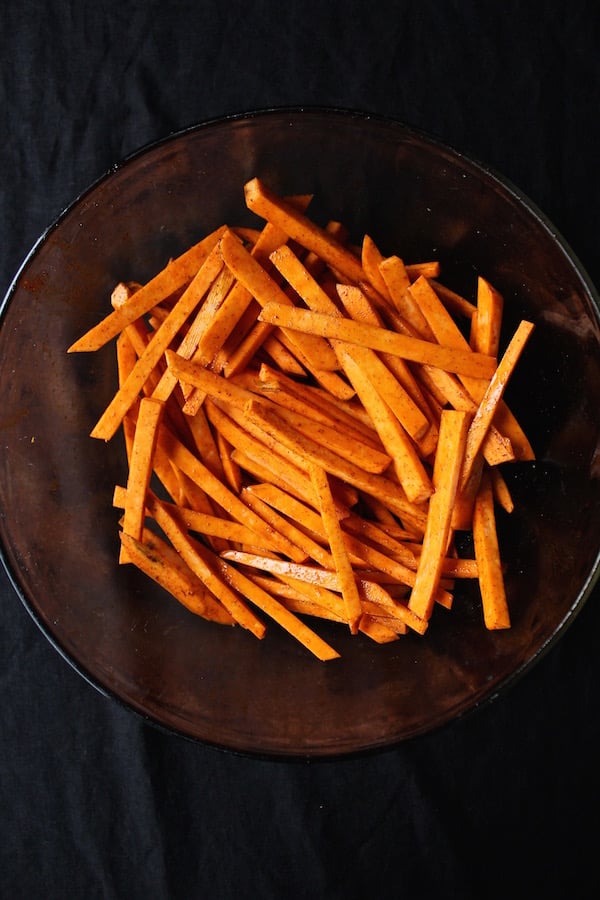 Although this next step isn't required, if you have a cooling rack that fits in a sheet pan, place the fries on top with parchment paper so they won't stick.  The rack helps to circulate heat under the fries to help them crisp up.  If you don't have a rack, just place them on parchment paper directly on the sheet pan.  Don't overcrowd the pan.  They will get soggy otherwise!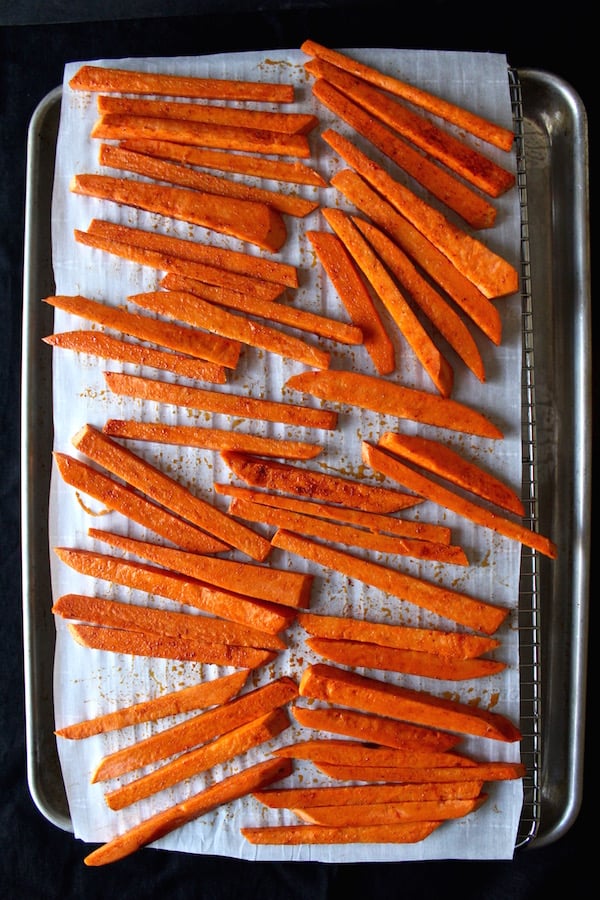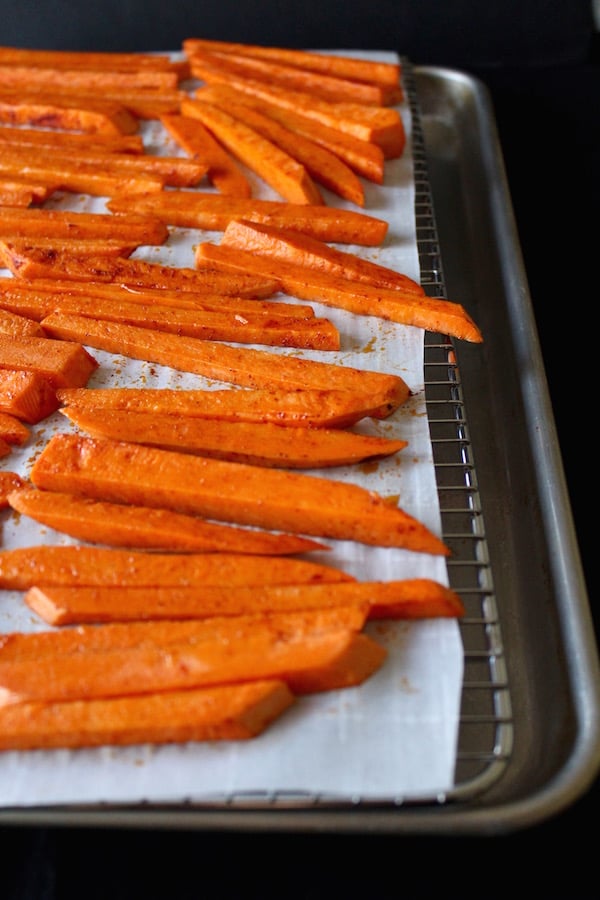 While the fries are baking, make the avocado dipping sauce with an avocado, cilantro, a touch of unsweetened coconut milk, lime, and salt.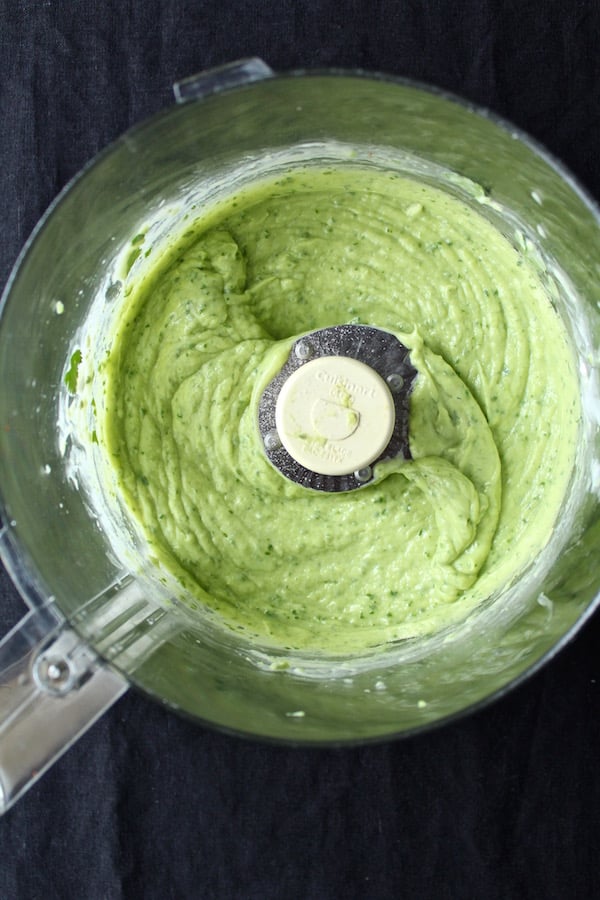 Let the fries cool for a few minutes, then dive right in.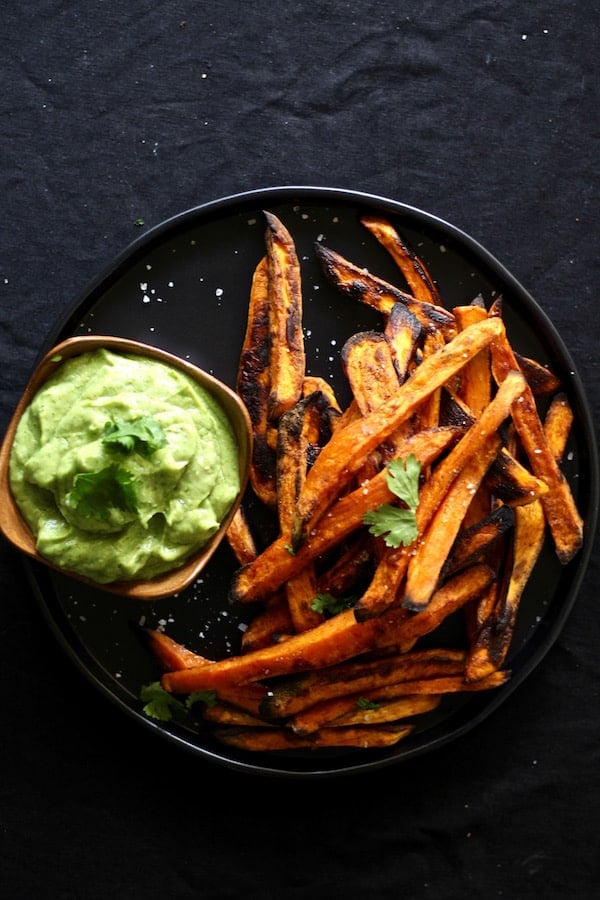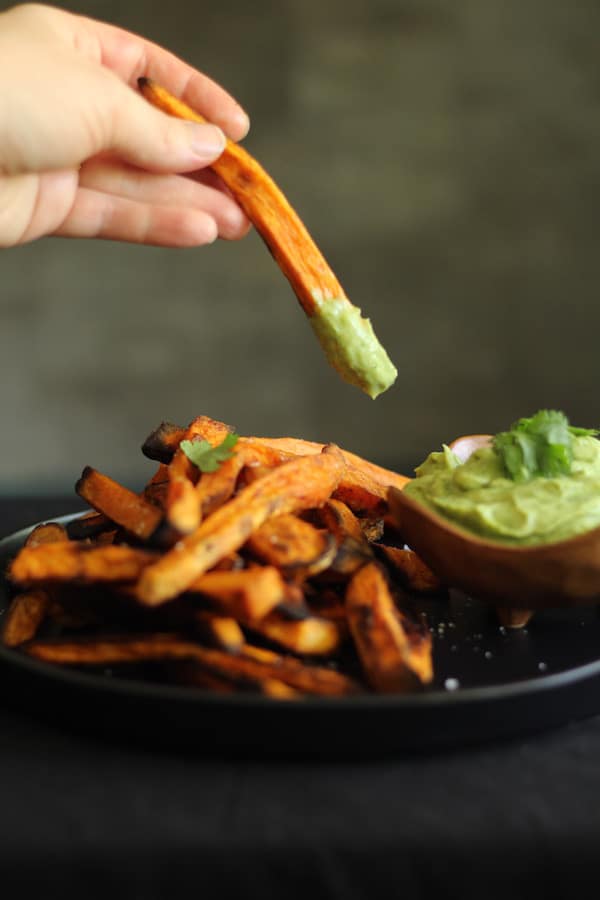 WATCH THE TASTY VIDEO FOR THE RECIPE ↓
Here is to life-giving food and self-love in action.
Bon Appétit Ya'll,
Leslie O.
Print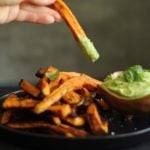 Smoky & Spicy Baked Sweet Potato Fries|Avocado, Cilantro & Lime Dipping Sauce
Smoky and spicy sweet potatoes are baked to perfection and served with a light and refreshing dipping sauce!
Ingredients
For the Sweet Potatoes
3

sweet potatoes

skins removed, sliced then cut into fries

2 1/2

Tbsp

. olive oil

1/4

tsp

. chipotle powder

1/2

tsp

. smoked paprika

3

tsp

. potato starch

salt
For the Avocado Sauce
1

avocado

1

lime

juiced

handful cilantro

1/4

cup

unsweetened coconut milk

salt to taste
Instructions
Preheat the oven to 450 degrees.

Slice a chunk off of the sides of each sweet potato to make a flat surface to cut from. This will keep the sweet potato still while you are slicing into it.

Slice 1/2 slices width-wise. Cut them into fries from there. Don't slice them to small because they will shrink in the oven.

Mix the spices and potato starch together.

Coat in olive oil, then the spices and potato starch mixture. Don't salt until they come out of the oven. Salt will extract moisture and will make them soggy.

Place a cooling rack in a sheet pan and cover with parchment paper. Top with the sweet potatoes, but don't overcrowd the pan! It's better to use two pans if your sheet pan isn't big enough.

Bake in the oven for 20-25 minutes, or until they are cooked and the edges have darkened. Let cool for a few minutes before serving.

While the fries are baking, make the sauce by adding all the avocado, cilantro, coconut milk, lime, and salt to a food processor and puree.

Serve with the fries!