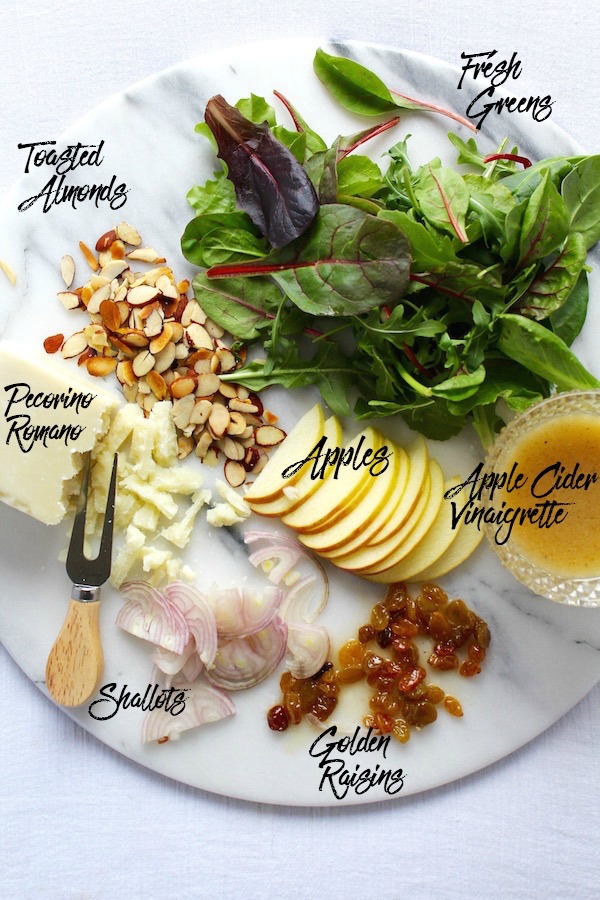 This post is brought to by "Man, my pants are getting tighter with all the sweets I've been eating because I have a baking blog."  Don't you love that brand?  After making the most amazing GF Chocolate Browned Butter Cake with Chocolate Meringue Buttercream last week, I'm needing a little savory and healthy options to counteract all those delicious baked goods I've been testing (I do it only for your benefit?).    Luckily I made the cake for someone's birthday (Happy Bday Ray ?!) and was unable to dive into it myself, unless you count scraping off every morsel of cake from the pans and eating spoonfuls of leftover buttercream.  Hence, I need to eat more salads.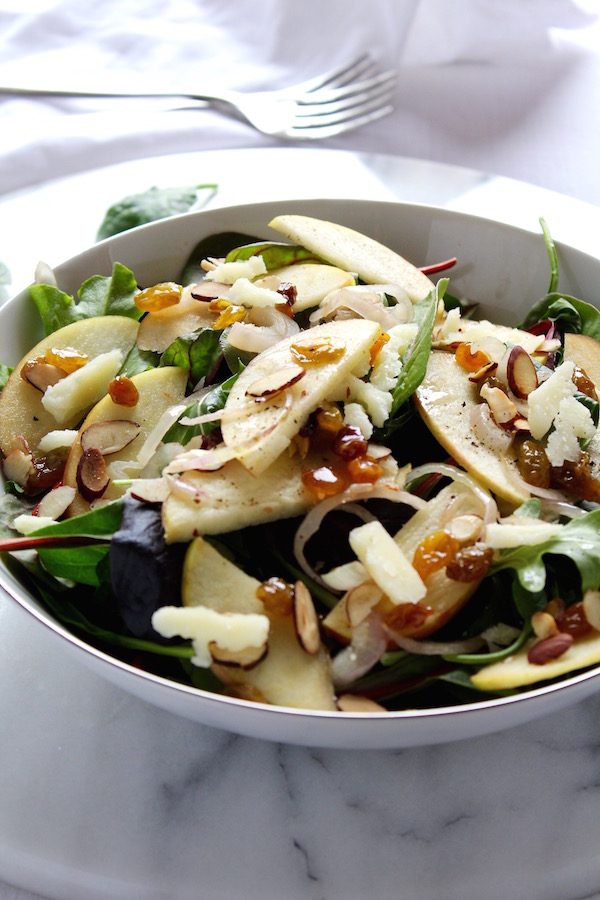 The autumnal season seems to bring about the need for warm, fuzzy slippers, and hot tea snuggled in the palms of your hands…Ok, let me stop and make some tea because that sounds nice☕️.  Now that I'm snuggled in a blanket with warm tea, I'm also craving this lovely salad I made yesterday for lunch.  Salads and cold weather don't seem to mix, but I think this warm apple salad will woo you into eating your greens all year long.  Crisp apples slightly warmed with sautéed shallots with a light apple cider vinaigrette are perfect fall salad flavors.  Pecorino Romano is probably my favorite cheese for snacking and topping on salads, pastas, my big toe…you name it!  Sliced toasted almonds, golden raisins, and a maché greens mix I got from the store round out this tasty and satisfying meal.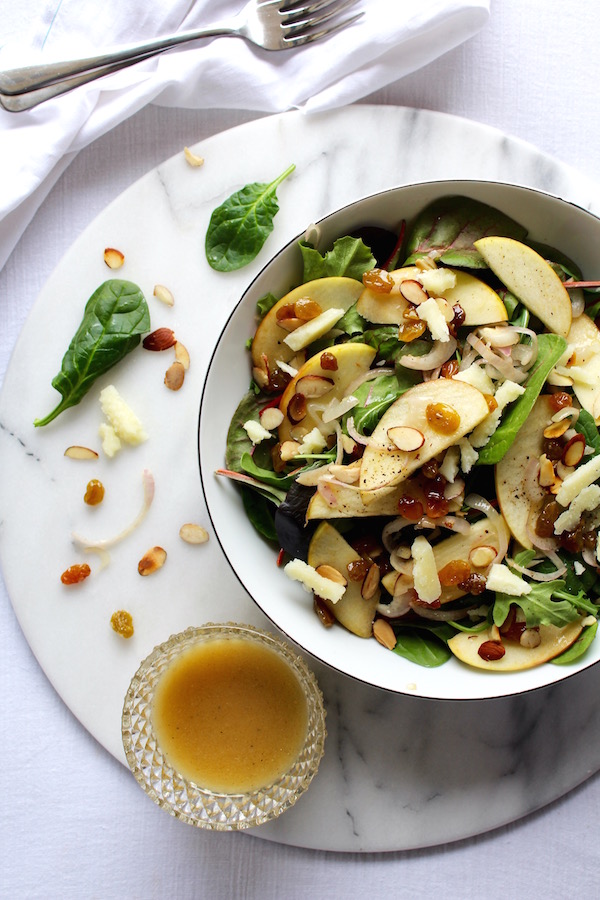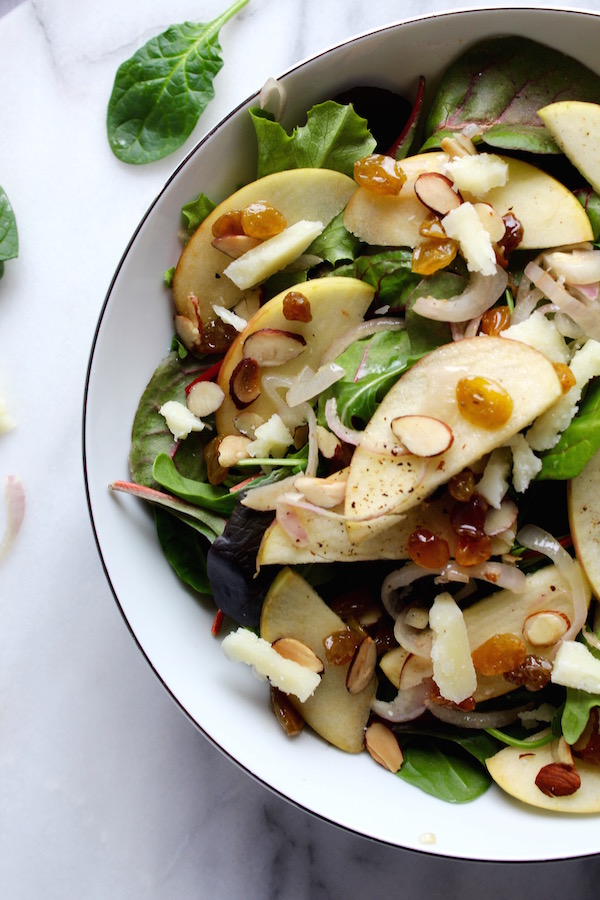 If you are needing a little protein, might I suggest chicken sausage?  My favorite is Aidell's Chicken Apple Sausage which can be found next to the pork sausage in the grocery store.  I wouldn't be mad if you felt the need to add a little bacon on top either.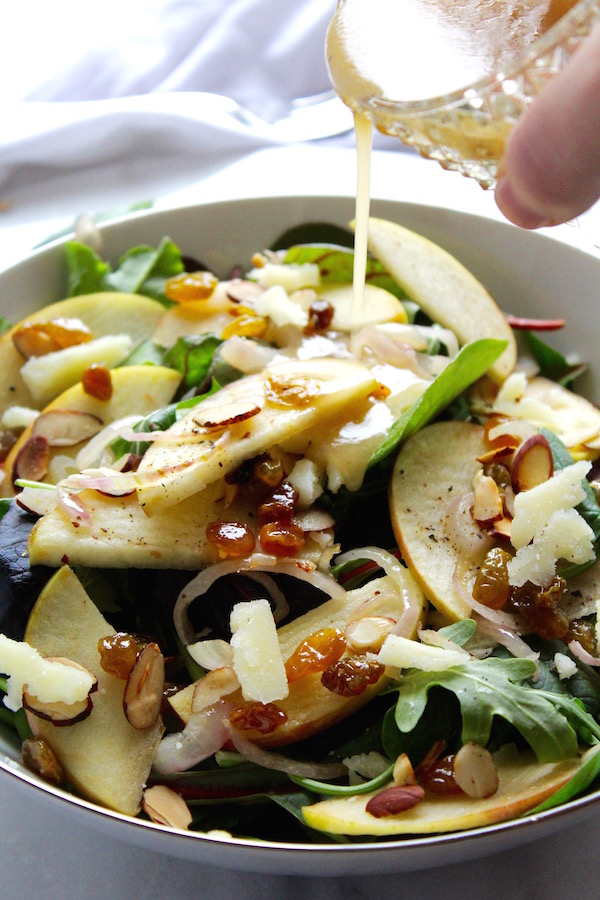 Bon Appetit Ya'll,
Leslie O.
Print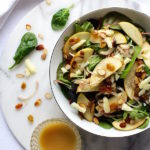 Warm Apple Salad with Apple Cider Vinaigrette
Warm apples, fresh greens, with sautéed shallots, toasted almonds, and pecorino cheese make a perfect fall salad.
Ingredients
5-8

oz

. Fresh mixed salad greens

2

apples

peeled and sliced

1/3

cup

sliced almonds

1

large shallot

sliced

3

Tbsp

. golden raisins

1

Tbsp

. Olive oil

for shallots and apples

Pecorino Romano Cheese

shaved

For the vinaigrette:

1

Tbsp

and 1/2 . Apple cider vinegar

3

Tbsp

. Olive Oil

1

Tbsp

. Maple syrup

1

tsp

. Whole grain Mustard

salt and pepper
Instructions
Whisk the apple cider vinegar, whole grain mustard, and maple syrup together. Whisk the 3 Tbsp. olive oil, salt, and pepper until combined. Add the golden raisins to soften and absorb some of the flavor.

Heat a medium sauté pan over medium heat and toast the almonds until slightly golden brown. Set aside.

In the same pan heat the remaining 1 Tbsp. olive oil. Add the sliced shallots and sauté until fragrant, about 2 minutes.

Add the sliced apples and warm through, about 1 minutes. You don't want to overcook the apples because they will lose their crispness.

In a large bowl, add the salad greens and toss with the vinaigrette. Top with the golden raisins, apples and shallots, almonds, and shaved pecorino romano cheese. Season again with salt and pepper again if needed.