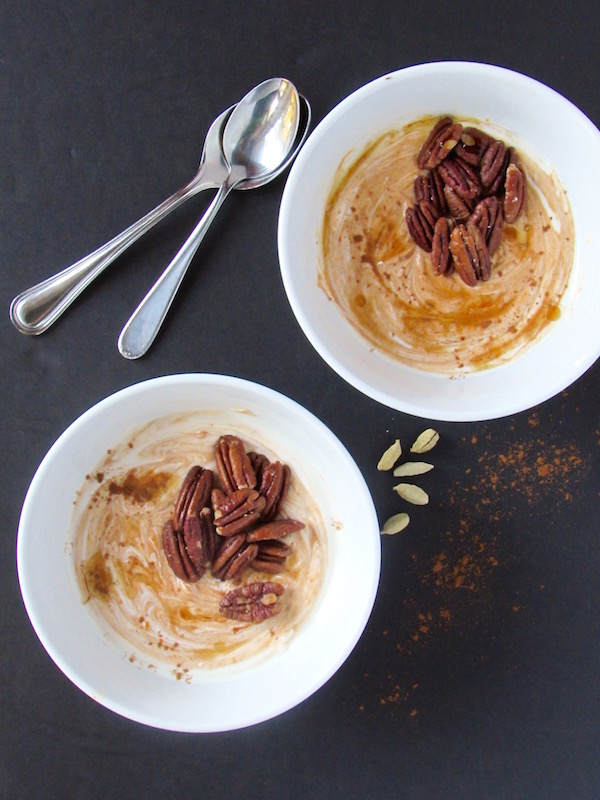 Alright pumpkin lovers, it's officially the first fall post of the year! Although fall is my favorite time of year, I have held out on all the autumn-themed recipes because it is still 80 plus degrees outside in my neck of the woods. Last year I promised myself never to complain about the heat because the cold winter air, chapped lips, cracked elbows seemed to last forever. I am happy to report that I have fully embraced summer this year and am holding on to it for dear life! Having said that, it is time to prepare for cooler days and pumpkin-freakin-everything.
I eat yogurt almost every morning for breakfast because it's something that both my one year old son and I can eat. With the exception of snacks and quick bites, my rule of thumb for feeding him is, as long as he can chew it, he eats what we eat. With that philosophy in mind, I do my best to prepare fresh food that can be made in a snap with little-to-no refined sugar added. Fresh spices are a great way to open up your child's palate to a whole new way of eating. Pumpkin and yogurt are the perfect vessels for flavorful additions! First, start with unsweetened plain yogurt (I used organic greek yogurt because of it's high protein content) and add pure canned pumpkin, maple syrup, cinnamon, cloves, ginger, and cardamon. Yogurt…Done! Make this yogurt the night before or gobble it up immediately.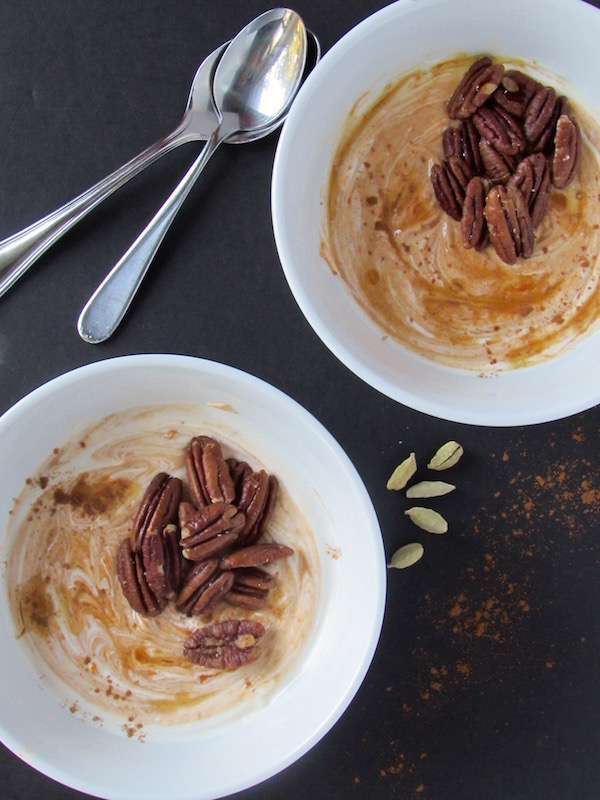 "You want to get nuts, come on, let's get nuts!!!" Bonus points if you can figure out what actor and movie that's from:) Ok back to the pecans… Those dang pecans!!! I could have eaten an entire bucket of these and not thought twice about it.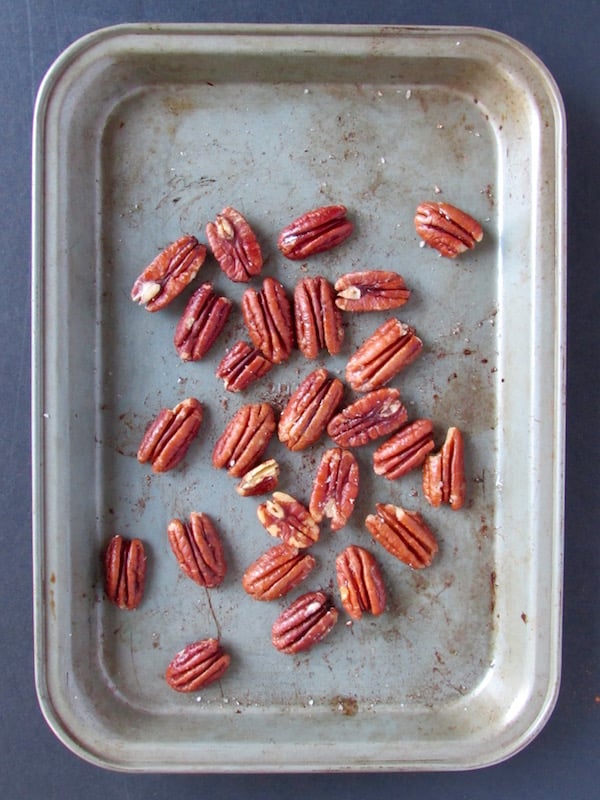 These are the easiest snacks to make. I coated them in coconut oil, a pinch of the same spice blend I put in the yogurt, and a touch of salt. They baked at 325 degrees for 5-7 minutes or until they were fragrant and slightly toasted. The window between perfectly toasted and burnt is a very small one, so check after five minutes and taste them!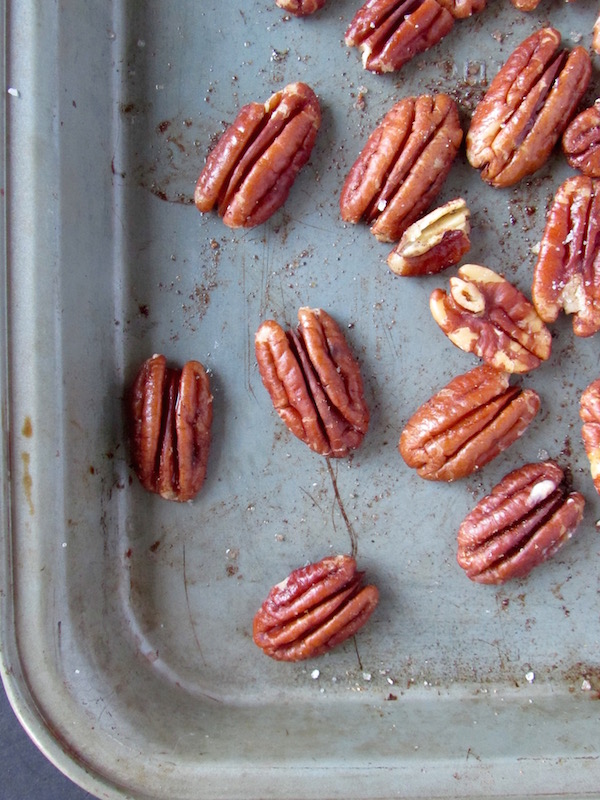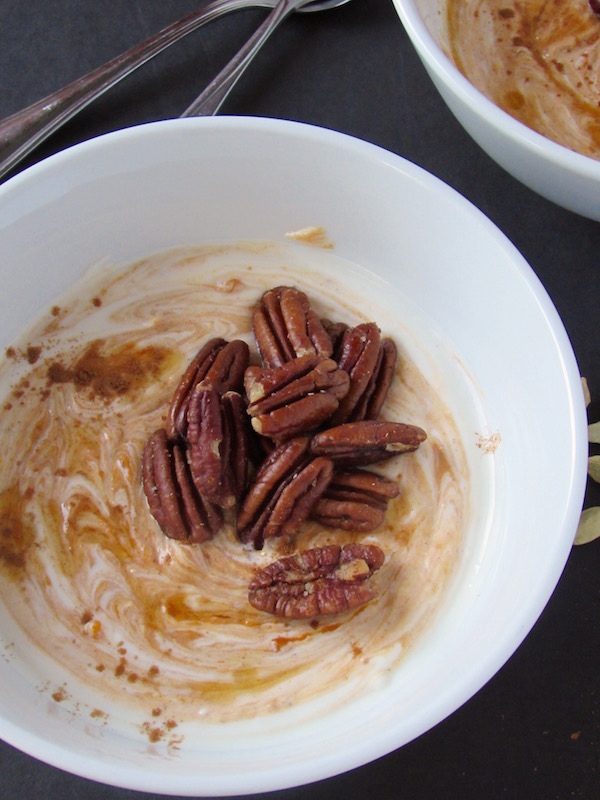 Bon Appetit Ya'll,
Leslie O.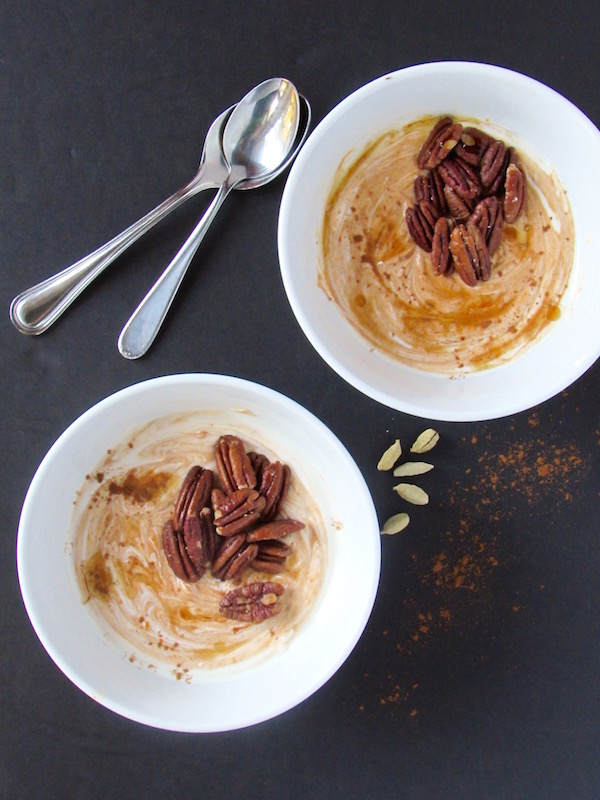 Pumpkin Chai Yogurt w/ Coconut Oil Roasted Pecans
Pumpkin chai yogurt is a perfect autumn breakfast with spiced roasted pecans.
Print
Pin
Rate
Ingredients
1

cups

and 1/2 plain yogurt

greek or traditional

1/4

cup

pure canned pumpkin

1

Tbsp

and 1/2 . maple syrup

1/2

cup

raw pecans

1/4

tsp

. cinnamon

1/4

tsp

. ground ginger

1/8

tsp

. ground cloves

1/8

tsp

. ground cardamon

a pinch of salt

1

tsp

. coconut oil
Instructions
Preheat the oven to 325 degrees.

Coat the pecans in coconut oil. The warmth from your hands will melt the oil.

Mix all the spices together and add a couple of pinches to the pecans along with a pinch of salt.

Bake the pecans for 5-7 minutes or until just fragrant. Taste one after five minutes, they burn very quickly!

Mix the yogurt, pumpkin, remaining spices, and maple syrup together.

Divide amongst two bowls and top with roasted pecans.