Are you ready for some footbaaaalllllll!!!! Get your favorite team's jersey on, or paint a single letter on your giant beer belly aaaaannnddd sit on the couch, drink 17 beers, and scream on and off at the tv for three hours.
I'll just put it out there, I'm not the biggest football fan in the world, at least I'm not as excited as I'm supposed to be this time of year. I know, I know, football is America's sport, right? Maybe it's the super calming effect of thousands of fans screaming simultaneously that ends up sounding like white noise through the tv. Or maybe it's the fact that I just don't care who wins, except for any team playing against Tom Shady, er Brady (shout out to all the Hatriots Patriots fans out there).
You know what I do enjoy though?…the opportunity to stuff my face on and off throughout the day. It's Sunday, so the calories don't count, right? White noise, plus stuffing my face equals nap time. What better game day/nap day feast than homemade chipotle chicken nachos with crowd-pleasing toppings like avocados, cilantro, limes, sour cream, black beans and cheeeese sauce? Oh, and we can't forget about those crispy chicken skins on the side, nom nom!!! Read on for details…
Chipotle chicken thighs are absolutely my favorite taco and nacho meat topping. They are unbelievably easy to make and so flavorful, you will wonder why you didn't make these a long time ago! The bonus for buying skin-on, bone-in chicken thighs is that they are really affordable and if you take the time to crisp up those skins, you get the tastiest little nuggets EVER!
Simply separate the skins from the chicken and put in a dry pan on medium heat until they crisp up on both sides. Meanwhile, season the chicken with salt and pepper and sear on both sides over medium high heat in a dutch oven or large pan. I always make extra chicken thighs for leftovers so you might need to sear them in two batches. Once they are all crispy and golden on each side, throw them in the pan together with chicken broth, two chipotles in adobo sauce, stir and simmer on low while partially covered with a lid. Once the skins are done, place them on paper towels to drain and season with salt and pepper or your favorite seasoning mix!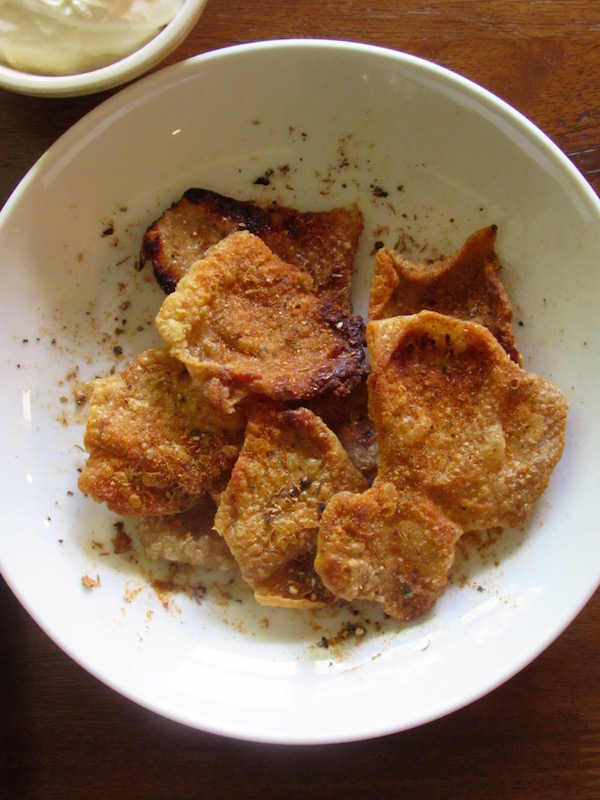 You can easily make the chicken the night before and reheat it the next day. Just make sure to put it in a container with the sauce to keep it moist. Next, we make our cheeeese sauce. Although it's not pictured, simply heat butter in a small saucepan on medium heat and add a little flour to make a roux. Whisk in the milk and let cook for a few minutes stirring constantly until the milk thickens. Stir in the cheese and keep on low heat for a few minutes until time to serve. Drain and rinse the black beans and heat on medium heat with a little water…done!
Shred the chicken after it's cooled a bit. Now add those beautiful toppings and nosh away!!!! Keep toppings separated until ready to serve to avoid soggy nachos:)
Bon Appetit Ya'll,
Leslie O.
Print
Game Day Chipotle Chicken Nachos
Spice up those boring nachos with chipotle chicken thighs, black beans, avocado, lime, and cheesy sauce!
Ingredients
4

chicken thighs

2

in

chipotles adobo from a can

with 2 Tbsp. adobo sauce reserved

1

cup

chicken broth

White and Blue Corn Tortilla Chips

1/2 a bag each
For the cheese sauce:
2

cups

milk

2

Tbsp

. flour

2

Tbsp

. butter

2

cups

and 1/2 Monterrey Jack cheese

shredded
Toppings:
1

oz

can black beans

about 14 .

2

avocados

sliced

cilantro

sour cream

salsa

limes
Instructions
Heat a large pan over medium high heat.

Remove chicken skins if they are intact, set aside.

Season chicken with salt and sear both sides until golden brown.

Add chicken broth, 2 chipotles from a can, and 2 Tbsp. of the adobo sauce from the same can. Scrape the bottom of the pan to lift the tasty bits.

Bring to a simmer and partially cover. Cook for about 10-15 minutes or until chicken is cooked through. Let cool slightly, then shred. Pour some of the sauce from the pan over the chicken.

Optional Chicken Skins:

Place dry chicken skins in a dry pan over medium heat. Saute until both sides are golden brown. Remove from the pan and season with salt or your favorite seasoning mix.

For the Cheese Sauce:

While the chicken is cooking melt butter in a saucepan over medium heat. Add the flour and stir to make a roux. Cook for about one minute, then whisk in the milk. Simmer until thickened and it coats the back of a spoon.

Stir in the shredded cheese and remove from the heat.

For the beans:

Drain and rinse the black beans and heat in a small saucepan with 1/4 cup of water. Season with salt.

Mix the tortilla chips and spread on a sheet pan.

Top with the chicken, cheese sauce, black beans, avocados, salsa, and cilantro.

Squeeze with a bit of lime for extra flavor.

Serve immediately. Keep items separated until ready to serve to keep chips from getting soggy.