So how on earth do you find time to pick your recipes, grocery shop, and meal prep healthy dinners every week without losing your mind?!
The answer: You don't do ANY of these things. Say what?
The last few weeks I've wondered how I'm going to manage cooking healthy meals, considering that we have a baby on the way, and we have a three-year-old, and we have jobs, and we will be losing sleep, and….oh I'm so tired just thinking about it.
Our friends who both work full time and have a baby started a meal plan from a major meal delivery service and they LOVE it.
The only problem I have with some of these services is that you can't get organic or free-range meats and organic vegetables, which is pretty important to us.
Surely an organic meal delivery service would be so out of my price range, and probably wouldn't be that great anyway, right? Oh, how WRONG I was!
Enter the GLORIOUS Green Chef organic meal planning delivery service that my husband discovered that has literally lifted a huge weight off of our shoulders.
Before you read any further, just know this is NOT a sponsored post. I'm writing this because I'm so damn excited about Green Chef and I wanted to share it with you. If you use the link I share here to place an order, you will get your first 4 FREE meals.
If you purchase a 2nd box, I'll get a credit towards my next purchase. Plus, you'll be able to refer friends and family and get credit towards your future purchases too!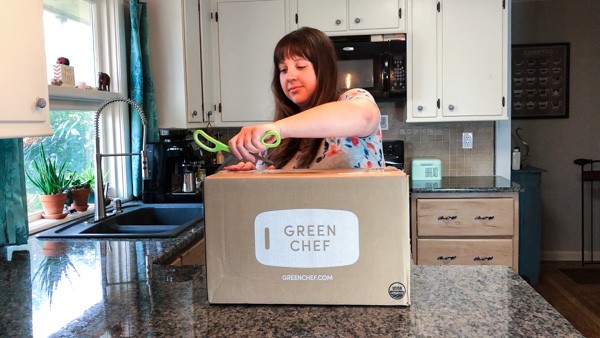 10 REASONS WHY GREEN CHEF MIGHT BE YOUR NEW BEST FRIEND
You don't have to go grocery shopping for as many meals every week!
Shopping for breakfast and lunch is the easy part. Now you don't have to put any effort into a few meals a week.
You save lots of money on healthy organic ingredients.
Every single item you get is organic, which can cost a fortune if you try buying it in the store. Because you are getting the exact amount you need, you won't be wasting food either.
You will be eating lots of veggies at dinner.
With each meal, you usually get 5-7 different kinds of veggies, but only in the exact portions you need. Chances are, you aren't buying that many vegetables for each meal at the store, because, again, it adds so much to your grocery bill, and creates a list a mile long.
The price is surprisingly affordable!
The meal plans vary from $10.49 per person per meal to $14.99 (for the Paleo plan). Plus, for your first purchase, you'll get 4 FREE MEALS! On what planet can you get an all-organic restaurant-quality meal with tons of vegetables for about $12.00 per person? Absolutely nowhere.
You will cook restaurant-quality meals and learn new cooking techniques and ways of building flavor in dishes.
The techniques are easy enough for new cooks, but fancy enough for the seasoned wannabe chef.
All of the sauces and vinaigrettes are already prepared for you.
The sauce is what separates a boring home-cooked meal versus an incredible meal at a restaurant. With each meal, we have gotten two sauces, usually one sauce and one vinaigrette that bring everything together in a symphony of flavor!
You can encourage your kids to cook along with you and eat more vegetables!
Because it's all set up for you, it's great for both you and your kids to get cooking together. It sets them up for healthy eating for the rest of their life.
Many of the ingredients are already chopped for you.
Whenever you get a dish with "cauliflower rice", it's already chopped for you! Most often, the carrots, onions, etc. are pre-chopped for you. You generally only have to chop 2 or 3 small items.
The portions sizes are awesome!
You will feel full and satisfied, but not so stuffed that you can barely walk.
It's a BIG stress reducer.
Having dinner a few nights a week delivered to your door, already pre-portioned and the ingredients labeled for you, with a delicious recipe to follow has been a life-saver! Yes, you still have to cook it, but it's so much more enjoyable when 80% of the work has already been done for you.

CHECK OUT WHAT'S IN THE BOX?!
(1-minute video)
MEAL PLANS
Omnivore– Vegetarian and Meat-based meals with lots of veggies and healthy carbs. $11.99 per person per meal (this is my favorite plan). With the three-meals-a-week plan, you'll get two dishes with meat or seafood (unless you customize what type of meats you want) and one vegetarian meal. And YES, the vegetarian meals are very satisfying!
Carnivore– Meat with every meal with lots of veggies and healthy carbs. $13.49 per person per meal
Vegetarian– Lots of meatless protein, veggies, and healthy carbs. $10.49 per person per meal
Vegan– Meat-free and dairy-free meals with veggies and plant-based proteins. $11.99 per person per meal
Paleo– Grain-free and dairy-free meals with meat, lots of veggies, and salads. $14.99 per person per meal
Gluten-Free– Meals with meat, veggies, salads, and gluten-free additions. $13.49 per person per meal
Keto– Low carb meals with meat, veggies, and salads, and meals that are gluten-free and dairy-free. $14.99 per person per meal
$9.00 shipping and handling fee per box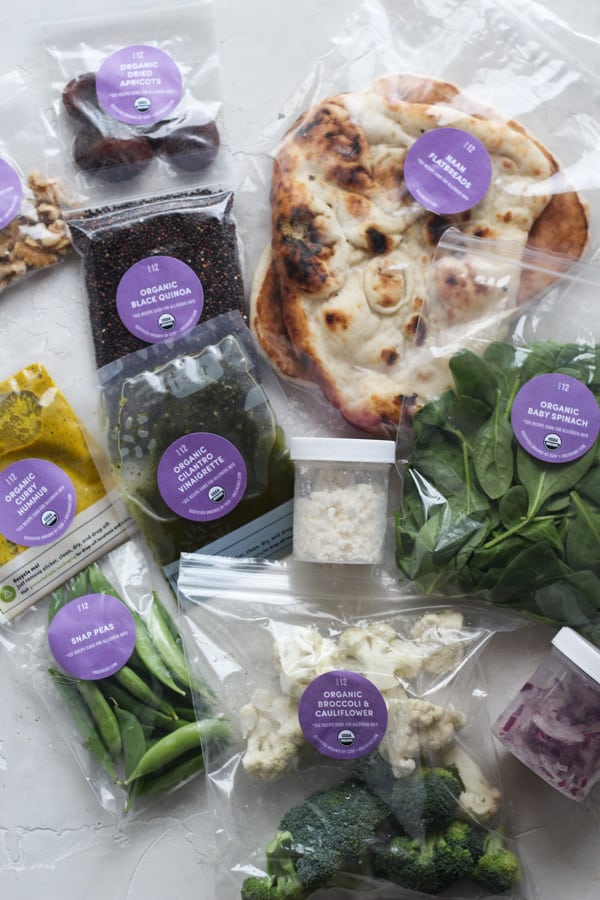 A FEW OF OUR MEALS
Photos of plates are the actual size of a single portion!
Almond-Crusted Salmon with Rosemary Butternut Squash and Kale Salad
Toasted almonds, a paleo caesar dressing, turnips, rainbow carrots, and kale, with perfectly cooked salmon!
Get it on the Paleo or Gluten-Free Plan.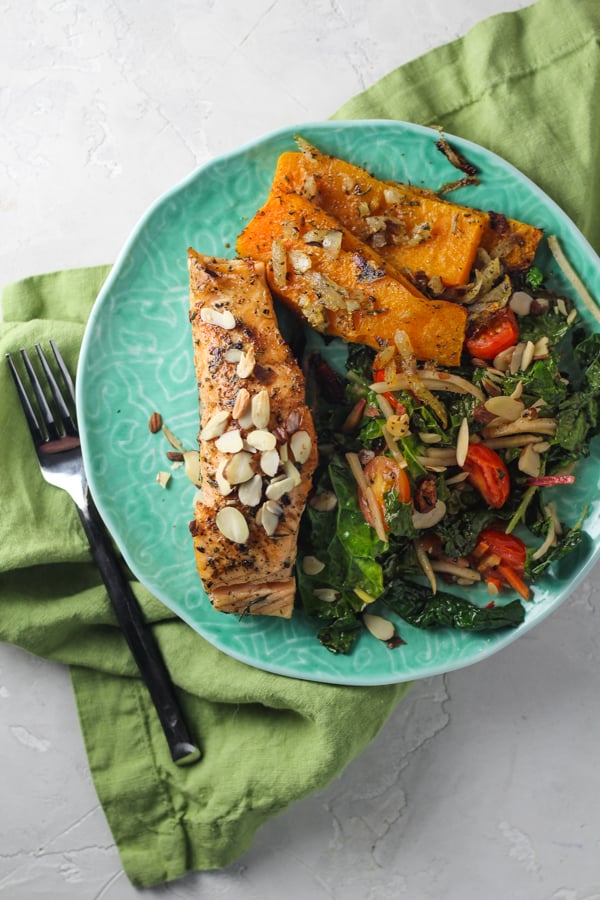 Curry Veggie Flatbread
Broccoli, cauliflower, red onions, curry hummus, and feta top flatbread with a spinach and quinoa salad with dried apricots, and a cilantro vinaigrette!
Get it on the Omnivore or Vegetarian Plan.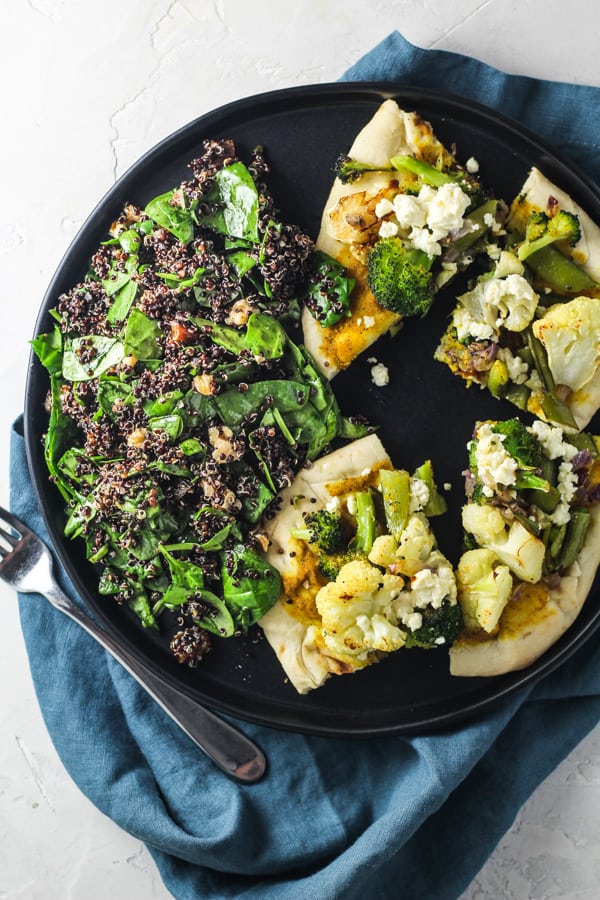 Basil Pesto Chicken
Porcini and mushroom cauliflower risotto, with a chard salad, and the most amazing pesto, topped with pine nuts. One of my favorites!
Get it on the Paleo or Gluten-Free Plan.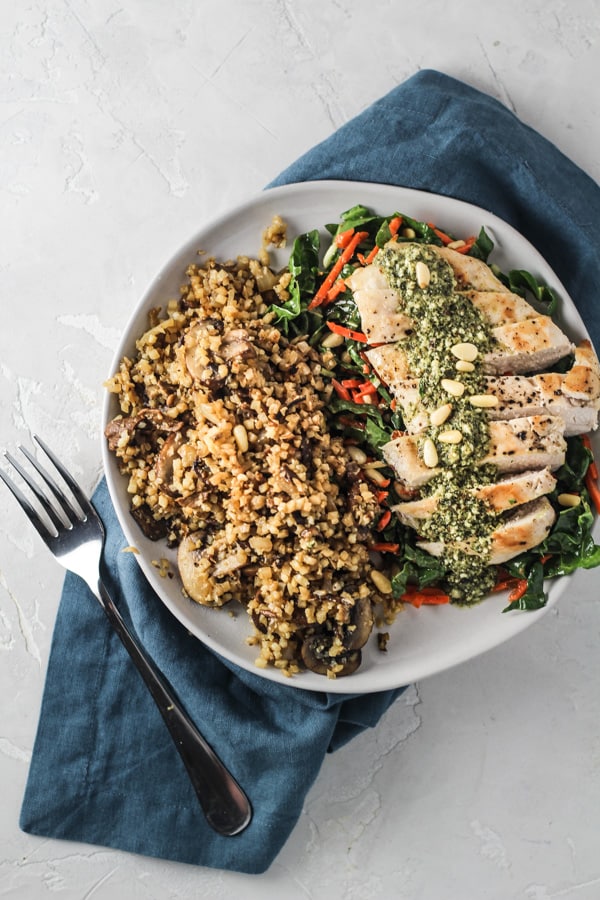 Cumin Pork Chops
Roasted fennel and cabbage salad, succulent pork chops, with kamboucha squash, and cilantro mojo sauce!
Get it on the Paleo or Gluten-Free Plan.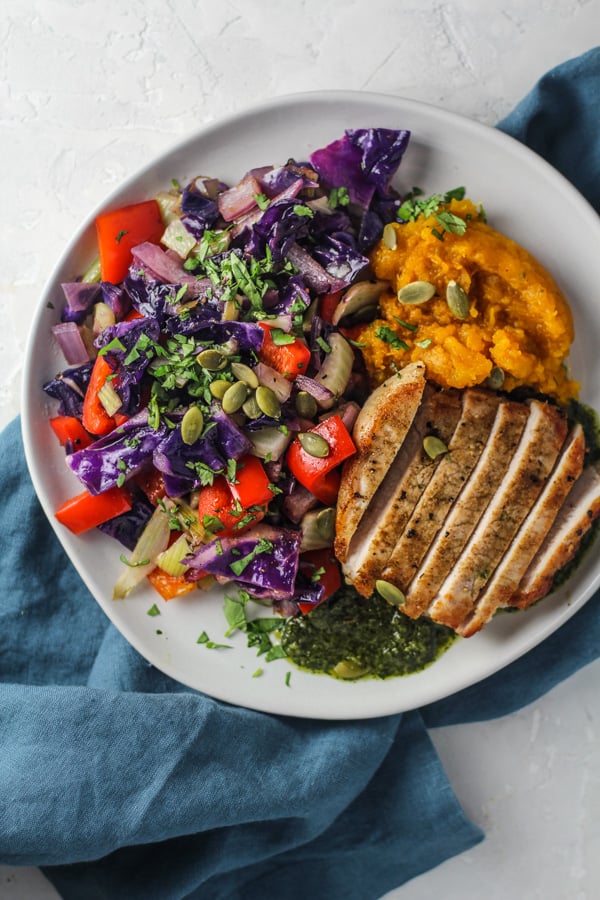 Are you ready to reduce stress, save time and hassle, and have fun in the kitchen again? If you have any questions, please don't hesitate to comment below!
Bon Appetit Ya'll,
Leslie O.