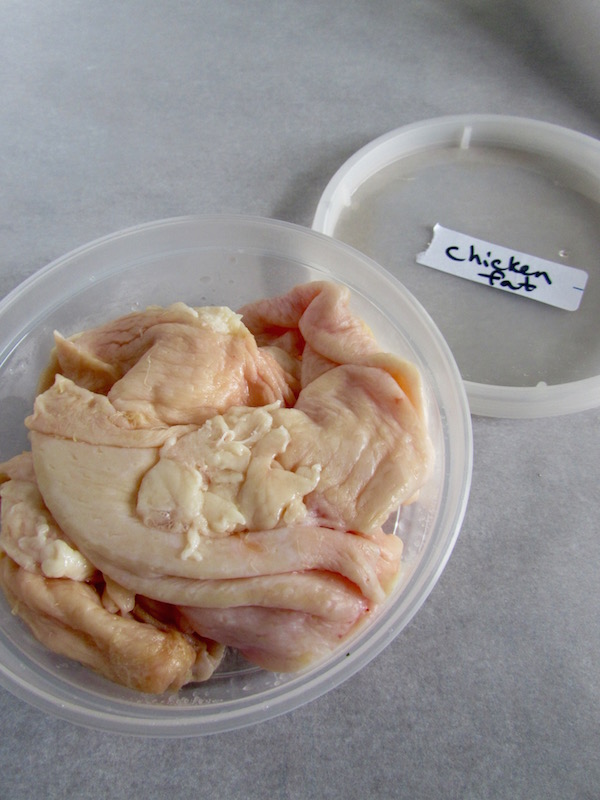 A good biscuit is to the South what pizza is to New York.  Like pizza, the ingredients are straightforward but can be one of the trickier foods to master.  Women of my grandmother's generation who knew how to bake these golden pillows could prepare biscuits with their eyes closed.  My mom's great aunt used to make biscuits up to three times a day because of her family's frequent requests.  I don't know what her secret was, but every good biscuit maker had their fat of choice, usually lard.  She used to get her lard from the local pig farmer and use it for frying and baking.  Chicken was always on her menu too because she could do so much with one whole bird. In those days you never wasted anything, especially when it came to food.  Just one whole chicken rendered plenty of meat, stock for soup, and fat for baking and frying.  When cooking for her family, my grandmother often used chicken fat because it was more lean than lard.  This gave me a great idea for biscuits! I'm using half butter and half chicken fat for this recipe.  While we're at it, let's braise some crispy chicken thighs for the ultimate chicken biscuit sandwich!
Making biscuits from scratch is much easier than one might think.  I know it's tempting to buy them out of an exploding can, but with just a few simple steps, one can enjoy buttery, melt-in-your-mouth biscuits made with nothing but your bare hands!
First we need to make rendered chicken fat.  This can be done in advance and frozen.  If you get in a habit of saving and freezing chicken skins from the underside of a whole chicken or from chicken thighs you will always have them on hand.   There are two methods I like to use to render chicken fat.
Method 1:  Thaw the skins if previously frozen.  Fry the skins over medium heat in a dry pan until the skins are nice and golden brown.  Remove the skins and reserve the fat in the pan.  Cool the fat in a bowl and freeze to firm it up.  The fat can stay in the freezer for future use.
Take the skins and sprinkle them with a of bit of salt and smoked paprika.  Now hide them, and save them all for yourself!
Method #2:  You can also simmer a whole chicken or any cuts of meat with the skin intact.  Once the chicken is fully cooked, reserve the meat and strain the liquid in a container to remove the sediment.  Let cool so the fat can rise to the surface.  Remove the fat and place it in the freezer to firm up.  Once solid and cold, it is ready to be used for biscuits.  You save your homemade stock by freezing it or placing it in the fridge for up to three days.  To maximize your time, use the stock and shred the chicken in a soup as soon as it's done.  You'll have a hearty meal ready to go with the addition of vegetables or grains of your choice.
Method #3:  You can braise some crispy chicken thighs, reserve the fat from the pan and pop it in the freezer while the thighs are cooling. It takes about thirty minutes.  To speed up the process, pour out 4 Tbsp. of fat from the pan before you finish baking the thighs in the oven.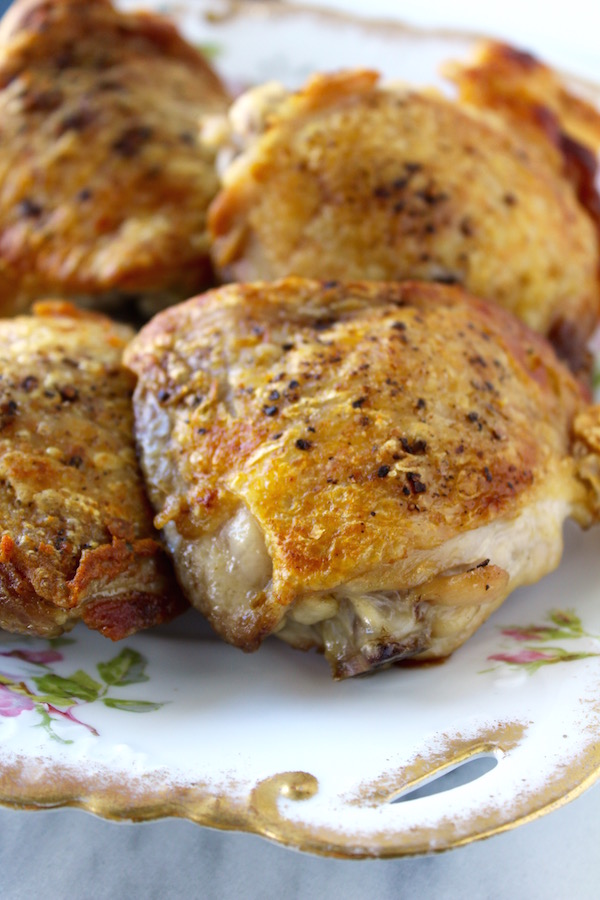 Make sure to debone those thighs before biting into the biscuit sandwiches!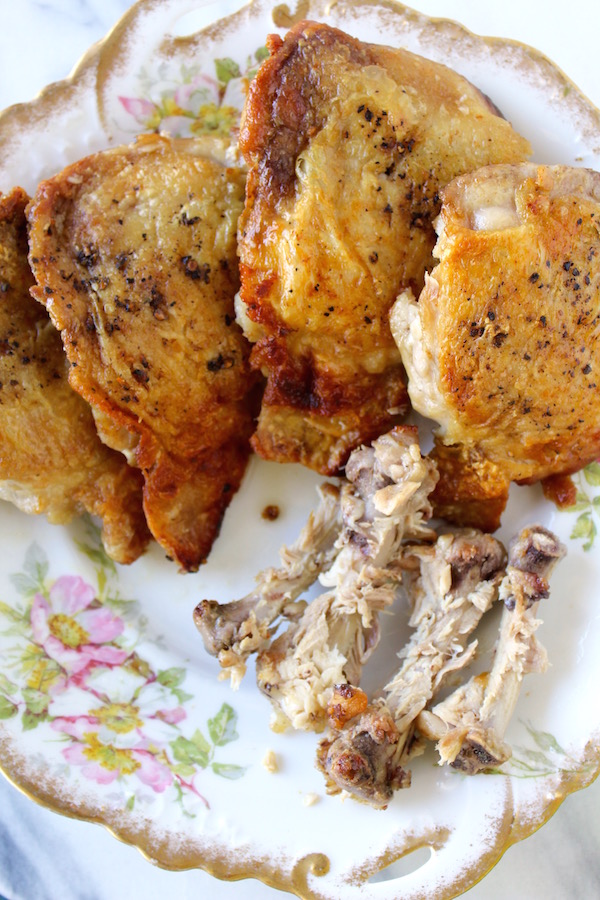 Your hands are your best tool when cutting the fat into the dough.  This ensures that you don't over mix and end up with a brick instead of a biscuit.  For this recipe I'm using fresh rosemary and parmesan to perk up the flavors.  First, cut your butter up into small chunks and put back in the fridge to stay cold.  Combine the dry ingredients together and add the chopped rosemary and cheese. Cut in the cold chicken fat and butter with your fingers until they are distributed into tiny chunks throughout the dough.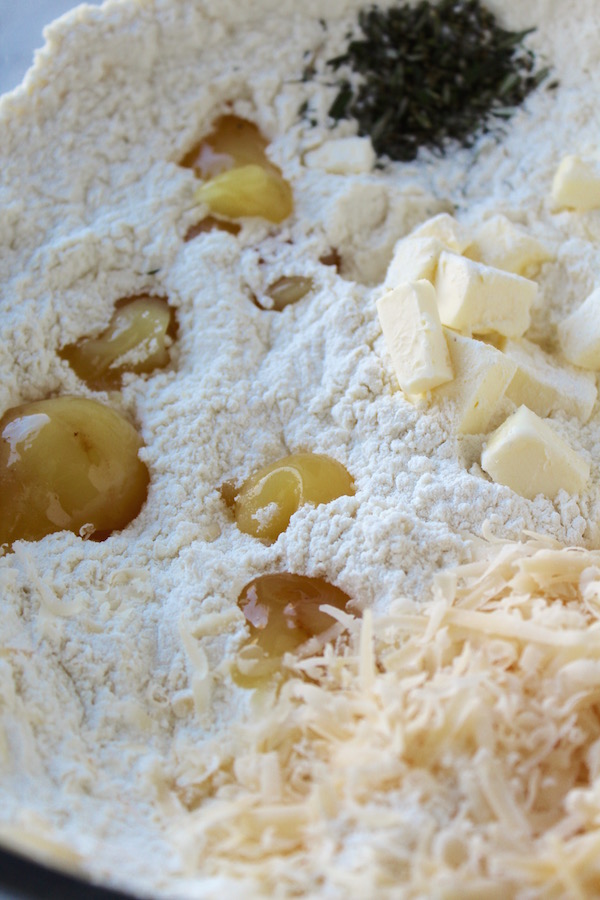 Flour your counter liberally and remove the dough from the bowl.  Pat with your hands into a small rectangle.  Fold the dough on itself, pat down again into a small rectangle and repeat two more times.  You might need to add a bit of flour each time underneath the dough to prevent sticking.  Use a bench scraper or a metal spatula to lift the dough from your work surface.  This method is for laminating the dough to create layers of flaky crust.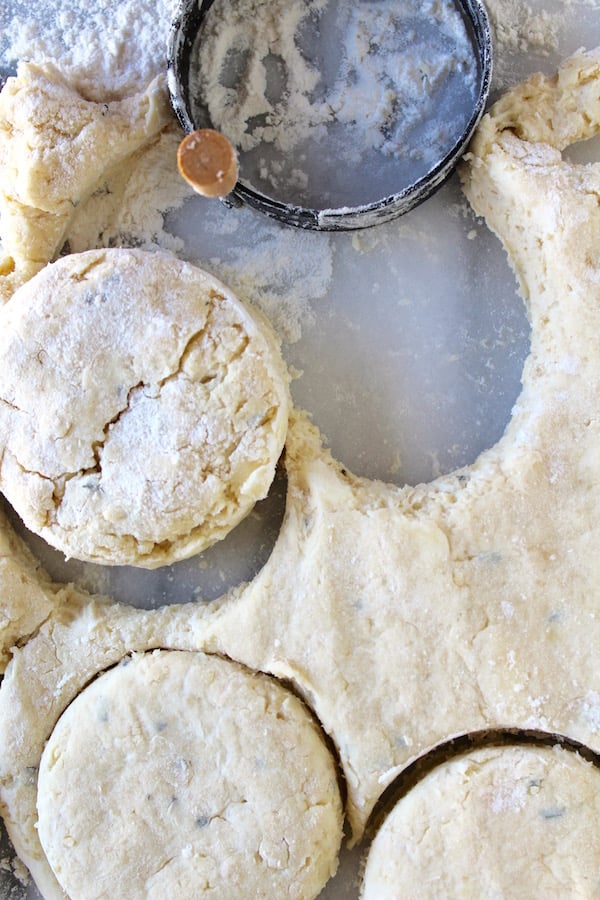 Gently form the dough into a 1/2-inch thick circle and dip your biscuit cutter in lots of flour for every cut.  The scraps can be pressed together to form one last deformed-but-still-delicious biscuit.  Place on a parchment paper-lined sheet pan and brush with more buttermilk all the way around the tops and sides of the biscuits.  Bake at 450 degrees for 12-15 minutes until lightly golden brown on top.  Keep an eye on them after ten minutes to make sure they are not over baked.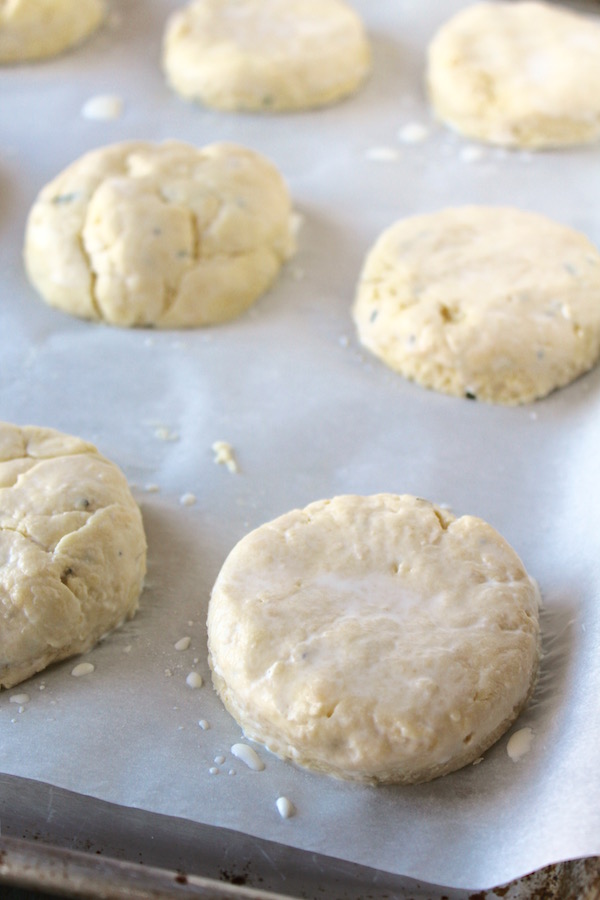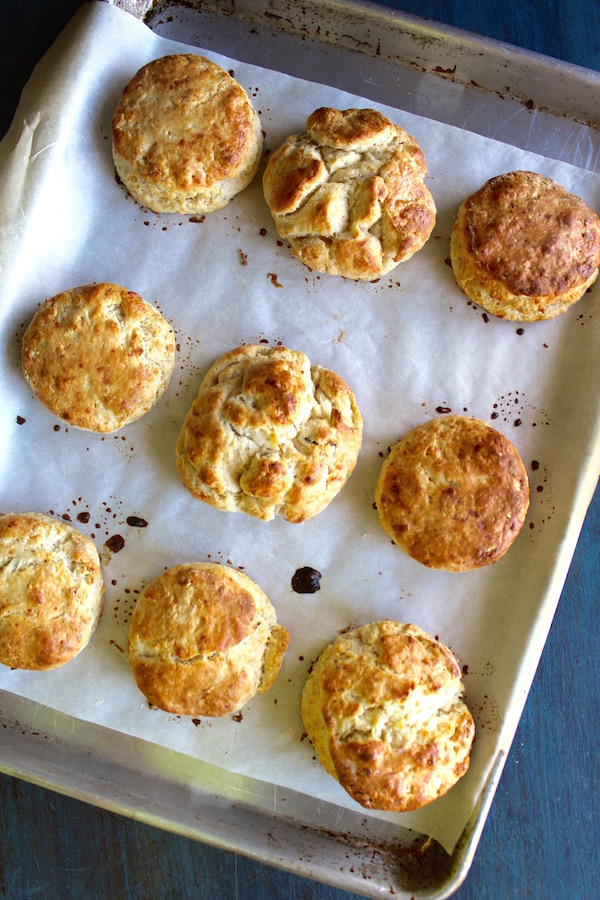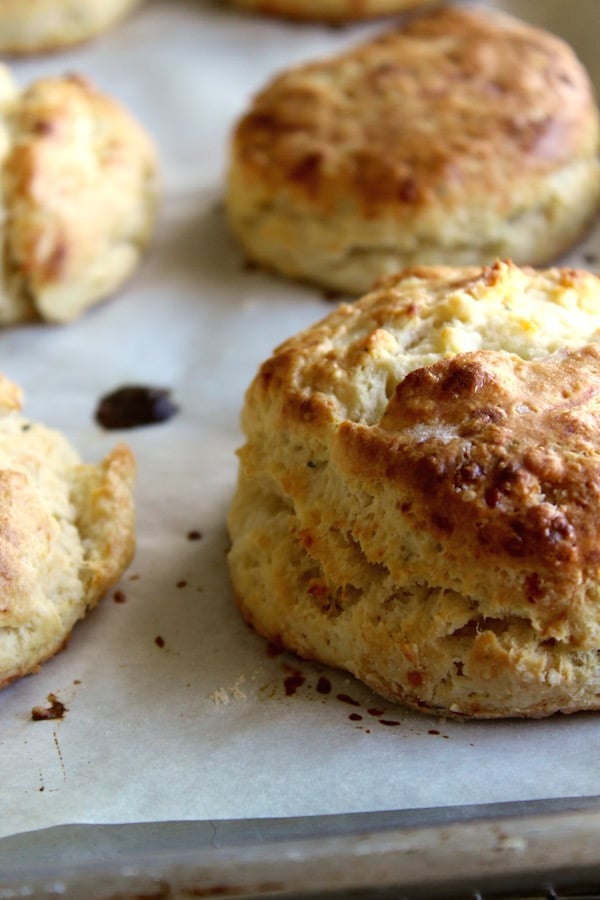 This recipe makes seven monster biscuits or nine medium biscuits (one or two of the biscuits might be from the cut scraps, but still delicious).  Mmmmmm…..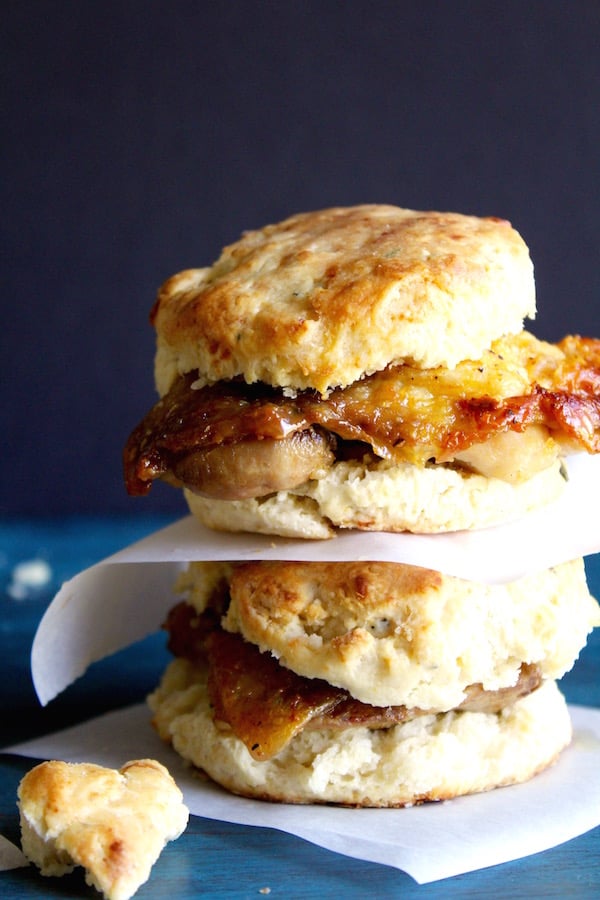 Work it biscuit, work it!
Bon Appetit Ya'll,
Leslie O.
Print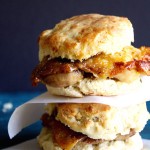 Rosemary Chicken Fat Biscuits with Crispy Chicken Thighs
Make the ultimate biscuit sandwich with chicken fat biscuits and braised chicken thighs!
Ingredients
4

Tbsp

. Butter

56 grams

4

Tbsp

. Chicken Fat

50 grams

2

cups

and 1/2 All Purpose Flour

375 grams

1

cup

Buttermilk

240 grams

1

Tbsp

. Baking Powder

12 grams

1/4

tsp

. Baking Soda

1.5 grams

1/3

cup

Shredded Parmesan

25 grams

1/4

cup

Sour Cream

60 grams

1

tsp

. Salt

6 grams

1

tsp

and 1/2 . Chopped Fresh Rosemary

2 grams

8

chicken thighs
Instructions
Preheat the oven to 375 degrees.

Season the chicken thighs with salt and pepper and place in 2 large skillets over medium heat. Do NOT add any oil to pan! The fat from the thighs will render in the pan. Saute skin-side down for about 10-15 minutes or until the skin is golden brown. Flip and cook for about another 10 minutes or until it's golden brown.

Place skillets in the oven and cook the thighs for about 10 more minutes or until the thighs are cooked through. If you don't have oven-safe skillets, transfer to a sheetpan.

Strain and reserve the chicken fat and place in the freezer to use for the biscuits or for future use.

When the chicken thighs are cooked turn up the oven to 450 degrees.

While the chicken is cooling, cut butter into small pieces and place back in the fridge to keep cold. Keep the chicken fat in the freezer until ready to use.

Mix dry ingredients together in a large bowl.

Cut the cold chicken fat and butter into the dough with your fingers until butter is in tiny chunks.

Mix in the buttermilk and sour cream with a fork until just combined.

Flour the counter liberally and place the dough right on top. Gently pat the dough into a small rectangle 1-inch thick.

Using a bench scraper or spatula, fold the dough onto itself three times. Flour underneath the dough in between each fold if needed.

Gently pat the dough into a circle a half-inch thick and cut with a well-floured biscuit cutter.

Place the biscuits onto a parchment-lined baking sheet and brush with buttermilk on the tops and sides.

Bake for 12-15 minutes or until lightly golden brown on top. Keep checking after 10 minutes to prevent over baking.

Serve immediately